XIAOMI MI 9 REVIEW: CHEAP SPEED
Lightning-fast performance at a low price… if you live in the right place
Xiaomi's flagship Mi series of smartphones is usually relatively unremarkable. Unlike the notch-busting Mi Mix line, the Mi phones don't tend to have particularly interesting designs, and Xiaomi doesn't push the prices as far down as it can with the Redmi range. The Mi phones are always just pretty good, pretty affordable phones.
The Mi 9 is a little different. It doesn't depart from the basic Mi formula of offering high-end specs in a mainstream design at a reasonable price. But more so than any other Mi series phone in the past, the ~$500 Mi 9 narrows the gap with its high-end flagship competitors even further. If you live in a country where the Mi 9 is available, there's very little reason not to give it serious consideration.8VERGE SCORE
GOOD STUFF
Excellent performance
Fast wireless charging
Incomparable value
BAD STUFF
No waterproofing
MIUI isn't for everyone
Bad speaker
The Mi series has established its own design language at this point, and this continues with the Mi 9. There's the same stainless steel frame that's thinner on the sides than the top and bottom edges, leaving a curved glass panel to fill in the space. The left side of the phone has a dedicated Google Assistant button, which I could take or leave. (I would rather have it than a Bixby button.)
Overall, it's a sleek, attractive device, though my "piano black" review unit is more like "mirrored gunmetal," and it's one of the slippier, more fingerprint-prone phones I've seen in a while. I'd probably like the iridescent purple and blue options better, not to mention the transparent model.
The screen is a 6.4-inch 1080p OLED panel with a slight chin at the bottom and a minimalist waterdrop-style notch at the top. It looks great and also houses an optical in-display fingerprint scanner, which works well enough — if not quite as quickly as Vivo's most recent implementations. Xiaomi isn't doing anything cutting edge with its display, but if you're cool with the small notch, there's little reason to complain.
The camera can also be safely classified as solid. This is Xiaomi's first phone to use a triple-lens setup, with a 16-megapixel ultrawide and a 12-megapixel 2x telephoto camera flanking the standard 48-megapixel sensor. The extra resolution is used for pixel-binning and greater light sensitivity at 12 megapixels, but unlike the Honor View 20, there's no "ultra clarity" mode to bring out extra detail in the 48-megapixel files. You can shoot at full resolution, but it won't do much beyond giving you unnecessarily large files.I HAVE ABSOLUTELY NO COMPLAINTS ABOUT PERFORMANCE
Again, Xiaomi isn't competing with high-end competitors with advanced AI-powered HDR implementations. You're not going to get anything like the Huawei P30's mind-blowing low-light performance, but its results are broadly satisfying. Colors are well-balanced in daylight, and the night mode is pretty good for what it is. The ultrawide and telephoto cameras aren't optically stabilized, so they're not as well-suited to low-light use, but they're a welcome addition nonetheless.
The Mi 9 is one of the first phones available with Qualcomm's latest top-end Snapdragon 855 processor, and I have absolutely no complaints about its performance. MIUI, Xiaomi's version of Android, is extremely smooth on this phone, with the kind of snappy animations and buttery scrolling that I'd normally only expect from OnePlus in this space. Whether I can thank the software or the hardware or — more likely — both, the Mi 9 has been fast and reliable with everything I've thrown at it.
MIUI is certainly a radical reskin of Android, and it probably won't appeal to Pixel or OnePlus purists. But it's a mature OS in its own right, and I generally find it to be thoughtfully designed and pleasant to use. The Mi 9's implementation of a full-screen gesture-based navigation system, for example, is the best I've seen on Android, though the iPhone-style swipe from the left side of the screen to go back does take a little practice to invoke when using apps with similar gestures.
Xiaomi has also thrown in a couple of features that tend to be first on Chinese phone makers' cutting room floor. The Mi 9 now has the fastest wireless charging in the world, for example, despite companies like Huawei and Vivo mostly ignoring the feature. Xiaomi sells a 20W wireless charger that's a pretty great product in its own right; it has an austere white design and a rubberized finish that ensures that even the Mi 9 won't slip off. For about $15, including a 27W USB-C wired power adapter, it's a bargain.
The Mi 9 also has the best haptic feedback of any Chinese phone I've used. It doesn't match up to Apple or LG, and it isn't used extensively throughout MIUI, but it's a step above what companies like Oppo and OnePlus are doing. While this probably isn't the most crucial feature in the world for most people, it goes some way to enhancing the sense that you're getting far more than you're paying for with the Mi 9.
So what are you missing out on if you do go for the Mi 9 over a more expensive flagship? Not a whole lot. There's no IP rating for water or dust resistance. There's only a single mono speaker on the bottom edge of the phone, and it's pretty bad. There's no headphone jack, although that isn't associated with high-end phones any more unless you're buying from Samsung or LG. The camera isn't quite world-class, but it's a perfectly usable three-lens setup.
At €449 (just over $500) for a model with 6GB of RAM and 128GB of storage, the Mi 9 is a ridiculous bargain as long as you live somewhere it's sold. (Right now, that basically means China or Europe. There's no Indian release on the horizon, and it doesn't have broad compatibility with US LTE bands.) Xiaomi has been talking of its ambitions to launch phones in the US for several years, but it still has almost nothing to show for it.
I would say this is the best value in a flagship smartphone in the world, but it's increasingly hard to say things like that as the global tech market continues to fragment. Instead, all I can say is that Xiaomi has turned in an incredibly solid product at an extremely reasonable price, and now that the company has at least some Western presence, OnePlus and Honor should be on notice.
Huawei folding phone(Mate X) reappears to boast 5G speed
Since the start of problems Huawei with the United States, many users who have thought about the launch of Mate X. The Huawei phone with folding screen had planned to reach the market this June, and doubts about its release do not stop creating as the days pass. Where is Mate X?
First 5G tests with the Huawei Mate X
The latest clues come with official information, as the president of the Huawei smartphones branch has shared some images in which you can see some speed tests carried out with the famous phone with a folding screen. The images reveal that the maximum speed reached in the tests of Speedtest reached 1 gigabit per second, while the rise was at 100 megabytes per second.
This is undoubtedly excellent news for those interested in knowing about the first Huawei folding phone. We hope that the program runs its course and this same month when we see the phone for sale (even if only in China), although it is clear that the doubts will continue on which licenses will be affected when marketing it and, basically, what such will respond the screen to everyday use, something that as we could see did not sit well at the option of Samsung.
On the other hand, Gang assured that the speeds obtained in the laboratory tests reached the figure of 1.2 Gbps, so technically the phone is able to reach higher cruising speed, although we are very much afraid that in conditions normal the result will be similar to that of the video. At this point, there is no doubt that the 5G is tremendously fast, right?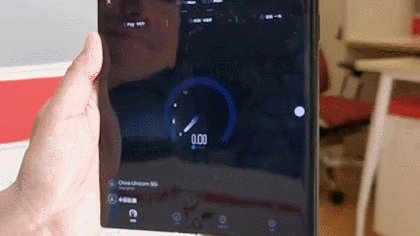 The mobile download speed can surpass 1 Gbps using the #5G network, He Gang, head of Huawei's smartphone unit proved in a vlog with Huawei's foldable Mate X handset on Tuesday.
Huawei mate x 5g testing using a customized Android version?
Taking a deeper look at the video, we can see how this unit of Mate X has a home screen where no icon of any application belonging to Google appears . It is something that could simply be a measure not to promote the company that has left out, a simple custom configuration or something even more complex, are we facing a version of Android customized by Huawei ?
This last option is the most rocambolesque, but there is another detail that is equally suspect: why is a virtual start button placed on the screen? Until now, the device had been showing the lower status bar with the classic buttons of Android, and in the case of not showing it, an upward gesture would be enough for it to reappear. As we said, these are suspicious details that generate enough doubts about the version of the operating system that is running the device, but for now, we will turn a blind eye and focus only on the results of the 5G tests.
Source: https://heraldpublicist.com/huawei-folding-phonemate-x-reappears-to-boast-5g-speed45678/
Huawei EMUI 9 with Android 9 Pie rolls out to Huawei P10, Mate9
There's a lot of uncertainty swirling around Huawei at the moment and it goes beyond whether it'll be able to make new phones in the future. Even now, owners of its existing phones are worried about the company's capabilities to continue supporting existing phones. As if to reassure its customers, Huawei is now boasting how its EMUI 9 Android Pie experience is now on more than 80 million devices. What's more, it'll be rolling out to the Huawei P10 and even the Huawei Mate 9.
We'll spare you from having to perform manufacturers' odd math. Both running on the HiSilicon Kirin 960 chip, the Huawei P10 launched in early 2017 and the Mate 9 launched even further back in late 2016. By usual market standards, the phones are quite old. By usual OEM practices, they wouldn't even be getting any updates at all.
And yet Huawei is boasting how it's making EMUo 9 available to these two phones, giving them Android 9 Pie when some of their contemporaries have yet to receive it, if at all. So far, the update has only been made available to a few phone series, starting with the Mate 10 and P20, the Mate RS, and the Nova 3.
The announcement is also a show of power and force. Huawei boasts EMUI 9 will be reaching more than 100 million devices by the end of the month, revealing how many of its phones there are in the wild, not counting Honor devices. It is also trying to prove that, contrary to public perception, it can push out massive updates of its own.
Some might also see it as Huawei's parting gift and haste. By making sure its older phones are running on the latest Android version, it gives itself more time to polish its "ArkOS" replacement. And by rushing to push the update before the month ends, it gives itself enough time to make those massive changes before the 90-day reprieve is up.
Source: https://www.slashgear.com/huawei-emui-9-with-android-9-pie-rolls-out-to-huawei-p10-mate9-05579418/
First New Apple's iPod Model Unveiled After Four Years
Apple presented the first new iPod model in four years on Tuesday as it continued to make a priority of serving up digital content.Advertise With Us
Concise News understands that the new-generation iPod touch, essentially an iPhonewithout the phone calls, was available in more than two dozen countries at Apple's online shop starting at $199.
According to the vice president of product marketing Greg Joswiak, he said; "We're making the most affordable iOS device even better with the performance that is twice as fast as before, Group FaceTime and augmented reality," said Apple
"The ultra-thin and lightweight design of iPod touch has always made it ideal for enjoying games, music and so much more wherever you go."
The iPod touch evolved from the original iPod digital music player first launched by Apple in 2007.
The iPod touch became popular with people, particularly parents of internet-coveting children, who wanted mobile devices for getting online without the cost of telecommunications services.
The mobile devices can connect to the internet using Wi-Fi hotspots.
Apple earlier this year unveiled streaming video plans along with news and game subscription offerings as part of an effort to shift its focus to digital content and services to break free of its reliance on iPhone sales.
The first new iPod since the year 2015 comes as Apple shifts to emphasize digital content and other services to offset a pullback in the once-sizzling smartphone market, and with many news organizations struggling to monetize their online services.
Source: First New Apple's iPod Model Unveiled After Four Years