Russian Gamer Brothers Are the Newest Hidden Billionaires
Russian-born Igor and Dmitry Bukhman are seeking growth to challenge Tencent and Activision.

Almost two decades ago, in a remote Russian city best known for its butter and linen, two brothers shared a bedroom and a Pentium 100-powered computer they used to code their first game.
Wall Street wants a piece of what they've built since.
Playrix has met with some of the biggest banks "and visited their skyscrapers," said Dmitry Bukhman, 34, citing meetings with dealmakers at Goldman Sachs Group Inc. and Bank of America Corp. For now, though, "we are focused on growing the business."
He and Igor Bukhman, 37, are the brains behind Playrix Holding Ltd., the creator of popular games similar to Candy Crush, including Fishdom and Gardenscapes, with more than 30 million daily users from China to the U.S. and annual sales of $1.2 billion, according to Newzoo. That makes the company one of the top 10 iOS and Google Play app developers by revenue, data from researcher AppAnnie show, putting Playrix in the same league as Tencent Holdings Ltd., NetEase Inc. and Activision Blizzard Inc.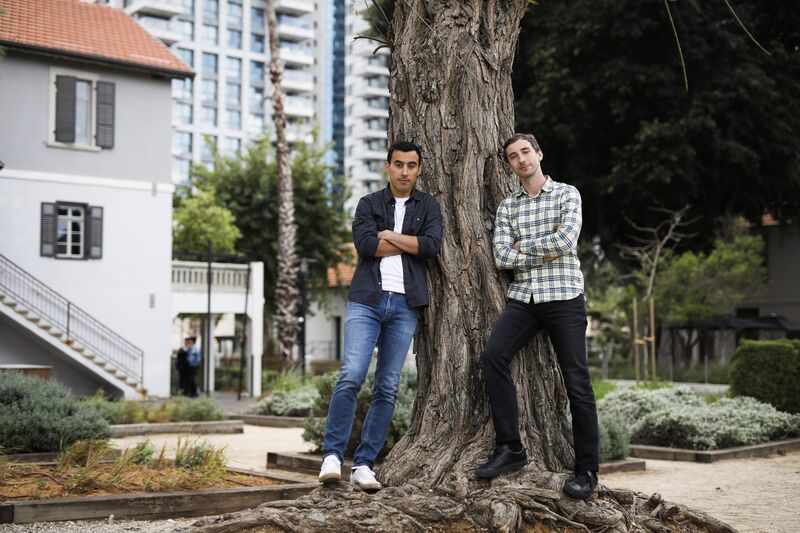 Today, each brother is worth about $1.4 billion, according to the Bloomberg Billionaires Index. They haven't previously appeared in a global wealth ranking.
Their road to riches started in 2001 in the city of Vologda, almost 300 miles (483 kilometers) north of Moscow, where Igor learned from a university professor that he could sell software online. He decided to try with Dmitry, who was still in high school at the time.
"We had no experience, no business understanding whatsoever—everything we could imagine was writing games," Igor said.
The U.S. is Playrix's biggest market, followed by China and Japan, the brothers said in a recent interview in Tel Aviv, where they spend some of their time. The two remotely manage about 1,100 employees, including personnel at its Ireland headquarters and developers in Russia, Ukraine and Belarus.
"For $3 billion we won't sell"
The brothers' first product was a game akin to Xonix in which players must use a cursor to open pieces of a hidden picture before being struck by flying balls. They wrote it during a summer break and generated $60 in the first month and later $100 a month, about half of the average salary in Vologda.
"We thought, 'If one game makes $100, we can write several dozen of them and make a lot of money,"' Igor said.
Their second game, featuring an animated character designed by an outsourced artist, brought in $200 a month. Their copycat of Tetris brought in $700 a month, but the brothers shut that down after learning that the game was protected by a license. In 2004, when the business reached $10,000 of monthly revenue, they registered a legal entity, rented space for an office in the basement of a book warehouse and hired other staff to accelerate production.
In the early years, they sold casual games through sites such as majorgeeks.com or download.com, before moving to bigger platforms like Yahoo! and AOL. Then, within the past decade, games started moving first to Facebook and then smartphones. Many of them were available for free, with users paying only for certain in-game features.
Playrix makes most of its money from in-app purchases and the brothers mostly shun advertising, which detracts from the user experience. Ads generate less than 3 percent of revenue, Dmitry said.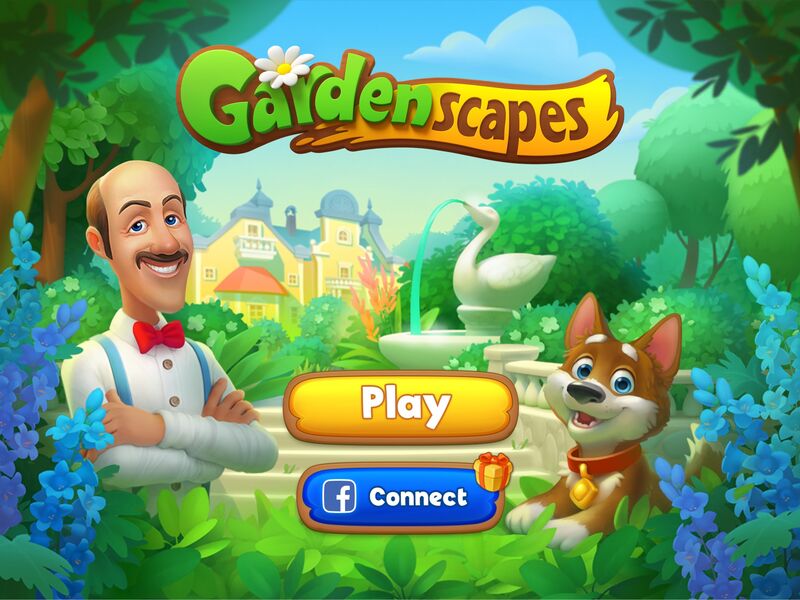 "It was a major challenge for us to switch to developing free-to-play games—that's totally different DNA," Dmitry said. "Free-to-play games aren't games that you develop, release and move on to making another one. They are services that need to be supported constantly as users are waiting for regular updates."
Playrix succeeded in this transition, achieving worldwide recognition over the past three years with Gardenscapes and its sequel, Homescapes, a new variety of match-3 puzzle in which a player completes rows of at least three elements to pass levels and progress through an animated storyline—in this case, helping a butler named Austin renovate a house with a garden.
"Austin engages in dialog with you, you help him to select ways to decorate the mansion, you dive into the history of this character and become related with him," Dmitry said. "This genre variety we introduced—match-3 with meta game—became very successful, and other companies started copying us."
"Playrix is certainly responsible for the first major innovation in the match-3 genre since King Digital Entertainment Plc seemingly had the market locked down with Candy Crush," said Newzoo analyst Tom Wijman. "Playrix managed to add a layer of complexity and 'meta game' to the match-3 genre without driving away casual mobile players."
The company employs several full-time script writers who work on Austin's dialog, and it's always improving the games, Dmitry said.
"It's like apps, like Spotify—people can use them for years," he said. "More and more people are getting accustomed that it's perfectly normal. Why not pay $5 to get pleasure from playing a game on a smartphone rather than watching videos or listening to music?"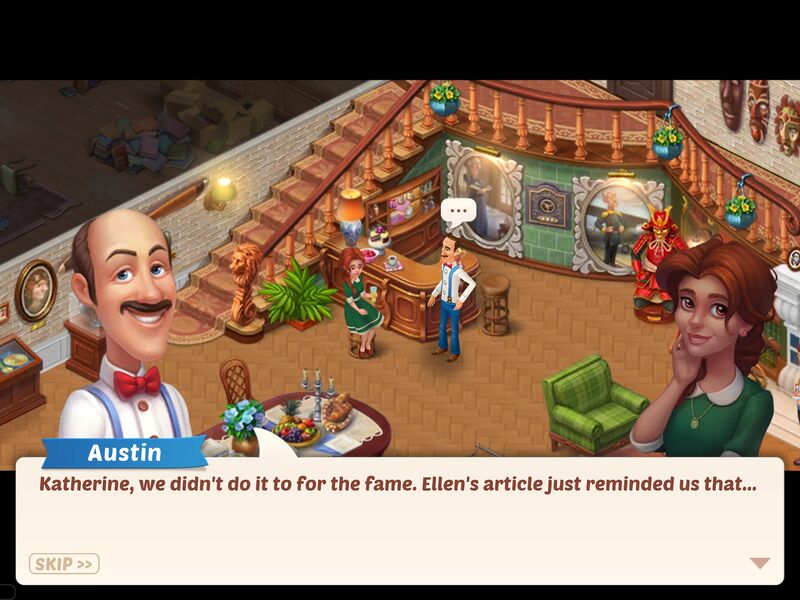 While Playrix hasn't introduced a new title since 2017, the company recently acquired several gaming studios to expand into new genres, Igor said, declining to disclose which studios until it releases games developed by them later this year.
Successful titles attract whales. Activision Blizzard acquired King Digital in 2015 for $5.9 billion, and a year later Tencent led investors in an $8.6 billion deal to acquire a majority stake in "Clash of Clans" maker Supercell Oy.
Could Playrix be next? In February, the Information reported that it could be sold for $3 billion, citing Chinese firms iDreamSky Technology Holdings and FunPlus Game Co. as potential suitors.
The brothers dismissed the report.
"For $3 billion we won't sell," Dmitry said with a smile, while acknowledging that Playrix had been discussing strategic options as recently as last year, noting its meetings with Wall Street banks.
Their goal, for now, is to become a "top-tier gaming company," that rivals Activision Blizzard and Electronic Arts in the West, and NetEase Inc. and Tencent in China, Igor said.
"We want to grow as big as they are, using developer talent from our region—the former USSR and Eastern Europe," he said.
There's no magic number that would compel the Bukhmans to sell the company, because they say money is secondary to doing what they love.
"Some may think that when you have a lot of money, everything becomes different and more interesting, you start doing different things," Dmitry said. "But no. We just keep working."
Opinion: Can Microsoft and Google keep up with Amazon in the battle of cloud computing?
Buzzwords and hype are common in the technology sector, where everyone is looking for the next way to play the "disruption" of one thing or another.
Certainly, if you catch a trend at the right time, you can make a lot of money relatively quickly.
Remember 3-D printing that was all the rage in 2013? Leader 3D SystemsDDD, +0.93% ran up about 170% on the year compared with 30% gains or so for the S&P 500 SPX, -0.16% . Now the current bitcoin craze just caused one unsung U.K. stock to surge 400% in a single day simply because it added the word "blockchain" to its name.
Of course, 3D Systems is now down about 90% from its peak. On Tuesday, shares plunged after earnings missed expectations and full-year guidance was withdrawn. And tons of respected analysts from Robert Shiller to Ray Dalio say bitcoin's bubble is about to burst.
As tech investors, then, it's important to look through the volatility and fancy lingo to find durable trends that deliver lasting returns.
The next such game-changing trend for investors is cloud computing. Some of these gains have already happened, as a bunch of cloud computing stocks have rallied in recent years. And heck, there are even fashionable ETFs like the First Trust Cloud Computing ETF SKYY, +0.19% dedicated to the trend.
But keep in mind that the fact that 21st-century tech sector is brutally selfish. From Amazon.com AMZN, -0.82% ruling e-commerce to Apple AAPL, -0.71% dominating U.S. smartphone sales, it's clear that technology companies don't like to share high-growth markets.
And that's exactly what we have in the cloud. Gartner estimates that worldwide cloud services tallied $209 billion last year and could grow to $383 billion by 2020 — an amazing 83% jump in an already large market across just four years.
So who are the players now winning this cloud computing war, and who is best positioned to profit from the rise of cloud infrastructure and the pervasiveness of this new tech trend?
Likely winner: Amazon
There's a reason that Amazon.com is the go-to investment for those looking to play cloud computing — and it's not just because of the phenomenal track record of this stock. Amazon Web Services is now pacing a $20 billion annual business, posting $4.58 billion in revenue last quarter and commanded as much as 30% market share, according to one analyst.
Even more important is that the 42% year-over-year expansion in the most recent quarter is on par with the same growth rate reported last quarter. That suggests that while growth may be plateauing, AWS is still expanding at a very healthy clip. The icing on the cake is that Jeff Bezos & Co. have shown a brutal habit of dominating markets they enter even at razor-thin margins. With Amazon Web Services already a big profit center, you can be sure they will put the screws to all who try to compete in this market.
Likely winner: Microsoft
Of course, while Amazon is the leader, Microsoft MSFT, -0.76% is no slouch. Under CEO Satya Nadella, the firm has pushed whole hog into cloud computing over the last three years — and it has paid off. Microsoft recently landed some big customers like advertising giant Publicis PUBGY, -0.41% PUB, -1.49% and retailer Costco COST, +0.69% for its Azure cloud-computing interface.
Microsoft's most recent earnings report saw its Azure unit — a direct competitor of AWS — post 90% growth over a year earlier after growing a stunning 97% in the prior quarter. Its "commercial cloud" unit is now seeing a $20 billion annual run rate on par with Amazon (though admittedly some of that total is just old Office software licenses classified in a new category). It's clear Microsoft has a sense of urgency and is intent on being one of the few left standing in the war for cloud computing revenue.
Possible winner: Google
Google parent Alphabet GOOGL, -0.75% GOOG, -0.71% has a lot of positive mojo associated with its brand, and continues to talk up its presence in the cloud-computing ecosystem. But while Microsoft and Amazon provide some numbers for investors, it's difficult for investors to get visibility into this unit; the word "cloud" doesn't appear once in the Alphabet news release about last week's earnings, and its Google Cloud offerings are rolled into its "Other Bets" revenue that includes everything from Chromecast hardware to in-app purchase on Android smartphones. And still, that entire business segment only recorded $300 million in total revenue last quarter — a far cry from the scale of the cloud businesses at Amazon and Microsoft.
This summer, Google claimed it was scoring many more big deals with clientsand growing nicely, but without more details and without more scale, it's hard to gauge whether Google will be a player or just another also-ran.
Likely loser: IBM
International Business Machines IBM, -1.54% has been trying mightily to restructure its business for the age of cloud computing, but it is very likely too little and too late for this one-time king of tech. Sure, its cloud business was up nicely in the most recent quarter and represents 20% of total revenue and an annual run rate of $9.4 billion thanks to big clients including the U.S. Army and Honeywell HON, +0.30% But Big Blue has struggled as an organization, suffering 22 straight quarters of declining revenue even as it crosses its fingers and bets on everything from the cloud to cybersecurity to its Watson artificial intelligence applications.
It's always possible that IBM could continue to see enough growth and success to play with the big boys, but the broader headwinds against the business make it difficult to imagine IBM becomes a leader… and if you're not a leader in tech these days, you're a loser.
Likely loser: VMware
While the price of VMware Inc. VMW, +1.30% shares has been on a tear since early 2016 and recently hit levels not seen since its 2007 IPO, I'm not optimistic about its staying power. The company's core server virtualization business faces an existential threat from the likes of AWS and Azure, and that threat isn't going away. A partnership with Amazon announced in late 2016 was cheered by VMware investors as a match made in heaven, but such a move seems self-defeating since it will only encourage firms that already use VMware for virtualization to move their datacenters wholly off-site via AWS. Integrating the two may be a short-term boon for VMware as a way to keep current clients happy, but it's hard to imagine it will counter the long-term threat.
Non-factors: Oracle, Salesforce, SAP and every other SaaS name
For the record, I don't see companies like Oracle ORCL, -0.13% and SalesforceCRM, -0.03% as anything other than enterprise software companies – not true players in the cloud.
When Priceline.com was founded 20 years ago, it was thought of as a tech stock simply because it was a dot-com name. But come on – it's a consumer travel company. Just as retailers have had to adapt to the realities of e-commerce, so have enterprise software names had to adjust to the new normal of cloud computing. That doesn't make them core plays on this trend, however, and investors shouldn't think of them as such.
Instead, the question for investors is whether the actual software and value-add gives a company like Oracle or Salesforce a true edge or a wide enough moat over competitors to be worth it.
Source: https://www.marketwatch.com/story/can-microsoft-and-google-keep-up-with-amazon-in-the-battle-of-cloud-computing-2017-11-01
ISACA INSTALLS 2018-2019 BOARD OF DIRECTORS
Schaumburg, IL, USA (11 June 2018)—ISACA, a global business technology association serving more than 450,000 professionals, installed its 2018-2019 Board of Directors at its Annual General Meeting in Chicago, Saturday 10 June. Rob Clyde was elected to lead ISACA's board as chair.
"It is an incredible privilege and opportunity to lead this dynamic organization as we help enterprises navigate digital transformation and help individuals transform their careers," said Clyde. "I am grateful to serve alongside a global professional community that is ensuring the technologies and advancements we embrace are safe, secure, reliable and resilient for both individuals and for enterprises."
An industry leader within the security and technology space with more than 30 years of experience, Clyde is managing director of Clyde Consulting LLC, which provides board and executive advisory services to cybersecurity software and other companies. In addition to his role as ISACA's newest chair, Clyde serves as executive chair for White Cloud Security, board director for Titus and executive advisor to HyTrust and BullGuard. He is also a Board Leadership Fellow of the U.S. National Association of Corporate Directors. Prior to his current board and executive advisory work, Clyde served as the chief executive officer of Adaptive Computing, was chief technology officer at Symantec and cofounder of Axent Technologies.
At ISACA, Clyde previously served as board vice chair and director, chaired the board-level ISACA Finance Committee, and served as a member of ISACA's Strategic Advisory Council, Conference and Education Board and the IT Governance Institute (ITGI) Advisory Panel. He is a frequent speaker at ISACA and other global cyber security, technology and governance conferences. He also serves on the industry advisory council for the Management Information Systems (MIS) Department of Utah State University (USA).
"Rob has served ISACA and our global professional community for many years, and his technical expertise, paired with his business acumen and leadership skills, make him an ideal choice for ISACA board chair," said ISACA CEO Matt Loeb. "The expanding digital business challenges and risks facing the enterprises and professionals we serve requires innovative thinking, including new expert resources, assessment tools and training solutions. Our 2018-2019 board members are remarkably experienced and dedicated individuals who will contribute to ISACA's increasing visibility, influence and impact globally."
Also named to a new leadership role on ISACA's Board of Directors is Vice-chair Brennan Baybeck, vice president of Global IT Risk Management for Oracle Corp. Baybeck has more than 20 years of experience in IT security, risk, audit and consulting, and has worked in various industries designing, implementing and operating enterprise-wide programs to address global security risks. He has held leadership positions at Sun Microsystems, StorageTek and Qwest Communications.
In total, 13 leaders were installed on the 2018-2019 ISACA Board during the organization's annual business meeting:
Chair Rob Clyde, CISM, managing director of Clyde Consulting LLC
Vice Chair Brennan P. Baybeck, CISA, CISM, CRISC, CISSP, vice president of Global IT Risk Management for Oracle Corp.
Director Tracey Dedrick, former chief risk officer, Hudson City Bancorp
Director Leonard Ong, CISA, CISM, CRISC, CGEIT, CPP, CFE, PMP, CIPM, CIPT, CISSP ISSMP-ISSAP, CSSLP, CITBCM, GCIA, GCIH, GSNA, GCFA, associate director at Merck & Co., Inc.
Director R.V. Raghu, CISA, CRISC, director of Versatilist Consulting India Pvt. Ltd.
Director Gabriela Reynaga, CISA, CRISC, founder and chief executive officer of Holistics GRC Consultancy
Director Gregory Touhill, Brigadier General (ret), USAF, CISM, CISSP, president of Cyxtera Federal Group, Cyxtera Technologies
Director Theodore H. Wolff, CISA, head of IT & Security Global Assurance practices in Vanguard's Global IT & Security Risk and Control group
Director Tichaona Zororo, CISA, CISM, CGEIT, CRISC, COBIT 5 Certified Assessor, CIA, CRMA, IT advisory executive with EGIT | Enterprise Governance of IT (Pty) Ltd.
Director Matt Loeb, CGEIT, CAE, FASAE, ISACA chief executive officer
Past chairs who remain on the ISACA Board are:
Director and Chair (2017-2018) Theresa Grafenstine, CISA, CGEIT, CRISC, CPA, CISSP, CIA, CGMA, CGAP, managing director at Deloitte & Touche LLP
Director and Chair (2015-2017) Chris Dimitriadis, Ph.D., CISA, CISM, CRISC, ISO 20000 LA, group director of Information Security for INTRALOT
Director and Chair (2014-2015) Robert E Stroud, CGEIT, CRISC, chief product officer at XebiaLabs
The 2018-2019 Board will lead ISACA as it celebrates its 50th anniversary in 2019. Photos and biographies of all board members are available at www.isaca.org/board.
United States and China.
USING AI CAN HAVE UNINTENDED CONSEQUENCES
Artificial intelligence protects us from known and unknown threats, helps us connect to one another, and provides better answers faster and cheaper than humans do. But what about the unintended consequences that come with its use?
A new Insight from Bain & Company provides a list of risks to beware of when considering leveraging AI, among them:
Unlike traditional rules-based programming, AI models are statistical representations of the world. They provide answers based on their learning, but they are imperfect. Consider autonomous vehicles—their training data is growing exponentially and the models based on it are improving, but errors in those algorithms continue to be discovered, sometimes only after loss of life.
Overreliance on AI can lead to loss of skills, critical thinking, and understanding of the fundamentals of your business and what's truly driving demand.
The lack of transparency in algorithms raises concerns about bias, since any algorithm trained on historical data will make conclusions that reflect the bias present in that data. As these algorithms take on broader roles—setting a price on an e-commerce site, determining car insurance rates, making hiring decisions—a very real risk is simply repeating how things have always been done.
How can these risks be addressed?
Bain & Co. advises that top executives be involved in establishing the goals and limits around the AI used by their businesses. Every materially important algorithm should also have a product manager to review and test the algorithm, audit its outcomes, and assess and improve its performance.
See the full Bain & Co. article: "Tackling AI's Unintended Conseque
Source: Carrier Management