Computers in North Korea run on look-alike Mac software called 'Red Star 3.0' — here's what it's like to use
Almost every computer in North Korea runs on a North Korea-made operating system called "Red Star."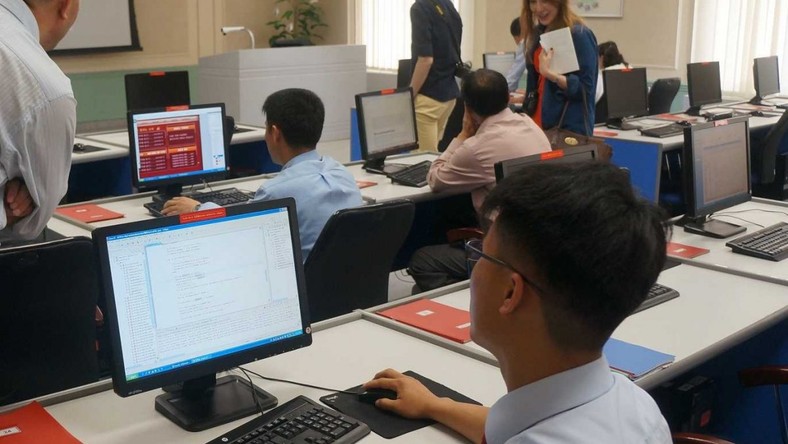 A former Google employee purchased a copy of North Korea's operating system before returning to America, which lets us see what it's like to use a computer in the country.
When former Google employee Will Scott had the chance to visit thePyongyang University of Science and Technology, he also purchased a copy of North Korea's "Red Star 3" operating system before returning to America.
Little was publicly known about Red Star 3 at the time.
North Korea used to use Windows, but it has since created Red Star 3, which is designed to look a lot like Apple's macOS operating system. Red Star 4 is reportedly in the works, but for now, most people in North Korea are still on the third version.
From stunning and picturesque wallpapers to removing South Korea from the available time zones, here's what it's like to use a computer in North Korea:
This is the startup screen when you first boot up Red Star 3. Will Scott
When installing Red Star 3, you're prompted to select a city for your time zone. Interestingly enough, Seoul, South Korea, isn't an option.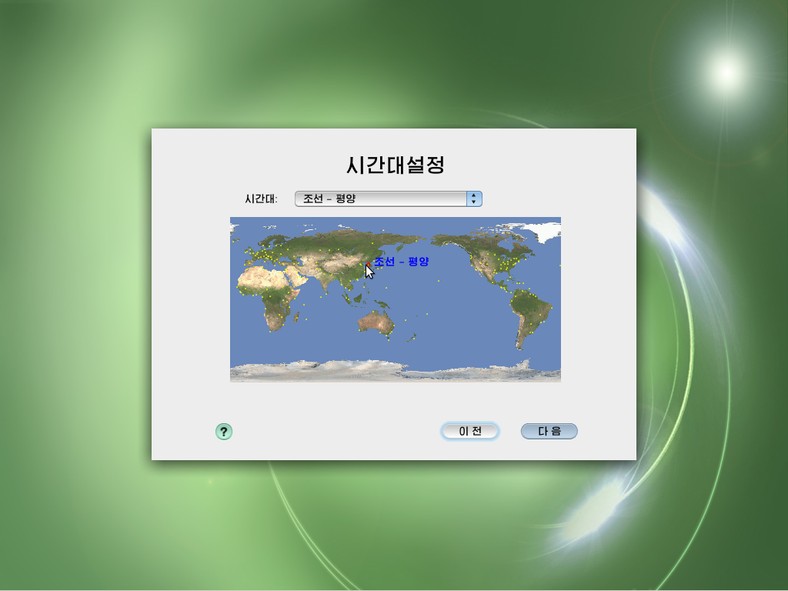 Will Scott
This is the log-in screen.
Will Scott
You're in! You'll notice Red Star 3 looks a lot like Apple's macOS. Past versions looked more like Windows XP. Since Kim Jong Un was spotted using an iMac at his desk back in 2013, some people believe he wanted Red Star to look more like a Mac.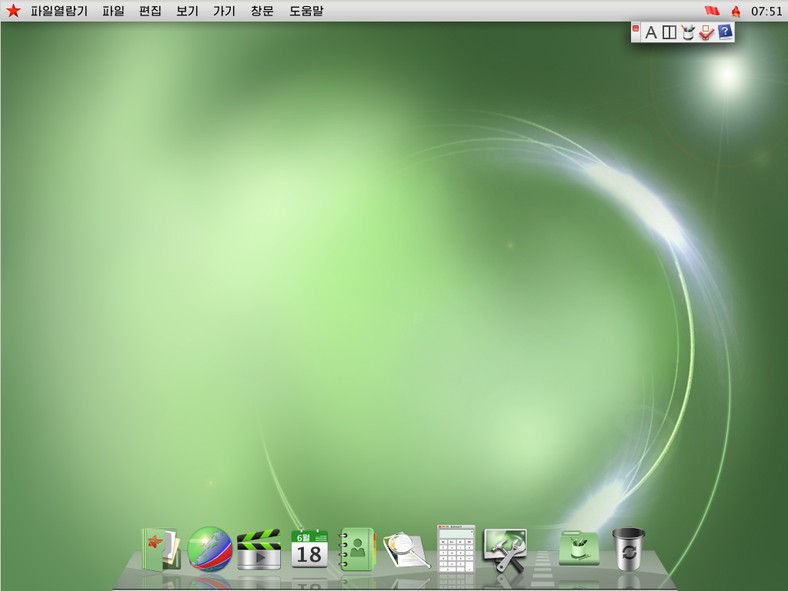 Will Scott
This is the word processor for creating documents.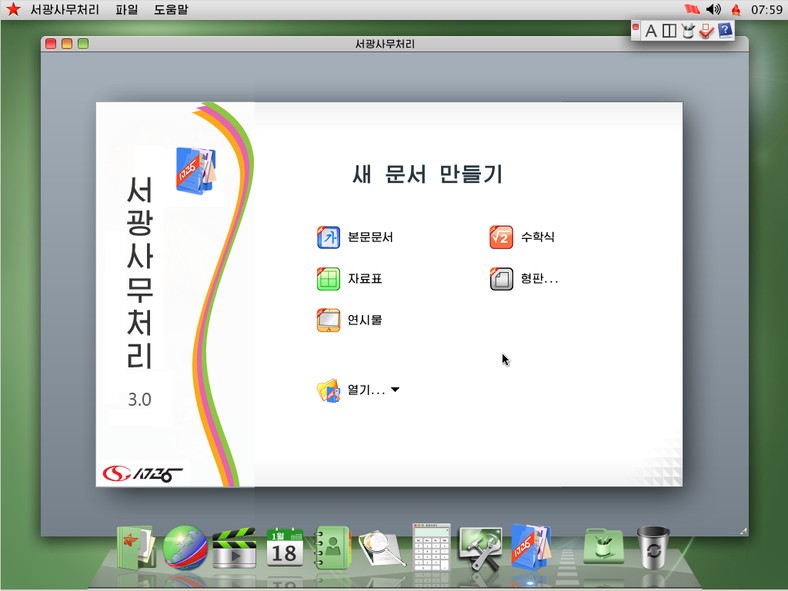 Will Scott
Here's the email client.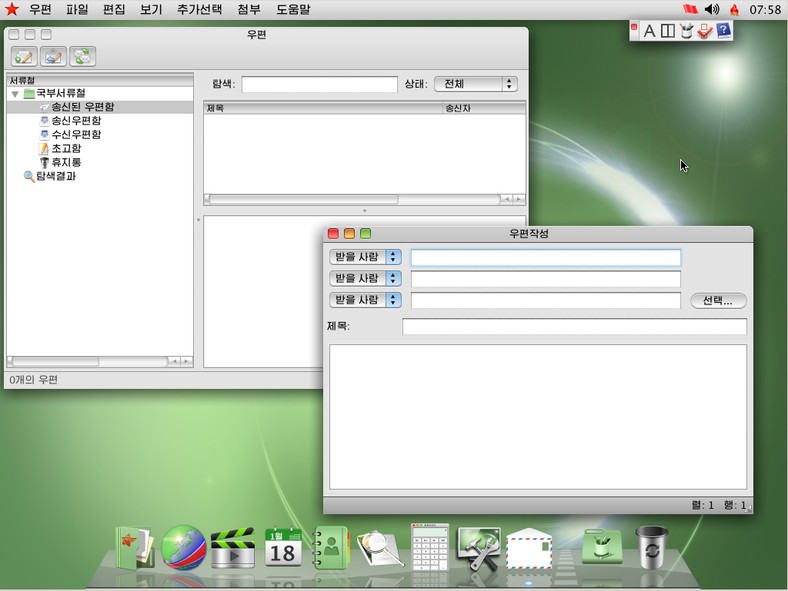 Will Scott
To access your saved documents, you use Red Star's file manager, which looks a lot like Apple's "Finder" management system.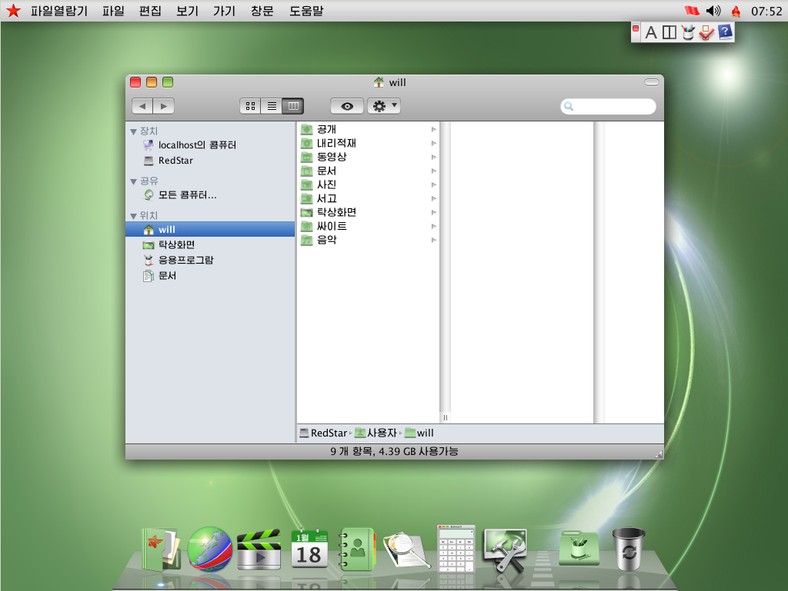 Will Scott
Red Star's web browser is called "Naenara," and it is a heavily modified version of Mozilla Firefox.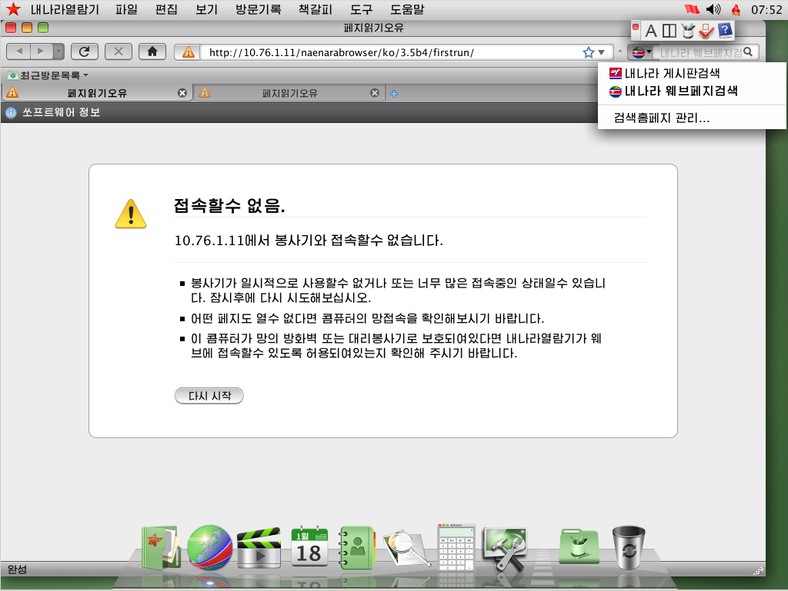 Will Scott
This is how you personalize Red Star 3. We also have access to the wallpapers that are included.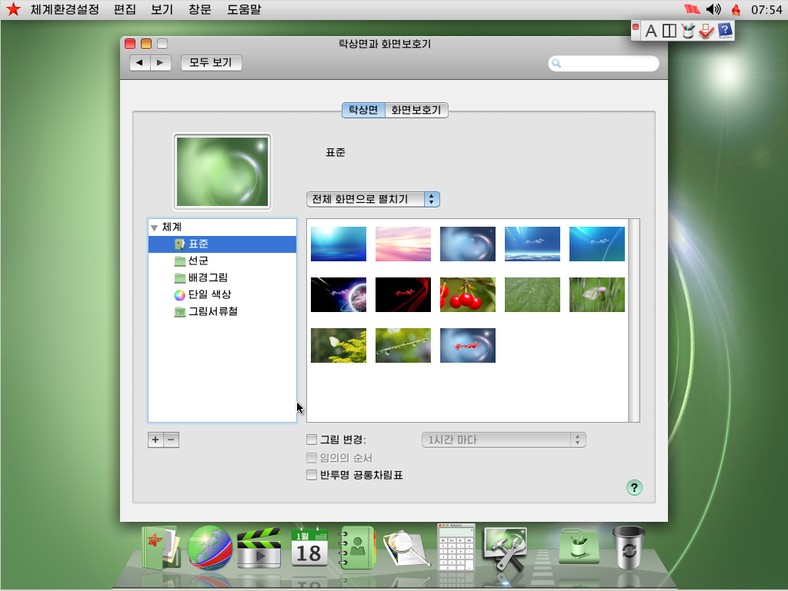 Will Scott
This wallpaper is titled , or "snow at the baksol outpost."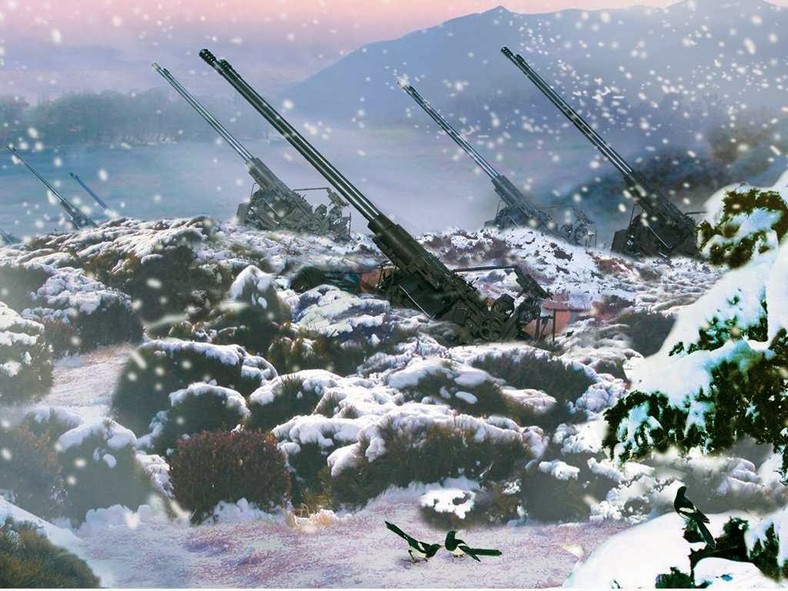 Will Scott
This wallpaper's name translates to "Night view of Zhuangzi River fire."
Will Scott
This wallpaper is called , or "daehongdan's potato flowers"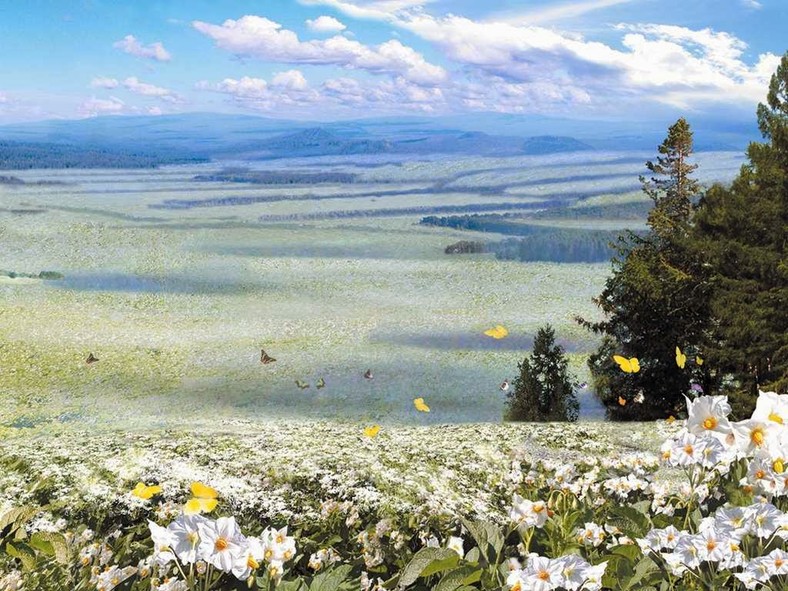 Will Scott
This beautiful wallpaper translates to "Iron's Azalea," and shows the flowering Azalea shrubs.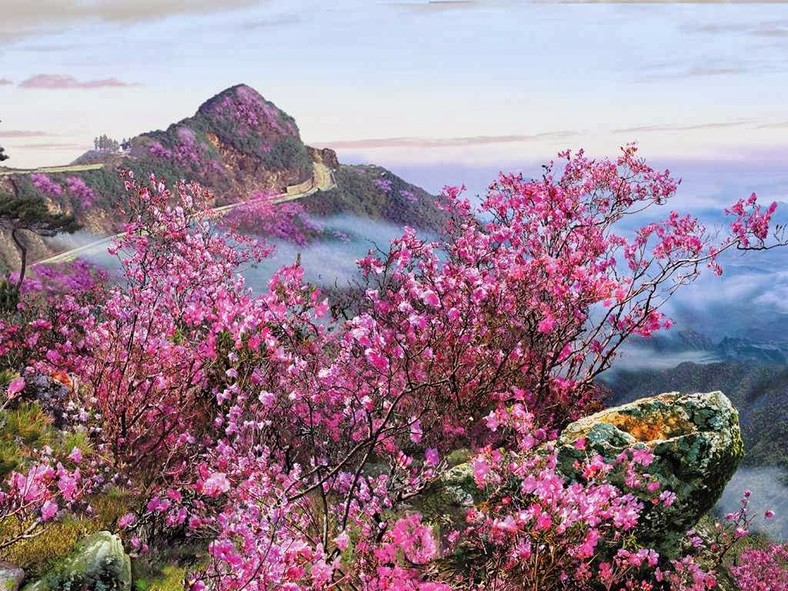 Will Scott
This wallpaper called "On the horizon" shows a picturesque view of North Korean farmland.
Will Scott
This gorgeous waterfall wallpaper is called "Echo of the falls."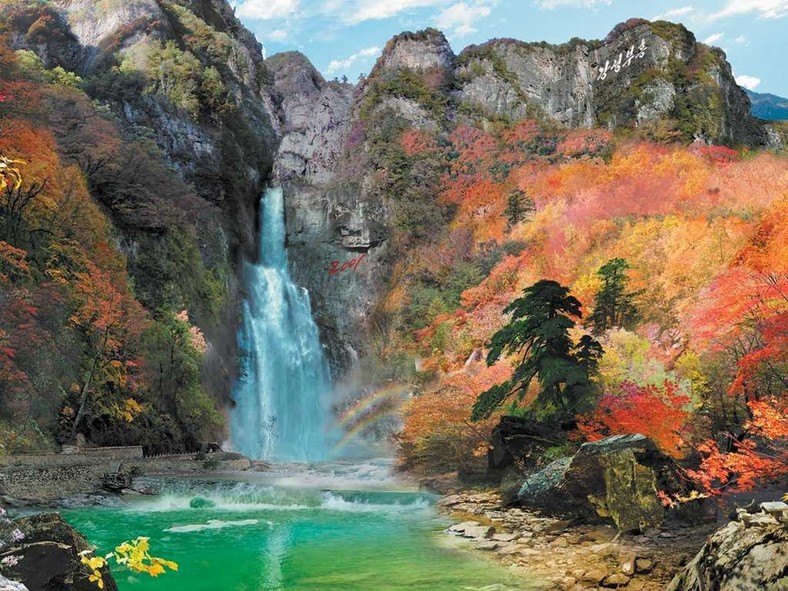 Will Scott
This wallpaper is called , or "Beomanli's Outskirts."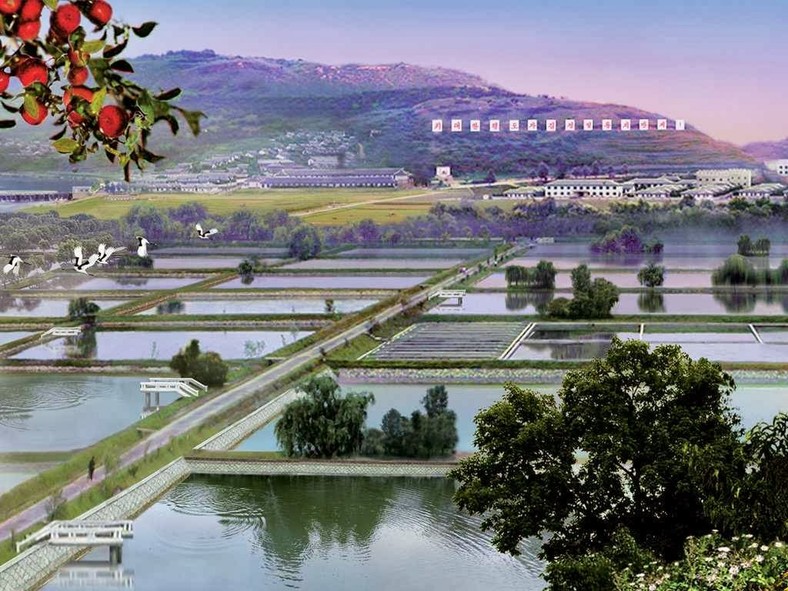 Will Scott
This wallpaper is "Mt Paekdu's Sunrise." Paekdu is an active volcano that borders North Korea and China.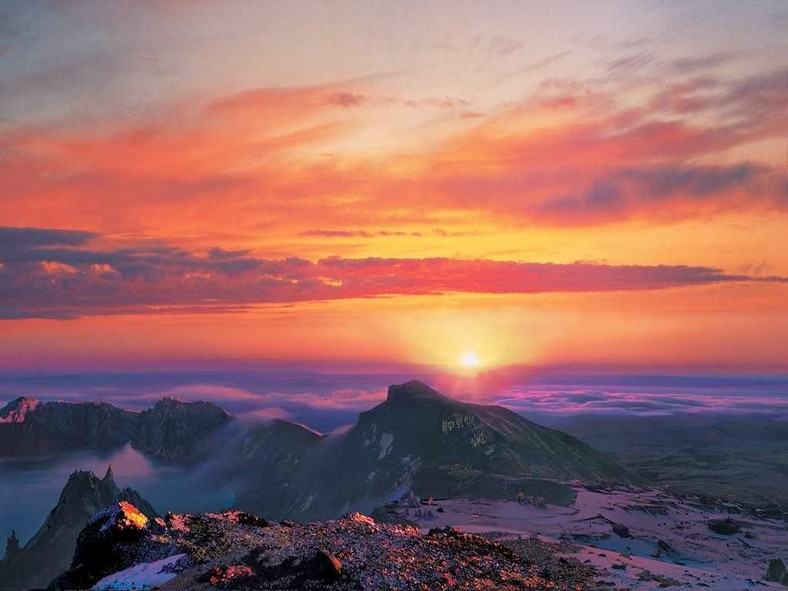 Will Scott
Source: https://www.pulse.ng/bi/tech/computers-in-north-korea-run-on-look-alike-mac-software-called-red-star-30-heres-what/w9mds1p
Samsung rolls out beta version of ethereum blockchain development kit
South Korean electronics giant Samsung has released a beta version of ethereum blockchain-based software development kit (SDK) for partner developers.
The kit provides "a full set" of functions that are required to build decentralized apps (dapps), the company said, adding that it also offers a payment gateway for cryptocurrency remittance with its user interface.
"Samsung Blockchain SDK is available to communicate with external blockchain node providing payment solution. It can reduce costs to build your dapp except in case if you have your own wallet logics already," Samsung explained.
The kit currently only supports five devices: Galaxy S10e, S10, S10+, S10 5G and the Galaxy Fold. The official version of the kit is expected to be released by the end of this year.
Galaxy S10 was launched earlier this year, which supports several dapps as well as features a Samsung crypto wallet supporting ether and ERC20 tokens. The giant was also planning to bring blockchain solutions to more budget-friendly Galaxy models.
Recently, there were also reports that Samsung is creating its own Ethereum-based blockchain network and may be planning to issue its own token too.
Source: https://www.theblockcrypto.com/tiny/samsung-rolls-out-beta-version-of-ethereum-blockchain-development-kit/
How you charge your mobile phone could compromise its battery lifespan
Researchers at WMG at the University of Warwick have found that use of inductive charging, whilst highly convenient, risks depleting the life of mobile phones using typical LIBs (Lithium-ion batteries)
Consumers and manufacturers have ramped up their interest in this convenient charging technology, abandoning fiddling with plugs and cables in a favour of just setting the phone directly on a charging base.
Standardisation of charging stations, and inclusion of inductive charging coils in many new smartphones has led to rapidly increasing adoption of the technology. In 2017, 15 automobile models announced the inclusion of consoles within vehicles for inductively charging consumer electronic devices, such as smartphones — and at a much larger scale, many are considering it for charging electric vehicle batteries.
Inductive charging enables a power source to transmit energy across an air gap, without the use of connecting wire but one of the main issues with this mode of charging is the amount of unwanted and potentially damaging heat that can be generated. There are several sources of heat generation associated with any inductive charging system — in both the charger and the device being charged. This additional heating is made worse by the fact that the device and the charging base are in close physical contact, any heat generated in one device may be transferred to the other by simple thermal conduction and convection.
In a smartphone, the power receiving coil is close to the back cover of the phone (which is usually electrically nonconductive) and packaging constraints necessitate placement of the phone's battery and power electronics in close proximity, with limited opportunities to dissipate heat generated in the phone, or shield the phone from heat generated by the charger. It has been well-documented that batteries age more quickly when stored at elevated temperatures and that exposure to higher temperatures can thus significantly influence the state-of-health (SoH) of batteries over their useful lifetime.
The rule of thumb (or more technically the Arrhenuis equation) is that for most chemical reactions, the reaction rate doubles with each 10 °C rise in temperature. In a battery, the reactions which can occur include the accelerated growth rate of passivating films (a thin inert coating making the surface underneath unreactive) on the cell's electrodes. This occurs by way of cell redox reactions, which irreversibly increase the internal resistance of the cell, ultimately resulting in performance degradation and failure. A lithium ion battery dwelling above 30 °C is typically considered to be at elevated temperature exposing the battery to risk of a shortened useful life.
Guidelines issued by battery manufacturers also specify that the upper operational temperature range of their products should not surpass the 50?60 °C range to avoid gas generation and catastrophic failure.
These facts led WMG researchers to carry out experiments comparing the temperature rises in normal battery charging by wire with inductive charging. However the WMG were even more interested in inductive charging when the consumer misaligns the phone on the charging base. To compensate for poor alignment of the phone and the charger, inductive charging systems typically increase the transmitter power and/or adjust their operating frequency, which incurs further efficiency losses and increases heat generation.
This misalignment can be a very common occurrence as the actual position of the receiving antenna in the phone is not always intuitive or obvious to the consumer using the phone. The WMG research team therefore also tested phone charging with deliberate misalignment of transmitter and receiver coils.
All three charging methods (wire, aligned inductive and misaligned inductive) were tested with simultaneous charging and thermal imaging over time to generate temperature maps to help quantify the heating effects. The results of those experiments have been published in the journal ACS Energy Letters in an article entitled "Temperature Considerations for Charging Li-Ion Batteries: Inductive versus Mains Charging Modes for Portable Electronic Devices."
The graphics with this press release illustrates three modes of charging, based on (a) AC mains charging (cable charging) and inductive charging when coils are (b) aligned and (c) misaligned. Panels i and ii show a realistic view of the charging modes with a snapshot of the thermal maps of the phone after 50 min of charging. Regardless of the mode of charging, the right edge of the phone showed a higher rate of increase in temperature than other areas of the phone and remained higher throughout the charging process. A CT scan of the phone showed that this hotspot is where the motherboard is located
In the case of the phone charged with conventional mains power, the maximum average temperature reached within 3 hours of charging did not exceed 27 °C.
In contrast this for the phone charged by aligned inductive charging, the temperature peaked at 30.5 °C but gradually reduced for the latter half of the charging period. This is similar to the maximum average temperature observed during misaligned inductive charging.
In the case of misaligned inductive charging, the peak temperature was of similar magnitude (30.5 °C) but this temperature was reached sooner and persisted for much longer at this level (125 minutes versus 55 minutes for properly aligned charging).
Also noteworthy was the fact that the maximum input power to the charging base was greater in the test where the phone was misaligned (11W) than the well-aligned phone (9.5 W). This is due to the charging system increasing the transmitter power under misalignment in order to maintain target input power to the device. The maximum average temperature of the charging base while charging under misalignment reached 35.3 °C, two degrees higher than the temperature detected when the phone was aligned, which achieved 33 °C. This is symptomatic of deterioration in system efficiency, with additional heat generation attributable to power electronics losses and eddy currents.
The researchers do note that future approaches to inductive charging design can diminish these transfer losses, and thus reduce heating, by using ultrathin coils, higher frequencies, and optimized drive electronics to provide chargers and receivers that are compact and more efficient and can be integrated into mobile devices or batteries with minimal change.
In conclusion, the research team found that inductive charging, whilst convenient, will likely lead to a reduction in the life of the mobile phone battery. For many users, this degradation may be an acceptable price for the convenience of charging, but for those wishing to eke out the longest life from their phone, cable charging is still recommended.
Source: https://www.sciencedaily.com/releases/2019/06/190626124943.htm
Surprise! Many Americans don't know what phone they own, think it has 5G
According to survey results published by refurbished products site Decluttr, many smartphone users based in the United States don't know very much about their own phones.
Decluttr's survey polled 2,000 U.S.-based smartphone owners of all ages (18+). The results present a sobering look at just how little smartphone users seem to care about what phone they're using, how it works, or what features it does or does not have.
Probably the most overall surprising result of the survey is that only about half of respondents were able to correctly identify their current smartphone when shown a promotional image of that phone amongst other phones from the same manufacturer.
Diving further into that, it appears smartphone users with Samsung Galaxy S line devices are much better at recognizing their phones as compared to Apple iPhone owners. Check out the graph below:
However, just because Samsung owners are good at identifying which phone they own doesn't mean they are good at knowing what their phone does. According to the survey, around 40 percent of Samsung Galaxy S owners are completely unaware their device supports wireless charging.
On the Apple front, only 14 percent of iPhone owners know their phone features an NFC chip and only a little less than half of iPhone users know their smartphone is water resistant.
The most alarming result from the survey is how many people think their smartphone supports 5G connections. About one-third of respondents think their smartphone can connect to a 5G network, even though it most certainly cannot. What's worse, of those people who say their phone is 5G ready, a whopping 62 percent say that they've seen a notable speed increase while using 5G — even though they have likely never seen 5G service.
The rest of Decluttr's survey results focus on misconceptions smartphone users have when it comes to buying refurbished devices, which naturally ties in well to the company's business. You can see the full page of survey results here.
Source: https://www.androidauthority.com/smartphone-users-survey-2019-1004535/