Microsoft Announces New Security Features For Microsoft 365
Microsoft has announced an array of new features that combine Microsoft 365 combines Windows 10, Office 365, and Enterprise Mobility + Security as a subscription offering for businesses.
For Microsoft 365 E5 and E5 Compliance, the company is introducing Advanced Message Encryption, which is meant to further protect encrypted emails once they leave the company. Admins will have new controls to take away access to an encrypted email via a web portal. You'll also be able to set time limits on access to encrypted emails.
There are also new search tools, meant to give you the ability to "take action on at-risk sensitive data". This feature is still in preview. At the same time, you can also block sensitive information in Teams channels.
Of course, there are new compliance features, another thing that's important for businesses. Compliance Manager will let you create assessments, which also support on-premises applications and non-Microsoft applications, allowing admins to see the broader picture that goes beyond the scope of just Microsoft services. It also detects tenant settings, and it will use the Secure Score API to update your controls. Finally, Multi-Geo Capabilities will allow you to decide where your data is stored around the world.
Source: https://www.independent.ng/microsoft-announces-new-security-features-for-microsoft-365/
Google launches Chromebook App Hub for educators plus other classroom tools
Earlier this year, Google announced plans to build a Chromebook App Hubdesigned to help teachers and other curriculum administrators more easily find educational tools and apps to use in the classroom. Today, as a part of Googe's educational announcements at ISTE 2019, the company officially launched the App Hub with content from Epic!, Adobe, Khan Academy and others. It also unveiled new product features in Quizzes in Google Forms, Classroom, Course Kit and more.
As Google previously explained, teachers today often surf the web to seek new ideas and activities to help them create their lesson plans. Meanwhile, curriculum specialists field special requests from teachers but are tasked with making sure the programs requested meet the district's policies.
The Chromebook App Hub aims to address both these scenarios by offering a place for educators to discover ideas and resources, as well as learn how they can be implemented in the classroom and if they meet district policy.
Google worked with the EdTechTeam to help gather the ideas around apps, it says.
It also worked with the nonprofit Student Data Privacy Consortium (SDPC) to help app developers better consider the data privacy aspects of their products. That way, the districts would be able to find the appropriate solutions that meet their own privacy requirements.
"The SDPC is proud to work with [the Chromebook App Hub] to provide transparency and openness around the critical aspects of schools, states, and vendors securing learner information," says Dr. Larry L. Fruth II, CEO of A4L/SDPC, in a statement.
Google additionally consulted with the Family Online Safety Institute (FOSI) and ConnectSafely on guidelines focused on creating "healthy digital citizenship habits," it says.
At launch, Epic! will contribute to the App Hub its library of children's books, videos and games; Adobe will include its visual storytelling app Adobe Spark; and Khan Academy will bring its free library of lessons across subjects like math, grammar, science, history, standardized tests and more.
The ultimate goal, of course, is to better establish the Chromebook's presence in the classroom, as App Hub's apps and activities are designed to run on the Chromebook computers.
Schools and classrooms are a newer battleground for devices, with Google, Microsoft and Apple all investing in various initiatives in the K-12 market.
Last year, for example, Apple introduced a new iPad designed to help it catch up with Google, and win over more school districts. At its developer conference earlier this month, Apple also showed off new features for its educational framework ClassKit and its free app for teachers, Schoolwork.
However, Google's Chromebook is dominating the U.S. K-12 market because of itssimplicity, price and IT department tools. As of 2017, it had 58% of the market, versus 22% for Microsoft Windows and 19% for Apple.
In addition to the launch of App Hub, Google launched a beta program for teachers that lets them create a rubric and attach it to an assignment, so students know how their work will be graded. The rubrics can be created in both Classroom and Course Kit.
It also launched tools that let teachers lock Quizzes in Google Forms on managedChromebook so students can't navigate away until they submit their answer. And it says it will soon introduce a feature that allows teachers to import questions from previously used Forms into new ones.
Google is also launching an updated version of Gradebook that offers a more holistic view of student progress plus an early access program that lets teachers sync grades from Classroom to the School Information System (SIS). The early access beta program will be available to schools this summer, with Infinite Campus and Capita SIMS as initial partners, with more to come.
Source: https://techcrunch.com/2019/06/19/google-launches-chromebook-app-hub-for-educators-plus-other-classroom-tools/
Why you probably shouldn't install iOS 13 and the other betas just yet
Apple this week officially released the first developer beta of iOS 13. As always, many people are eager to install the new iOS version and try the latest features, but there are several reasons why you should probably hold off. After all, it is a very early beta and is bound to have numerous problems.
Should you install the iOS 13 beta?
Apple itself acknowledges that the first beta of iOS 13 is buggy, warning "thrill seekers" that they should probably wait for the public beta coming next month:
Important Note for Thrill Seekers: If you're interested in living on the edge and trying out the great new features in iOS 13, we strongly advise waiting for the many bug fixes and refinements coming to the public beta next month.
iOS 13 includes all of the problems you'd expect from an early iOS beta. That means a warmer-than-usual device temperature, completely unoptimized battery life, and numerous interface quirks, app crashes, and more.
Across all five of the new betas, iOS, iPadOS, macOS, tvOS, and watchOS, you'll run into compatibility issues with third-party apps. These betas are designed to give developers the opportunity to update their applications ahead of the stable releases this fall, and you shouldn't expect applications to run as-expected until then.
Apple has also increased the difficulty level of the install with this year's iOS 13 beta. While it used an OTA system last year, the first beta of iOS 13 is available only as a direct download from Apple's Developer site. It also requires that you have the Xcode beta installed and that you restore via iTunes.
Apple will eventually release public beta versions of macOS 10.15, iOS 13, and tvOS 13. Those will likely come next month and will represent a more stable, but still buggy, way for the general public to test out the latest and greatest operating systems. The public betas, and future developer betas, will be available as over-the-air updates as well, dramatically simplifying the install process.
If you're still tempted to try iOS 13 and the other betas in their current beta form, our advice is to install them on devices that you don't rely on day-to-day. This will let you try out the new features, while also preserving the experience on your daily devices.
Source: https://9to5mac.com/2019/06/05/install-ios-13-beta-guide/
Huawei folding phone(Mate X) reappears to boast 5G speed
Since the start of problems Huawei with the United States, many users who have thought about the launch of Mate X. The Huawei phone with folding screen had planned to reach the market this June, and doubts about its release do not stop creating as the days pass. Where is Mate X?
First 5G tests with the Huawei Mate X
The latest clues come with official information, as the president of the Huawei smartphones branch has shared some images in which you can see some speed tests carried out with the famous phone with a folding screen. The images reveal that the maximum speed reached in the tests of Speedtest reached 1 gigabit per second, while the rise was at 100 megabytes per second.
This is undoubtedly excellent news for those interested in knowing about the first Huawei folding phone. We hope that the program runs its course and this same month when we see the phone for sale (even if only in China), although it is clear that the doubts will continue on which licenses will be affected when marketing it and, basically, what such will respond the screen to everyday use, something that as we could see did not sit well at the option of Samsung.
On the other hand, Gang assured that the speeds obtained in the laboratory tests reached the figure of 1.2 Gbps, so technically the phone is able to reach higher cruising speed, although we are very much afraid that in conditions normal the result will be similar to that of the video. At this point, there is no doubt that the 5G is tremendously fast, right?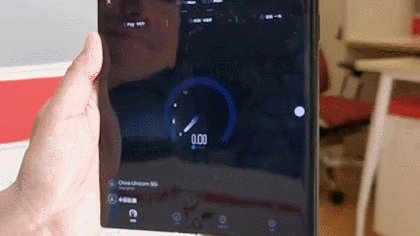 The mobile download speed can surpass 1 Gbps using the #5G network, He Gang, head of Huawei's smartphone unit proved in a vlog with Huawei's foldable Mate X handset on Tuesday.
Huawei mate x 5g testing using a customized Android version?
Taking a deeper look at the video, we can see how this unit of Mate X has a home screen where no icon of any application belonging to Google appears . It is something that could simply be a measure not to promote the company that has left out, a simple custom configuration or something even more complex, are we facing a version of Android customized by Huawei ?
This last option is the most rocambolesque, but there is another detail that is equally suspect: why is a virtual start button placed on the screen? Until now, the device had been showing the lower status bar with the classic buttons of Android, and in the case of not showing it, an upward gesture would be enough for it to reappear. As we said, these are suspicious details that generate enough doubts about the version of the operating system that is running the device, but for now, we will turn a blind eye and focus only on the results of the 5G tests.
Source: https://heraldpublicist.com/huawei-folding-phonemate-x-reappears-to-boast-5g-speed45678/