Google promises to give users more control of data
Tech group pledges greater privacy as it unveils products that will know more about you

Google's most ambitious new products and services, on display at its annual conference for developers this week, rely on getting to know customers in ever greater detail. A new version of its digital assistant, for example, tries to construct a "graph" of a user's interests and preferences, while a "smart screen" for the home is equipped with cameras so that it can learn to recognise users when they come into sight. But the world's largest internet company also wants to reassure the billions of people who rely on its services that they can trust it. "We think privacy is for everyone," said Sundar Pichai, Google chief executive, at the conference, as he outlined two main ways in which the company would change its approach. Users can now choose how long data are stored Google said it is working to give users more control over their personal information, and will now allow people to select how long they want personal data about their web and app activity to be retained by Google before it is deleted. The company has also extended "incognito mode" — which for a decade has allowed internet browsing without Google being able to record a user's online activity — to other services, like searching and navigating using Google Maps. This points to what Google executives concede has become a lightning rod for privacy worries: the mass collection of data about users' locations. Along with information about what they search for, this is the most valuable data Google has to target advertising, according to one. But it is also some of the personal information most ripe for abuse. In a concession to those worries, the company is extending new tools to let users limit how much location data are captured and how long it is kept. Critics are dismissive of such controls, claiming few people use them or even know they exist. Also, promising "granular" controls that give ever more precise ways of fine tuning privacy settings rings hollow after the failures of recent years, said Marc Rotenberg, head of privacy group Epic. "The irony is, that's exactly what Facebook said a decade ago about their privacy settings," he said. More data to stay on devices Google's chief said the company now has a language processing algorithm that could operate with only half a gigabyte of memory, meaning it could be run on a handset, allowing user data to stay on the device The second approach to enhancing privacy protections is technological. Today's main AI technology, machine learning, relies on training algorithms with large amounts of data and then using them to make inferences based on a user's particular circumstances. Recent advances have made it possible to run some of these algorithms on mobile handsets and other devices — meaning that private user data need never be sent to Google's own data centres to be processed. Mr Pichai said Google now had a language processing algorithm that could operate with only half a gigabyte of memory, compared with the 100 gigabytes that a predecessor algorithm needed. That meant it could be run on a handset, he said — making it operate far faster, but also allowing user data to stay on the device. Many of the new AI technologies are still at an early stage of development, and Google executives are wary about promising how many situations they will be used in. One such AI technology on display this week, called federated learning, is designed to train an algorithm by analysing what users do on their own devices, without shipping any of the personal behavioural data back to the company's own data centres. Promises like these have not been enough to silence critics, who argue that they cannot substitute for direct regulation of AI. "This is one area we need the oversight of government," said Mr Rotenberg. "The day has passed when internet companies can decide what kind of policies they want to follow. That is particularly the case when it comes to automated decisions." Critics unimpressed by pledges Google's latest attempt to show it is serious about user privacy comes at an important time. With politicians on both sides of the aisle in Washington starting to show support for national privacy legislation, setting clearer limits around its own data-handling practices could be one way to discourage government over-reach. Its competitors, Apple, Facebook and Microsoft, have all also recently promised to prioritise privacy. But if Google was hoping to win over longstanding critics of its mass data-collection practices, its executives would have been disappointed. "This is a drop in the digital bucket," Jeff Chester, director of the Center for Digital Democracy, said of the new privacy-protection ideas the company unveiled this week. "It would take a wholesale reinvention, along with Facebook, of how they make money" to make a real difference, he said. Mr Rotenberg added that few people were likely to be persuaded by attempts at self-regulation by the big internet companies, and that only government action could make a difference. "The focus of any meaningful commitments by US companies lies with the Federal Trade Commission," he said. "In the absence of enforcement by the government, [the commitments from Google] have very little value." Impact on advertising Meanwhile, Google had one more concession over privacy to make to its critics, although it is one that is likely to hurt others in the online advertising world far more than the search giant itself. Users of its Chrome browser — used by around two-thirds of personal computer owners to browse the web — have already been able to block "cookies", the pieces of code planted by websites and others to track their online behaviour. These blanket bans, however, have also cut off the cookies placed by companies to do things like record passwords, making life cumbersome for users. On Tuesday, Google said it would let users block just the invasive type of cookies. The move is likely to be devastating for many of the companies that have made a living by planting cookies to collect data about web browsing habits and selling them on to advertisers, said Mark Bullard, director of digital development at Lee Enterprises, which owns a collection of local newspapers across the US. By contrast, he added, publishers who seek to charge a premium for advertising around their content should benefit in the long run, as advertisers are forced to rely on them more to target users. But many publishers are still likely to suffer in the short term, he added, because they have also profited from methods of data collection targeted by the new browser plug-in. This was only part of an apparent attempt by Google to show it is intent on cleaning up some of the most criticised parts of the online advertising world. It also revealed a new tool designed to lift the lid on the opaque "adtech" world — the complex ecosystem of data gatherers and other tech companies that profit from collecting and processing personal data to enhance advertising. The technology takes the form of a browser plug-in that displays the names of all the companies who have had a hand in getting an advert to a user, along with disclosure about the particular data about a user that caused the ad to be displayed. The sheer complexity of the adtech world may make it hard to bring much transparency. But just being able to see how many companies have had a hand in delivering an advert, and had sight of their personal data, is likely to repel many internet users, said Mr Bullard.
Source: https://www.ft.com/content/65a20d1c-7159-11e9-bf5c-6eeb837566c5
Instagram will now hide likes in 6 more countries
Would the internet be a better place if we all paid a little less attention to fake internet points? Instagram is still trying to figure it out.
Just a few months back, Instagram started testing a design tweak that would no longer show the total number of "likes" other users' posts had received. You could still see everyone that liked your photos and videos — but anyone else's stuff? Don't worry about it.
While the company hasn't said much about how the tests are going so far, it seems they're going well enough to expand them. Initially rolled out in just Canada, it'll roll out to users in six more countries starting today:
Ireland
Italy
Japan
Brazil
Australia
New Zealand
Curiously, some users in Canada (the first country where hidden likes were tested) reported yesterday that likes had returned to their feed. Instagram confirmed to us that the testing in Canada is still ongoing. Meanwhile, likes seem to be gone again in Canada as of this afternoon.
We wrote about Instagram's like-hiding experiments a few weeks prior to the public tests, after the pending rollout was discovered by reverse-engineering extraordinaire Jane Manchun Wong.
So why hide likes? Instagram says it's "because [they] want your followers to focus on the photos and videos you share, not how many likes they get."
In other words: when likes are public, people care too much about them. People view it as a metric of success — teasing those who get too few, or buying likes to try to gain admiration. If a post doesn't get enough likes, people delete them to make it seem like all of their photos are hits. In theory, hiding likes from the feed but making them visible to the creator lets people get some sense of what's working, without having to worry so much about whatever anyone else is taking away from the like count on any given photo.
Here's what Instagram looks like with the design tweak. Note the banner up top giving the user a heads up of the change, and that the like bar just says "Liked by username and others" instead of any specific number of users:
Source: https://techcrunch.com/2019/07/17/instagram-will-now-hide-likes-in-6-more-countries/
Twitter launches the 'Hide Replies' feature, in hopes of civilizing conversations
Twitter today is beginning its test of a radical and controversial change to its service with the launch of a new "Hide Replies" feature. Effectively, this option gives users the ability to wrestle back control over a conversation they've started by hiding any replies they feel aren't worthy contributions — for example, replies that are irrelevant or outright offensive.
One of the problems with Twitter — and with many social networks, for that matter — is that an otherwise healthy conversation can easily be disrupted by a single individual or a small number of people who don't contribute in a positive fashion. They come into a thread to start drama or they make inappropriate, rude or even hateful remarks.
Of course, users can choose for themselves to either Mute or Block people like this, which limits their ability to affect their own personal experience on Twitter. But this doesn't remove their comments from others' view. The "Hide Replies" feature, however, will.
But it's not the equivalent of a delete button. In other words, hidden replies are not removed from Twitter entirely, they are just placed behind an icon. If people want to see the hidden replies, they can press this icon to view them.
Twitter's goal with the feature is to encourage more civil conversation on its platform. It could work, as those who want their comments seen by a wide audience will have to find a way to express themselves in an appropriate fashion — without taking the conversation off course or resorting to insults or trolling. Otherwise, they know their replies could be hidden from the default view.
But this change is not without significant downsides.
For example, a user could choose to hide replies that simply (and even politely!) disagreed with their view. This would then create a "filter bubble" where only people who shared the original poster's same opinion would have their comments prominently displayed. In this case, the feature would be silencing other viewpoints — and that's in direct opposition to Twitter's larger goal of creating a public town square on the web, where every voice has a chance to be heard.
More worryingly, a user could choose to hide replies that attempt to correct misinformation or offer a fact check. That's a significant concern at a time when social media platforms have turned into propaganda dissemination machines, and have been infiltrated by state-supported actors from foreign governments looking to manipulate public sentiment and influence elections.
Twitter claims the feature provides transparency because hidden replies are still available for viewing to anyone who wishes to see them. But this assumes that people will notice the small "hidden replies" icon and bother to click it.
The ability to hide replies is initially available only to users in Canada, but tweets with hidden replies will be accessible by all Twitter users worldwide.
Twitter Support✔@TwitterSupport
We're testing a feature to hide replies from conversations. This experience will be available for everyone around the world, but at this time, only people in Canada can hide replies to their Tweets.

We want to know what you think. Please Tweet us your feedback and questions! https://twitter.com/TwitterCanada/status/1151547186636906498 …Twitter Canada✔@TwitterCanadaLaunching today. Let us know what you think! https://twitter.com/TwitterCanada/status/1149327628106641408 …1,0756:42 PM – Jul 17, 2019Twitter Ads info and privacy3,786 people are talking about this
In a statement posted as a series of tweets and replies to others, Twitter explained its goals around the new addition:
We're testing a feature to hide replies from conversations. This experience will be available for everyone around the world, but at this time, only people in Canada can hide replies to their Tweets…They'll be hidden from the main conversation for everyone behind a new icon. As long as it hasn't been deleted and/or is not from an account with protected Tweets, everyone can still interact with a hidden reply by clicking the icon to view. We want everyone on Twitter to have healthy conversations, and we're working on features that will help people feel more comfortable. We're testing a way for people to hide replies they feel are irrelevant or offensive.
Social media is due for a course correction, and Twitter at least isn't afraid to try significant changes to its platform. (It's even trying a new prototype of its app, called twttr.) However, some would argue that permanent bans on rulebreakers and more attention to enforcing existing policies would negate the need for features like this.
Twitter had previously confirmed its plans to test a "Hide Replies" feature, and had announced its plan to launch the feature sometime this week.
Source: https://techcrunch.com/2019/07/17/twitter-officially-launches-its-hide-replies-feature-initially-to-users-in-canada/
Twitter launches its faster, cleaner design, including new color themes
We've been hearing rumblings of a redesigned Twitter.com for months, but it's finally here. The social network today revealed its new look – designed to better line up with its mobile apps – is rolling out to users today.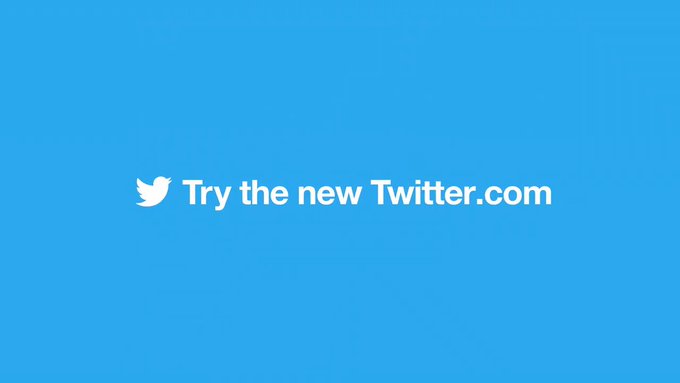 Woah, what's this? A shiny new https://Twitter.com for desktop? Yup. IT'S HERE.8,1366:00 PM – Jul 15, 20194,128 people are talking about thisTwitter Ads info and privacy
Hard Fork!
Hard Fork?HARD FORK
Cleaner aesthetics aside, there are a few key functionality changes:
The 'Explore' tab is now available on desktop, making it easier to find live video and local moments based on your location.
Bookmarks, lists, and your profile are easier to access with their own spots in the side navigation menu.
Direct Messages now have a larger view, allowing you to respond to messages and see your various conversations on the same screen.
The sidebar menu makes it easier to switch between accounts
You now have two options for dark mode, as well as various themes and color options.
These changes are built upon a major revamp of Twitter's back-end architecture – the company says it rebuilt Twitter.com from scratch.
Among its goals were creating a faster, more efficient platform, and ensuring mobile users have access to the same breadth of features as desktop users. Tablet users, for example, will be able to use the same keyboard shortcuts as desktop users. Moreover, the new site will only load features as you need them, helping save data for those on metered connections.
Twitter says it received "hundreds of thousands of responses" during its test period, guiding the final design. As usual, the internet is likely to be divided on a new look, but at least this one brings some meaningful improvements.
The design is rolling out gradually now, but if you don't have it yet, you can go ahead and try it by clicking on your avatar and selecting "Try the new Twitter." Be warned: once you switch, you can't go back.
Source: https://thenextweb.com/apps/2019/07/15/twitter-launches-its-faster-cleaner-design-including-new-color-themes/