Xiaomi outs Mi Mural TV with a 65-inch Super Thin Wallpaper style design
LG's Wallpaper TV seems to have a new competitor in town as Xiaomi has just unveiled its premium Mi Mural TV with a beautiful 65-inch custom Samsung display panel. The highlight of the new TV model is its super thin form factor that sticks to the wall like a painting. True to its design, Xiaomi is also offering a bunch of artworks in 22 genres and from 45 artists to be showcased on its new TV.
The Xiaomi Mi Mural TV has an overall thickness of just 13.9mm with a flat back design. This helps it stay flush to the wall, like a wall painting. Clearly, Xiaomi is looking to attract people who are fans of Samsung's Frame and LG's Wallpaper TVs.
Xiaomi managed to achieve this design by incorporating its power supply in the lower host. So, the speakers, motherboard, and even the power supply unit is integrated in the host at the bottom. The TV just houses a 65-inch custom Samsung 4K screen, which ensures its super thin form factor. Further, the frame gets a hint of blue enhancing the overall aesthetics.
The screen and the host are connected by a new MiPort line developed by the company. Xiaomi reports that this one line houses 30 cables inside, including its high-power supply and high-resolution video signal wire. If you are looking for specific figures, then note that this MiPort line supports 18Gbps HD signal transmission and 400W high power supply.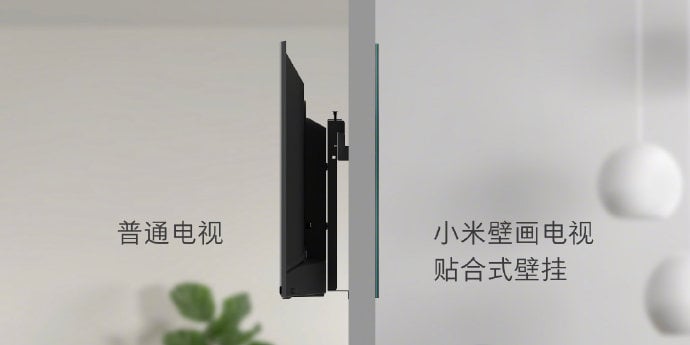 The host features an Amlogic quad-core 65-bit processor clocked at 1.8GHz with Mali-T830MP2 GPU. There's 2GB +32GB of memory on board. It supports 2.4G/5G Wi-Fi ac, Bluetooth 4.2, 3x HDMI ports and 2 x USB ports. It also features a six-channel Soundbar and subwoofer that support Dobly and DTS-HD dual decoding.
Apart from showing off classic works of art on the TV, you can even showcase your family portraits, photographs, etc as a slideshow. It's similar to what we have seen on LG and Samsung's slideshow mode.
This Mi TV is also in line with the company's recent AIOT initiative and in this regard transforms into a smart home control center. So, you can remotely view and control all of your smart home connected devices on the large screen with ease. Further, the TV is basically a XiaoAI assistant as well and comes with far-field voice recognition support. This enables almost all of the features of the XiaoAi assistant like asking questions, controlling smart home features etc, with just voice commands. Finally, Xiaomi has teamed up with Tencent Cloud for making and receiving video calls through the TV on its large screen.
The Xiaomi Mi Mural TV is priced at 6999 Yuan ($1042) and comes with free installation. Pre-orders start at 6PM in China today.
Source: https://www.gizmochina.com/2019/04/23/xiaomi-mi-mural-tv-65-inch-wallpaper-official/
New leak seems to confirm the iPhone 11's biggest design change
We have just two more months to go until Apple unveils the iPhone 11, which means we're going to see more and more leaks in the coming weeks as the iPhone 11, 11 Max, and 11R (or whatever Apple ends up calling them) head to production. But we already have a pretty good idea of what to expect from this year's iPhones when it comes to design, and now we have a brand new leak that supports all the previous design leaks
All three iPhone 11 models will have a square-shaped camera module on the back that will contain three lenses on the iPhone 11 and 11 Max, and two lenses on the iPhone 11R. That camera design will force Apple to make some changes you'll never see because they'll be inside the phone. Apple had to figure out how to add that extra lens without affecting the battery life of its new phones, and a leak tells us what that might entail.
According to the following image that someone on SlashLeaks sourced from Facebook, the iPhone 11 will have an I-shaped logic board rather than an L-shaped one, as was the case with the previous iPhone generation.
Image Source: Facebook
Below, you'll find an image from iFixit's iPhone XS teardown that shows the design and location of the logic board in last year's flagship iPhone. You'll also notice that the battery in the iPhone XS phones features an L-shaped design. While you're at it, check out the SIM tray's placement relative to the logic board and the battery:
Image Source: iFixit
As you can see, the logic board is placed on the same side as the rear camera, but it doesn't go all the way down to the bottom of the phone. Moreover, Apple used the space available between the dual camera and the battery for the logic board. That space will now be occupied by an extra camera on the iPhone 11.
Image Source: iFixit
The size of this leaked iPhone 11 logic board isn't mentioned and it's unclear whether it'll stretch from the top all the way to the bottom of the phone. If it's indeed taller than the iPhone XS logic board, then the iPhone 11's battery will also have an I-shape design, being placed right next to the logic board on the left side of the phone. However, let's not forget that the SIM tray should also be placed on the right side of the phone, eating some of the space that could be used by the logic board. With all that in mind, the SIM tray slot might be placed lower on the right side of the iPhone 11 than it is on current models.
The leak also indicates the logic boards are in the making at Apple's suppliers, which means the iPhone 11 supply chain is already shipping parts to Apple's assembler Foxconn. That said, it's still only a leak that won't be confirmed until iFixit tears down the iPhone 11 phones after they're released.
Source: https://bgr.com/2019/07/08/iphone-11-vs-iphone-xs-leak-suggests-a-big-camera-design-change/
VAIO announces tiny laptop with tons of ports
VAIO has announced the SX12, a laptop with a 12.5-inch screen and more I/O options than many far heftier machines. It's the follow-up to the S11, and features much more efficient use of space with a larger screen and keycaps in about the same size body.
Just look at everything you can plug in! That's three USB-A ports, one USB-C for charging, HDMI, a full-size SD card slot, a headphone/mic port, an Ethernet port, and even VGA. The keys now stretch to the edge of the laptop, and the bezels have been slimmed down. The SX12 uses Intel 8th Gen quad-core Core i5 or i7 processors and have an optional LTE module. It weighs 888 grams, or a little under two pounds.
The Verge recently reviewed VAIO's SX14, which this is basically a smaller variant of. We found that it was a practical, lightweight machine with a comfortable keyboard and strong performance. The cramped trackpad and underwhelming battery life were downsides, and you might not expect those to improve in a smaller machine, but the trackpad doesn't appear to have been shrunken any further at least.
The VAIO SX12 will go on sale in Japan this week, priced anywhere between 119,800 yen (~$1,100) to 216,800 yen (~$2,000) based on storage, color options, and processor. No word on a US release yet, but the S11 and SX14 made it over, so there's a good chance that this one will follow.
In any case, it's proof that you can make a thin and light laptop without sacrificing connectivity. Now how about a VAIO P resurrection?
Source: https://www.theverge.com/2019/7/9/20687252/vaio-sx12-announced-price-specs-release-date
Microsoft and Kano are launching a build-your-own Windows 10 PC kit
Kano, educational startup known for creating build-your-own computer kits for kids, has partnered with Microsoft to create a DIY touchscreen laptop that runs Windows 10 S, a lite version of the OS. Called Kano PC, the laptop closely mirrors the design of a Surface PC, with a 11.6" display that latches onto a keyboard case. Everything about the Kano PC, from the transparent backing that reveals the modular pieces of the computer, to the included apps that encourage tinkering with sound and touch, is designed "specifically for the 21st century classroom".
Kano's released DIY computer kits before, but they were powered by Raspberry Pi 3s and Kano's own OS. This time around, it can run full Windows 10 (albeit it in S Mode, which limits it to only runs apps from the Microsoft Store.) The touchscreen PC is powered by a 1.44 GHz Intel Atom x5-Z8350 quad-core processor, 4GB of RAM, and 64GB of storage that's upgradable with a microSD card. There's an HDMI port, a headphone jack, microphone, 2 USB ports, plus WiFi and Bluetooth.
Kids can learn to assemble their computer through instructions presented as a step-by-step storybook, and learn more from an app called "How Computers Work", which also teaches them to code and create emoji with binary code. An education edition of Minecraft will be included in the PC, along with other Microsoft apps like Paint 3D and Microsoft Teams bundled in.
Kano PC is available for preorder on Kano.me for $299.99 USD. It'll launch in the US, Canada, and the UK on October 21st.
Source: https://www.theverge.com/2019/6/19/18628321/microsoft-kano-pc-windows-10-diy-building-kit-kids