Google Translatotron translates and imitates user's own voice
We might be on the verge of reaching uncanny valley when it comes to real-time translation of the spoken word. It's already amazing how systems, particularly Google's, are now able to translate what we say on the fly but almost all of those speak in their own obviously synthesized voices. What would you feel if you heard yourself speaking another language you barely know? That's the magical and almost unsettling future that Google Translate might offer thanks to Translatotron.
Translatotron isn't a new Transformers character. It's just the nickname that the AI researchers at Google gave their End-to-End, Speech-to-Speech Translation Model. EESSTM (Esteem?) just doesn't sound as catchy nor as tongue twisty.
Translatotron's ability to retain the source speaker's voice even in the translated speech is actually just an effect of the system's true nature. Most translation systems split the job into three parts. One turns speech into text, another takes that text and translates it into another language, while the third turns the text back to speech, often in a different voice from the original speaker.
This cascaded system has proven to be efficient and practical and is what drives most translation systems, including Google's. Google's AI researchers, however, believe that an end-to-end system can actually outperform it by removing the middle man. Literally, it skips the part where speech is translated into text first.
Translatotron didn't yet outpace the traditional cascaded systems in the team's tests but it proved that it was at least feasible. Like any machine learning model, it could improve over time. Given the advantage of preserving the speaker's original voice even in the translated speech, further research in this field could prove to be fruitful for Google's future AI-powered translation systems.
Source: https://www.slashgear.com/google-translatotron-translates-and-imitates-users-own-voice-16576889/
Microsoft wows Inspire crowd with language-translating HoloLens hologram
Microsoft's on-stage HoloLens demonstrations haven't always been impressive, but a new one at the company's Inspire event (via The Verge) is nothing short of amazing. Using a combination of body and voice capture technologies, Azure AI, and HoloLens, Microsoft created a nearly photorealistic hologram of executive Julia White, then had the hologram deliver part of White's keynote in Japanese — a language the real person can't speak.
The demonstration took place while White was wearing a HoloLens headset, walking and observing in 3D space around her clone. She began by conjuring up a "Mini Me" that could be vaguely "held" in her hand. After a little sparkling green special effects flourish, the doll-like copy transformed into a full-sized clone that began speaking in the foreign language, using samples of White's voice to speak sentences that had been machine-translated into Japanese.
It only takes a moment to understand the tremendous potential of the new technology, assuming it works in practice as seamlessly as it did in the demo. Equipped with the proper 3D depth-scanning camera hardware and AI-assisted translation tools, any presenter could quickly create believable, region-specific speeches — a keynote might be pre-recorded and shown simultaneously in 30 languages. Of course, the same technology might be used for less positive purposes, faking words or actions that wouldn't have come from the body-scanned model.
For the time being, actually achieving this feat requires access to some professional-caliber hardware, ranging from high-end, specialized cameras to expensive HoloLens headsets. But similar body-scanning technologies are expected to make their way into next-generation smartphones over the next year or so, which could set the stage for viewing photorealistic avatars on their screens or on consumer AR headsets. Whether Microsoft brings this concept to its own Mixed Reality Headsets initiative remains to be seen.
Source: https://venturebeat.com/2019/07/17/microsoft-wows-inspire-crowd-with-language-translating-hololens-hologram/
Jeff Bezos: I spend my billions on space because we're destroying Earth
Amazon boss Jeff Bezos is the richest person in the world with a current net worth of $125 billion, according to the Bloomberg Billionaire Index. And he's investing much of his Amazon fortune in the development of space technologies through his aerospace company Blue Origin.
Why? "Because I think it's important," Bezos tells Norah O'Donnell of "CBS Evening News" in an interview which aired Tuesday. "I think it is important for this planet. I think it's important for the dynamism of future generations. It is something I care deeply about. And it is something I have been thinking about all my life."
Bezos — who says "you don't choose your passions, your passions choose you" — became fascinated with space when he was a child watching astronauts Buzz Aldrin and Neil Armstrong land on the moon, he tells O'Donnell.
CBS Evening News✔@CBSEveningNews
CBS NEWS EXCLUSIVE: @JeffBezos wants his space tourism company Blue Origin to be "an instrumental part" of an American return to the Moon; alongside Amb. Caroline Kennedy, he tells @NorahODonnell that space exploration is critical to our survival. https://cbsn.ws/2JBhf8S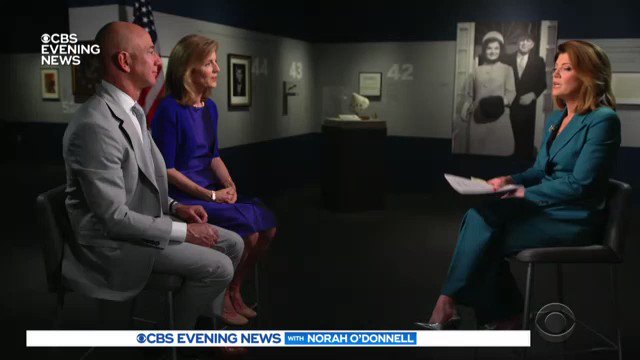 9711:52 PM – Jul 16, 2019Twitter Ads info and privacy84 people are talking about this
Further, developing space technologies is critical for human beings to have a long future, Bezos says.
"We humans have to go to space if we are going to continue to have a thriving civilization," Bezos says. "We have become big as a population, as a species, and this planet is relatively small. We see it in things like climate change and pollution and heavy industry. We are in the process of destroying this planet. And we have sent robotic probes to every planet in the solar system — this is the good one. So, we have to preserve this planet."
To do that will require being able to live and work in space, says Bezos.
"We send things up into space, but they are all made on Earth. Eventually it will be much cheaper and simpler to make really complicated things, like microprocessors and everything, in space and then send those highly complex manufactured objects back down to earth, so that we don't have the big factories and pollution generating industries that make those things now on Earth," Bezos says. "And Earth can be zoned residential."
The stunning Perito Moreno Glacier in Patagonia. We've sent robotic probes to every planet in this solar system. Earth is BY FAR the best one. We go to space to save the Earth. @BlueOrigin #NoPlanB #GradatimFerociter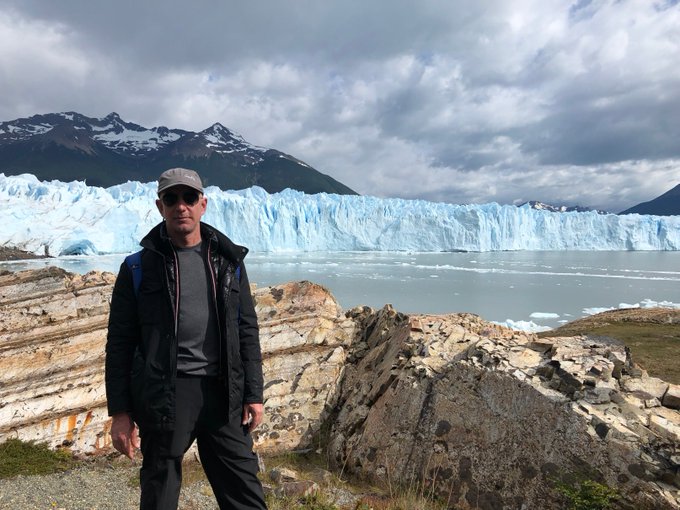 15.4K3:30 PM – Feb 3, 2018Twitter Ads info and privacy3,879 people are talking about this
It will be "multiple generations" and "hundreds of years" before this is a reality, Bezos said on CBS, but with Blue Origin he is working to develop the technology that will make it possible.
People will be able to live in space (in self-sufficient space structures) if they so choose, Bezos says.
"People are going to want to live on Earth, and they are going to want to live off Earth. There are going to be very nice places to live off earth as well. People will make that choice," Bezos says.
Astronaut John Glenn, the first American to orbit the Earth, wrote Bezos a letter in 2016 saying the work Bezos was doing would eventually make space travel as common as air travel.
"He wrote me the most beautiful letter just a few days before he passed away and I have it framed in my office and it is very meaningful to me," Bezos says. Glenn said in that letter he saw a future when we will board spacecraft like jetliners, and "when that happens, it will largely be because of your epic achievements."
"I think that is entirely believable," Bezos says. "If you went back in time a hundred years and told people today that you would be able to buy a ticket and fly across the world on a jetliner, they would have thought you were crazy. But that's the kind of change that can happen in just 100 years or less."
Blue Origin is building the infrastructure needed to unleash the next generation of dreamers. I met these young people today, and the future is in great hands. #BlueMoon @clubforfuture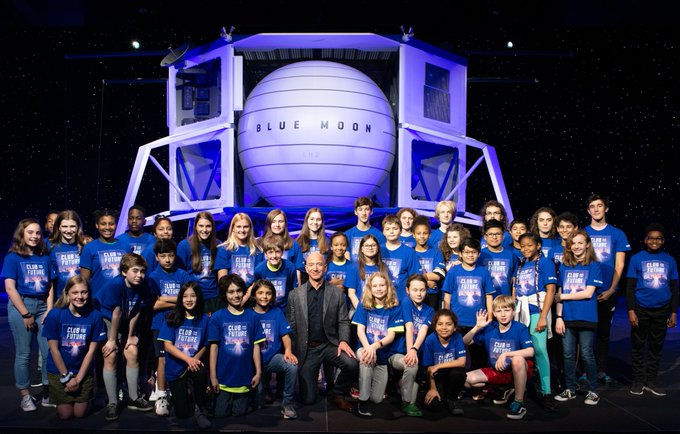 4,92812:46 AM – May 10, 2019Twitter Ads info and privacy1,230 people are talking about this
The first step in that journey is space tourism, Bezos says. Blue Origin is already testing its vehicle, the New Shepherd, for taking humans into space for short tourism trips.
"Everybody who goes to space says they come back a little changed and they realize how beautiful this planet is and how small and fragile it is," Bezos says. "Something that we can't see when we are down here, but from up there it becomes obvious."
Source: https://www.cnbc.com/2019/07/17/why-jeff-bezos-spends-billions-on-space-technology.html
Instant camera translation in Google Translate is getting a lot better
Google has just announced a handful of improvements for the real-time camera-based translation in the Google Translate app. In addition to supporting 60 new languages, you can now also translate between combinations that don't include English. The app can also now automatically detect languages for you, so you don't need to wonder what to select if you're in a bilingual area, and the quality of the instant camera translations has been further improved via the magic of Neural Machine Translation.
Previously, Google Translate's camera could only translate between English and another language, but with these changes it will work with many more combinations, allowing you to translate from 88 languages into over 100 others. And while automatic detection previously worked for written translations, the app didn't support its use with the camera, graying out the option and spitting an error message if you tried.
Whatever update delivers these new features isn't live for me just yet, though Google makes it sounds like these features are rolling out today, so try your own luck over on the Play Store.
Source: https://www.androidpolice.com/2019/07/10/instant-camera-translation-in-google-translate-is-getting-a-lot-better/