Samsung insider teases breakthrough phone design coming in the second half of 2019
A Samsung insider who is perhaps best known for sharing details about brand new phones well ahead of their official announcements is back teasing that some sort of breakthrough smartphone design is coming in the second half of the year. It's unclear at this time whether he's talking about a Samsung phone or not, but the leaker did say recently that Samsung will be among the companies to deliver this brand new design.
Ice Universe is the leaker in question, a constant presence in smartphone news. He posted the following Galaxy Note 7 images on Twitter teasing that a "better-designed phone" is coming later this year.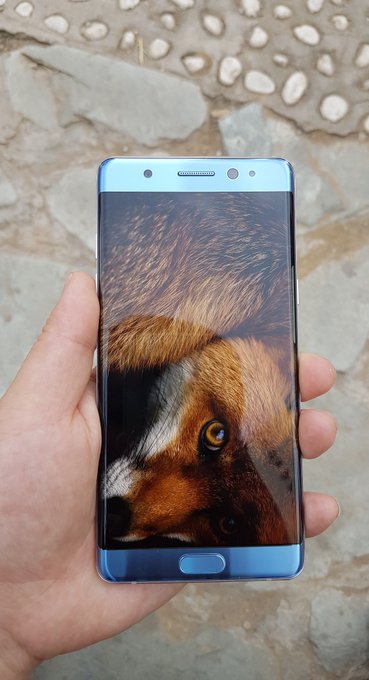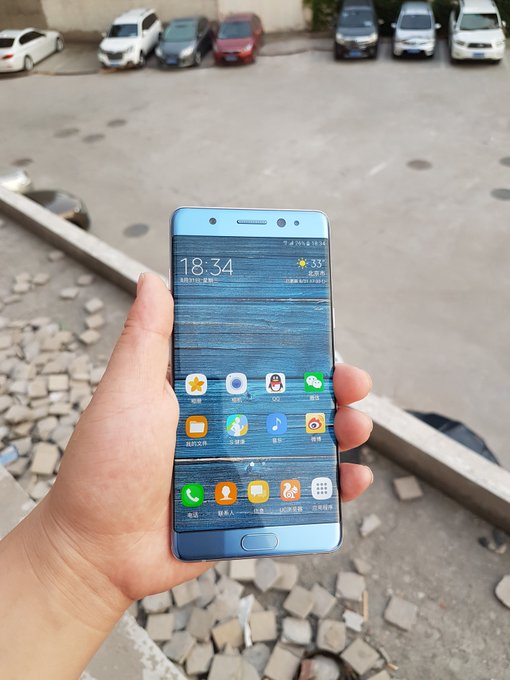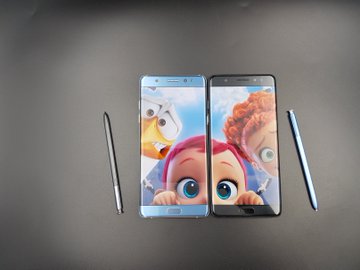 Why do you prefer Galaxy Note7? Is it because of its excellent design? Fortunately, I kept some photos of it. You will see a better-designed phone in the second half of the year.
The Galaxy Note 7 represents Samsung's biggest disaster to date. The phone was very well received, but then Samsung had to deal with a plethora of battery incidents, from explosions to fires. The phone was recalled and ultimately canceled, and Samsung had to deal with all the blowback. The Note 7 recall actually forced Samsung to delay the launch of the Galaxy S8 in early 2017, as it was still investigating the Note 7 and putting additional safety measures in place to prevent similar incidents from occurring in the future.
No matter how great the Galaxy Note 7 design may have been, it's still a 2016 phone, and smartphone design has come a long way since. The Galaxy S8 was Samsung's first phone with an Infinity display. That screen morphed into the Infinity-O screen of this year's Galaxy S10, which is what we expect to see on the Note 10 come August.
Samsung (and everyone else in the business) has tried to continuously increase the size of the screen at the expense of the bezels. Some did with it notches, pop-up selfie cams or slider phones. Others put two screens on the phone. And Samsung created hole-punch displays. The first foldable phones were also unveiled earlier this year, with one of them stealing the show back at the Mobile World Congress in 2019. So we already have smartphone designs better that are miles better than the Galaxy Note 7.
How could Samsung or anyone else further perfect the smartphone design? The only thing nobody has done is to sell a phone with a selfie camera placed under the screen. That would be the perfect all-screen phone design, and something we expect to see in stores in the not-too-distant future. But is it ready for 2019?
Ice Universe seems to know something we don't, and he's not sharing more details about it. However, since he's teasing it with the help of Note 7 pics, it's easy to assume Samsung is behind this new handset design, and that the Galaxy Note 10 could be the device he's referring to.
Source: https://bgr.com/2019/05/15/galaxy-note-10-design-vs-android-and-iphone-leaker-teases-innovation/
New leak seems to confirm the iPhone 11's biggest design change
We have just two more months to go until Apple unveils the iPhone 11, which means we're going to see more and more leaks in the coming weeks as the iPhone 11, 11 Max, and 11R (or whatever Apple ends up calling them) head to production. But we already have a pretty good idea of what to expect from this year's iPhones when it comes to design, and now we have a brand new leak that supports all the previous design leaks
All three iPhone 11 models will have a square-shaped camera module on the back that will contain three lenses on the iPhone 11 and 11 Max, and two lenses on the iPhone 11R. That camera design will force Apple to make some changes you'll never see because they'll be inside the phone. Apple had to figure out how to add that extra lens without affecting the battery life of its new phones, and a leak tells us what that might entail.
According to the following image that someone on SlashLeaks sourced from Facebook, the iPhone 11 will have an I-shaped logic board rather than an L-shaped one, as was the case with the previous iPhone generation.
Image Source: Facebook
Below, you'll find an image from iFixit's iPhone XS teardown that shows the design and location of the logic board in last year's flagship iPhone. You'll also notice that the battery in the iPhone XS phones features an L-shaped design. While you're at it, check out the SIM tray's placement relative to the logic board and the battery:
Image Source: iFixit
As you can see, the logic board is placed on the same side as the rear camera, but it doesn't go all the way down to the bottom of the phone. Moreover, Apple used the space available between the dual camera and the battery for the logic board. That space will now be occupied by an extra camera on the iPhone 11.
Image Source: iFixit
The size of this leaked iPhone 11 logic board isn't mentioned and it's unclear whether it'll stretch from the top all the way to the bottom of the phone. If it's indeed taller than the iPhone XS logic board, then the iPhone 11's battery will also have an I-shape design, being placed right next to the logic board on the left side of the phone. However, let's not forget that the SIM tray should also be placed on the right side of the phone, eating some of the space that could be used by the logic board. With all that in mind, the SIM tray slot might be placed lower on the right side of the iPhone 11 than it is on current models.
The leak also indicates the logic boards are in the making at Apple's suppliers, which means the iPhone 11 supply chain is already shipping parts to Apple's assembler Foxconn. That said, it's still only a leak that won't be confirmed until iFixit tears down the iPhone 11 phones after they're released.
Source: https://bgr.com/2019/07/08/iphone-11-vs-iphone-xs-leak-suggests-a-big-camera-design-change/
Huawei EMUI 9 with Android 9 Pie rolls out to Huawei P10, Mate9
There's a lot of uncertainty swirling around Huawei at the moment and it goes beyond whether it'll be able to make new phones in the future. Even now, owners of its existing phones are worried about the company's capabilities to continue supporting existing phones. As if to reassure its customers, Huawei is now boasting how its EMUI 9 Android Pie experience is now on more than 80 million devices. What's more, it'll be rolling out to the Huawei P10 and even the Huawei Mate 9.
We'll spare you from having to perform manufacturers' odd math. Both running on the HiSilicon Kirin 960 chip, the Huawei P10 launched in early 2017 and the Mate 9 launched even further back in late 2016. By usual market standards, the phones are quite old. By usual OEM practices, they wouldn't even be getting any updates at all.
And yet Huawei is boasting how it's making EMUo 9 available to these two phones, giving them Android 9 Pie when some of their contemporaries have yet to receive it, if at all. So far, the update has only been made available to a few phone series, starting with the Mate 10 and P20, the Mate RS, and the Nova 3.
The announcement is also a show of power and force. Huawei boasts EMUI 9 will be reaching more than 100 million devices by the end of the month, revealing how many of its phones there are in the wild, not counting Honor devices. It is also trying to prove that, contrary to public perception, it can push out massive updates of its own.
Some might also see it as Huawei's parting gift and haste. By making sure its older phones are running on the latest Android version, it gives itself more time to polish its "ArkOS" replacement. And by rushing to push the update before the month ends, it gives itself enough time to make those massive changes before the 90-day reprieve is up.
Source: https://www.slashgear.com/huawei-emui-9-with-android-9-pie-rolls-out-to-huawei-p10-mate9-05579418/
Apple's Radical New iPhone Suddenly Takes Shape
Apple has three new iPhones coming later this year and their contentious designs are already well known. But the company is also openly working on a far more ambitious device to counter the folding smartphone trend, and Apple's most ambitious iPhone to date is now quickly taking shape.
Spotted by the ever-alert Patently Apple, the US Patent and Trademark Office has this week granted Apple new patents for a "foldable cover and display for an electronic device." And helpfully, it reveals both how Apple will do it and the radical folding configurations it is considering.
We learn Apple's work centres on creating a display which has a flexible region and a cover layer using ceramics, such as toughened glass or sapphire. This is a step up from anything we have seen from Samsung and Huawei's flexible devices, which simply use plastic panels (the former is suffering for that mistake already).
Moreover, with its alternative approach, Apple shows it is possible to build significantly more radical folding form factors than the phones we have seen to date, possibly due to increased structural integrity. Yes, the standard fold is indeed shown but Apple also illustrates radical dual and triple folding designs.
And, if you were left in any doubt about Apple's intentions, it is worth noting this is just the latest in a flurry of folding iDevice patents the company has submitted over the last year. Including one which reveals subtle heating below the display so the bend doesn't stiffen or crack in cold weather. As usual, Apple isn't first into the ring but it looks ready to make a big splash on arrival.
When can we expect to see the so-called iPhone Fold? While the first folding phones have already hit the market, sadly Apple's 2019 iPhones are not that interesting. There will be a major iPhone redesign in 2020, which may prove a more likely timeframe but, as all Apple fans know, the real answer is: When it's ready.
Source: https://www.forbes.com/sites/gordonkelly/2019/05/29/apples-iphone-fold-new-iphone-upgrade-iphone-xs-max-xr/#1a24b1382afa