WORLD'S FIRST DUAL-SCREEN GAMING LAPTOP
Today at the HP Gaming Festival in Beijing, the company unveiled a powerful lineup of OMEN and HP Pavilion Gaming innovations, raising the bar for gaming experiences.
The OMEN X 2S – the world's first dual-screen gaming laptop1 – provides extraordinary power and multitasking capabilities, the OMEN 15 and OMEN 17laptops bring exceptional power in their thinnest forms yet, and both HP Pavilion Gaming 15 and HP Pavilion Gaming 17 laptops offer outstanding versatility and mobility for gamers and creatives alike. In addition, with enhancements to OMEN Command Center software and new OMEN and HP Pavilion Gaming displays and accessories, HP has engineered an industry-leading gaming ecosystem that delivers everything gamers need to progress and achieve their goals.
"Pushing the boundaries of what's possible with game-changing evolutionary and revolutionary products reflects the philosophy of reinvention at HP," said Ravi Perumal, PS Category Manager, HP South Africa. "The OMEN brand continues to think big and OMEN X 2S is a prime example of how we are setting new standards and changing how a gaming laptop is used.
Laptops Designed for Next-Gen Gaming
As the world's first dual-screen gaming laptop1, the OMEN X 2Sshakes the foundation of what's expected of a gaming laptop, with tremendous multitasking capabilities for various activities and support with dedicated hotkeys. Watching how-to videos while playing, listening to the right song on Spotify while grinding an MMO, or keeping current with Twitch chat or Discord is no longer an alt-tabbing hassle. The OMEN X 2S, further bolstered by a real-time screen mirroring feature that can cut and magnify parts of the main screen – including copying the map portion of a racing game – to the second screen, ensures the vision is centred and head movement more vertical than horizontal.
This powerhouse is 20 mm thin with a full metal chassis and is the first 15-inch diagonal gaming laptop in the world to come with an applied liquid metal compound to the thermal system by way of Thermal Grizzly Conductonaut. The result is phenomenal heat dissipation at 10 times the thermal conductivity of silicon thermal grease3, up to a 28 per cent4 frames-per-second (FPS) performance boost over traditional grease when testing in Apex Legends, and an 8.5 per cent5 faster lead time in a Blender Benchmark test.
The path to smaller, cooler, and more powerful applies to the newest versions of the OMEN 15 and OMEN 17 laptops. With a 20 per cent and 18 per cent reduction in thickness over previous versions, they sit at a slim 20 mm and 27 mm thin.
All three laptops feature OMEN Tempest, an overhauled advanced thermal solution powered by a 12V fan, which utilizes three-sided venting to enable five-way airflow to keep things ultra-cool. Realistic visuals are delivered by support for up to NVIDIA® GeForce RTX™ 2080 for the OMEN 17 and feature Max-Q6design for the OMEN X 2S and OMEN 15. Additionally, multitasking and grand-scale games – which take mountainous resources – have never been smoother, with up to the latest 9th Gen Intel® Core™ i9 high-performance mobile processor7, powered by up to 5.0 GHz Turbo8, eight cores and 16 threads, and up to 32 GB of RAM.
Take advantage of the latest in storage technology with options that include the newly announced Intel® Optane™ Memory9 H10 with Solid State Storage10. The new Intel® Wi-Fi 6 (802.11ax) designed to support gigabit speeds up the wireless game with up to 3X faster file transfer speeds than Wi-Fi 5(802.11ac)11. Top it off with options up to an esports standard 240 Hz refresh rate12 1080p display that allows visuals to flow across the screen with viper strike-like speed and NVIDIA® G-SYNC® on the OMEN X 2S and available on select OMEN 15 and OMEN 17 configurations.
OMEN Command Center Updates
Since its creation, OMEN Command Center has evolved as the software solution for managing and enhancing gaming hardware. The evolution continues with two additions coming to the platform for all three new OMEN devices. Performance Control cranks up fan RPM to either maximize cooling or performance, based on the chosen setting. The new OMEN Dynamic Power feature manages CPU and GPU wattage based on what a game is utilizing at a given moment to maximize FPS. Combined, these powerful additions serve to improve gameplay while also adding a level of flexibility.
Play at the Speed of Esports
Meticulously crafted to take advantage of the max FPS found in top-tier rigs, and with a sturdy design used in collegiate and professional esports, the OMEN X 25and OMEN X 25f*13 displays feature micro-edge bezels, one millisecond response times, and NVIDIA® G-SYNC® and AMD Radeon™ FreeSync™14technologies to synchronize industry-leading 240 Hz refresh rates12 to the GPU and keep visuals unsullied by tearing. The OMEN X 25 is an exceptional tool for climbing the ladder of professional play and can be seen in use by Overwatch League players throughout the 2019 season.
Source: https://brandspurng.com/2019/05/20/worlds-first-dual-screen-gaming-laptop-to-be-available-in-sa/
HP Pavilion x360 14m-dh0003dx review: A sturdy 2-in-1 with dependable quad-core performance
The HP Pavilion x360 14 2-in-1 laptop comes in many flavors, and ours (14m-dh0003dx) should please productivity-minded professionals with its smooth quad-core performance and a keyboard that feels great. Given that it's $700 from Best Buy before discounts (though we've recently spotted it for just $560), we would have liked a bit more battery life, though.
This review is part of our ongoing roundup of the best laptops. Go there for information on competing products and how we tested them.
TABLE OF CONTENTS
Configuration
HP offers a dizzying array of Pavilion x360 models in 11-, 14-, and 15-inch sizes, with the 14-inch configurations ranging from 8th-gen dual-core Intel Core i3 systems up to 10th-gen Core i7 quad-core Comet Lake CPUs. Here's what's under the hood of our middle-of-the-road 14-inch Pavilion x360 14m-dh0003dx):
CPU: Quad-core Intel Core i5-8265U
RAM: 8GB DDR4
GPU: Integrated Intel UHD Graphics 620
Display: 14-inch 1920 x 1080 IPS touchscreen
Storage: 128GB SSD
At first blush, we've got the makings of a solid productivity workhorse here, with a quad-core Core i5 Whiskey Lake CPU that should be able to breeze through most daily computing and Office tasks and tackle some CPU-intensive tasks, such as video processing and database work. The 8GB of RAM, typical for a laptop in this price range, should help smooth out multitasking kinks (although 16GB of RAM would be even better), and the full-HD IPS touchscreen should offer reasonably sharp resolution with solid viewing angles.
The 128GB solid-state drive is on the small side, however, leaving you with only about 90GB of storage once Windows, Office, and other miscellaneous apps and utilities are accounted for. Given the cramped SSD, you'd probably want to lean on cloud storage or an external drive.
A similar Pavilion x360 14 is officially $900 on HP.com with 12GB of RAM and a 256GB SSD, but only $590 with discounts as of presstime.
Design
HP has been adding more and more snazzy design elements to its Pavilion x360 series. This particular 2-in-1 bears many of those hallmarks, particularly the "hourglass" edges that allow you to open the Pavilion from the front, left, or right sides, as well as the shiny aluminum trim and the matte lid stamped with the HP logo.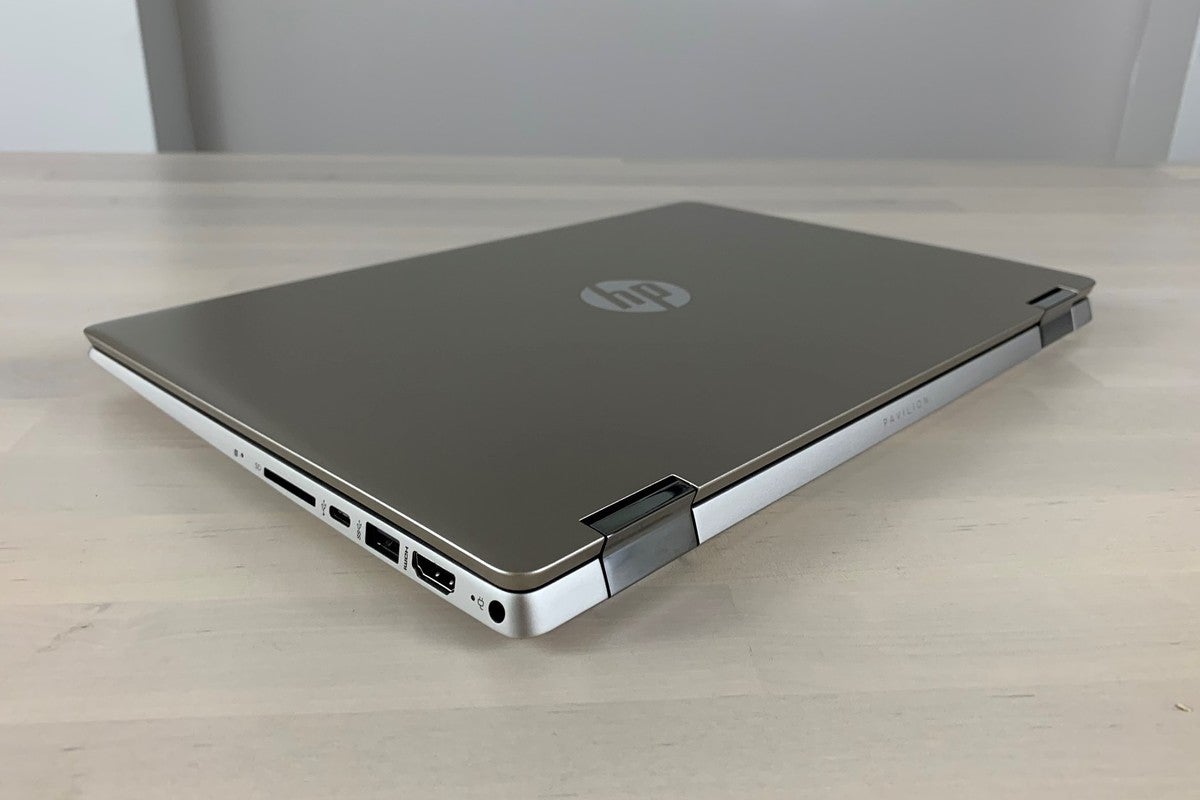 The 14-inch, 16:9 "micro-edge" display does indeed have reasonably thin bezels along the top and sides, although the bottom bezel is pretty chunky. Below the hinges sits an attractive, diamond-cut grille for the Bang & Olufsen speakers (more on them in a moment), along with the silver-colored palm rest and keyboard. An understated Pavilion logo sits near the bottom-left edge of the keyboard.
As a 2-in-1 system, the Pavilion x360's lid can swivel all the way around for tablet use. You can also tent the laptop on a desk, or place it keyboard-down with the display tilted back in kiosk mode. The Pavilion x360's reassuringly sturdy hinges did a solid job of keeping the lid in place, although the stiff motion of the lid means that opening the laptop requires a fair amount of effort.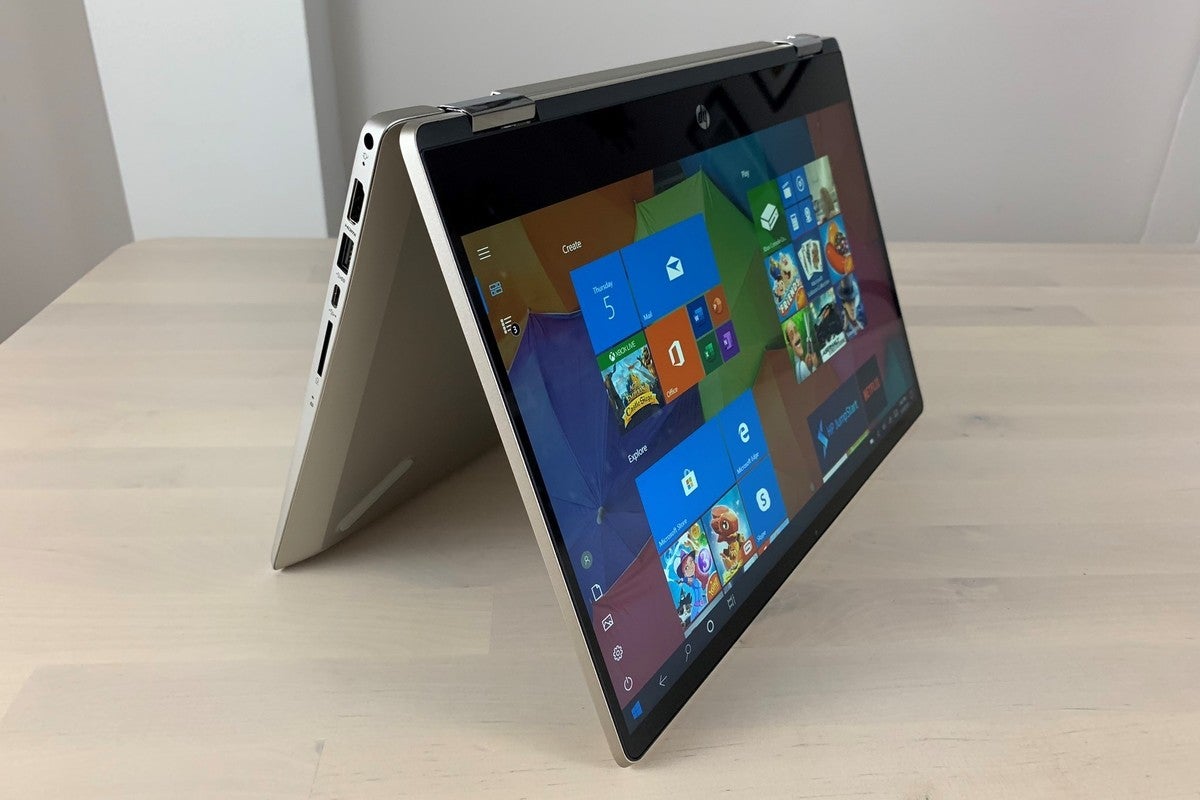 One design element I didn't love on the Pavilion x360 was the power button on the left edge of the laptop, near the middle. More than once, I accidentally put the Pavilion to sleep by inadvertently pressing the button as I was moving the laptop on my desk. A smarter move would have been to position the button farther away from the middle—or, better yet, put it just above the keyboard on the inside, where you're much less likely to press it by accident.
Measuring 12.7 x 8.8 x 0.8 inches, the Pavilion x360 is reasonably thin for a convertible-style laptop. Weighing in at 3.62 pounds (or 4.19 if you include the power brick), the Pavilion feels a bit on the heavy side, and you'll definitely notice the weight when you're toting it around in a backpack.
Display
The Pavilion's 1920×1080 display looks as sharp and vivid as we'd expect from a full-HD screen. With its IPS (in-plane switching) display technology, the panel boasts impressive viewing angles, dimming only slightly when viewed from the sides, top, or bottom.
The screen is a tiny bit dimmer than we'd like, measuring about 245 nits (or candelas), when our low-water mark for comfortable indoor viewing is 250 nits. Then again, we've seen dimmer displays on laptops in this price range, and I was able to view the Pavilion's display comfortably in my office. Outdoor viewing would likely be a different story.
Keyboard, trackpad, speakers, and extras
The Pavilion x360's keyboard is a cut above those you typically see in mid-range laptops. The square, flat keys feel solid rather than squishy, with a fairly generous amount of travel and a satisfying mid-stroke bump that feels almost clicky. Indeed, I found typing on the Pavilion to be an unexpected pleasure.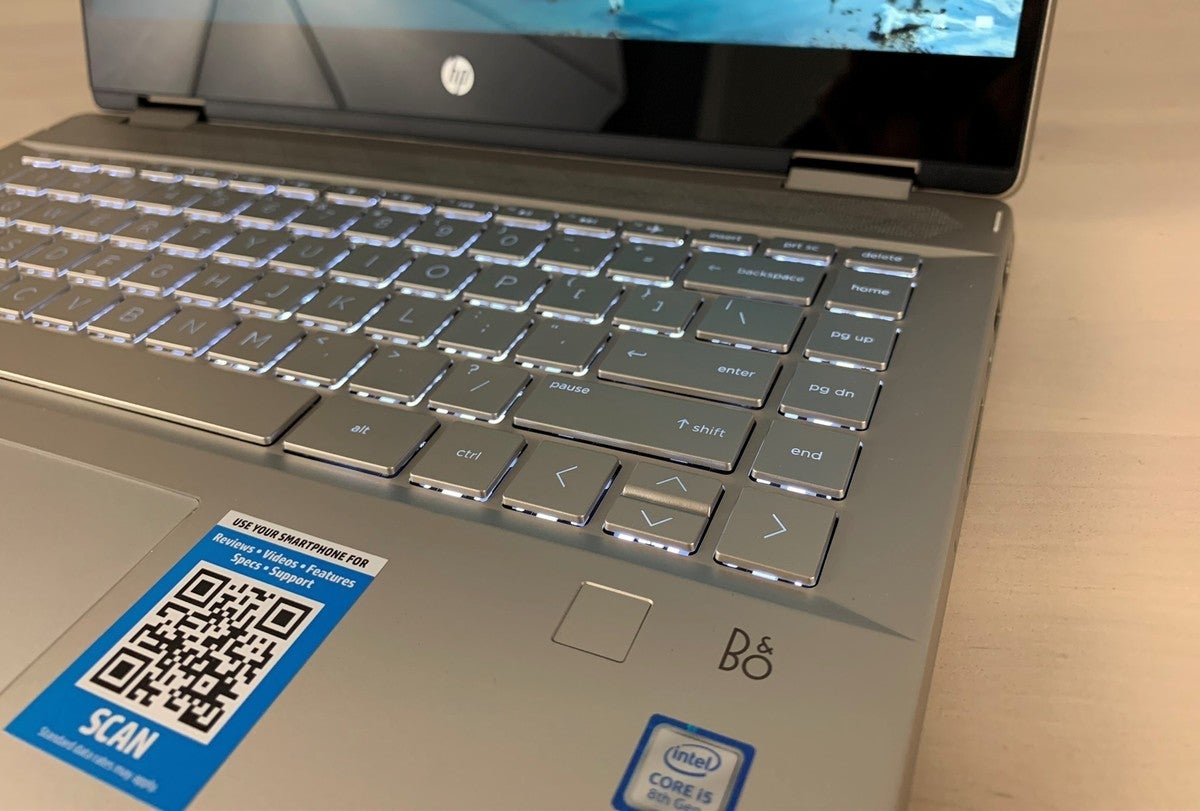 The Pavilion's trackpad is a bit on the wide side, which meant that my palms frequently dragged over it while I typed. That wouldn't be a big deal if the trackpad were better at rejecting accidental inputs; alas, the Pavilion's cursor occasionally jittered across the screen as my palm brushed the trackpad, particularly on the right side. The accidental trackpad inputs weren't so bad that they interrupted my work, but they happened enough to be noticeable.
Back on the plus side, the Bang & Olufsen-designed stereo speakers are actually pretty good. We generally expect very little from laptop speakers, but the Pavilion's top-firing drivers actually evinced some subtle detail and even a bit of bass. While I couldn't crank the speakers very loud, at least I didn't notice any distortion when I dialed the volume all the way up.
This particular configuration of the Pavilion x360 comes with a fingerprint reader sitting just beneath the bottom-right corner of the keyboard.
Ports
The Pavilion x360 has a solid selection of ports given its size and price range. Starting on the left side, there's a USB 3.1 Gen 1 Type-A port (5Gbps), a combo audio jack, and a laptop security slot. Also on the left side is a good-sized cooling vent, along with the aforementioned power button.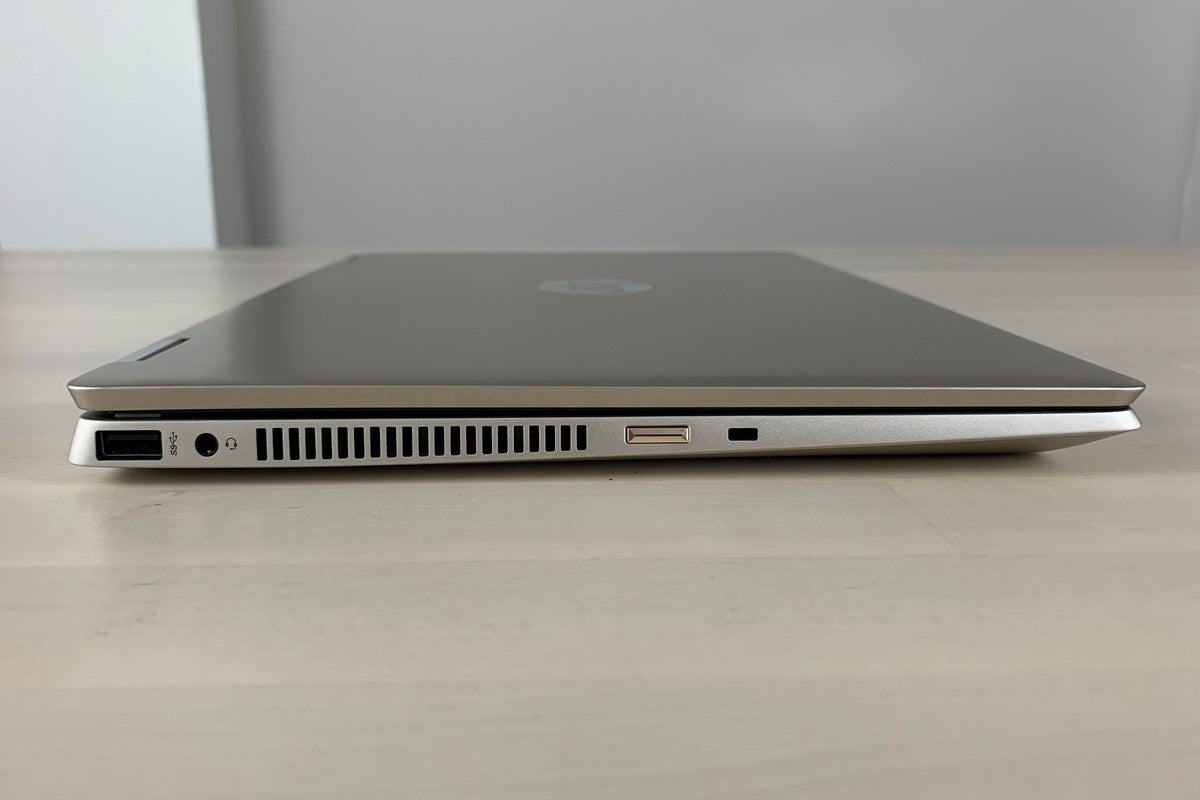 On the right side you'll find a media card reader, a USB 3.1 Gen 1 Type-C port, a second USB 3.1 Gen 1 Type-A port, a full HDMI port, and a barrel-shaped charging connector.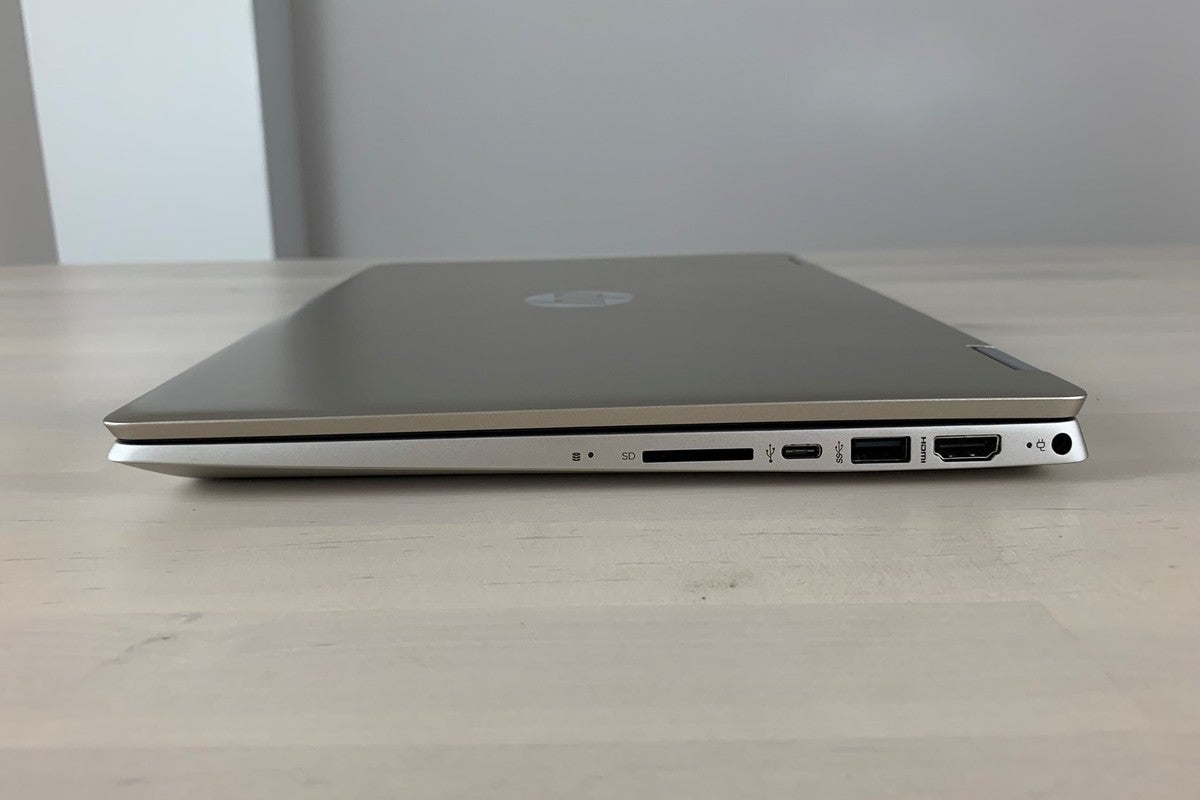 There's no ethernet port, but given that Pavilions generally don't have one, that isn't much of a shock.
Performance
For our performance charts, we've grouped with HP Pavilion x360 with a mix of laptops, ranging from a 8th-gen, dual-core i3 model to a system with Intel's latest six-core Ice Lake CPU, along with a series of quad-core laptops in the middle. Obviously, that Ice Lake chip is going to dust the Pavilion's less powerful Whiskey Lake CPU in some cases. But as we'll see, the Pavilion gets a few chances to shine even compared to the latest and greatest laptops, particularly when it comes to day-to-day productivity. We'll also see how much of a difference a quad-core CPU makes compared to a dual-core chip like Intel's Core i3.
PCMark 8 Work 2.0 Conventional
Our first benchmark simulates such daily computing tasks as web browsing, spreadsheet work, video chat, and other common desktop chores. Given that the HP Pavilion x360 should appeal most to productivity mavens, PCMark 8 is a great place to start with our testing. Generally speaking, a PCMark 8 score above 2,000 means you can expect smooth Office performance.
A quick glance at the chart reveals that the Pavilion handled the PCMark 8 benchmark like a champ, and it even edged the Dell XPS 13 7390 with its six-core Ice Lake CPU. To be fair, though, the core count doesn't really matter so much with PCMark 8, which focuses mostly on single-core applications. It's also worth noting that the Dell is much thinner and lighter than the Pavilion, which means it must pump the brakes to keep its slim chassis cool.
In the end, which laptop finished where in our chart really doesn't matter given that they all notched scores north of 3,000. In other words, all of these laptops are great Office machines.
HandBrake
A benchmark that involves converting a 30GB MKV file into a format suitable for an Android tablet, our HandBrake test pushes even the beefiest CPUs to their limits. It also tells us a lot about how a given laptop balances cooling and performance over a relatively lengthy period, given that our HandBrake test often takes more than an hour to perform.
Checking our chart, the HP Pavilion x360 lands pretty much where we'd expect, right in the mix with other quad-core Core i5 Whiskey Lake laptops. The Pavilion is also neck-and-neck with the HP Envy 13, a Core i7 Whiskey Lake laptop. That's actually not as surprising as it sounds, as the main difference between the i5 and i7 chips is that the i7 boasts a higher boost clock, an advantage that's most apparent during short, intense bursts of CPU activity.
The chart-topping Dell XPS 13 and its Ice Lake CPU illustrate the substantially superior performance of a (far pricier) six-core processor compared to a quad-core system, although you generally don't need that kind of horsepower unless you're dealing with, say, 4K video workflows. On the other end of the spectrum is the dual-core Acer Aspire 5, which lags well behind the pack but does just fine (and for a lot less) when it comes to daily, single-core productivity tasks.
Cinebench
Remember what we said a moment ago about short bursts of CPU activity? That's what our Cinebench test, which involves rendering a 3D image in real time, is all about. Unlike the lengthy HandBrake benchmark, which can take an hour or more, Cinebench is typically all over within five minutes or so.
Once again, the HP Pavilion x360's Cinebench score was bunched up with its fellow i5-packing laptops, albeit nearer to the bottom. The Paviion's so-so performance can be partly blamed on its 2-in-1 form factor, which is tougher to keep cool than a traditional clamshell laptop is. Still, we should note that the Pavilion x360's all-threads Cinebench score is respectable given its CPU, while its solid single-thread Cinebench result (which is all that matters when it comes to day-to-day computing tasks) brings it up a notch.
Looking at the competition, we see the six-core Ice Lake-powered Dell XPS 13 way ahead of the pack (no surprise there), while the quad-core HP Envy 13 and its Core i7 CPU ges an expected speed bump thanks to its faster boost clock. At the bottom of the list, once again, is the dual-core but bargain-priced Acer Aspire 5.
3DMark Sky Diver
Like many mid-range, productivity-minded laptops, the HP Pavilion x360 isn't much of a gaming machine, although its integrated graphics core is designed to deliver enough adequate performance for light photo editing and similar tasks. As a rule, laptops with discrete graphics cards will score much higher in our graphics-oriented 3DMark Sky Diver benchmark, and our results bear that out.
As expected, the HP Pavilion x360 sits right alongside similar laptops with integrated Intel UHD Graphics 620 cores. While it's nearer the back of the pack, you're not going to see any of these integrated graphics systems deliver even close to 30 fps while playing, say, Fornite. For smooth gaming performance, you'd need a laptop with discrete graphics, such as the two laptops at the top of our chart, which both boast entry-level Nvidia GeForce MX250 graphics cards.
Battery life
We test a laptop's battery life by looping a 4K video using the stock Windows Movies & TV app. We set screen brightness set to about 250 nits (which means cranking the brightness all the way up on the HP Pavilion x360) and with the volume set to 50 percent, headphones on.
At first glance, the Pavilion's position near the bottom of the chart doesn't look so great, but its 484-minute battery drain result (a sliver over 8 hours) isn't bad considering its 40-watt-hour battery, which is the smallest of the bunch. It even beats out that of the 14-inch Lenovo IdeaPad Flex, a 2-in-1 laptop with a larger 48-watt-hour battery.
Still, if you're looking for a system that'll last you more than a long afternoon on battery power (and keep in mind that our eight-hour battery drain result won't hold up if you're doing anything remotely demanding on the Pavilion), you should consider a device with a bigger battery. The relatively low-priced Acer Aspire 5's 48Wh battery managed to last 100 minutes longer during our battery drain test. It's also a good three-quarters of a pound heavier than the Pavilion.
Bottom line
While its battery life and display are mediocre, the HP Pavilion x360 remains a solid, well-built 2-in-1 that will speed you through everyday computing tasks as well as moderately tough video-processing or number-crunching chores. Better still, its comfy keyboard will keep your fingers happy, and the surprisingly decent-sounding speakers will keep you humming. For the price (especially at current discounts), it's a solid deal. Note: When you purchase something after clicking links in our articles, we may earn a small commission. Read our affiliate link policy for more details.
AT A GLANCE
HP Pavilion x360 14m-dh0003This sleek convertible laptop has what it takes in terms of day-to-day performance, but its small battery won't last all day.
Pros
Solid quad-core performance
Sleek, sturdy design
Great keyboard
Above-average speakersCons
So-so battery life
Display is a bit dim
Side power button is easy to press by accident
Cons
So-so battery life
Display is a bit dim
Side power button is easy to press by accident
Source:
https://www.pcworld.com/article/3489046/hp-pavilion-x360-14m-dh0003dx-2-in-1-review.html
This tiny laptop makes the MacBook look positively gigantic
The One-NetBook OneMix 1S is sure to divide opinions; as not everyone will consider a $499 Celeron-based laptop to be a good deal, but then this is no ordinary laptop.
The OneMix 1S is probably the smallest devices on the market today, targeting a niche user base searching for extreme portability with as few compromises as possible.
The Celeron processor that powers it is slightly faster than the N4100 model that powers a lot of similar devices on the market today, and it also sports 8GB of RAM and a true PCIe 256GB SSD rather than the sluggish eMMC storage that powers many other entry level laptops.
Miniaturized computing
Add to that a full HD, touch capable display that supports pen input, a large 6500mAh battery, a fingerprint reader, plenty of connectivity options and it is easy to see why this format is – like vinyl and tape for audio – seeing a resurgence.
Bear in mind that the keyboard may infuriate touch typers and given its lilliputian dimensions, a touchpad is out of question. On the other hand though you will be able to charge this laptop using a standard portable battery charger.
Lastly, it might be a good idea to take a Type-C hub adaptor given that it doesn't have an HDMI port should you want to use a big screen.
Source: https://www.techradar.com/news/this-tiny-laptop-makes-the-macbook-look-positively-gigantic
Google Pixel 4 XL revealed in full in three new hands-on video leaks
Last year's Pixel 3 and Pixel 3 XL both suffered from high-profile leaks before their official launch, but Google's 2019 flagships seem to have taken things to another level entirely. A new leak – or rumor – about the Pixel 4 seems to rear its head every single day, and with three new hands-on videos appearing online today, just about everything there is to know about the next generation of Google phones now seems to have been revealed.
The three new videos basically show off the larger Pixel 4 XL in full, even going as far as to showing off all three different colors the handset is expected to come in – white, black and coral. None of the videos are in English but, between them all, there's unlikely to be any huge surprises when Google finally announces the Pixel 4 range next month.
The videos confirm the rumors of the 90Hz Smooth Display on the Pixel 4 phones, with the screen being able to dynamically switch between 60Hz and 90Hz refresh rates, depending on the content being displayed. However, the 90Hz mode's smoother scrolling can affect battery life – like we saw on the OnePlus 7 Pro – and it seems you will be able to turn off the Smooth Display feature to conserve battery.
Another new feature that, so far, Google has omitted from its previous Pixel handsets is a pre-installed Recorder app. Whether the app will be able to record both external audio (like voice memos) as well as internal audio (screen recording) is as yet unclear, but we're sure we'll find out soon enough.
The phone's camera app is also shown off, revealing an updated user interface, improvements to the Night Sight mode, as well as sample images taken on the Pixel 4 XL.
Another pre-installed app called Pixel Themes indicates there could be multiple themes to choose from to customize the phone, while something called Ambient EQ could be something that screen color hue based on environmental conditions.
A hardware detection app confirms that the Pixel 4 XL boasts a 6.23-inch display with 3,040 x 1,440 resolution. There are two camera lenses on the rear – one featuring a Sony IMX363 12.2MP sensor with f/1.7 aperture, while the other is a telephoto lens housing a Sony IMX481 16MP sensor.
In terms of other specs, the earlier rumors of 6GB RAM and 128GB on-board storage seem to be true.
One notable thing that isn't demonstrated in the videos is the Soli aerial navigation gestures… so there's a chance we may be able to see at least one new thing during Google's launch event.
Source: https://www.techradar.com/news/google-pixel-4-xl-revealed-in-full-in-three-new-hands-on-video-leaks