How to cancel a Netflix subscription, however you subscribed to it
You can cancel your Netflix subscription at any time, but the process depends on how you are being billed directly through Netflix , via iTunes , or through another third-party.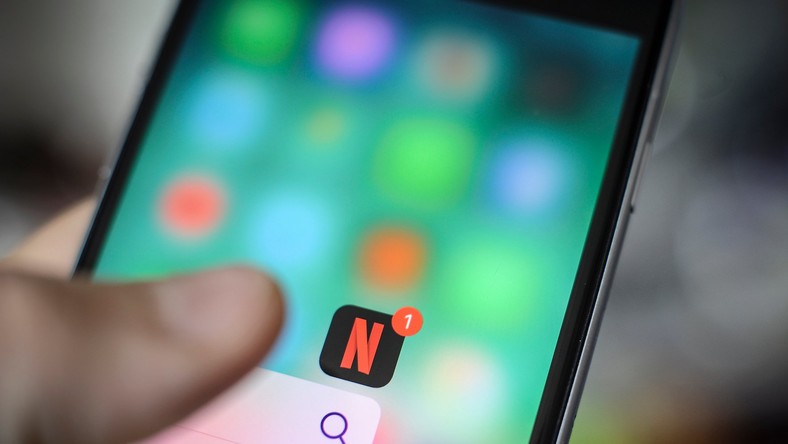 Deleting your profile isn't the same as cancelling your subscription. If you delete your profile, you will still be billed until you actually cancel.
When you set up a subscription to an online service whether it's cloud storage, music, backup services, or streaming video it's often hard to remember how to cancel when that time eventually comes. If you want to cancel your Netflix service, though, the good news is that it's pretty simple to do.
How you cancel, however, depends on how you set up your service to begin with.
If you subscribed to Netflix directly, then you can cancel your service via the Netflix site in a web browser. If you used iTunes, though, you'll need to unsubscribe using an iPhone or an iPad. It's also possible that you are being billed for Netflix through a third-party company, like a smart TV service.
One thing you should not do: Simply delete your Netflix profile. This has nothing to do with your subscription or billing, and you'll continue to be billed even if you delete your profile or the app.
How to cancel your Netflix subscription using a web browser
1. Start a web browser and go to Netflix.com.
2. Click the downward-pointing arrow in the top right of the page and then click "Account."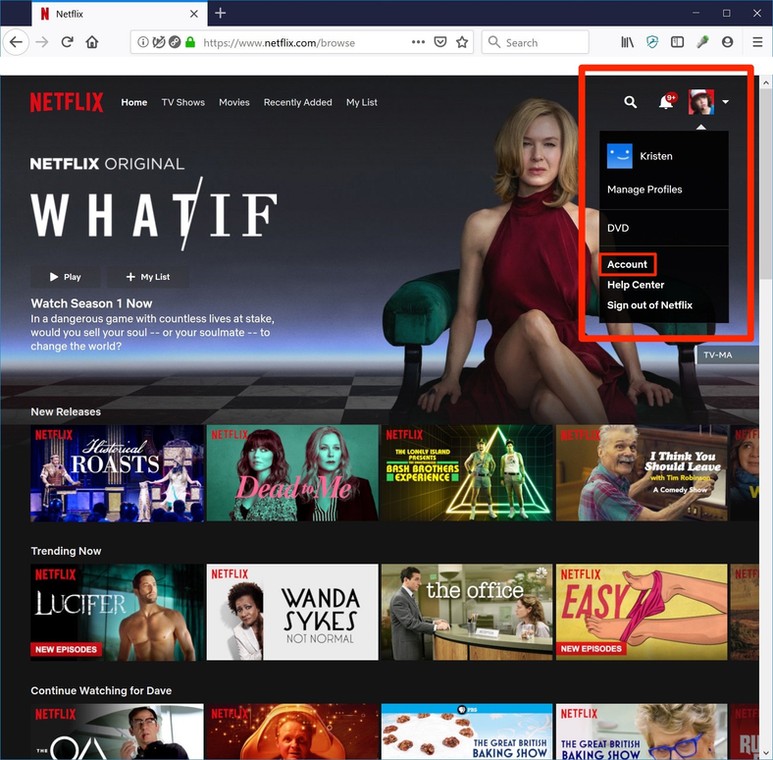 3. Near the top of the page, under Membership and Billing, click "Cancel Membership" and confirm your decision to cancel.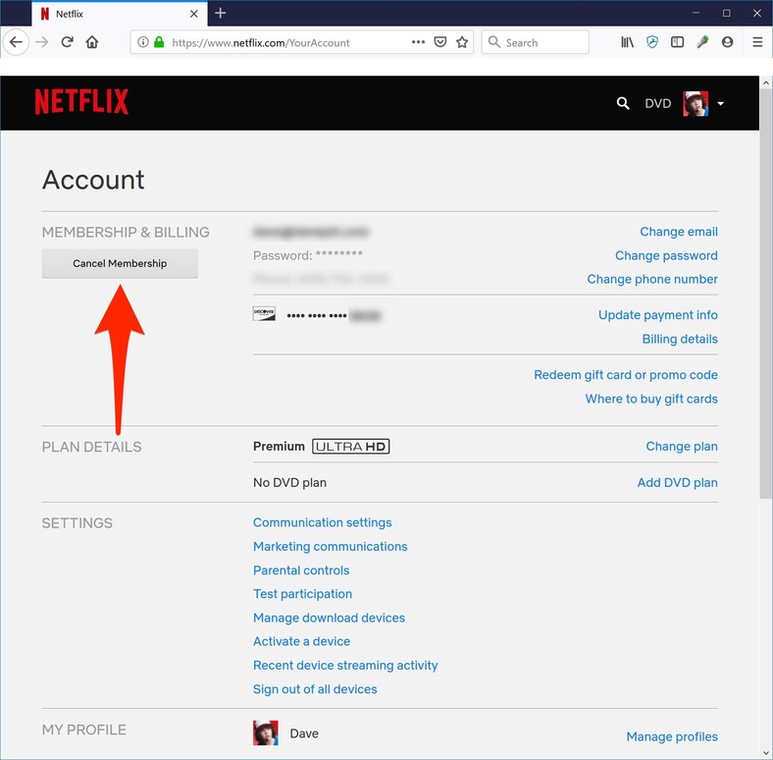 4. If you still have a DVD plan, click "Cancel your DVD plan" and confirm that you want to do this.
If you don't see the option to cancel your account here, you are enrolled in Netflix through a third-party. You should see information on the page about who is billing you for Netflix, such as your Smart TV provider or iTunes; if you see a company listed, contact that company directly to cancel billing.
How to cancel your Netflix subscription through iTunes
If your Netflix account is being billed via iTunes, you can cancel it using your iPhone or iPad.
1. On your iOS device, start the Settings app.
2. Tap "iTunes & App Store."
3. Tap your Apple ID at the top of the screen, and then tap "View Apple ID" in the window that appears.
4. Tap "Subscriptions."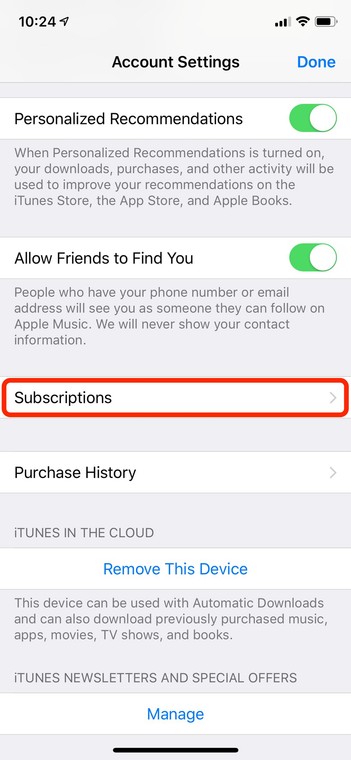 5. You should see Netflix in the list of active subscriptions. Tap it.
6. Tap "Cancel Subscription," and then tap "Confirm."
Source: https://www.pulse.ng/bi/tech/how-to-cancel-a-netflix-subscription-however-you-subscribed-to-it/38lh07t
Chicago will test Samsung's DeX in-vehicle solution in cop cars
Samsung created an in-vehicle version of its DeX platform in hopes that it can replace the computers cops and first responders have to carry around. Now, the Chicago Police Department has announced that it's taking the system for a spin to see if it can truly be an effective companion for law enforcement officers. CPD Superintendent Eddie Johnson said nearly half of all the officers in the city already have department-issued Samsung phones. When the pilot launches, they'll be able to access police apps on their vehicle's dash-mounted display simply by docking their phones.
The pilot test will first roll out to officers from CPD's 11th district this year. According to Samsung's announcement, the DeX system will allow them to accomplish tasks like accessing computer-aided dispatch and other CPD systems to conduct background checks from their cars. Further, they'll be able to immediately attach any photo or video evidence they take with their phones to their reports.
"The old computers had to stay in the cars," CPD Bureau of Technical Services chief Jonathan Lewin explained. "With this solution, it really creates an ecosystem that takes all the technology and makes it available to officers on the street in real-time and at significantly less cost than we are paying now."
Samsung says authorities could also use DeX docks in police stations, allowing officers to pick up where they left off on their phones or their cars as soon as they get back. It's not clear if CPD is also considering using DeX in their headquarters, though — that might depend on how the pilot testing goes.
Source: https://www.engadget.com/2019/08/22/chicago-pd-dex-in-vehicle/
Huawei has built the Disneyland of tech R&D
A couple hours outside Huawei's old headquarters in Shenzhen, China, the company has built a new campus in the city of Dongguan to eventually house 25,000 R&D employees. But this is no sprawling network of glass towers – it's composed of 12 mini-districts built to look like a different European city, all linked by a full-size train.
In other words, it's a lot like a Disneyland for tech research.
Walt Disney's famous park is around 85 acres (0.34 square kilometers), but this research center is four times the size at 296 acres (1.2 square kilometers) – which grows to 1,976 acres (8 square kilometers) if you include the factories across an adjacent lake. Each mini-district – allegedly called 'towns' by some Huawei employees – has grandiose buildings, cobbled or bricked streets and landscaped greenery.
Huawei invited tech media out for a casual tour of the grounds, and TechRadar got a close-up look. We started at a coffee shop and got on a two-car train in a bold orange with brass accents, looking straight out of Industrial-era Europe.
We breezed past areas patterned after Paris, Burgundy, Heidelberg, Cesky Krumlov, and Bologna, packed with 'towns' in the style of, and laid out like, each city – some so large, they might as well be castles. It was completely impressive, yet out of place amid the lush Chinese flora and the shabby residential high-rises in the distance. Image 1 of 5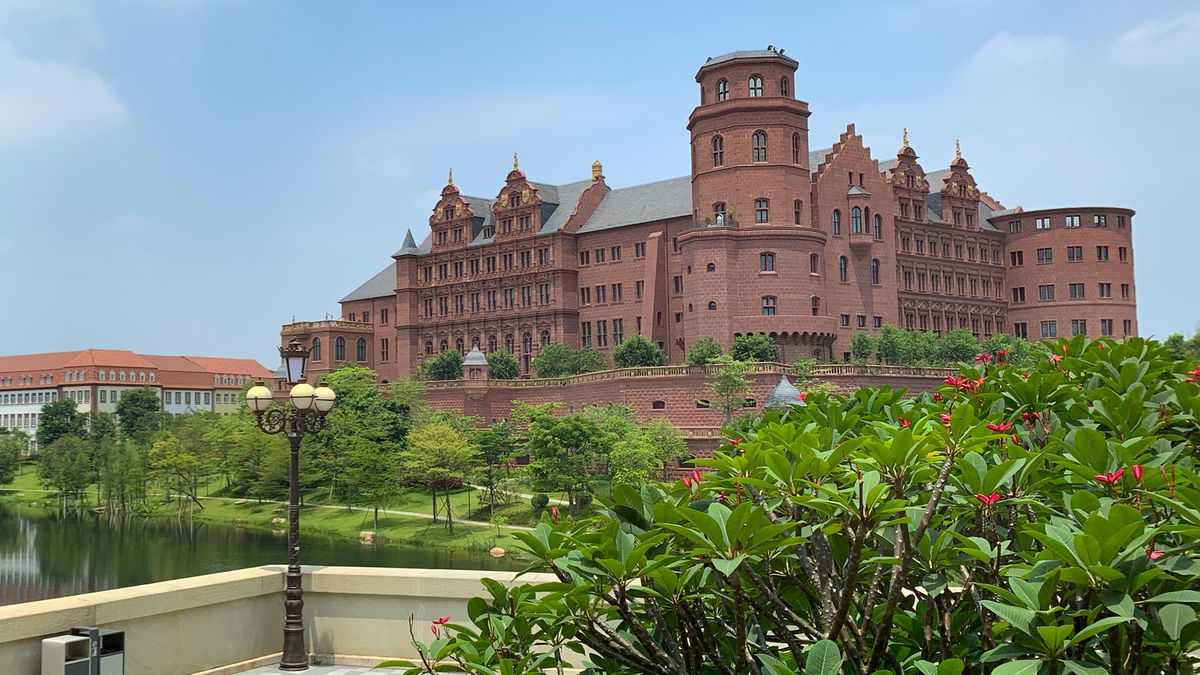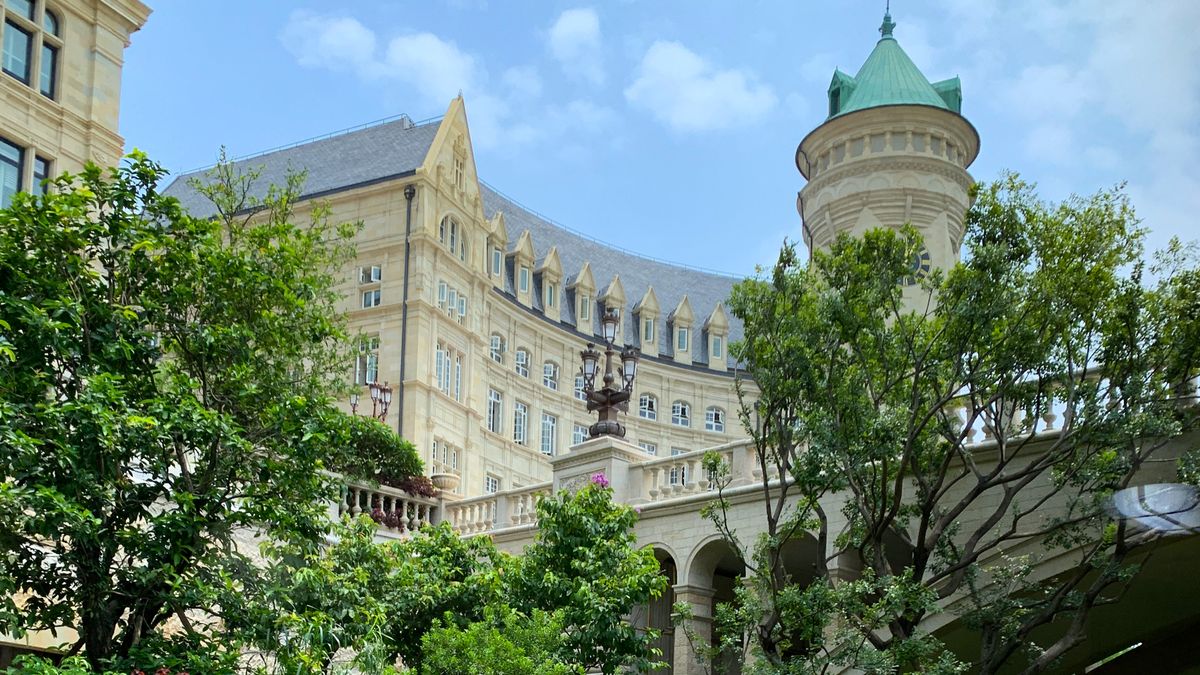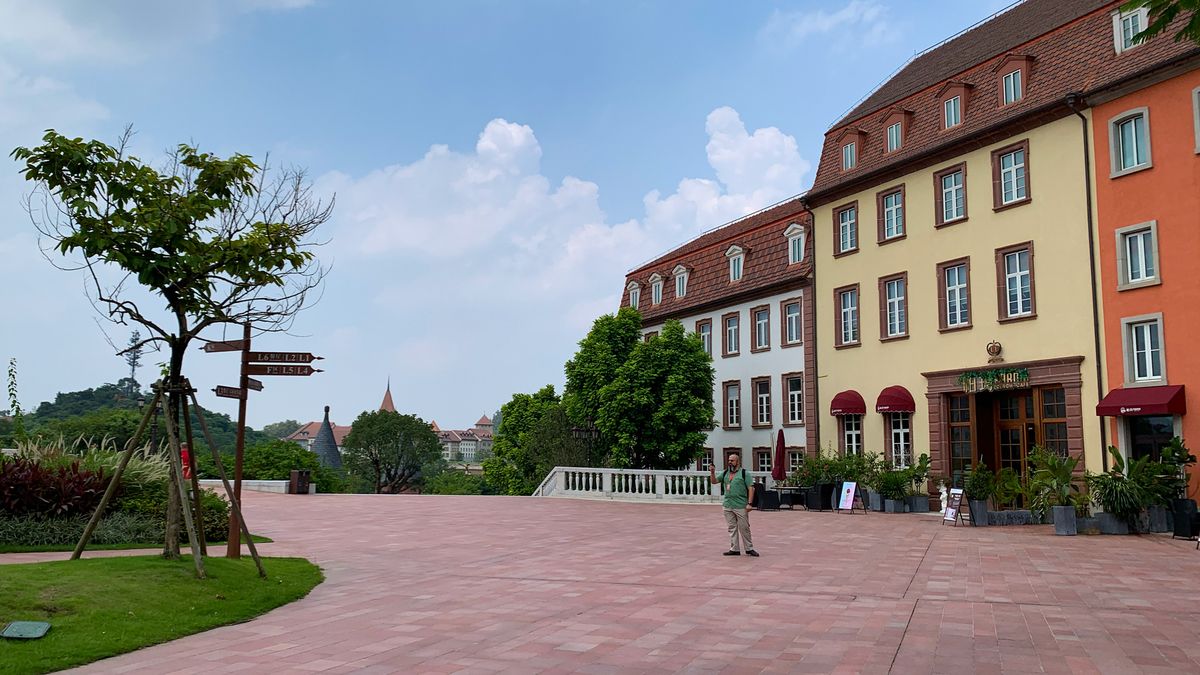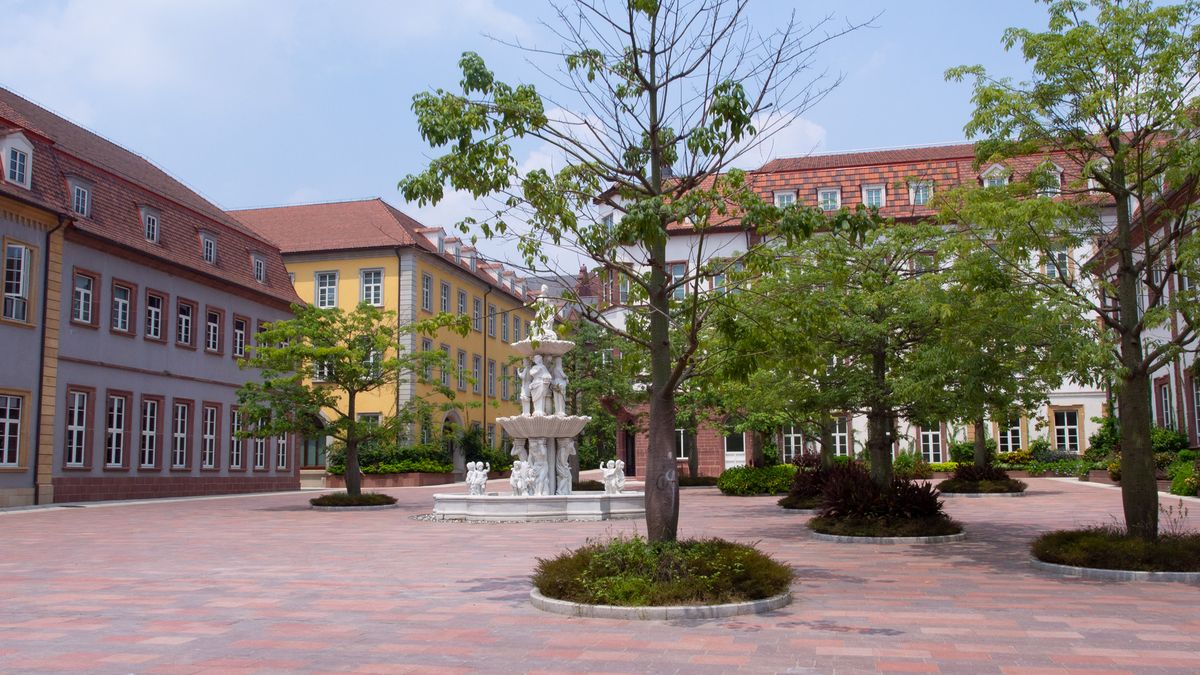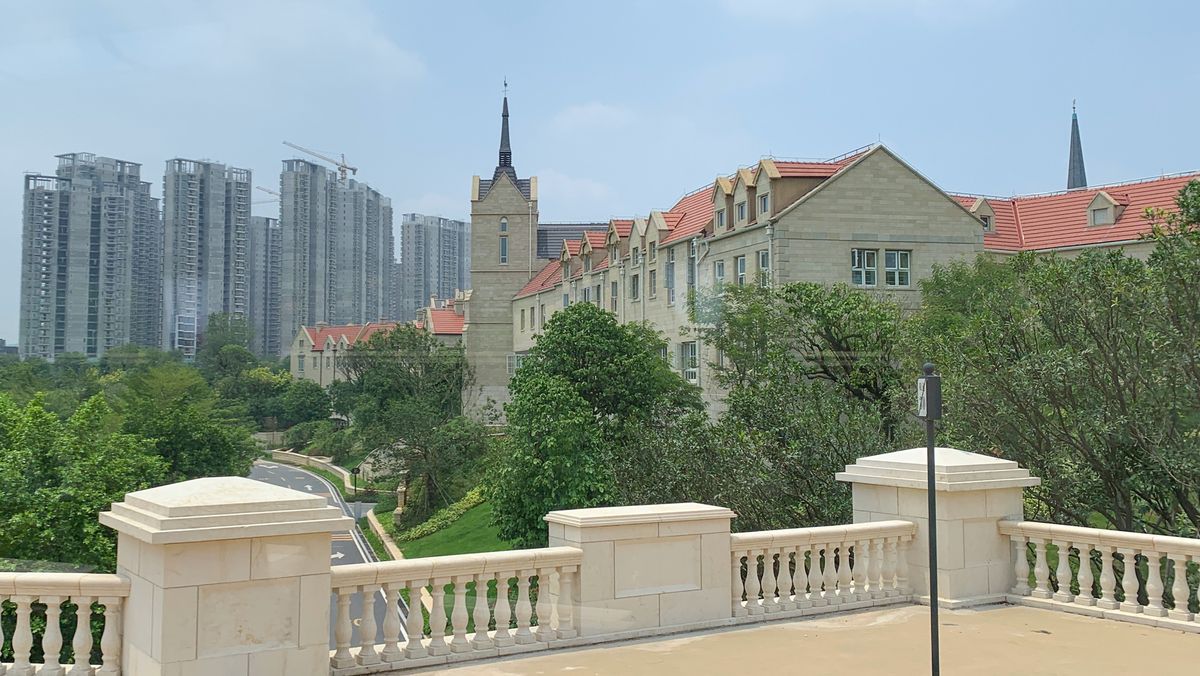 The effect was surreal – a dizzying dissonance between carefully-constructed medieval and Renaissance European buildings that would still function as everyday workplaces. Each member of our media group stared agog as we took the long orange train beyond the completed 'towns' (seven of twelve are work-ready, five years after construction started ) to get a sense of the installation's scale.
We were left with the obvious question: Why?
Huawei's workplace 'Disneyland,' a new center of research
Or to reframe the inquiry: why not just make a modern glass-and-grass campus like the other tech titans? Our guide explained the philosophy behind the Dongguan facility: Huawei founder and CEO Ren Zhengfei wanted employees to work in a place they found peaceful, which is a far cry from the busy metropolitan sprawl in Shenzhen or Dongguan. Image 1 of 5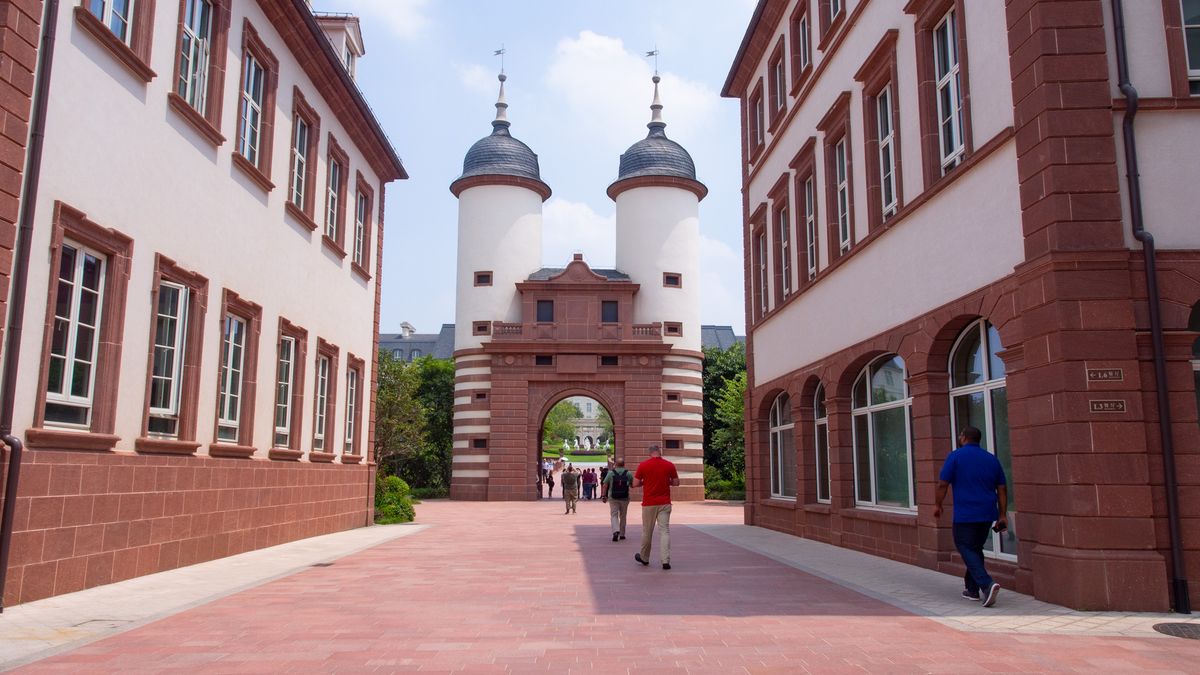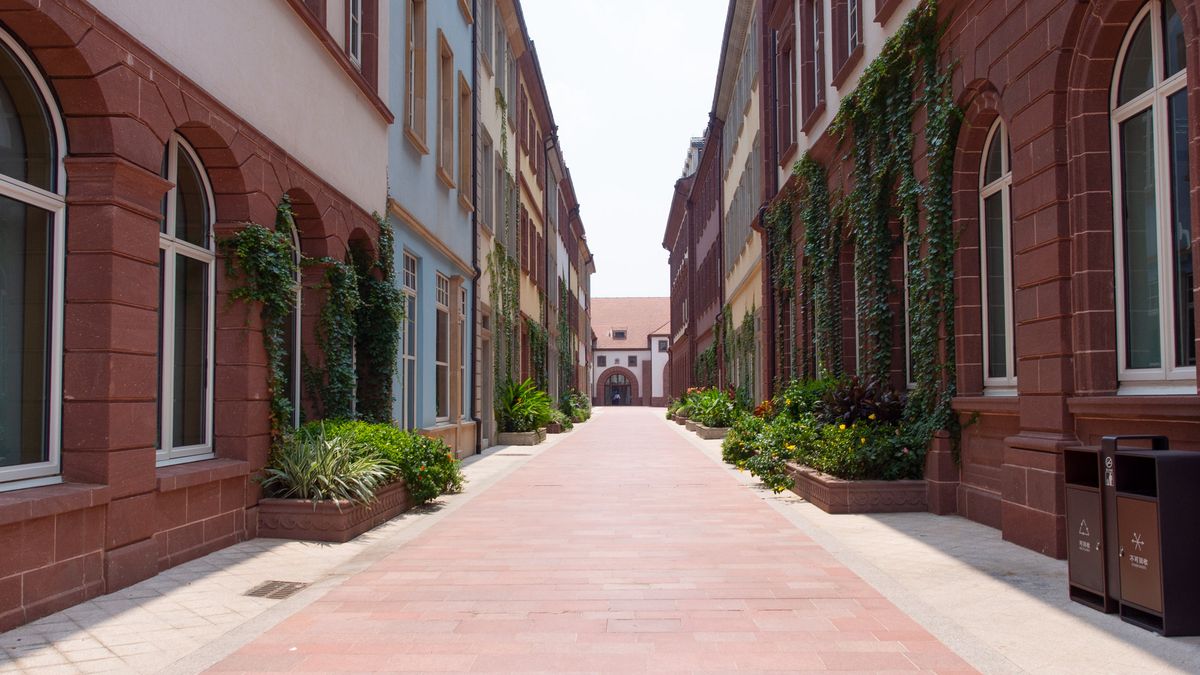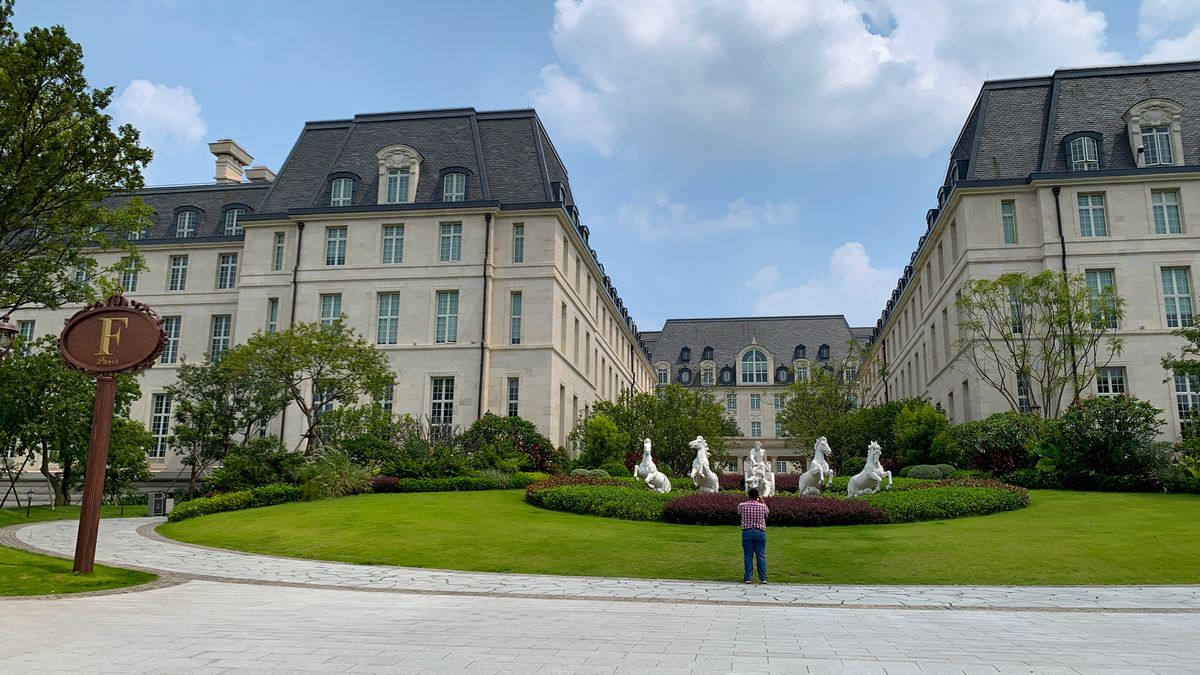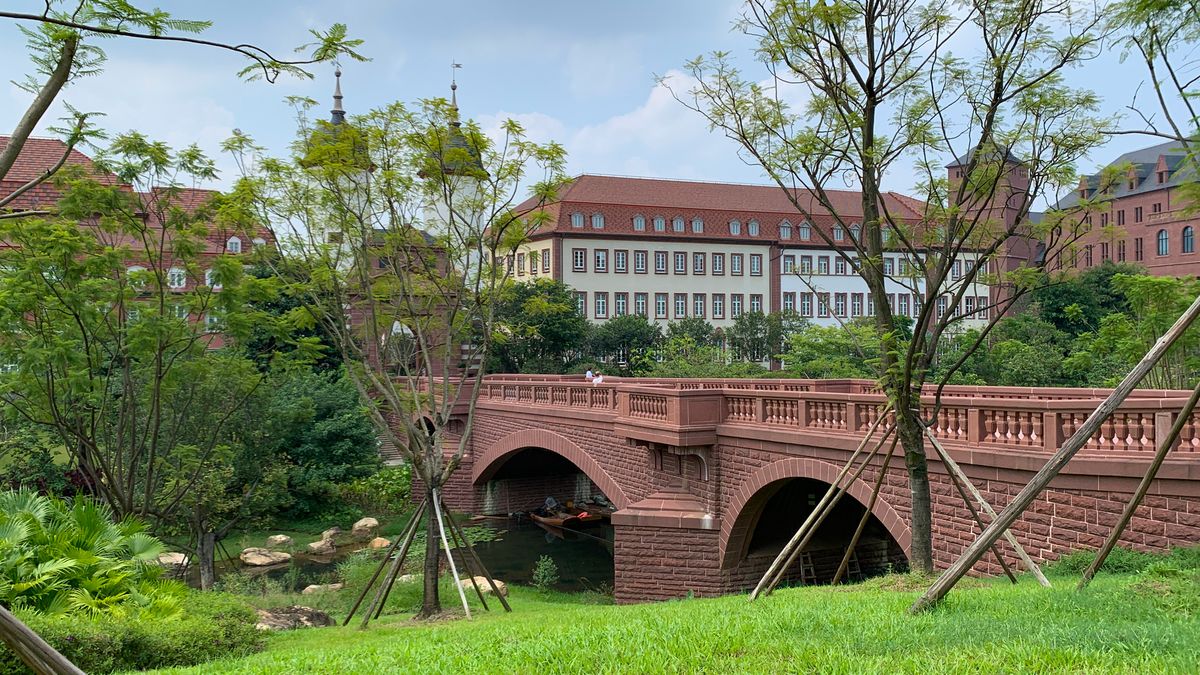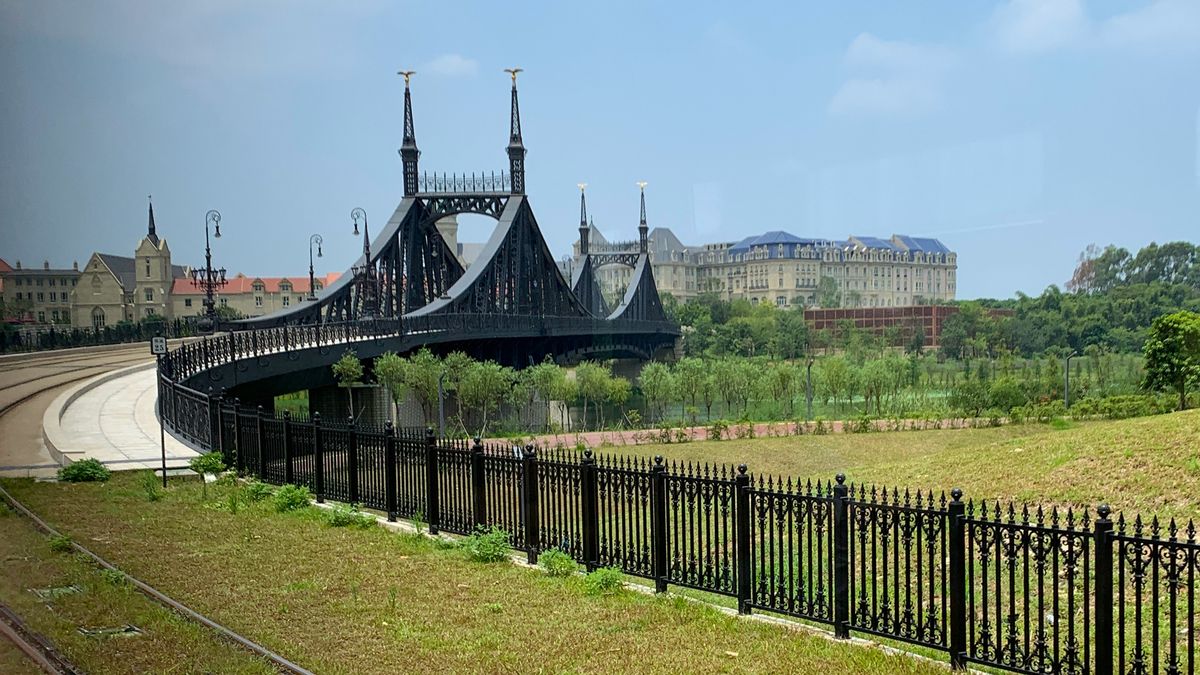 If true, that sentiment – and the sheer resources spent to bring this city-replicating vision into reality – evokes the whimsy and dedication Walt Disney swirled together to make Disneyland. "Here age relives fond memories of the past, and here youth may savor the challenge and promise of the future," Disney famously said at the park's opening in 1955 in a brief dedication.
Sixty-odd years later, those words could strangely apply to Huawei's Dongguan R&D campus.
On our visit, tech media were introduced to the company's myriad applications of its tech, from augmenting existing industries with 5G to making cities 'smart' with enough sensors to monitor power consumption, air quality, and even the capacities of individual trash cans. And, yes, streamlining the networks behind security camera systems (to help missing children and crowd control, a Huawei tour guide said) as well as networks (and sometimes chips) behind facial recognition software.
Of course, the company's tech innovations aren't just made in Dongguan: that still-unfinished facility is one of 16 global R&D centers. Nine of them are in China, but whereas the others have around 10,000 employees each, the Dongguan installation will house around 25,000 once it's finished – combined, the R&D contingent is over half of Huawei's 188,000 employees.
But those other R&D facilities weren't built as a paean to culturally significant European cities. It's unclear if the Dongguan campus was built so extravagantly to lure employees or to satisfy the eccentric whims of upper staff (if not Zhengfei himself) – or both, or neither. What is clear: if this was built in the US, it would be soundly criticized as a needlessly ornate and expensive feat of engineering – just like Disneyland had been before it showed up its critics.
Source: https://www.techradar.com/news/huawei-has-built-the-disneyland-of-tech-randd
Harvard scientists design robot shorts to make running less horrible
Researchers at Harvard University have designed a pair of robot shorts that could make running, a tortuous activity for many of us, much easier. The robot shorts are actually a lightweight hip exosuit that can make you feel about 16 pounds lighter while walking and about 12 pounds lighter while running.
The suit does this by reducing the wearer's metabolic cost, or energy spent, by over 9% when walking and 4% when running, the researchers said of their findings, published in Science on Monday. The robot shorts can switch between walking and running seamlessly. When you put it on and start to move, it assists you with a "cable actuation system." The cables apply a tensile force between the waist belt and thigh wrap to create an external extension torque at the hip joint that works with your glutes, according to the release.
"We were excited to see that the device also performed well during uphill walking, at different running speeds and during overground testing outside, which showed the versatility of the system," study lead Conor Walsh said in a release.
The suit could be helpful to anyone needing to cover large distances — rescue workers searching disaster areas, US Army soldiers or Marines marching, or hikers making a long trek.
"It is very satisfying to see how far our approach has come," Walsh said in the release, "and we are excited to continue to apply it to a range of applications, including assisting those with gait impairments, industry workers at risk of injury performing physically strenuous tasks, or recreational weekend warriors."
The research team wasn't immediately available for further comment.
Source: https://www.cnet.com/news/harvard-scientists-design-robot-shorts-to-make-running-less-horrible/