How to cancel a Netflix subscription, however you subscribed to it
You can cancel your Netflix subscription at any time, but the process depends on how you are being billed directly through Netflix , via iTunes , or through another third-party.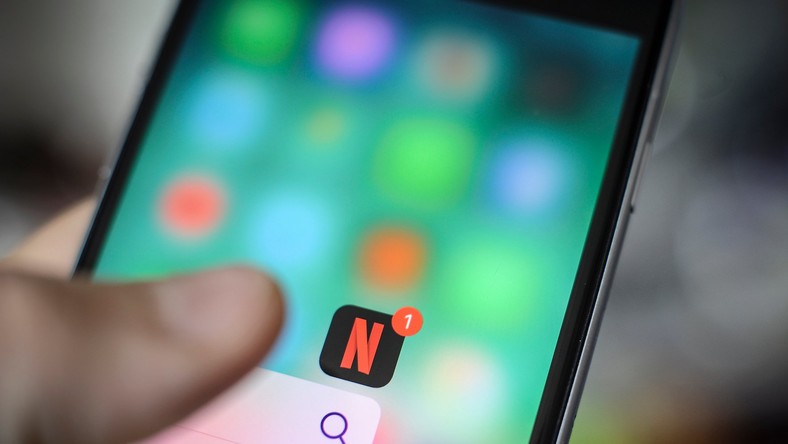 Deleting your profile isn't the same as cancelling your subscription. If you delete your profile, you will still be billed until you actually cancel.
When you set up a subscription to an online service whether it's cloud storage, music, backup services, or streaming video it's often hard to remember how to cancel when that time eventually comes. If you want to cancel your Netflix service, though, the good news is that it's pretty simple to do.
How you cancel, however, depends on how you set up your service to begin with.
If you subscribed to Netflix directly, then you can cancel your service via the Netflix site in a web browser. If you used iTunes, though, you'll need to unsubscribe using an iPhone or an iPad. It's also possible that you are being billed for Netflix through a third-party company, like a smart TV service.
One thing you should not do: Simply delete your Netflix profile. This has nothing to do with your subscription or billing, and you'll continue to be billed even if you delete your profile or the app.
How to cancel your Netflix subscription using a web browser
1. Start a web browser and go to Netflix.com.
2. Click the downward-pointing arrow in the top right of the page and then click "Account."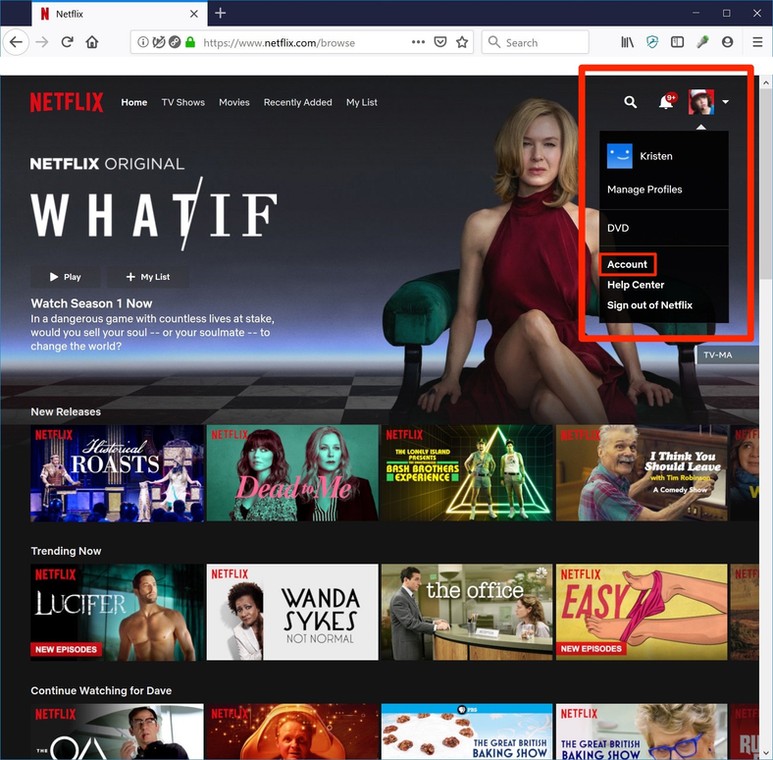 3. Near the top of the page, under Membership and Billing, click "Cancel Membership" and confirm your decision to cancel.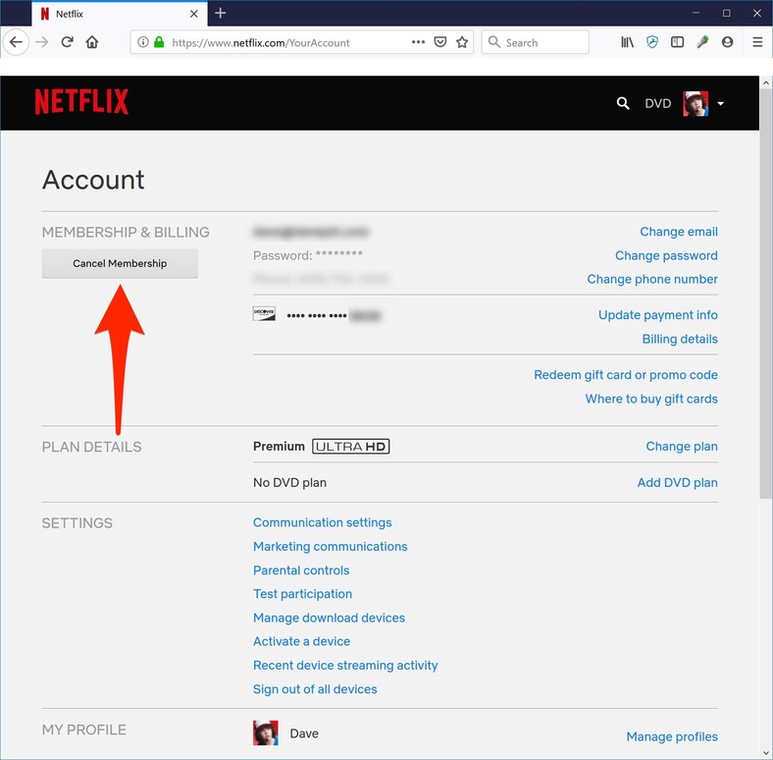 4. If you still have a DVD plan, click "Cancel your DVD plan" and confirm that you want to do this.
If you don't see the option to cancel your account here, you are enrolled in Netflix through a third-party. You should see information on the page about who is billing you for Netflix, such as your Smart TV provider or iTunes; if you see a company listed, contact that company directly to cancel billing.
How to cancel your Netflix subscription through iTunes
If your Netflix account is being billed via iTunes, you can cancel it using your iPhone or iPad.
1. On your iOS device, start the Settings app.
2. Tap "iTunes & App Store."
3. Tap your Apple ID at the top of the screen, and then tap "View Apple ID" in the window that appears.
4. Tap "Subscriptions."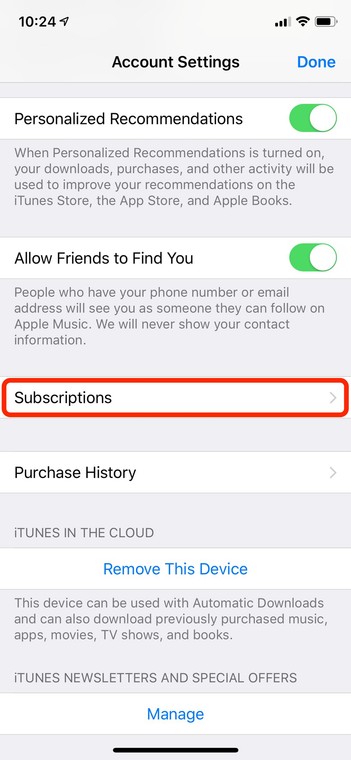 5. You should see Netflix in the list of active subscriptions. Tap it.
6. Tap "Cancel Subscription," and then tap "Confirm."
Source: https://www.pulse.ng/bi/tech/how-to-cancel-a-netflix-subscription-however-you-subscribed-to-it/38lh07t
3 VR Myths That Are Unreal
Virtual reality (VR) has generated a lot of interest over the years — some good and some not so good. It uses computer technology to create simulated environments that allow users to feel as though they're fully immersed — physically and mentally — in these compelling 3D spaces.
Not surprisingly, tech workers and other professionals who understand the ins and outs of technology have been among the first to dabble with VR software and hardware solutions. (For more on the hype surrounding VR, check out Tech's Obsession With Virtual Reality.)
"I'm actually an early adopter," says John Bruno, vice president of productmanagement at Elastic Path, an e-commerce company. "I've had a VR headset at home – PlayStation VR – for two years. I've also used other hardware setups to do everything from explore new destinations, consume educational content, build configurable products, and interact with a physical workspace."
Bruno, who previously served as senior analyst at market research firm Forrester, says that the VR solutions available today are only a glimpse of what'll be possible in the future.
But it's precisely this future that Bruno alludes to that have many critics questioning whether the benefits of VR outweigh what they say are the possible negatives. No technology is perfect, and any technology can be misused or abused — and VR is no exception. This does not mean, however, that criticisms leveled against the technology hold any water — literally or virtually.
What follows is a look at three VR myths or misconceptions that don't hold up to proper scrutiny.
Myth 1: VR Is a Passing Fad
According to Zion Market Research in a report early this year, the global VR market was worth $2.02 billion in 2016 and will be worth $26.89 billion by the end of the 2017-2022 forecast period. Looking at VR hardware and software for consumer and business applications, the research firm says that Oculus VR, Sony, HTC and Samsung Electronics are some of the key vendors of virtual reality worldwide. These players across the VR market are, it adds, focusing on innovation and on including advanced technologies in their existing products.
Dr. Hala ElAarag, who earned a Ph.D. in computer science at the University of Central Florida and who works as a professor of computer science at Stetson University, says that the convergence of artificial intelligence and VR will change both in important ways. (One area where VR and AI intersect is wearables. Learn more in How AI Is Enhancing Wearables.)
"The merging of artificial intelligence and VR will revolutionize both fields and will be very important for [the] entertainment industry," says ElAarag, also a senior member of the Association for Computing Machinery (ACM) and the Institute of Electrical and Electronics Engineers (IEEE).
It will also help the hearing impaired by detecting sounds and the visually impaired by detecting objects. The wide spread of 5G will empower VR. The high speed and the low latency of 5G technology will enable computationally intensive applicationsto be executed in the cloud. This will also have a significant impact on the esportindustry.
Perhaps it should not come as much of a surprise that VR has been on the receiving end of some pushback from different groups in society. After all, says Dr. Mehran Salehi, a computational fluid dynamics (CFD) analyst with Southland Engineering, this isn't the first time that a new technology has encountered opposition before eventually being widely accepted.
Salehi, who earned his doctoral degree in mechanical engineering from the University of Toledo, adds that negative sentiments surrounding VR will likely let up over time. In 10 years, for instance, VR could very well be the norm in the day-to-day lives of many people.
"My first experience in VR comes with the gaming industry," he says.
I loved it. I was in a tech exhibition and they were showing a virtual reality setup … I loved it. I was like, "Wow this is amazing." You go and by the time that you put on those, basically, glasses and the controller you really feel like you're inside that environment and the way that you interact with the game changes a lot. After that, when I heard that VR is basically finding its way towards industry, I became more interested. I was like, "Oh, yeah, there are people developing code in that area."
Myth 2: VR Is Just for Gamers & Tech Geeks
One research report shows that the size of the worldwide VR gaming segment is expected to climb to $45.09 billion by 2025. So growth is on the horizon, but it's not just about gaming.
Bruno, for instance, highlights how VR could revolutionize the car buying experience in the future. While there are some people who love heading down to the dealership lot, looking at vehicles, and haggling to get a great deal, many don't enjoy the process at all. But VR stands to make the entire process less overwhelming and more consumer friendly.
"VR doesn't just flood the user with the sensation of being transported," he says.
It floods the user with data. If you take the car purchasing process today, you identify a make and model you like and you then walk around a car lot to sit in different vehicles with different specs and trims. Imagine a VR experience of the future. Now if you want to see the difference between a black interior and a tan interior, instead of finding a different car with a potentially different exterior color, all of those options and others can change in front of you in real time.
And the benefits extend beyond dealership lots. VR technology will enable consumers to virtually pick up products, to spin the products around in their hands, and to examine every minute detail before making a purchasing decision.
Myth 3: VR Will Create Mindless Zombies Incapable of Living in the Real World
Will VR create a generation of people who are so removed from the real world that they can't relate to, much less empathize with, other people? Quite the contrary, according to recent research. A study shows that research participants who took part in a VR experience focusing on losing a job and becoming homeless demonstrated stronger and more sustained empathy towards people who are homeless compared to people who simply read an article focused on homelessness. Other benefits of VR include, but are not limited to, boosting retention and recall, simplifying complicated issues and situations, and helping people with different learning styles.
VR — The Road from Here
While there is plenty of upside on the VR front, that doesn't mean that it's perfect. A lot of the factors limiting the mass market appeal of VR are hardware related, notes Bruno. But he's hopeful that time will sort everything out.
"If Moore's law holds true, we're not too far off from closing these gaps and building truly immersive experiences," he says. "Today, VR is ideal for scenarios where the user can be stationary and where the cost of the real-world experience is exorbitant or simply not possible."
Source: https://www.techopedia.com/3-vr-myths-that-are-unreal/2/33864
The 9 Best Telecom Stocks To Buy Now
With global saber-rattling over China's Huawei , domestic debates over the merger of T-Mobile and Sprint and ongoing excitement over the build-out of 5G, there has been no dearth of headlines for the telecom sector. Not surprisingly, several MoneyShow.com contributors see opportunities in the rapidly changing telecom landscape.
Tom Hutchinson, Cabot Dividend Investor
Crown Castle International CCI +0% Corp. (CCI) is a REIT that owns and leases roughly 40,000 cell towers, 65,000 small cell towers and 70,000 miles of fiber optic cable primarily to wireless service providers — predominately in the largest U.S. cities.
These properties enable mobile data traffic and access to the internet from mobile devices. This traffic, and the infrastructure it requires, is expected to grow like crazy. Mobile data traffic is expected to grow at a staggering rate of 36% per year through 2022. Mobile data is how devices connect to the cloud and supercomputers.
Crown Castle is king of the small cell area. A small cell is basically an antenna placed on structures such as streetlights, the sides of building, or poles that supplements a main cell tower. It is typically about the size of a pizza box. The purpose is to increase the area that is covered by a main cell tower and relieve congestion.
Small cells are a huge deal in the 5G buildout because the new ultrafast connectivity has a very limited range. Small cells are crucial infrastructure for delivering service to a wider area and allowing more users. The country is going to need a ton of these things and CCI leases them out.
As a REIT, Crown Castle pays no income tax at the corporate level provided it pays the bulk of earnings to shareholders in the form of dividends. The yield is currently a respectable 3.58%. The dividend is also incredibly well supported by the company's operations.
This is not only a growth story but a defensive one as well. It's not only immune from the China trade situation but it might actually benefit as competition in technology increases between China and the U.S.
T-Mobile US (TMUS) is the best wireless company in the country, by many accounts. John Legere, its quirky chief executive officer, embraced customer service. And new subscribers followed. T-Mobile's Q1 2019 revenues were $11 billion.
In the first quarter of 2019, the company added 1.7 million net new customers. It was the 24th-consecutive quarter T-Mobile added at least 1 million new subscribers. The churn rate, the percentage of customers who stopped subscribing, was a record-low 0.88%. Sales advanced 6%, $11.1 billion, year-over-year. Profits grew 35%, to $908 million.
Now the company is getting into banking and other ventures like wireless cable TV. T-Mobile is about to leverage its dominant position in wireless to win millennial banking. Shares trade at only 16x forward earnings for a market cap of $63.3 billion.
I have been bullish on T-Mobile since the middle of 2018. The stock has been a steady winner, and that trend should continue as investors wake up to its huge platform opportunity. It turns out that bigger is better when a business makes customers happy.
T-Mobile can be bought into any significant weakness. Shares recently traded at $74. Based on sales growth estimates alone, shares could reach $125 in two years.
Eddy Elfenbein, Growth Stock Advisor
With speeds 100 times faster than current networks, 5G will enable transmission of huge amounts of data with little time delay. With the new 5G technology, more devices than ever before can be connected in real time, bringing the concept of the "Internet of Things" closer to reality.
But costs will be a major headache. This means the 'pick and shovel' companies that supply the equipment and components for 5G are going to make a lot of money. That leads me to my top 5G pick, which is Ericsson(ERIC).
The Swedish telecom player is making a big bet on 5G, and that bet seems to be paying off. The company's recovery plans are closely tied to an uptick in spending by network operators on 5G networks along with restructuring and cost cutting.
The restructuring is already taking hold and shows signs of momentum. Ericsson's gross margin in Q4 of 2018 rose to 36.3%, a nice uptick. And here's what caught my eye: in 2018, Ericsson returned to full-year top-line growth for the first time since 2013.
In April, the company reported adjusted earnings of nine cents per share. That nearly doubled Wall Street's estimates of five cents per share. That's their fifth earnings beat in a row.
Consider that about 40% of the world's mobile phone traffic is currently carried through Ericsson networks. In addition, 5G should create more opportunities for tits software and services within Internet of Things device networks. Clearly, Ericsson is benefiting from a major turnaround as it helps usher in the Age of 5G.
Jason Williams, The Wealth Advisory
President Trump's executive order banning U.S. telecoms from installing foreign-made equipment that could threaten national security was directed right at Huawei. This is way better for Nokia ( NOK ) than anyone else seems to realize.
Nokia has the capability to pick up all that extra slack as the world progresses to 5G wireless. You see, Nokia is the only end-to-end 5G provider with global coverage. It's already locked down its spot in the U.S. market through a major deal with T-Mobile.
And China, the only country that's never going to ban Huawei, is already Nokia territory thanks to another major deal to build out the network at China Mobile (CHL).
The company has been dumping money into R&D for the past three years. Its focus was on the long-term future, not the short-term numbers. Now, the company has a cost savings program in place that should result in nearly $1 billion in extra cash from operations this year.
Analysts are starting to take notice as well. They're expecting to see double-digit growth next quarter. I highly recommend adding shares before the rest of the market picks up on the potential brewing at Nokia. With Nokia trading right around $5, there's a good case to make that the shares will double over the next year or so.
Jim Powell, Global Changes & Opportunities Report
Verizon Communications VZ +0% (VZ) that looks very attractive to me; its mix of products and services have considerable promise. They include a growing presence in the fast-growing Internet of Things (IoT) industry.
The potential IoT market is huge — and is still largely untapped. Verizon produces "smart" household appliances, door locks, heating & air conditioning systems, baby monitors, home security systems, and other devices with Internet capabilities that owners can control with their mobile phones.
All of Verizon's wireless services will benefit from the company's upgrade to the new 5G Ultra Wideband system that will carry more data — and deliver it faster — than the 4G technology that's the current standard.
Verizon already has 5G in Chicago and Minneapolis — and plans to have it in 20 more cities later this year. 5G will be a game changer for mobile communications, mobile Internet, entertainment, virtual reality, IoT, — and more.
Verizon is also active in wired services including local exchanges, long-distance service, voice messaging, conferencing, customer contact centers, and TV access.
Although Verizon's stock price is volatile, I think it has the best prospects for long-term growth in its industry. A recent price dip pushed the dividend yield up to 4.21%. Patient investors should see excellent returns from Verizon.
In every industry there are usually a few companies that supply the front runners with the equipment and services they require. The companies that operate behind the front lines take few of their customer's risks.
Richard Moroney, Upside Stocks
Wireless carriers are racing to build 5G networks, the next generation of cellular connections. Network upgrades promise to be capital-intensive projects, creating multiyear opportunities for network equipment makers, semiconductor companies, contractors, and others involved with the production of 5G components.
More complex than prior networks, 5G will employ a lacework of connection points that involve both traditional cell towers and small cells. Three top picks with meaningful 5G exposure are reviewed below.
Semiconductor company Diodes (DIOD) figures to gain new business as wireless carriers roll out their 5G networks. Diodes has already secured design wins for several 5G applications, such as those in base stations, data centers, and small cells — radio equipment and antennas placed on streetlights and utility poles.
No customer accounts for more than 10% of Diodes' revenue, limiting any fallout from the U.S. ban on China's Huawei, a maker of smartphones and networking gear.
Our proprietary Quadrix ranking system awards the stock an to an Overall rank of 99 out of 100. The company has delivered eight straight quarters of double-digit sales growth, and management's Junequarter guidance impressed analysts.
The stock trades at 12 times trailing earnings and 11 times estimated 2019 profits — both more than 25% below the medians for semiconductor stocks in the S&P 1500 Index. Diodes is rated a " Best Buy ".
Generac (GNRC) is a key supplier of backup-power systems for all of the major U.S. wireless carriers. These backup-power systems are crucial for its customers to provide uninterrupted service for connecting everything from smartphones to cars to their networks.
Management sees an extended cycle of investment from the 5G upgrade that began in the second half of 2018, accelerated in the March quarter, and could last another couple years. R
Residential-power generators are Generac's biggest product, accounting for slightly more than half of its sales growth. That business remains strong, growing 14% in the March quarter and 20% in 2018.
The shares trade at 12 times estimated 2019 earnings, well below the median of 16 for the S&P 1500 Index industrials sector. At less than 12 times trailing earnings, the stock trades near its lowest level in a decade. In Quadrix, Generac earns scores of 70 for both Value and Momentum. Generac is a Best Buy.
Billing itself as the largest wireless contractor in North America, MasTec(MTZ) is behind the engineering and construction of the 5G networks. With 5G still in its early stages, management says the upgrade will be a significantly bigger opportunity for MasTec than it had first thought.
As with the prior network rollouts, MasTec will be modifying cell towers, changing antennas, and putting in new lines. But 5G involves a denser web of touchpoints — light poles and utility poles will be outfitted with cellular equipment to help handle the higher data loads.
Management says the bulk of the 5G activity won't begin until 2020. With that in mind, analyst estimates for 2020 seem conservative, given the consensus currently targets 12% profit growth on 6% higher sales.
MasTec shares trade at just 10 times estimated 2019 earnings and nine times projected 2020 profits — more than 15% discounts to the medians for construction and engineering stocks in the S&P 1500 Index. MasTec, earning an Overall score of 99, is rated Buy.
Our favorite stock in the telecom industry is AT&T T +0% (T), which has a compelling mix of a high yield, low valuation, and solid dividend history as a dividend aristocrat.
AT&T's biggest growth catalyst is its recent $85 billion acquisition of Time Warner TWX +0% Inc., a content giant that owns multiple media brands, including TNT, TBS, CNN, and HBO. Time Warner also owns a movie studio as well as sports rights across the NFL , NBA , MLB , and NCAA.
AT&T scores extraordinarily well in terms of dividend safety, particularly relative to the company's exceptionally high yield. To start, the company has increased its dividend for 35 consecutive years, which qualifies it to be a member of the Dividend Aristocrats Index.
Separately, AT&T is on pace for a dividend payout ratio of just 57% in the ongoing fiscal year. And importantly, AT&T paid off over $2 billion of debt in the first quarter, ending the period with a net-debt-to-adjusted-EBITDA ratio of 2.8x. AT&T will pursue additional debt reduction in part through asset sales, such as the recent deals to sell its stake in Hulu , as well as the $2.2 billion sale of its Hudson Yards space.
AT&T traded at an average price-to-earnings ratio of 13.4 over the last decade; we have set a fair price-to-earnings ratio of 12 for AT&T. If AT&T's price-to-earnings ratio can expand to our fair value estimate over the next 5 years, this will boost its total returns by around 7.4% per year during this time period.
Overall, we believe that AT&T is capable of delivering annualized returns of 16.9% per year from its current price thanks to its high yield (6.4%), earnings growth (3.1%), and compelling potential for valuation expansion (7.4%).
Source: https://www.forbes.com/sites/moneyshow/2019/06/05/the-9-best-telecom-stocks-to-buy-now/#1add67cd1704
10 REASONS YOU SHOULD TRACK A CHILD'S CELL PHONE OR COMPUTER
Should I track my child's phone? What about their computer usage? These are questions a lot of parents grapple with. However, as a parent, you're liable for your child's behavior AND well-being — but you can't supervise them when you're not together. Heck, sometimes it's tough to know what they're doing on a digital device when they're in the same room with you.
We don't mean to scare you, but there are some legit reasons why a parent should track their child's smartphone. Here are some reasons why followed by a list of tools that may help you.
Reasons Why I Should Track My Child's Phone or Computer
Online Harassment and Bullying
Children are often embarrassed or scared to admit to their parents when they're being cyberbullied. In other cases, the child is the cyberbully. Social media monitoring can help parents stay informed about online activities.
Speeding
Driving is the greatest gift to a teenager, but their lack of experience can cause trouble. Some apps can monitor how fast the phone is moving and can send alerts if the speed exceeds a set limit. They can also lock out the ability to text while driving. Both of these are prudent features for monitoring new drivers.
Addiction
Sure — you're worried about drugs, but you might want to limit screen time or schedule your child's screen time particularly if your child is not getting enough sleep. Or, if children spend more time on devices than playing outside or doing homework it's best to be aware of it. When you spot the signs of social media addiction, you can get apps that block to set time limits on the child's devices.
Spending Real Money on Virtual Trinkets
Some children should have apps blocked that connect their (or your) credit cards. There are gaming apps that allow kids to purchase items for gameplay through the app store, as well as other online purchasing options you may not love. These apps are often exploitive and can be absolutely devastating to your pocketbook.
Online Predators
This is huge. Children meet numerous people online, at school, after school, and they have hundreds of contacts. Do all these people have good intentions? Most do, but the threat is out there. Tracking tools allow you to know what apps your child is using and for how long.
Oversharing
Children and teens sometimes do not use their privacy filters when they communicate with their friends and (sometimes) with strangers. Make them aware that this can be dangerous. Predators often seek out the most vulnerable online users so it's best to check in and monitor their online conversations.
Sexting
Sexting is a federal crime. Still, some students send and collect nudes like people used to collect baseball cards. On one hand, that's considered child pornography, which could spell trouble for the kid with the phone (and their parents). On the other side, teens who date can be pressured, or naively share nude photos of themselves. These photos seem innocuous at the time, but there's always the risk that the relationship can go south and those photos get posted online in retaliation. Why? Because teens act emotionally rather than rationally when it comes to relationship dynamics. Having an app that can track your child's phone activity can help.
Inappropriate Content
The internet has all kinds of content — and some of it is adult. These days, even toddlers play with cell phones. Blocking or monitoring content can help make sure important conversations are had beforehand. Consider blocking all sites that contain sexually explicit, racist, or sexist content, as well as those that intentionally or unintentionally glorify drug use or self-harm.
Dangerous Apps for Kids
Kik and Whisper are examples of apps that can be dangerous for kids. Kik makes it difficult to identify the sender and receiver of messages and can be used to protect the identity of a predator. Whisper is a site where one can anonymously share secrets with location-based grouping. This app is also used by predators. There are many other apps that are similarly dangerous, so parents need to know what is on their kids' devices.
Your Child Keeps Losing Their Phone
Seems simple, but knowing where a phone is can save a lot of grief and money.
You Made a Contract with Your Child
If you made a contract with your teen or child regarding their phone or computer use, then monitoring apps let you know if they're keeping up their end of the bargain.
Source: https://parentology.com/should-i-track-my-childs-phone/