Huawei folding phone(Mate X) reappears to boast 5G speed
Since the start of problems Huawei with the United States, many users who have thought about the launch of Mate X. The Huawei phone with folding screen had planned to reach the market this June, and doubts about its release do not stop creating as the days pass. Where is Mate X?
First 5G tests with the Huawei Mate X
The latest clues come with official information, as the president of the Huawei smartphones branch has shared some images in which you can see some speed tests carried out with the famous phone with a folding screen. The images reveal that the maximum speed reached in the tests of Speedtest reached 1 gigabit per second, while the rise was at 100 megabytes per second.
This is undoubtedly excellent news for those interested in knowing about the first Huawei folding phone. We hope that the program runs its course and this same month when we see the phone for sale (even if only in China), although it is clear that the doubts will continue on which licenses will be affected when marketing it and, basically, what such will respond the screen to everyday use, something that as we could see did not sit well at the option of Samsung.
On the other hand, Gang assured that the speeds obtained in the laboratory tests reached the figure of 1.2 Gbps, so technically the phone is able to reach higher cruising speed, although we are very much afraid that in conditions normal the result will be similar to that of the video. At this point, there is no doubt that the 5G is tremendously fast, right?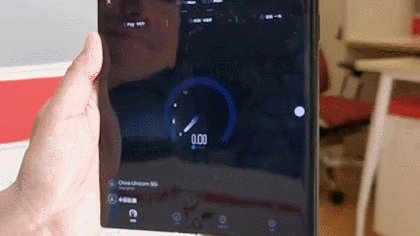 The mobile download speed can surpass 1 Gbps using the #5G network, He Gang, head of Huawei's smartphone unit proved in a vlog with Huawei's foldable Mate X handset on Tuesday.
Huawei mate x 5g testing using a customized Android version?
Taking a deeper look at the video, we can see how this unit of Mate X has a home screen where no icon of any application belonging to Google appears . It is something that could simply be a measure not to promote the company that has left out, a simple custom configuration or something even more complex, are we facing a version of Android customized by Huawei ?
This last option is the most rocambolesque, but there is another detail that is equally suspect: why is a virtual start button placed on the screen? Until now, the device had been showing the lower status bar with the classic buttons of Android, and in the case of not showing it, an upward gesture would be enough for it to reappear. As we said, these are suspicious details that generate enough doubts about the version of the operating system that is running the device, but for now, we will turn a blind eye and focus only on the results of the 5G tests.
Source: https://heraldpublicist.com/huawei-folding-phonemate-x-reappears-to-boast-5g-speed45678/
Apple's New iPhones Suddenly Confirmed
Apple's heavily leaked iPhone 11 looks set to underwhelm users, especially given what we already know about the company's radical 2020 upgrades. But, if you must upgrade in 2019, breaking news has just delivered your silver-lining.
Apple iPhone 11 final design shown in Ghostek retail case GHOSTEK
In a major new report, 9to5Mac's supremely reliable Apple insider Guilherme Rambo has just confirmed all three of Apple's new 2019 iPhones and their standout features. But it's not all good news.
Quoting "people who've seen the devices", Rambo's reveals the model numbers that will replace the iPhone XS (D42, reference iPhone12,3 in iOS code), iPhone XS Max (D43, iPhone12,5) and iPhone XR (N104, iPhone12,1). Commercial names for the so-called iPhone 11 family remain unknown, but all three models will have the same screen resolutions as their predecessors with the D42 and D43 retaining OLED panels and the N104 again limited to LCD.
More positively, Rambo has also identified the hardware inside the new iPhones. He reveals the much-vaunted A13 chipset is codenamed 'Cebu' within Apple and it carries the model number T8030. The A13 will do some major heavy lifting too, powering new camera technology called 'Smart Frame'. This records outside the cameras' standard framing so misaligned shots can be saved through re-cropping afterwards. Every photo will contain this extra information with Apple discarding it automatically if edits are not made after a certain time.
As for the new triple camera design on the back on the D42 and D43, Rambo says the third lens is indeed a wide-angle camera which will be an iPhone first. But unfortunately, the ugly new design is final as well.
Giving a boost to fans disappointed that Apple has cancelled 3D Touch, Rambo says the new iPhones will introduce a replacement called 'leap haptics'. Details around it are scant, but he does say it will be powered by a new type of Taptic Engine.
On the flip side, if you had your hopes up about Apple's seemingly accidental iPhone USB-C revelation, there's bad news. Apparently, the Lightning Port will survive another year.
So yes, Rambo's report does add some meat to the very bare-bones that are Apple's iPhone 11 upgrades and there are some impressive additions. That said, this all still pales in comparison to the new design, radical display, return of Touch ID and step-up to 5G which will greet patient iPhone upgraders next year.
But the decision is all yours, both for better and for worse. 
Source: https://www.forbes.com/sites/gordonkelly/2019/07/23/apple-iphone-11-release-camera-upgrade-a13-iphone-xs-max-xr-update/#23e63b136939
Samsung Galaxy Fold to relaunch in September
Sixty-nine days after it was supposed to go on sale, Samsung announced a new release window for the Galaxy Fold, its first-ever foldable phone. Or rather, a release month: September. And only in select countries, as initially planned. Samsung said it would share specific sale dates as the month nears — we'd guess as early as August. With this announcement, the world's largest phone-maker has at long last broken its silence about the nearly $2,000 device, which has been delayed since April 22 after reviewers reported screen breakages, flickering and bulging.
Although the Galaxy Fold preorders sold out on the first day, the phone never officially went on sale, and no preorder money was collected. CNET's review unit didn't break, though it did experience minor damage to the screen. The Fold costs $1,980, which converts to about £1,500 or AU$2,800.
In addition to a new launch window, Samsung also said it fixed the problems that caused some reviewers' phones to break in the first place. The fixes include:
A protective top layer that extends beyond the bezel, "making it apparent that it is an integral part of the display structure," not a dust guard you'd want to remove.
"Reinforcements" to keep debris from working its way underneath the screen.
New "protection caps" to strengthen the top and bottom of the hinge area, which had revealed natural gaps where particles could get in.
Metal reinforcements beneath the screen (the Infinity Flex Display), presumably to make the plastic screen stiffer.
Reducing the air gap between the Fold's body and hinge.
"All of us at Samsung appreciate the support and patience we've received from Galaxy fans all over the world," Samsung said in its statement. Samsung has also worked on improving apps, the company said in its statement. The company added that it's conducting final quality control tests.
A new sales date acknowledges that Samsung still has faith in the foldable phone future, even if some of its critics waver. We haven't seen the new phone in person, but Samsung did provide some mock-ups. However, it's hard to see details of the Fold redesign.
Along with 5G, the next-generation network technology, foldable phone designs are potentially the most significant change to the phone industry in a decade. At a time when sales are staling for heavyweights like Apple and Samsung, a phone that folds in half offers a radical new look. It also opens up new ways to use a device that has the screen size of a tablet in a package about the size of a large smartphone.
The delay has caused concern over the ability of foldable phones to make good on their design promise, especially at such exorbitant prices. Huawei's foldable phone, the Mate X, costs about $2,600 (2,300 euros). Samsung's very public problems have also cast doubt over rival phone-makers' eagerness to release their own foldable phones.
What happened to the Galaxy Fold?
The Galaxy Fold bends in the middle with the aid of a plastic screen, since bendable glass screens aren't yet available. Unlike glass, the material is relatively soft. Samsung reinforced it with a plastic adhesive, which stopped short of the edges, caused some reviewers to peel it off like you could a protective film you find on some phones.
The screens on those review units immediately stopped working. Other reviewers found that debris or dust had gotten beneath the display through an air gap between the phone's screen and hinge. Another experienced one side of the screen that flickered, rendering the Galaxy Fold unusable.
Though few and far between, Samsung is no stranger to disastrous product launches. In 2016, it recalled the Galaxy Note 7 twice in response to evidence that the battery could overheat to the point of catching fire. While Samsung did collect reviewer units, as some reviewers expected, the Galaxy Fold's screen issues have never been dangerous.
Three years after the Note 7 recalls, Samsung is expected to launch the Galaxy Note 10 at its (confirmed) Unpacked event on Aug. 7 in New York.
The Galaxy Fold has a 7.3-inch internal display that folds up to shield the plastic screen when you're not using it. A 4.6-inch outer screen handles basic functions like notifications and calls, though you can use any app. It has a total of six cameras, with the same triple-camera setup as the Galaxy S10. The fingerprint reader sits on the right edge, and the Fold lacks the water-resistant design of other high-end Galaxy phones.
Samsung is also in the midst of developing two more foldable phones, according to Bloomberg. It isn't clear if the Fold's tardiness has also delayed the development of these future devices — or that of rival foldable phone launches, for that matter.
With a September launch still more than a month away, all eyes are once again on Samsung.
Source: Galaxy Fold: Samsung will relaunch the foldable phone in September
MacBook Pro 2019 will be a 16-inch LCD laptop
MacBook Pro 2019 will be a 16-inch LCD laptop, New report affirms rumors and points to $3,000 starting price
New report affirms rumors and points to $3,000 starting price
We may have already seen new MacBook Pro models refreshed for 2019, but the true MacBook Pro 2019 is expected to land this October as a 16-inch LCD laptop, according to Taiwan's United Daily News (UDN).
Given that this would be Apple's largest MacBook Pro laptop since 2012's final run of the 17-inch MacBook Pro, the company reportedly plans to slap a gargantuan baseline price tag onto this year's model – which could rise above $3,000 (about £2,450, AU$4,350).
This laptop will likely be pushed heavily toward content creators and developers as a demonstration of Apple's sincerity in serving those audiences. Here's to hoping it will somehow satisfy the cross-section of folks that also like to game on their workhorse machines.
MacBook Pro 2019 backs down from OLED
This report corroborates one published by London-based market analysts IHS Markit, adding the pricing element to the mix. More importantly, this is the second report to state that the 16-inch MacBook Pro 2019 display will not be an OLED product.
Instead, it will be an LCD to the tune of a 3,072 x 1,920 pixel resolution, which would give the display a rather competitive 226 pixels per inch (ppi) rating and a total of 5.9 million pixels. LCD or not, this is going to be a sharp 3K display.
Will that alone be enough to justify such an exorbitant starting price? Hardly. There are surely other features that Apple has cooking for this device.
We know that Apple is planning to allow this MacBook Pro up to 32GB of memory (RAM), which is already possible on the 15-inch MacBook Pro.
And, of course, every report mentions an entirely new design likely focused on smaller screen bezels.
Exactly what kind of processor technology will be inside these laptops is also up in the air. Is Apple's supposed ARM laptop processor to be finished in time for these new laptops? Or, will Apple go all in with AMD considering Intel's faltering pole position in the laptop computing space?
We'll almost certainly see more about these missing MacBook Pro 2019 details as we get closer to October 2019.
Source: https://www.techradar.com/news/macbook-pro-16-inch-2019