The 9 Best Telecom Stocks To Buy Now
With global saber-rattling over China's Huawei , domestic debates over the merger of T-Mobile and Sprint and ongoing excitement over the build-out of 5G, there has been no dearth of headlines for the telecom sector. Not surprisingly, several MoneyShow.com contributors see opportunities in the rapidly changing telecom landscape.
Tom Hutchinson, Cabot Dividend Investor
Crown Castle International CCI +0% Corp. (CCI) is a REIT that owns and leases roughly 40,000 cell towers, 65,000 small cell towers and 70,000 miles of fiber optic cable primarily to wireless service providers — predominately in the largest U.S. cities.
These properties enable mobile data traffic and access to the internet from mobile devices. This traffic, and the infrastructure it requires, is expected to grow like crazy. Mobile data traffic is expected to grow at a staggering rate of 36% per year through 2022. Mobile data is how devices connect to the cloud and supercomputers.
Crown Castle is king of the small cell area. A small cell is basically an antenna placed on structures such as streetlights, the sides of building, or poles that supplements a main cell tower. It is typically about the size of a pizza box. The purpose is to increase the area that is covered by a main cell tower and relieve congestion.
Small cells are a huge deal in the 5G buildout because the new ultrafast connectivity has a very limited range. Small cells are crucial infrastructure for delivering service to a wider area and allowing more users. The country is going to need a ton of these things and CCI leases them out.
As a REIT, Crown Castle pays no income tax at the corporate level provided it pays the bulk of earnings to shareholders in the form of dividends. The yield is currently a respectable 3.58%. The dividend is also incredibly well supported by the company's operations.
This is not only a growth story but a defensive one as well. It's not only immune from the China trade situation but it might actually benefit as competition in technology increases between China and the U.S.
T-Mobile US (TMUS) is the best wireless company in the country, by many accounts. John Legere, its quirky chief executive officer, embraced customer service. And new subscribers followed. T-Mobile's Q1 2019 revenues were $11 billion.
In the first quarter of 2019, the company added 1.7 million net new customers. It was the 24th-consecutive quarter T-Mobile added at least 1 million new subscribers. The churn rate, the percentage of customers who stopped subscribing, was a record-low 0.88%. Sales advanced 6%, $11.1 billion, year-over-year. Profits grew 35%, to $908 million.
Now the company is getting into banking and other ventures like wireless cable TV. T-Mobile is about to leverage its dominant position in wireless to win millennial banking. Shares trade at only 16x forward earnings for a market cap of $63.3 billion.
I have been bullish on T-Mobile since the middle of 2018. The stock has been a steady winner, and that trend should continue as investors wake up to its huge platform opportunity. It turns out that bigger is better when a business makes customers happy.
T-Mobile can be bought into any significant weakness. Shares recently traded at $74. Based on sales growth estimates alone, shares could reach $125 in two years.
Eddy Elfenbein, Growth Stock Advisor
With speeds 100 times faster than current networks, 5G will enable transmission of huge amounts of data with little time delay. With the new 5G technology, more devices than ever before can be connected in real time, bringing the concept of the "Internet of Things" closer to reality.
But costs will be a major headache. This means the 'pick and shovel' companies that supply the equipment and components for 5G are going to make a lot of money. That leads me to my top 5G pick, which is Ericsson(ERIC).
The Swedish telecom player is making a big bet on 5G, and that bet seems to be paying off. The company's recovery plans are closely tied to an uptick in spending by network operators on 5G networks along with restructuring and cost cutting.
The restructuring is already taking hold and shows signs of momentum. Ericsson's gross margin in Q4 of 2018 rose to 36.3%, a nice uptick. And here's what caught my eye: in 2018, Ericsson returned to full-year top-line growth for the first time since 2013.
In April, the company reported adjusted earnings of nine cents per share. That nearly doubled Wall Street's estimates of five cents per share. That's their fifth earnings beat in a row.
Consider that about 40% of the world's mobile phone traffic is currently carried through Ericsson networks. In addition, 5G should create more opportunities for tits software and services within Internet of Things device networks. Clearly, Ericsson is benefiting from a major turnaround as it helps usher in the Age of 5G.
Jason Williams, The Wealth Advisory
President Trump's executive order banning U.S. telecoms from installing foreign-made equipment that could threaten national security was directed right at Huawei. This is way better for Nokia ( NOK ) than anyone else seems to realize.
Nokia has the capability to pick up all that extra slack as the world progresses to 5G wireless. You see, Nokia is the only end-to-end 5G provider with global coverage. It's already locked down its spot in the U.S. market through a major deal with T-Mobile.
And China, the only country that's never going to ban Huawei, is already Nokia territory thanks to another major deal to build out the network at China Mobile (CHL).
The company has been dumping money into R&D for the past three years. Its focus was on the long-term future, not the short-term numbers. Now, the company has a cost savings program in place that should result in nearly $1 billion in extra cash from operations this year.
Analysts are starting to take notice as well. They're expecting to see double-digit growth next quarter. I highly recommend adding shares before the rest of the market picks up on the potential brewing at Nokia. With Nokia trading right around $5, there's a good case to make that the shares will double over the next year or so.
Jim Powell, Global Changes & Opportunities Report
Verizon Communications VZ +0% (VZ) that looks very attractive to me; its mix of products and services have considerable promise. They include a growing presence in the fast-growing Internet of Things (IoT) industry.
The potential IoT market is huge — and is still largely untapped. Verizon produces "smart" household appliances, door locks, heating & air conditioning systems, baby monitors, home security systems, and other devices with Internet capabilities that owners can control with their mobile phones.
All of Verizon's wireless services will benefit from the company's upgrade to the new 5G Ultra Wideband system that will carry more data — and deliver it faster — than the 4G technology that's the current standard.
Verizon already has 5G in Chicago and Minneapolis — and plans to have it in 20 more cities later this year. 5G will be a game changer for mobile communications, mobile Internet, entertainment, virtual reality, IoT, — and more.
Verizon is also active in wired services including local exchanges, long-distance service, voice messaging, conferencing, customer contact centers, and TV access.
Although Verizon's stock price is volatile, I think it has the best prospects for long-term growth in its industry. A recent price dip pushed the dividend yield up to 4.21%. Patient investors should see excellent returns from Verizon.
In every industry there are usually a few companies that supply the front runners with the equipment and services they require. The companies that operate behind the front lines take few of their customer's risks.
Richard Moroney, Upside Stocks
Wireless carriers are racing to build 5G networks, the next generation of cellular connections. Network upgrades promise to be capital-intensive projects, creating multiyear opportunities for network equipment makers, semiconductor companies, contractors, and others involved with the production of 5G components.
More complex than prior networks, 5G will employ a lacework of connection points that involve both traditional cell towers and small cells. Three top picks with meaningful 5G exposure are reviewed below.
Semiconductor company Diodes (DIOD) figures to gain new business as wireless carriers roll out their 5G networks. Diodes has already secured design wins for several 5G applications, such as those in base stations, data centers, and small cells — radio equipment and antennas placed on streetlights and utility poles.
No customer accounts for more than 10% of Diodes' revenue, limiting any fallout from the U.S. ban on China's Huawei, a maker of smartphones and networking gear.
Our proprietary Quadrix ranking system awards the stock an to an Overall rank of 99 out of 100. The company has delivered eight straight quarters of double-digit sales growth, and management's Junequarter guidance impressed analysts.
The stock trades at 12 times trailing earnings and 11 times estimated 2019 profits — both more than 25% below the medians for semiconductor stocks in the S&P 1500 Index. Diodes is rated a " Best Buy ".
Generac (GNRC) is a key supplier of backup-power systems for all of the major U.S. wireless carriers. These backup-power systems are crucial for its customers to provide uninterrupted service for connecting everything from smartphones to cars to their networks.
Management sees an extended cycle of investment from the 5G upgrade that began in the second half of 2018, accelerated in the March quarter, and could last another couple years. R
Residential-power generators are Generac's biggest product, accounting for slightly more than half of its sales growth. That business remains strong, growing 14% in the March quarter and 20% in 2018.
The shares trade at 12 times estimated 2019 earnings, well below the median of 16 for the S&P 1500 Index industrials sector. At less than 12 times trailing earnings, the stock trades near its lowest level in a decade. In Quadrix, Generac earns scores of 70 for both Value and Momentum. Generac is a Best Buy.
Billing itself as the largest wireless contractor in North America, MasTec(MTZ) is behind the engineering and construction of the 5G networks. With 5G still in its early stages, management says the upgrade will be a significantly bigger opportunity for MasTec than it had first thought.
As with the prior network rollouts, MasTec will be modifying cell towers, changing antennas, and putting in new lines. But 5G involves a denser web of touchpoints — light poles and utility poles will be outfitted with cellular equipment to help handle the higher data loads.
Management says the bulk of the 5G activity won't begin until 2020. With that in mind, analyst estimates for 2020 seem conservative, given the consensus currently targets 12% profit growth on 6% higher sales.
MasTec shares trade at just 10 times estimated 2019 earnings and nine times projected 2020 profits — more than 15% discounts to the medians for construction and engineering stocks in the S&P 1500 Index. MasTec, earning an Overall score of 99, is rated Buy.
Our favorite stock in the telecom industry is AT&T T +0% (T), which has a compelling mix of a high yield, low valuation, and solid dividend history as a dividend aristocrat.
AT&T's biggest growth catalyst is its recent $85 billion acquisition of Time Warner TWX +0% Inc., a content giant that owns multiple media brands, including TNT, TBS, CNN, and HBO. Time Warner also owns a movie studio as well as sports rights across the NFL , NBA , MLB , and NCAA.
AT&T scores extraordinarily well in terms of dividend safety, particularly relative to the company's exceptionally high yield. To start, the company has increased its dividend for 35 consecutive years, which qualifies it to be a member of the Dividend Aristocrats Index.
Separately, AT&T is on pace for a dividend payout ratio of just 57% in the ongoing fiscal year. And importantly, AT&T paid off over $2 billion of debt in the first quarter, ending the period with a net-debt-to-adjusted-EBITDA ratio of 2.8x. AT&T will pursue additional debt reduction in part through asset sales, such as the recent deals to sell its stake in Hulu , as well as the $2.2 billion sale of its Hudson Yards space.
AT&T traded at an average price-to-earnings ratio of 13.4 over the last decade; we have set a fair price-to-earnings ratio of 12 for AT&T. If AT&T's price-to-earnings ratio can expand to our fair value estimate over the next 5 years, this will boost its total returns by around 7.4% per year during this time period.
Overall, we believe that AT&T is capable of delivering annualized returns of 16.9% per year from its current price thanks to its high yield (6.4%), earnings growth (3.1%), and compelling potential for valuation expansion (7.4%).
Source: https://www.forbes.com/sites/moneyshow/2019/06/05/the-9-best-telecom-stocks-to-buy-now/#1add67cd1704
Chicago will test Samsung's DeX in-vehicle solution in cop cars
Samsung created an in-vehicle version of its DeX platform in hopes that it can replace the computers cops and first responders have to carry around. Now, the Chicago Police Department has announced that it's taking the system for a spin to see if it can truly be an effective companion for law enforcement officers. CPD Superintendent Eddie Johnson said nearly half of all the officers in the city already have department-issued Samsung phones. When the pilot launches, they'll be able to access police apps on their vehicle's dash-mounted display simply by docking their phones.
The pilot test will first roll out to officers from CPD's 11th district this year. According to Samsung's announcement, the DeX system will allow them to accomplish tasks like accessing computer-aided dispatch and other CPD systems to conduct background checks from their cars. Further, they'll be able to immediately attach any photo or video evidence they take with their phones to their reports.
"The old computers had to stay in the cars," CPD Bureau of Technical Services chief Jonathan Lewin explained. "With this solution, it really creates an ecosystem that takes all the technology and makes it available to officers on the street in real-time and at significantly less cost than we are paying now."
Samsung says authorities could also use DeX docks in police stations, allowing officers to pick up where they left off on their phones or their cars as soon as they get back. It's not clear if CPD is also considering using DeX in their headquarters, though — that might depend on how the pilot testing goes.
Source: https://www.engadget.com/2019/08/22/chicago-pd-dex-in-vehicle/
Huawei has built the Disneyland of tech R&D
A couple hours outside Huawei's old headquarters in Shenzhen, China, the company has built a new campus in the city of Dongguan to eventually house 25,000 R&D employees. But this is no sprawling network of glass towers – it's composed of 12 mini-districts built to look like a different European city, all linked by a full-size train.
In other words, it's a lot like a Disneyland for tech research.
Walt Disney's famous park is around 85 acres (0.34 square kilometers), but this research center is four times the size at 296 acres (1.2 square kilometers) – which grows to 1,976 acres (8 square kilometers) if you include the factories across an adjacent lake. Each mini-district – allegedly called 'towns' by some Huawei employees – has grandiose buildings, cobbled or bricked streets and landscaped greenery.
Huawei invited tech media out for a casual tour of the grounds, and TechRadar got a close-up look. We started at a coffee shop and got on a two-car train in a bold orange with brass accents, looking straight out of Industrial-era Europe.
We breezed past areas patterned after Paris, Burgundy, Heidelberg, Cesky Krumlov, and Bologna, packed with 'towns' in the style of, and laid out like, each city – some so large, they might as well be castles. It was completely impressive, yet out of place amid the lush Chinese flora and the shabby residential high-rises in the distance. Image 1 of 5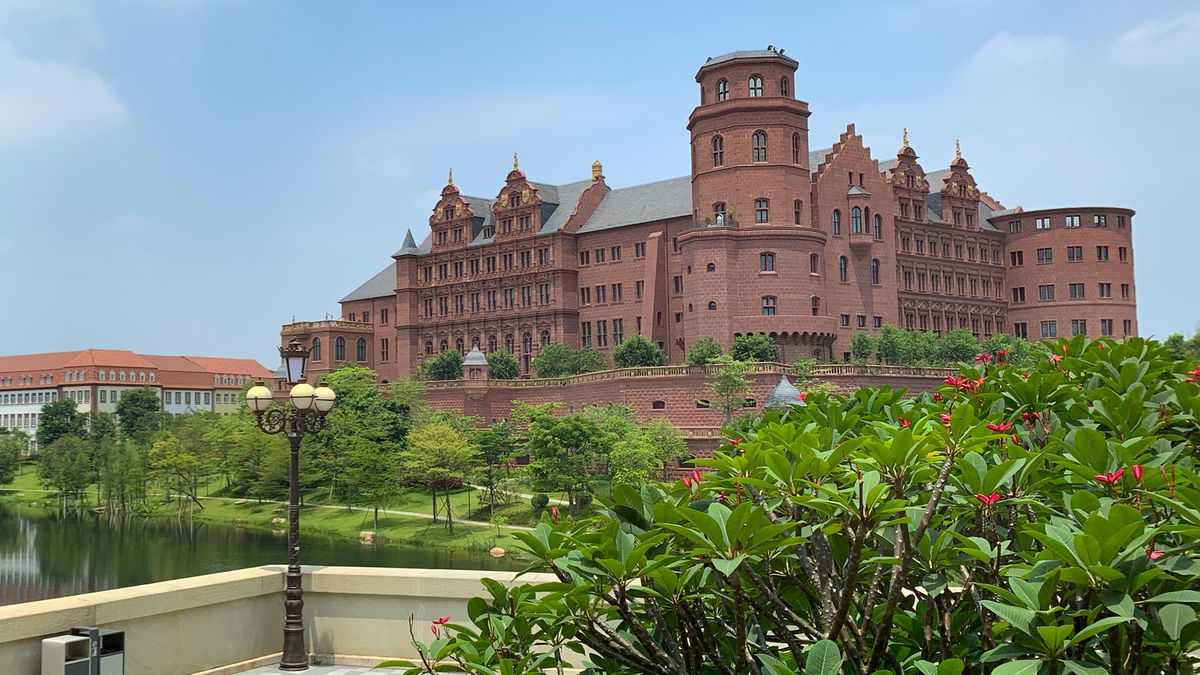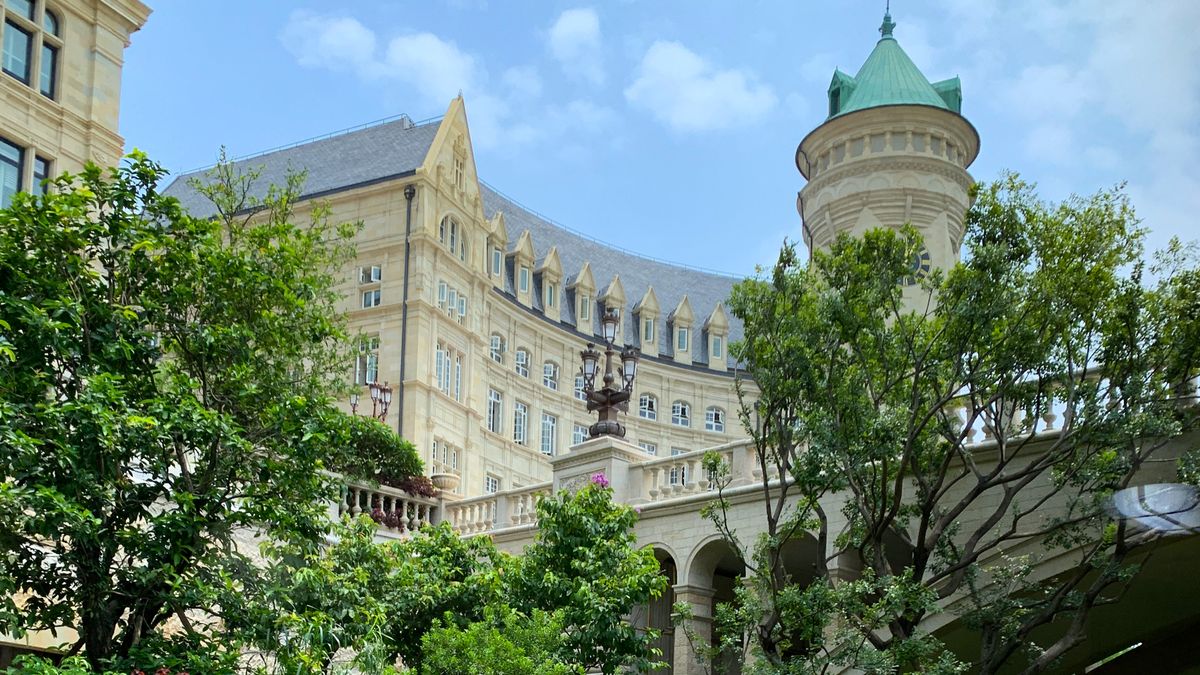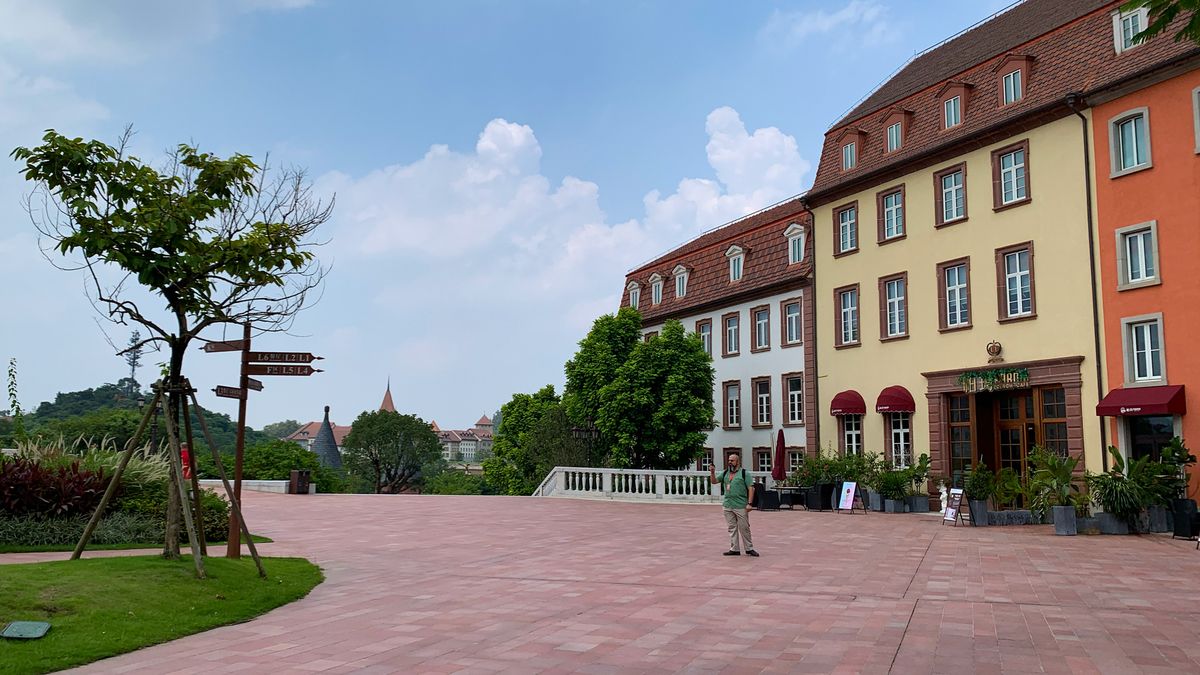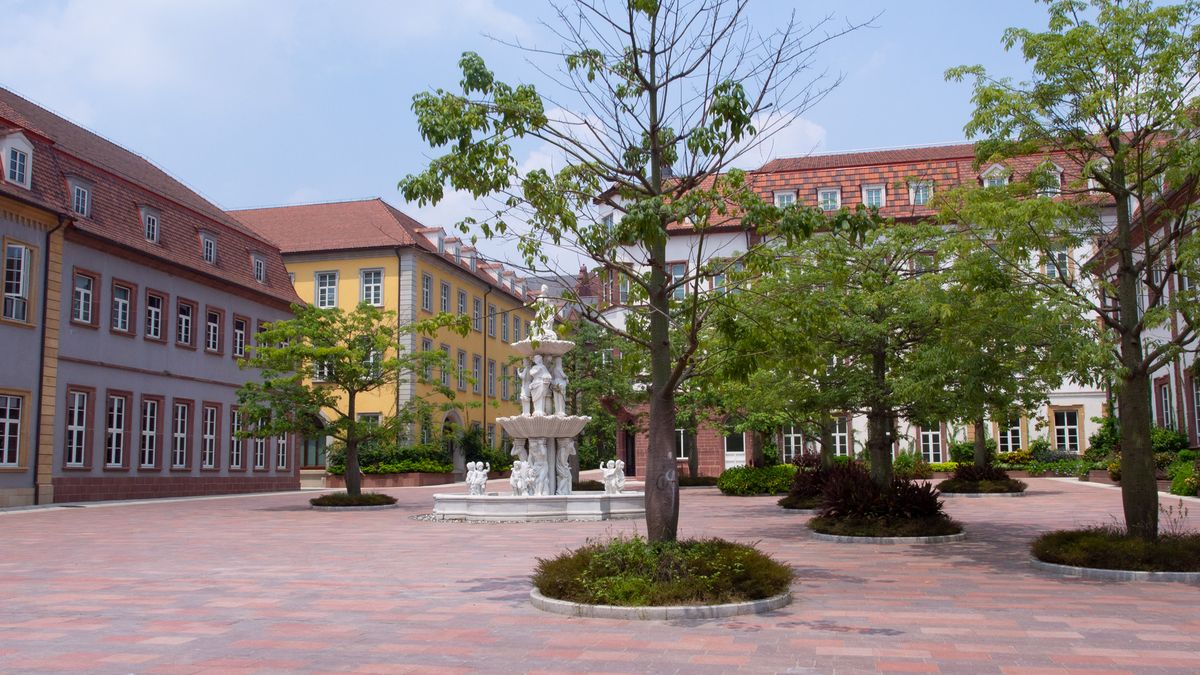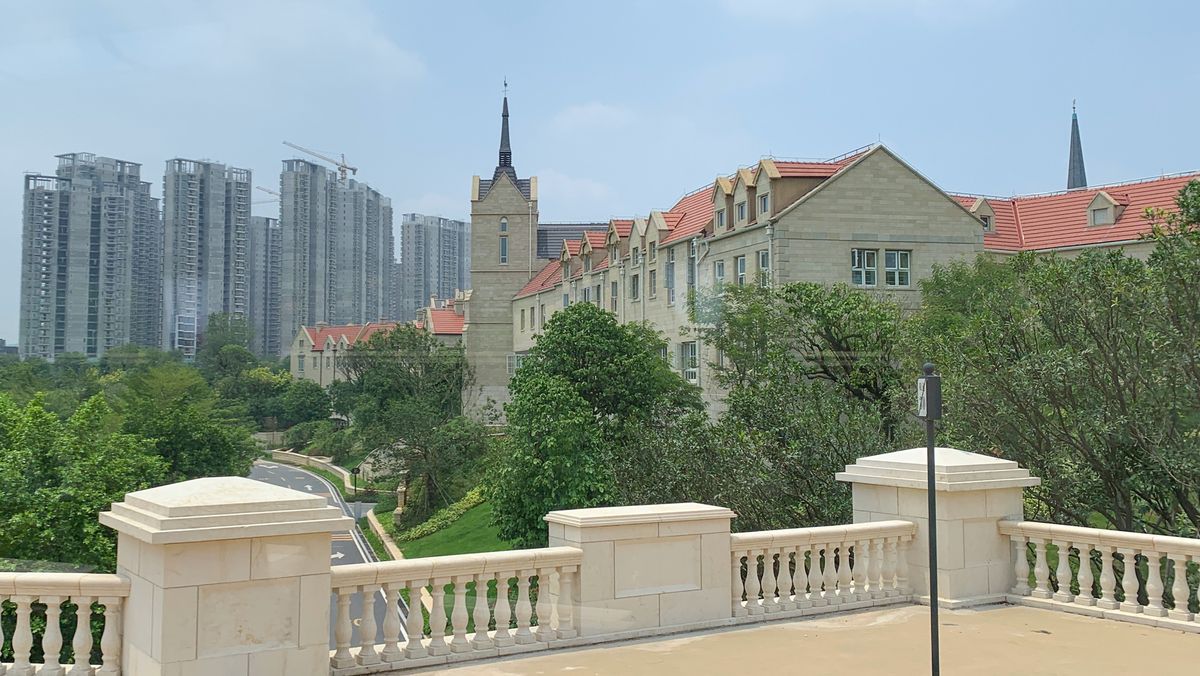 The effect was surreal – a dizzying dissonance between carefully-constructed medieval and Renaissance European buildings that would still function as everyday workplaces. Each member of our media group stared agog as we took the long orange train beyond the completed 'towns' (seven of twelve are work-ready, five years after construction started ) to get a sense of the installation's scale.
We were left with the obvious question: Why?
Huawei's workplace 'Disneyland,' a new center of research
Or to reframe the inquiry: why not just make a modern glass-and-grass campus like the other tech titans? Our guide explained the philosophy behind the Dongguan facility: Huawei founder and CEO Ren Zhengfei wanted employees to work in a place they found peaceful, which is a far cry from the busy metropolitan sprawl in Shenzhen or Dongguan. Image 1 of 5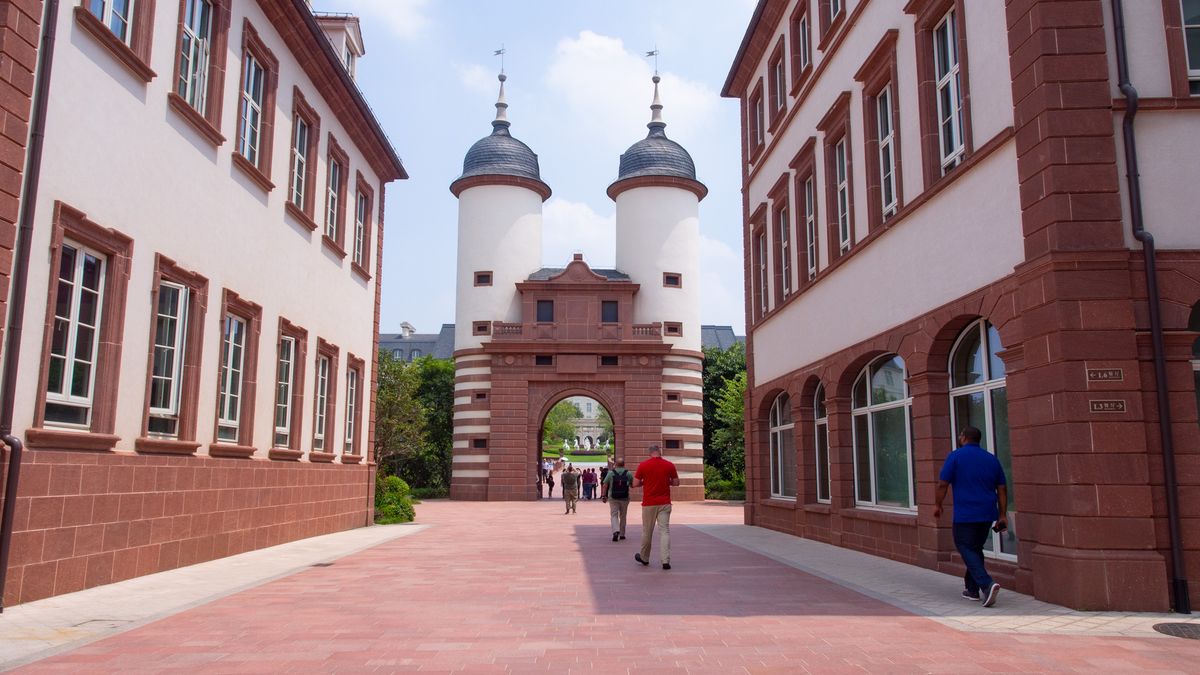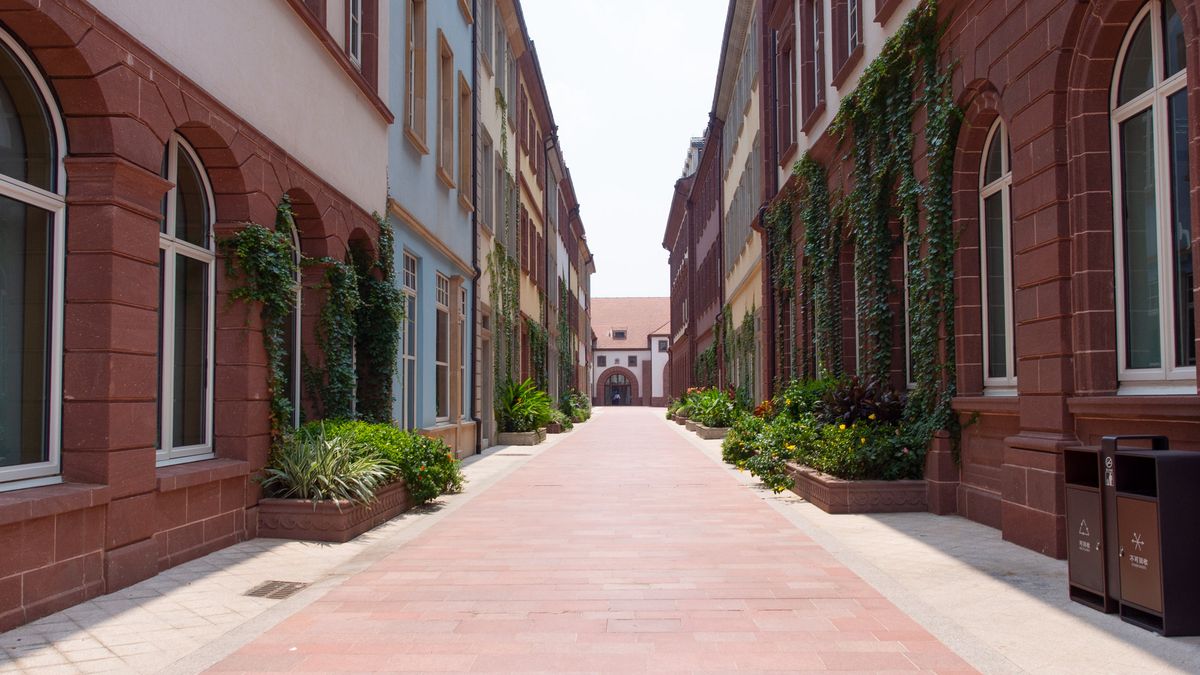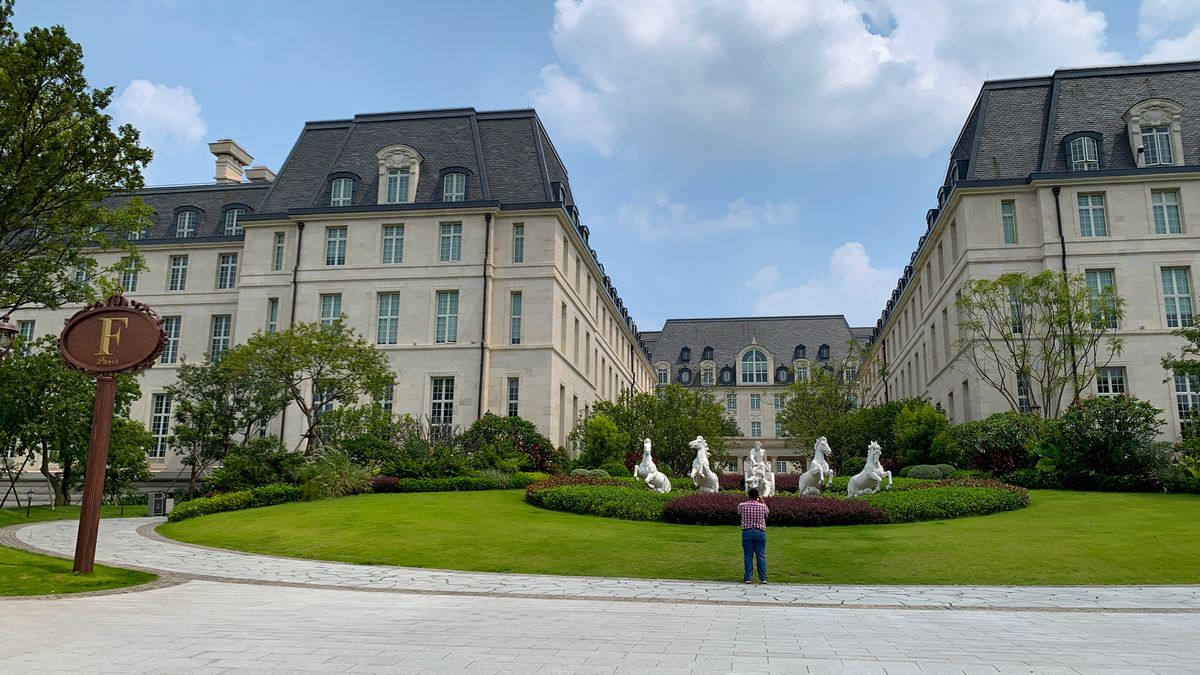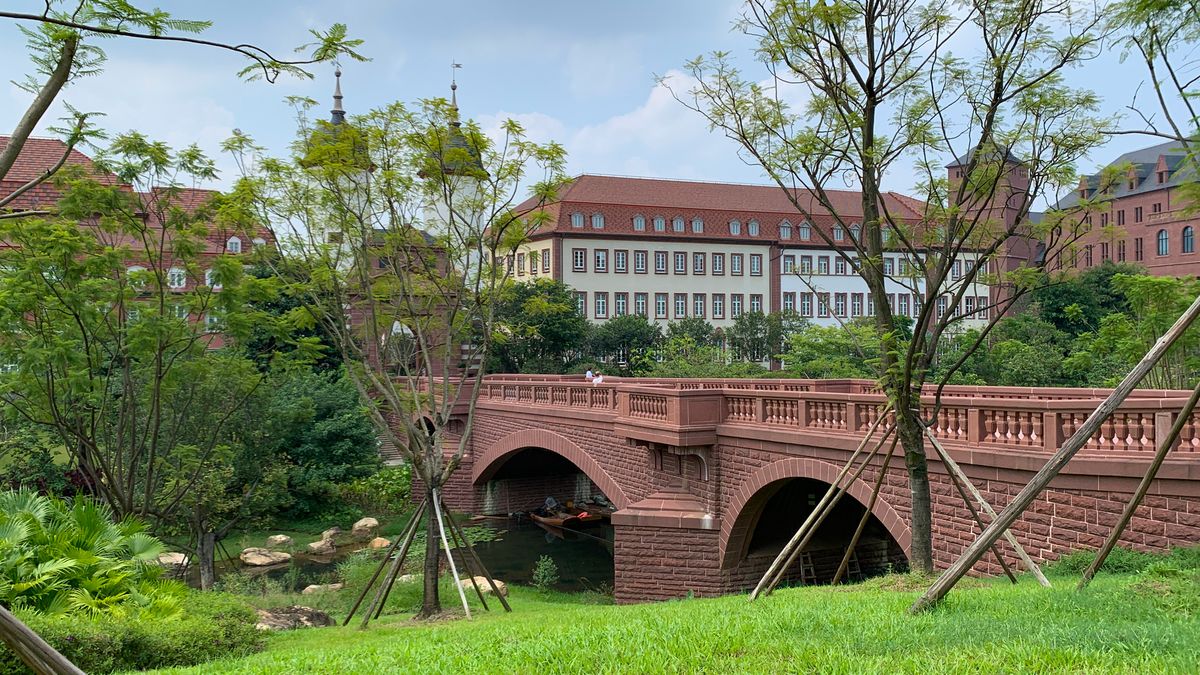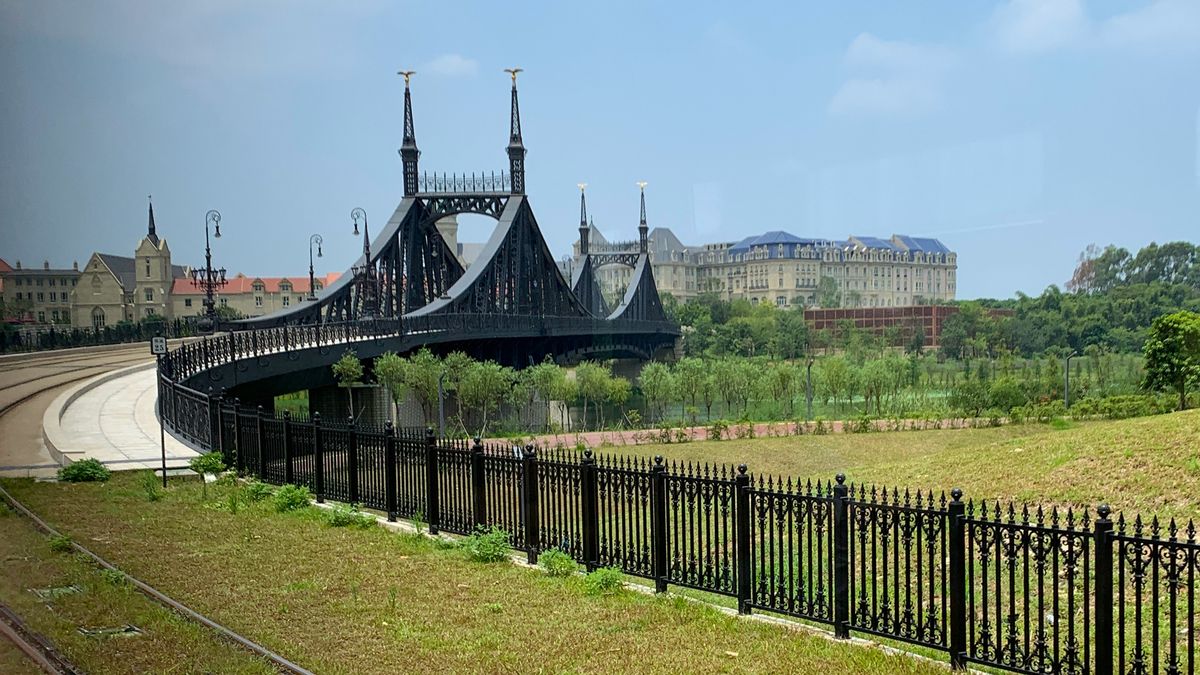 If true, that sentiment – and the sheer resources spent to bring this city-replicating vision into reality – evokes the whimsy and dedication Walt Disney swirled together to make Disneyland. "Here age relives fond memories of the past, and here youth may savor the challenge and promise of the future," Disney famously said at the park's opening in 1955 in a brief dedication.
Sixty-odd years later, those words could strangely apply to Huawei's Dongguan R&D campus.
On our visit, tech media were introduced to the company's myriad applications of its tech, from augmenting existing industries with 5G to making cities 'smart' with enough sensors to monitor power consumption, air quality, and even the capacities of individual trash cans. And, yes, streamlining the networks behind security camera systems (to help missing children and crowd control, a Huawei tour guide said) as well as networks (and sometimes chips) behind facial recognition software.
Of course, the company's tech innovations aren't just made in Dongguan: that still-unfinished facility is one of 16 global R&D centers. Nine of them are in China, but whereas the others have around 10,000 employees each, the Dongguan installation will house around 25,000 once it's finished – combined, the R&D contingent is over half of Huawei's 188,000 employees.
But those other R&D facilities weren't built as a paean to culturally significant European cities. It's unclear if the Dongguan campus was built so extravagantly to lure employees or to satisfy the eccentric whims of upper staff (if not Zhengfei himself) – or both, or neither. What is clear: if this was built in the US, it would be soundly criticized as a needlessly ornate and expensive feat of engineering – just like Disneyland had been before it showed up its critics.
Source: https://www.techradar.com/news/huawei-has-built-the-disneyland-of-tech-randd
Harvard scientists design robot shorts to make running less horrible
Researchers at Harvard University have designed a pair of robot shorts that could make running, a tortuous activity for many of us, much easier. The robot shorts are actually a lightweight hip exosuit that can make you feel about 16 pounds lighter while walking and about 12 pounds lighter while running.
The suit does this by reducing the wearer's metabolic cost, or energy spent, by over 9% when walking and 4% when running, the researchers said of their findings, published in Science on Monday. The robot shorts can switch between walking and running seamlessly. When you put it on and start to move, it assists you with a "cable actuation system." The cables apply a tensile force between the waist belt and thigh wrap to create an external extension torque at the hip joint that works with your glutes, according to the release.
"We were excited to see that the device also performed well during uphill walking, at different running speeds and during overground testing outside, which showed the versatility of the system," study lead Conor Walsh said in a release.
The suit could be helpful to anyone needing to cover large distances — rescue workers searching disaster areas, US Army soldiers or Marines marching, or hikers making a long trek.
"It is very satisfying to see how far our approach has come," Walsh said in the release, "and we are excited to continue to apply it to a range of applications, including assisting those with gait impairments, industry workers at risk of injury performing physically strenuous tasks, or recreational weekend warriors."
The research team wasn't immediately available for further comment.
Source: https://www.cnet.com/news/harvard-scientists-design-robot-shorts-to-make-running-less-horrible/