What The Future Of Farming Will Look Like Thanks To Technology
As the food industry continues to evolve, advanced technology is becoming a more prominent part of farming. In recent interviews, three experts shared their ideas about the future of farming and tech. Ofir Schlam, CEO and co-founder of Taranis, Jason Green, the CEO and co-founder of Edenworks, and Kevin Brown, CEO and co-founder of Innit, discussed the changes that will happen.
"In 2017, tech startups in the agriculture sphere raised $670 million to develop software management, big data analytics, automated equipment and other cutting-edge tools that help farmers grow crops with scientific precision. While companies face several challenges, such as imaging limitations and a lack of data management, farmers are still keen to introduce technologies to improve farm management. Between today's labor shortages and the world's rising demand for food, farmers must look to technology to predict and prevent threats to millions of acres of crops worldwide," Schlam says.
Brown believes that every step of the food journey, from farm to fork, will be influenced by technology. Smart supply chains will track and report where the food came from and how it was handled, down to the individual package. Blockchain tech will enhance trust as food information is captured and shared at every point of the journey. New sensors will allow people to rapidly scan food and measure it down to the molecular level, ensuring better quality and transparency.
Schlam agrees and sees artificial intelligence (AI) as an important component of the future. While current technology is far more advanced than the tools previous generations used, there needs to be a renewed focus on technology using AI capabilities to make massive amounts of data useful and actionable. The future of farming will be dependent on precision technology, the adoption of automated practices, indoor urbanized farming and more. All of these innovations will help to propagate the growth of farming crops. The ultimate goal is to create a synergy between farming and technology that works with the forces of nature to maximize production.
Working with nature and not against it is a crucial part, according to Green. "The basis of our technology is ecosystems. It is our belief that the more we can replicate the biodiversity of nature, and the microbial diversity that results, the faster and more healthy our plants and fish will grow. Future farms will have an increasing focus on microbial health. Generic sequencing of the microbiome will help us understand what microbial communities exist in our system at any given point enabling us to understand the health of our farm's immune system before disease actually hits," Green explains.
Green's company is focused on making indoor farming cost competitive with field farming. He believes it is the only way to make the sustainability benefits of aquaponic farming truly widespread and impactful. As opposed to the Industrial Revolution, which created cheap products through brute force, synthetic chemicals and backbreaking labor, he thinks it is possible to fulfill this mission by looking to nature to do most of the work for people. "A mantra that we use internally is that by harnessing nature's complexity, we share its abundance," Green shares.
Brown looks at the big picture and sees tech innovations spreading from the farm to the table. Increasingly, food recommendations will be made by software based on personalized nutrition. Users will simply indicate their preferences, and the right items will show up. Machine learning advances in voice and vision will create more seamless assistance with shopping, managing food and cooking. New cooking technologies powered by automated cooking programs will enable vastly improved quality of home-cooked meals while reducing stress and time requirements.
Source: https://www.forbes.com/sites/lanabandoim/2019/05/31/what-the-future-of-farming-will-look-like-thanks-to-technology/#4c2c8f135941
HMD working on a much cheaper Nokia 5G phone, set for 2020 release
It seems like most major brands have at least one 5G phone out on the market, but HMD Global is one notable exception thus far.
The Nokia brand licensee hasn't released a 5G phone just yet, although there are rumors of a 5G flagship. But HMD Global chief product officer Juho Sarvikas told Digital Trends that it's planning to release a more affordable device in 2020.
More specifically, Sarvikas told the outlet that this Nokia 5G phone could retail for roughly half the price of current 5G devices. He presumably means half the price of $1000+ 5G devices from Huawei, LG, and Samsung, rather than half the price of Xiaomi's €599 (~$664) Mi Mix 3 5G.
"We see a particular opportunity for us in bringing 5G to a more affordable segment as we enter the market," the HMD representative was quoted as saying by Digital Trends. "I would say affordable in relation to what's available today. I would love to see us at half of the price where you have 5G today."EDITOR'S PICK
In any event, a $500 to $600 Nokia 5G phone would be more accessible to the general population than a $1000 device and could help 5G devices gain traction. This 2020 launch window is also noteworthy as we'd expect way more countries to offer 5G networks by then. HMD probably won't be the only company offering cheaper 5G phones next year though.
The first wave of mobile technology is usually pretty expensive to begin with, but we generally see a noteworthy drop in price as the months and years go by (see multi-camera phones, for one). So who knows, by the time we see a $500 to $600 Nokia 5G phone, we could see a $300 or $400 Xiaomi or Huawei 5G device too.
Source: https://www.androidauthority.com/nokia-5g-phone-1021031/
The OnePlus TV is coming in September, but maybe not to you
The OnePlus TV is coming next month, founder Pete Lau revealed today — just one year after the phonemaker first announced it would build a TV set.
While Lau's blog post doesn't confirm any juicy technical details, such as whether they'll run Android TV and range between 43 and 75 inches diagonally — as filings with the Bluetooth SIG revealed earlier this month — he does say the TV will first be available exclusively in India, and it sure sounds like it could take some time to hit other parts of the world.
"We are also working hard to launch OnePlus TV in North America, Europe and China regions as soon as we establish partnerships with most of local and regional content providers," he writes.
Based on previous filings, the OnePlus TV for India is likely to have a 43-inch panel, while we can probably expect a 75-inch model in the US and China.
While OnePlus has the reputation of a startup and building TVs might seem…ambitious…it's worth remembering that OnePlus is an arm of the same BBK Electronics that also owns Oppo and Vivo.
Source: https://www.theverge.com/circuitbreaker/2019/8/20/20825824/oneplus-tv-september-release-date-india
Apple Watch Series 5 will come with new titanium and ceramic casings
The Apple Watch is the most popular smartwatch on the market and alongside AirPods is turning into a key product category for Apple. The company will look to offer more options with its upcoming series 5 lineup including titanium and ceramic versions in both 40mm and 44mm casings.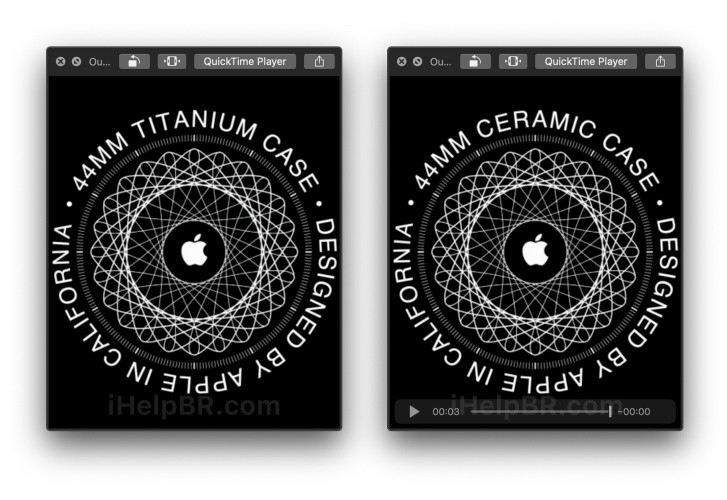 Brazilian site iHelp BR discovered the upcoming options hidden in the latest watchOS 6 beta. Apple previously had ceramic versions of the Watch, but never offered a titanium one. Other than that we have no other details on what to expect from the new Apple watches.
According to past rumors, the Apple Watch Series 5 is expected to launch alongside the iPhone 11 line on September 10.
Source: https://www.gsmarena.com/apple_watch_series_5_may_come_with_new_titanium_and_ceramic_casings_-news-38762.php