How to disconnect your Instagram account from Facebook
Connecting your Instagram and Facebook accounts allows you to cross-post between the platforms at will but you can also disconnect them whenever you want.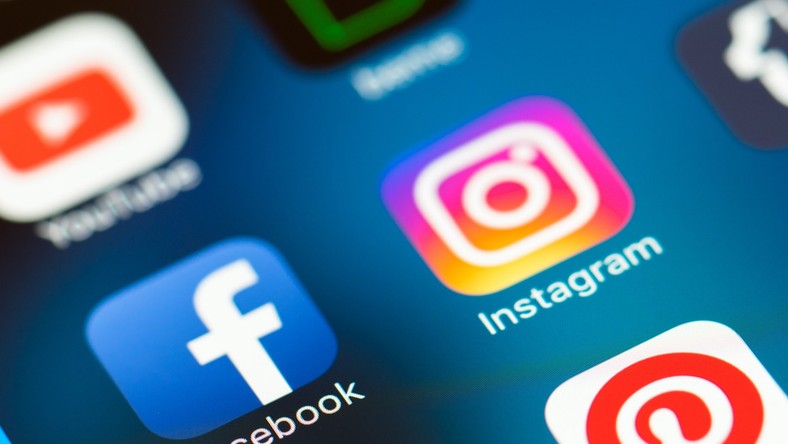 Whether for privacy reasons or just convenience, there may come a time when you want to disconnect your Instagram and Facebook accounts.
While connecting your accounts is a quick and easy process, disconnecting them is even simpler.
Facebook was a massive platform on its own, but now that the media monolith also owns Instagram , it likely owns at least two apps on your phone. Chances are that if you use one of the platforms, you likely use the other, and Instagram makes it easy to cross-post between the two if you simply connect your accounts.
However, there may come a time when you no longer want your Facebook and Instagram accounts linked. Thankfully, disconnecting them is a simple process that can be completed in seconds. Here's how to do it.
How to disconnect your Instagram account from Facebook
1. On your mobile device or tablet, open the Instagram app.
2. Open your profile page, then tap the three stacked horizontal lines in the upper right-hand corner of your screen to reveal a menu of options.
3. At the bottom of the option menu, tap "Settings."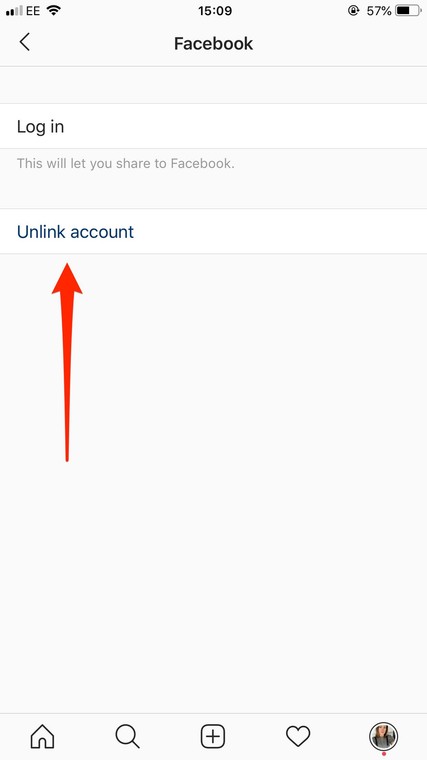 4. On the "Settings" page, look for the "Account" option and tap it.
5. Under "Account," locate the "Linked accounts" option. On this page, you will see Facebook highlighted with the name featured on your Facebook account.
6. To unlink, tap the Facebook option and tap "Unlink account."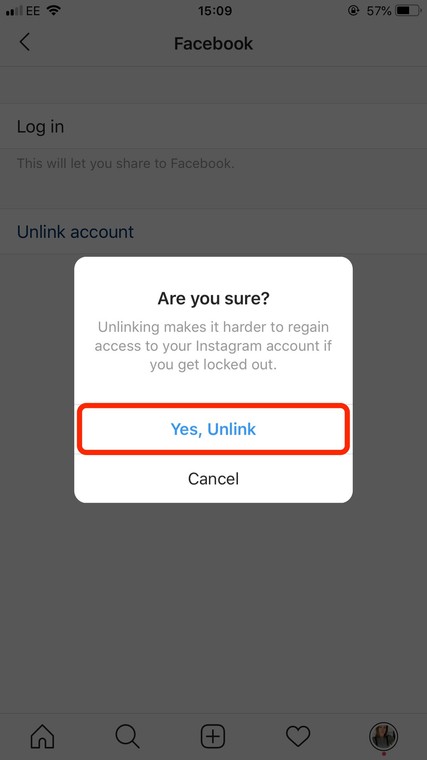 7. A warning will pop up asking you to confirm your choice to unlink your accounts, and let you know that doing so will make it harder to regain access to Instagram should you get locked out.
8. Click "Yes, Unlink" to complete the process.
Note that disconnecting your Facebook and Instagram accounts doesn't need to be permanent. You can relink your account at any time via the same menu options used to disconnect.
If you decide to do this, you will need to re-enter your login information and authorize Instagram to access your Facebook account to re-enable cross-posting between the two platforms.
Source: https://www.pulse.ng/bi/tech/how-to-disconnect-your-instagram-account-from-facebook/ntbpcxx
Facebook's dark mode has landed on more Android phones – check yours now
We've known for some time that Facebook is working on bringing a dark mode its mobile app, and there have already been tests that meant some people gained early access to the option. Now dark mode is rolling out to a large pool of users.
If you're tired of being blinded by your phone when you check Facebook at night, this will be a welcome addition to the social networking app.
Facebook-owned WhatsApp has already started to show signs of dark mode for mobile users, while on the web people are able to turn to a browser extension to gain darker hues. Following on from tests with small groups of users, the company is now testing its official dark mode with more people.
Android Police says it's received numerous reports from people about being able to access dark mode, but it does seem that there is still work to be done. And with Facebook remaining tight-lipped about a its planned schedule, we can only speculate about when there will be a full-scale rollout.
Unfinished feature
At the moment it still appears that dark is very much a work in progress. People who have been lucky enough to gain access to the feature report that it seems to be unfinished, with the app switching between dark and normal modes in either different sections, or just at random.
While dark mode may not yet be quite ready for the big time, it's clear that Facebook is busy working on perfecting it, so hopefully it won't be too long until everyone can try it out for themselves.
Source: techradar.com/nz/news/facebooks-dark-mode-has-landed-on-more-android-phones-check-yours-now
WhatsApp's dark mode arrives in latest Android beta
The latest beta version of WhatsApp's Android app has introduced a long-anticipated dark mode, WABetaInfo is reporting. "Dark Theme" is available to all beta users with version 2.20.13, and can be enabled in the "Chats" section of the app's settings menu. You have the option of turning WhatsApp's dark mode permanently on, permanently off, or else having it dictated by Android's system-wide dark mode or battery saver settings.
Proponents claim that dark modes make app interfaces easier on the eyes in dark environments, and they can also improve the battery life of devices with OLED displays. Purists are likely to object to the fact that WhatsApp's dark mode is more gray than absolute black, but it's still a lot darker than the app's regular green and white color scheme.
With the beta release, WhatsApp has become the third of Facebook's major apps to get the dark mode treatment after Facebook Messenger and Instagram. It's not clear when the mode will be available for iOS or non-beta users, but it can't be long considering this widespread release of the beta version.
The new mode is available to Android beta users for now, but since WhatsApp doesn't appear to be accepting new signups, non-beta users will need to side-load an APK to get their hands on it. 9to5Google links to an APK available here — just remember that you're side-loading it at your own risk.
Source:
https://www.theverge.com/2020/1/22/21076703/whatsapp-dark-mode-android-beta-theme
Microsoft's new Edge Chromium browser launches on Windows and macOS
Microsoft is officially launching its new Edge Chromium browser today across both Windows and macOS. A stable version of the browser is now available for everyone to download, just over a year after the software maker revealed its plans to switch to Chromium. Microsoft is initially targeting Edge at enterprise users of Windows and macOS, but consumers will be able to manually download and install it, too.
In the coming months, Microsoft plans to automatically update Windows 10 users with this new version of Edge which will fully replace the existing built-in browser. The company is taking a slow and careful approach, bringing the new Edge gradually to groups of Windows 10 users through Windows Update before it's fully rolled out to everyone in the summertime. Microsoft is also releasing this version of Edge to OEMs today, so expect to see machines start arriving in the back-to-school period with the new version of Edge preinstalled. Microsoft will eventually bake this directly into a future Windows 10 update, and it will be part of Windows 10X for foldable and dual-screen devices. An ARM64 version of Edge won't be available today, but it's expected to come to the stable channel shortly.
While Edge Chromium is available today, it's also launching without some features you might be familiar with if you're used to using Chrome. Both history sync and extension sync are missing at launch, but things like favorites, settings, addresses / contact info, and passwords will all sync. Microsoft is planning to have these missing sync features available later this year. The good thing is the rest of Edge is very similar to Chrome and even includes support for Chrome extensions. Where Edge differs is new features like Collections, which allows you to collate images and content from the web, and tracking prevention.
You can choose from three different levels to avoid being tracked on the web in Edge, and the default setting will block trackers from sites you haven't visited before. This makes sure content and ads are less personalized and harmful trackers are blocked. There's also a strict setting that blocks the majority of trackers on the web, but that could mean some parts of sites fail to load or might not work correctly. If you're familiar with Ghostery, then Microsoft's built-in protection Edge is similar.
So why even switch to Microsoft's Edge Chromium browser? Microsoft is banking on enterprise users switching to get access to features like Internet Explorer mode, which lets businesses load legacy IE sites within Edge automatically. The added anti-tracking features, Collections, and support for 4K Netflix with Dolby Atmos and Dolby Vision will also be important differentiators over Chrome.
There's also the aspect of trust and which browser company you want to trust with your browsing history and privacy. Google is phasing out third-party cookies and trackers in Chrome but not for two years. That gives Edge, Safari, Firefox, and others an opportunity to capitalize on web users who are a little more privacy-conscious. This alone won't be enough to get everyone to switch away from Chrome, but Microsoft has a better opportunity than most with its Windows dominance in the enterprise and the fact Edge is now a lot more compatible with the web.
Compatibility is key, and it's one of the big reasons why Microsoft chose Chromium in the first place. Chromium offers instant web compatibility, and it also allows Microsoft to bring its web browser elsewhere. Unusually, Microsoft is releasing Edge for Windows 7 today, even though it just went out of support. The company won't say how long it will support Edge on Windows 7 for, but Google has committed to at least mid-2021. Edge is also arriving on Windows 8.1 and macOS, and it's being updated on both Android and iOS.
Ultimately, the success of Edge Chromium could come down to whether it's fully embraced by web developers and competitors like Google. During the beta period of Edge, we've seen both Google Meet and Google Stadia be inaccessible in Edge Chromium, despite working in both Chrome and beta versions of Chrome. Hopefully, this new version of Edge will prevent Chrome from turning into the new Internet Explorer 6 and restore some healthy browser competition to a market that is dominated by Chrome. It's a good thing for consumers to have two tech giants competing to improve the web, as everyone gets a better web browser as a result.
If you're interested in trying out the new Edge, you can download it for Windows or macOS over at Microsoft's Edge site.
Source:
https://www.theverge.com/2020/1/15/21066767/microsoft-edge-chromium-new-browser-windows-mac-download-os