Technology + Engineering = The Future
With the diversity of advanced technologies available for growers to save labor, automate processes, and control their greenhouse environments, there's one important human element that's missing from most operations: a greenhouse engineer.
"We've seen growers shut down possible technologies because they don't understand how to use them, or they don't use a system to its full potential" says Peter Ling, associate professor at The Ohio State University (OSU) Department of Food, Agriculture, and Biological Engineering. "And, if technology breaks down, they don't know how to fix it."
These are driving forces behind a new specialization at the Agricultural Technical Institute (ATI) in Wooster, Ohio. The two-year Greenhouse Engineering Technology specialization is the only one of its kind in the country, and it's a partnership between ATI and OSU. The degree merges studies in traditional horticulture technology, engineering, and new greenhouse technology.
"We want to train our students as technicians so they can help growers," Ling says. "They understand horticulture and technology. They understand how to use advanced computer controls to maintain an ideal environment for plants."
Greenhouse Engineering Technology students learn to use sensors, control strategies, actuators, and electro-mechanical equipment. They also work with smart irrigation systems, pesticide application equipment, and materials handling systems.
"To us, the key is for growers to understand the potential of the technology and to be able to use it to its full potential," Ling says, relating that one student in last year's graduating class had four job offers on the table. "We are getting a great response from the industry. It shows us that we need to train more students to supply the demand."
Source: https://www.greenhousegrower.com/sponsor/basf/technology-engineering-the-future/
HMD working on a much cheaper Nokia 5G phone, set for 2020 release
It seems like most major brands have at least one 5G phone out on the market, but HMD Global is one notable exception thus far.
The Nokia brand licensee hasn't released a 5G phone just yet, although there are rumors of a 5G flagship. But HMD Global chief product officer Juho Sarvikas told Digital Trends that it's planning to release a more affordable device in 2020.
More specifically, Sarvikas told the outlet that this Nokia 5G phone could retail for roughly half the price of current 5G devices. He presumably means half the price of $1000+ 5G devices from Huawei, LG, and Samsung, rather than half the price of Xiaomi's €599 (~$664) Mi Mix 3 5G.
"We see a particular opportunity for us in bringing 5G to a more affordable segment as we enter the market," the HMD representative was quoted as saying by Digital Trends. "I would say affordable in relation to what's available today. I would love to see us at half of the price where you have 5G today."EDITOR'S PICK
In any event, a $500 to $600 Nokia 5G phone would be more accessible to the general population than a $1000 device and could help 5G devices gain traction. This 2020 launch window is also noteworthy as we'd expect way more countries to offer 5G networks by then. HMD probably won't be the only company offering cheaper 5G phones next year though.
The first wave of mobile technology is usually pretty expensive to begin with, but we generally see a noteworthy drop in price as the months and years go by (see multi-camera phones, for one). So who knows, by the time we see a $500 to $600 Nokia 5G phone, we could see a $300 or $400 Xiaomi or Huawei 5G device too.
Source: https://www.androidauthority.com/nokia-5g-phone-1021031/
The OnePlus TV is coming in September, but maybe not to you
The OnePlus TV is coming next month, founder Pete Lau revealed today — just one year after the phonemaker first announced it would build a TV set.
While Lau's blog post doesn't confirm any juicy technical details, such as whether they'll run Android TV and range between 43 and 75 inches diagonally — as filings with the Bluetooth SIG revealed earlier this month — he does say the TV will first be available exclusively in India, and it sure sounds like it could take some time to hit other parts of the world.
"We are also working hard to launch OnePlus TV in North America, Europe and China regions as soon as we establish partnerships with most of local and regional content providers," he writes.
Based on previous filings, the OnePlus TV for India is likely to have a 43-inch panel, while we can probably expect a 75-inch model in the US and China.
While OnePlus has the reputation of a startup and building TVs might seem…ambitious…it's worth remembering that OnePlus is an arm of the same BBK Electronics that also owns Oppo and Vivo.
Source: https://www.theverge.com/circuitbreaker/2019/8/20/20825824/oneplus-tv-september-release-date-india
Apple Watch Series 5 will come with new titanium and ceramic casings
The Apple Watch is the most popular smartwatch on the market and alongside AirPods is turning into a key product category for Apple. The company will look to offer more options with its upcoming series 5 lineup including titanium and ceramic versions in both 40mm and 44mm casings.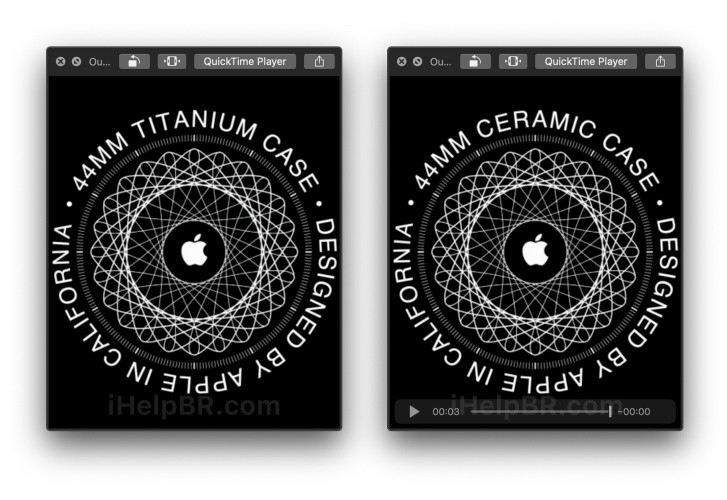 Brazilian site iHelp BR discovered the upcoming options hidden in the latest watchOS 6 beta. Apple previously had ceramic versions of the Watch, but never offered a titanium one. Other than that we have no other details on what to expect from the new Apple watches.
According to past rumors, the Apple Watch Series 5 is expected to launch alongside the iPhone 11 line on September 10.
Source: https://www.gsmarena.com/apple_watch_series_5_may_come_with_new_titanium_and_ceramic_casings_-news-38762.php