Is it me or have smartphones become interesting again?
The feeling had been hanging around for some time: anything from "a couple of years" to "since the Nexus 5," depending on who you asked. Whatever the timescales, many Android fans had noticed smartphones seemed to have lost their spark.
As I was looking over the recent Android smartphone releases last week, something occurred to me. Seems to me, we're coming out the other side of this drought.
Smartphones are exciting again, man — I'll explain why.
Midrange is basically premium now
Since the dawn of the camera phone, the best cameras have been held hostage by high price tags. As of 2019, the camera quality of even $300-$400 phones can compete with ones three times the price, and it's exciting for all concerned.
Look no further than the Google Pixel 3a. This phone costs $399, but it features essentially the same main camera as the Pixel 3, Google's current $799 flagship.
Not only is the hardware the same, major software features like Top Shot, Photobooth Mode, and the ever-popular Night Sight are also included.
The thing is, general users aren't bothered about how fast a phone can open ten apps. They don't care about the latest chipsets, or in-display fingerprint scanners, or bezel-less screens, or other premium characteristics. However, if they wanted a top-of-the-range camera experience, they previously had to pay for all of those other bells and whistles anyway.EDITOR'S PICK
Best Android smartphone cameras (February 2019)
With the Google Pixel 3a and 3a XL, this isn't the case. These are no-frills, hassle-free phones that take incredible snaps — and probably the best example of this kind of device I've ever seen. Better still, they even come with a 3.5mm headphone jack, and are set for fast updates. What a package!
These are no-frills, hassle-free phones that also take incredible snaps — and probably the best example of this kind of device I've ever seen.
The Pixel 3a isn't just a 2019 midrange one-off, either. Samsung rolled out a much-needed revamp of its mid-tier this year. Galaxy A phones always sold well, but largely off the back of the Samsung name, rather than their inherent quality — Android reviews readers have known for years there are better options.
However, the most recently Galaxy A phones have been some high-quality hardware. Just look at how cool the Galaxy A70 below is. It looks like a flagship in its own right.
The Samsung Galaxy A70 has an awesome design.
Heck, look at how cool the Galaxy A80 is:
Galaxy A phones don't just have the premium look though, a few of them arrived with features even Samsung's flagships didn't yet have. The Galaxy A80 above had Samsung's first sliding, flipping camera, and the Samsung Galaxy A9 2018 was the first quad-camera smartphone, well, ever.
Critically, these are not flagship phones with all the good bits stripped out to make them cheaper. Picking up a midrange phone doesn't just have to be about saving money anymore, it can be about getting the features you want. The standard Google Pixel 3 and Pixel 3XL don't have a headphone port, for example — an essential feature for some people they could get on the similar, less expensive Pixel 3a. The premium Galaxy S10 Plus is capped at three, static, rear cameras, unlike the Galaxy A80.
This trend of remarkable midrangers isn't set to stop anytime soon. In the coming weeks w'll have the Snapdragon 855-toting Redmi K20 Pro, a new line (the K series) from a fairly new sub-brand (Redmi) that looks set to challenge even the best of the flagship competition.
What a time to be an Android fan. There have always been low-cost smartphone options that offer high-end features, but I don't think they've ever been as impressive as they are right now.
Second-tier OEM, first-rate flagship
Another sign of Android's recent revitalization arrives via some of the less popular OEMs.
When a person thinks of phone brands, ZTE is unlikely to top their list. Yet the flagship it released last month, the Axon 10 Pro, is a standout phone.
Smartphones have always had their low-cost options that offer high-end features, but I don't think they've ever been as impressive as they are right now.
The Axon 10 Pro is a particularly interesting device because, on the surface, it is just a premium phone. Its specs include a Snapdragon 855 chip, up to 12GB RAM, up to 256GB storage, triple rear cameras, a 4,000mAh battery, and a 92 percent screen-to-body ratio. It just happens to also start at a lower price than most premium Android phones — 599 euros (~$676). For comparison, the Galaxy S10 starts at 899 euros (~$1,015) and the Huawei P30 Pro starts at 999 euros (~$1,128).
The ZTE Axon 10 Pro
Then there's the Asus Zenfone 6. It's powerful, it has an awesome, cassette player-esque flip-up camera, and a bunch of premium specs. "If you want 90 percent of a flagship for 50 percent of the price, this is the phone to beat," we said in our review. The Zenfone 6 also doesn't look like any other smartphone, but in a purposeful way, rather than just for the sake of standing out.
The Asus Zenfone 6
The Realme X is probably the best Realme phone yet — it looks glorious and is going on sale in China for the equivalent of around $220 (we should have our full review of that ready in the next week or so).
Then you have a brand like OnePlus. It's still not quite household name in the West, and far from the top of the Android platform in terms of sales, but nonetheless delivers absolute standout phones like the OnePlus 7 Pro, which just about hit all the lofty expectations of its enthusiast audience.
The OnePlus 7 Pro
These kinds of diverse flagships are contributing to an overall sense that Android is becoming lively again. In 2019, perhaps it wouldn't have mattered if Samsung's latest Galaxy S10 had been a letdown, or the Xiaomi Mi 9 was ridiculously underwhelming, because there are quality smartphones to be found everywhere.
Bad phones are back
One of the biggest giveaways the smartphone landscape is once again heating up, counter-intuitive as it may sound, is the return of bad phones.
For a while, the Android was a bit grey landscape: flagships were good and the mid-tier phones were good and all the budget phones, again, were pretty good, and they all did much the same thing. It's only now that a few stinkers have cropped up we can appreciate how great the phones of the recent past have been.
The Nokia 9 PureView
It's only now that a few stinkers have cropped up we can appreciate how great the phones of the recent past have been.
The Nokia 9 PureView arrived earlier this year with a unique look and five rear cameras. I believe it was a worthwhile pursuit for HMD, but as we noted in our review, the company's best efforts fell "frustratingly short." In the end, its unique penta-camera was its worst feature.
We've also seen the "extremely average" Alcatel 3, a phone you'd probably struggle to remember if you didn't work for an Android phone reviews site (and even then). It was shiny. It was affordable. It was also a slow, plastic, Micro-USB-toting mess running Android Oreo in the Android Pie era.
The Alcatel 3
LG delivered an inconsistent camera and a useless palm reader on the boring LG G8 ThinQ — its current flagship — and let's not forget the Red Hydrogen One, which was seriously overpriced at $1,295.
HTC, meanwhile, recently released the, erm, the, err, erm, err… never mind.
The Red Hydrogen One
Remember, this is good! There has been a shift away from handsets you'd struggle to tell apart to distinct new smartphone flavors. We've seen recent phones with pop-up selfie cameras, flip cameras, sliding phones, notches that look like shark fins, and the promise of folding phones (troubled as their introduction may have been). The variety of phone designs on this short list alone is something to shout about.
There has been a shift in recent months, away from handsets you'd struggle to tell apart to distinct new smartphone flavors.
2019 is far from over
Most of the great phones on this list released in 2019. There has been a noticeable increase in originality and flair in just a few months, and that's without even looking at the biggest and best of Android, like the Galaxy S10 or the Huawei P30 Pro. Those are arguably the best smartphones the world has ever seen, and as far as I'm concerned, they're minor talking points.
2019 has been kind to Android phones, and the good news is we're only halfway through. There are big things still set for the remaining quarters (Pixel 4 or Galaxy Note 10, anyone?), and I'd suggest, if the latter half is as good as the first, 2019 will be the best year Android fans have ever had.
Source:
Microsoft is reportedly working on 2 new Xbox consoles for 2020, and one of them won't have a disc drive (MSFT)
Microsoft is reportedly considering launching two versions of its next Xbox console, according to Kotaku.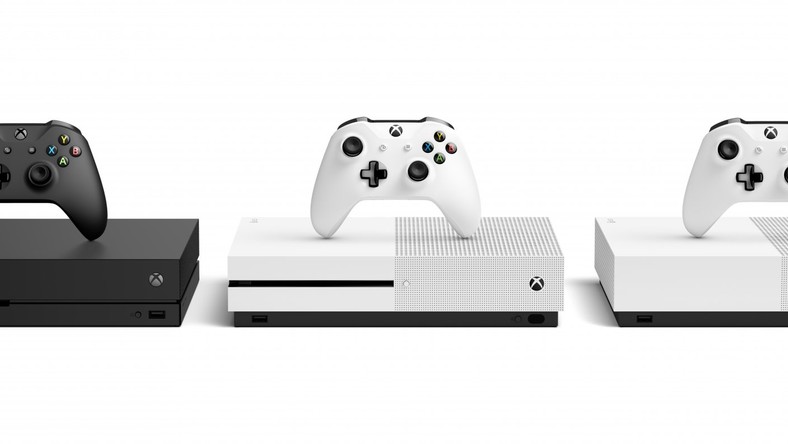 Microsoft has already confirmed that the next Xbox, codenamed Project Scarlett, will launch during the 2020 holiday season, and sources told Kotaku that Microsoft is developing two different versions of the console.
The more powerful of the two consoles is codenamed Anaconda, while the less powerful version is codenamed Lockhart. Lockhart reportedly doesn't have a disc drive, and would emphasize Microsoft's digital Xbox subscription services.
Microsoft has employed a similar strategy with its current console, the Xbox One. The $500 Xbox One X is the most powerful console on the market, while the $250 Xbox One S All-Digital Edition offers the lowest entry level price, but no disc drive.
Microsoft has promised a new Xbox for the 2020 holiday season, but according to a new report, the company is considering launching two different versions of the next-gen console.
The new Xbox has been codenamed Project Scarlett, but Kotaku's Jason Schrier reports that Project Scarlett's development has resulted in two different devices a more powerful console codenamed Anaconda and a disc-free console codenamed Lockhart. Anaconda would offer a premium gaming experience with the highest possible quality, while Lockhart would provide a more affordable price point for gamers looking to upgrade to the lastest console generation.
Microsoft is already employing a similar strategy with the Xbox One. The $500 Xbox One X is the most powerful console on the market, while the the $300 Xbox One S plays all the same games with a lower visual quality. Earlier this year Microsoft launched the $250 Xbox One S All-Digital Edition, which removes the console's disc-drive.
Xbox games are all available digitally through the Microsoft Store, making the disc-drive optional for gaming. Microsoft's Xbox Game Pass subscription also offers a digital library with more than 100 downloadable games for $10 per month. Removing the disc-drive lowers the final cost, and essentially guarantees long-term business for Microsoft's online store.
Kotaku reports that Microsoft's Lockhart would be cheaper and less powerful than Anaconda, but would still out-perform existing video game consoles. Sources told Kotaku that Microsoft wants Anaconda to be capable of 4K visuals at 60 frames per second, while Lockhart would run games at 1440p and 60 frames per second. Both consoles will benefit from a solid state hard drive that will drastically improve loading times compared to current consoles.
Since confirming the release window of Project Scarlett in June, Microsoft hasn't shared much information on the new Xbox. In October Sony revealed that the PlayStation 5 will be launching during the 2020 holiday season as well, and the company has slowly been teasing new details.
Whether it's picking Xbox versus PlayStation or choosing between two versions of Project Scarlett, it looks like gamers will have plenty of choices to make to next fall.
Source:
https://www.pulse.ng/bi/tech/microsoft-is-reportedly-working-on-2-new-xbox-consoles-for-2020-and-one-of-them-wont/q4mc98y
Samsung Galaxy S11 rumors: 120Hz display, five cameras, big size increase
The first Galaxy S11 renders came out this weekend, so it's probably time for a Galaxy S11 rumor roundup. Like last year, we're expecting three versions of the S11: the normal S11 and S11+ along with a cheaper, smaller model, the S11e.
First up: the renders. As usual with early phone renders, these are not official renders from the company but are instead from leaker OnLeaks. OnLeaks is a reliable source for leaks; he pumps out phone renders based on CAD drawings and most recently has nailed early previews for the Pixel 4, OnePlus 7 Pro, and Galaxy S10.
The front of the Galaxy S11 looks like you'd expect from a Samsung phone. The S11 sticks very close to the Galaxy Note 10, with a centered punch out for the front camera, minimal bezels all around, and curves display sides on the long edges. Just like on the Note 10, the Bixby button is dead, leaving only power and volume on the right side. Also like the Note 10, the bottom edge has only a USB-C port and a speaker—the headphone jack is dead.
Galaxy Note10 hands-on: Samsung falls behind the competition, which produced the renders in partnership with OnLeaks, says the display for the S11 (not the S11+) is "between 6.63-inch and 6.7-inches" This would be a huge increase over the Galaxy S10, which has a 6.1-inch display, and the baseline S11 would be bigger than even the S10+, which was 6.4-inches. OnLeaks has the S11 dimensions at 161.9 x 73.7 x 7.8mm, which compared to last year is again taking the base model S phone and pushing it into "S+" territory. The S11 dwarfs the S10 (149.9 x 70.4 x 7.8 mm) and is a better match for the S10+ (157.6 x 74.1 x 7.8 mm), although it's still even taller than that phone. Despite phones being bigger than ever this year, Samsung apparently plans to push the envelope even more next year.
The much bigger phone sizes should lead to bigger batteries, and Samsung is going to need them this year, as the report says "all the three models are expected to come with both 4G and 5G connectivity." This will be the first time all three S phones have come with 5G. The S10e, S10, and S10+ were 4G only, with a monstrous "Galaxy S10 5G" version existing as an even bigger size tier than the S10+. It was an S10++. Come to think of it, with the S11 being the size of an S10+, maybe Samsung's plan this year is to bump each S11 model up a size and kill the smallest phone, the Galaxy S10e.JUMP TO ENDPAGE 1 OF 2
Samsung has gone with the new industry trend of putting a big camera block housing all the sensors on the back of the phone. OnLeaks and 91Mobiles have a whopping five sensors on the back of the base model S10. The report says, "While we know three of these will be the regular cameras and one should be the 3D ToF sensor, the purpose of the last sensor is not yet known." The telephoto is a 5x optical zoom, according to the report. According to another plugged-in Samsung leaker, IceUniverse on Twitter, the bottom right circle in the camera block is a laser auto-focus module.
The Samsung Galaxy S10 5G is the US' first 5G phoneIceUniverse earlier this month claimed that the S11 has a "high probability" of using a new 108MP sensor for the main camera. Over at XDA Developers, Max Weinbach tore down the latest S10 camera app and found support for a new resolution: 12,000 by 9,000 pixels, which would perfectly match the output from a 108MP sensor. As Weinbach notes, don't expect to get full 108MP images from the camera. Like we've seen Xiaomi do with its 108MP sensors, expect Samsung's software to fuse surrounding pixels together for improved low-light photography, with an output of around 12MP. One spot this 108MP sensor will be put to use will apparently be in the video mode. In a second report, XDA found support for [email protected] video along with [email protected] video.
High-speed displays are the big new trend in smartphones, and Samsung has been supplying these high refresh rate display panels to everyone while simultaneously neglecting to put them in its own smartphones. That's apparently going to change with the S11, though. IceUniverse posted screenshots of a 120Hz mode in Samsung's Android build, which would make the display even faster than the 90Hz displays in the OnePlus 7s and the Pixel 4. The only other phones we've seen ship displays this fast have been Asus ROG Phone 2 and the Razer Phone 2, though the latter uses an LCD.
The SoC will be the latest and greatest out there, of course. In some markets, this will be the Samsung Exynos 990 SoC; in others, it will be the Qualcomm Snapdragon 865, which we'll get a lot more information on next week, when Qualcomm holds its Snapdragon Tech Summit 2019. The Galaxy S10 launched February 20, so expect an S11 launch around then. There will probably be a lot more leaks between now and then, though.
Source:
https://arstechnica.com/gadgets/2019/11/galaxy-s11-rumors-promise-120hz-display-108mp-camera-even-bigger-phones/
Huawei: Trouble overseas but boom time in China
More than 20 smartphones, old tablets and other devices lurk in a corner of his Beijing home – an ever-growing tech junkyard.
His apartment also boasts a Google Home smart assistant and an Amazon Echo.
"I take three phones out with me every day. I use a phone for Chinese apps, I use my iPhone for Gmail and western apps, and I use my Google Pixel phone for work," says the 34-year-old tech entrepreneur.
His obsession has paid off though. In 2009, he bought the first phone to use Android, the software that now runs more than 80% of smartphones.
A year later, the physics graduate, founded his own company creating content for Chinese Android users. By 2016 he had sold the company for an undisclosed amount to Alibaba, the Chinese e-commerce giant.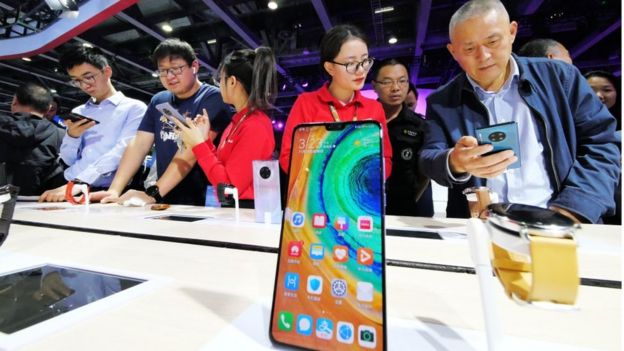 Now he is excited about the next generation of technology, known as 5G. It promises lightning fast internet connections for your mobile phone – fast enough to download movies in a matter of seconds, or to stream high definition TV.
In October, Jun Yu pre-ordered a 5G-ready smartphone, made by China's Xiaomi.
"4G has enabled many things like mobile video, more immersive gaming. I know 5G will too. But I don't exactly know how yet," he says.
But in the US and UK the rollout of 5G networks has been hampered by an international row over one of the most important suppliers of 5G equipment, China's Huawei.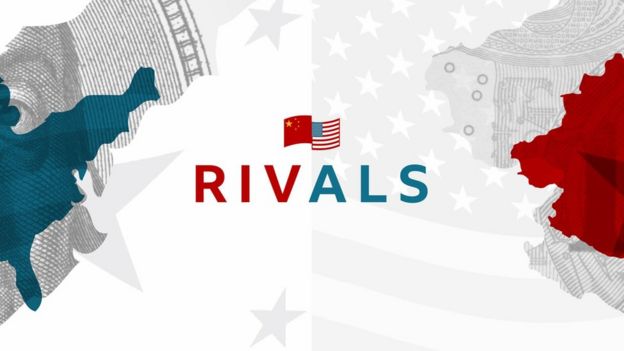 Rivals is a season of in-depth coverage on BBC News about the contest for supremacy between the US and China across trade, tech, defence and soft power.
The US has banned the use of Huawei equipment in 5G networks over security fears, and has encouraged its allies to do the same. It also maintains a tight control over what US companies can sell to Huawei, which has disrupted sales of Huawei phones overseas.
Industry analysts like Edison Lee, an analyst from financial services group Jefferies, see the US pressure on Huawei as an attempt to break China's potential dominance of the global 5G market.
"The tech war is based on America's argument that China's technological advances have been built upon stolen intellectual property rights, and heavy government subsidies, and their belief that Chinese telecom equipment is not safe, and is a national security threat to the US and its allies," he says.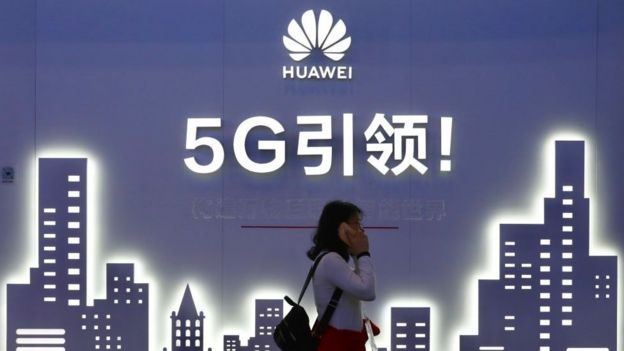 "As Huawei and [fellow Chinese firm] ZTE increasingly dominate the global telecom equipment market, the western world will be more vulnerable to Chinese spying," Lee adds.
Huawei has always strongly denied that its technology can be used for spying.
While western nations worry about one of the key suppliers of 5G technology, China is racing ahead with its 5G rollout.
On 31 October Chinese telecom companies launched 5G services in more than 50 Chinese cities, creating one of the world's largest 5G networks.
Huawei has built an estimated 50% of the network.
The Chinese Ministry of Information claims that in just 20 days the country registered more than 800,000 subscribers. Analysts predict China will have as many as 110 million 5G users by 2020.
And China's tech sector is busy coming up with uses for the new tech.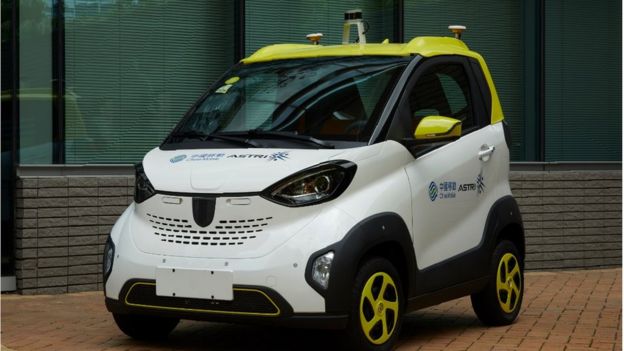 On a large plot of land in northern Hong Kong, researchers are developing 5G powered autonomous vehicles.
Researchers at Hong Kong Applied Science and Technology Research Institution are working in partnership with China Mobile, the largest telecom company in China.
They see 5G as being particularly useful for self-driving cars, allowing the cars to build an accurate picture of what's going on around them, by communicating with other vehicles, traffic signals and sensors in the road.
"For consumers, 5G will possibly transform how we interact with other. For the government, 5G will transform roads and road infrastructure to enable new applications like enhanced assisted-driving and eventually autonomous driving," says Alex Mui, a researcher on the project.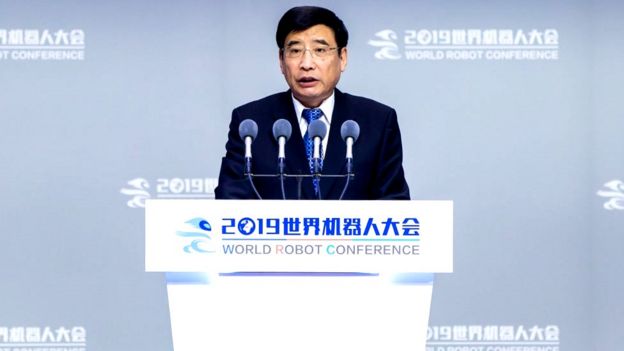 China is not the first country to roll out 5G. But it is building one of the world's biggest 5G markets very quickly.
While Huawei and ZTE are doing well from that expansion, they would still like to break into lucrative overseas markets like the US.
Speaking at a 5G convention in Beijing in November, China's minister for industry and information accused America of using cybersecurity as an excuse for protectionism.
"No country should ban a company in its 5G network rollout by using the unproved allegations of cybersecurity risks," said Miao Wei.
Industry analysts are not confident that the row between China and the US will be sorted out anytime soon.
"We see the current tensions as a technological Cold War, as tech nationalism intensifies," says Ben Wood, chief of research, at CCS Insight.
"With the Chinese government firmly committed to establishing China as a world-leading 5G nation, the opportunity for Huawei in its home market is immense.
"However, the rest of the world can't afford to get left behind, and without access to Huawei infrastructure US mobile network operators in particular will need to rely on alternative suppliers who may be more expensive and less advanced with 5G."