Samsung is planning to launch an outward-folding phone ahead of the Huawei Mate X
Insiders spoke to Korean publication The Investor, saying that Samsung is planning to release a full range of foldable smartphones, including one that folds outwards (the opposite of the Galaxy Fold). They claim that this model will come out ahead of the Huawei Mate X (which also folds outwards).
These insiders say that production of this outwards-folding phone has already begun, but no launch date has been set. As a reminder, Samsung is yet to commit to a re-launch date for the Galaxy Fold.
The company recently hinted that the redesign of the Fold is almost done and it should hit the market soon. Just not in July "soon". Note that the Huawei Mate X is set to come out in September, which leaves only one option – launching in August, alongside or soon after the Galaxy Note10.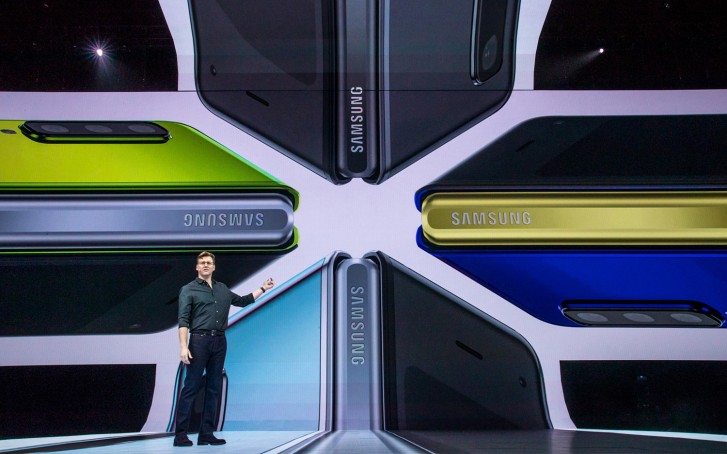 According to a Huawei official, the company delayed the Mate X so it can work on the 5G connectivity. Samsung is also working on a 5G version of the Galaxy Fold (there's some doubt if the 4G version of the Fold will be released or if Samsung will offer the 5G model exclusively).
After the Galaxy Fold and the outward-folding phone come out, Samsung will continue expanding the product line with a vertically-folding clamshell phone as as early as 2020.
Other sources claim there's another model planned, a Note-like foldable phone with an 8″ screen and an S Pen. This one will fold inwards like the original Galaxy Fold (but its screen is slightly larger). It is expected to come out in late this year or early 2020.
Source: https://www.gsmarena.com/samsung_is_planning_to_launch_an_outwardfolding_phone_ahead_of_the_huawei_mate_x-news-37817.php
Microsoft is starting to force-update Windows 10 machines from version 1803 to 1903
Microsoft has been known to force its Windows 10 users to update their machines; much to the chagrin of many customers. Though Microsoft's Windows 10 updates are usually fine and relatively stable, they do sometimes bring sweeping changes that can frustrate users or even cause performance issues and outright data loss.
With this volatility and unpredictability in mind, it's perhaps understandable that many users would try to avoid updating their machines for as long as possible. For several individuals, that means sticking to Windows 10's 1803 update, which came out around mid-2018.
Unfortunately for those folks, Microsoft has had enough of their reluctance to update and has opted to take matters into its own hands. Starting now, the tech giant will be force-updating computers running Windows 10 version 1803 to the latest version of the OS, which is the Windows 10 May 2019 update (version 1903). Microsoft says its reasoning primarily stems from a desire to keep user systems secure.
"Keeping these devices both supported and receiving monthly updates is critical to device security and ecosystem health," the tech giant wrote in a support article announcement. "Based on the large number of devices running the April 2018 Update, that will reach the end of 18 months of service on November 12, 2019, we are starting the update process now for Home and Pro editions to help ensure adequate time for a smooth update process."
Though some users will undoubtedly feel they know their machines and their potential security risks better than Microsoft does, there is no clear way to opt-out of this update — short of using software like ShutUp10 to disable the functionality entirely (which can carry its own risks).
The good news is, Windows 10 version 1903 seems to be relatively stable so far and perhaps a bit ironically, it even includes some helpful new update control features. For example, the ability to "defer" updates was once a Pro-exclusive option, but all May 2019 update users will be able to utilize a similar functionality now. Specifically, Windows 10 version 1903 lets you push updates back up to 5 times, for 5 days each (up to 35 days in total).
Source: https://www.techspot.com/news/81005-microsoft-starting-force-update-windows-10-machines-version.html
iOS 13 and iPadOS 13 developer beta 4 are now available to download
The fast and furious pace of iOS beta releases continues unabated this week with the rollout of iOS 13 and iPadOS 13 developer beta 4. We're hopeful that this release is less problematic than the last, as Apple ended up mysteriously delaying the launch of the second public beta and then re-seeding the developer beta a full week later. We'll have to wait and see, but it's hard to imagine that beta 4 will run into similar issues.
We still don't know exactly what this latest beta contains, but considering how messy the last beta was, it might be a good idea to update soon, as Apple has presumably fixed much of what ailed the last beta.
If you watched Apple's WWDC keynote, you know about all the highlights of iOS 13, including new features like Dark Mode, a redesigned volume HUD, a new Reminders app, and plenty of performance enhancements. It's not really a massive overhaul, but it appears to address many pain points of earlier releases without trying to fix anything that wasn't broken. That said, keep in mind that this is just a beta, and there will be issues.
Here's the full list of compatible devices that will run iOS 13, if you're thinking about downloading the beta:
iPhone XS
iPhone XS Max
iPhone XR
iPhone X
iPhone 8
iPhone 8 Plus
iPhone 7
iPhone 7 Plus
iPhone 6s
iPhone 6s Plus
12.9-inch iPad Pro 3rd generation
12.9-inch iPad Pro 2nd generation
12.9-inch iPad Pro 1st generation
10.5-inch iPad Pro
9.7-inch iPad Pro
iPad Air 3rd generation
iPad Air 2
iPad 6th generation
iPad 5th generation
iPad mini 5th generation
iPad mini 4
iPod touch 7th generation
iOS 13 will launch in full this fall alongside the next generation of iPhone models.
Source: https://bgr.com/2019/07/17/ios-13-beta-4-download-beta-profile/
Hands-on with the new Apple MacBook Air and MacBook Pro
These two entry-level Apple laptops get spec upgrades and, in one case, an important price cut.

Apple kicked off the back-to-school season with some pretty significant changes to the MacBook lineup on Tuesday. There were price cuts, trickle-down features and a few quiet cancellations, including the old, pre-redesign MacBook Air and the cult favorite 12-inch MacBook.
Getting an update are the MacBook Air and the lowest-end version of the 13-inch MacBook Pro. For the Air, that's a significant point, as the system received its largest overhaul in a decade just last year.
Both new MacBooks have arrived in the CNET Labs for review. Our testing is ongoing, but here's an early look at some of the initial results and our first hands-on impressions.
The new MacBook Air doesn't look any different, but it adds Apple's True Tone display, which can adjust the screen's color temperature based on the ambient lighting. It's already found on iPad Pro, recent iPhones and some MacBook Pros.
But more important than that, the starting price has been cut by $100, from $1,199 to $1,099 (£1,099, AU$1,699). That's still not the classic MacBook Air price of $999, but it's getting closer and students can get it for $999.
More consequential are the changes to the 13-inch MacBook Pro. That $1,299 model was a favorite for some, as it excluded the Touch Bar found in more-expensive MacBook Pros. Now you can no longer avoid the Touch Bar, but it's included for the same $1,299 price, along with the TouchID fingerprint reader and T2 security chip.
It also jumps from an older dual-core Intel CPU to a newer quad-core version, so the least expensive Pro feels more like, well, a Pro. Case in point, we ran the new quad-core 13-inch MacBook Pro against an older dual-core version. Yes, the eighth-gen chips have an advantage over the seventh-gen ones, but the difference between the two base models is huge.
GEEKBENCH 4 (MULTICORE)
MacBook Pro 13-inch (quad-core, 2019)16949MacBook Pro 13-inch (dual-core, 2017)9032
NOTE:
Longer bars indicate better performance
CINEBENCH R15 CPU (MULTICORE)
MacBook Pro 13-inch (quad-core, 2019)647MacBook Pro 13-inch (dual-core, 2017)381
NOTE:
Longer bars indicate better performance
SYSTEM CONFIGURATIONS
| | |
| --- | --- |
| MacBook Pro 13-inch (2019) | MacOS Mojave 10.14.5; 1.4GHz Intel Core i5-8257; 8GB DDR3 SDRAM 2,133MHz; 1536MB Intel Iris Plus Graphics 645; 256GB SSD |
| MacBook Pro 13-inch (2017) | MacOS Sierra 10.12.6; 3.1GHz Intel Core i5-7267; 8GB DDR3 SDRAM 2,133MHz, 1536MB Intel Iris Plus Graphics 650; 256GB SSD |
We're currently testing both the new MacBook Pro and MacBook Air, and will report full benchmark results, including battery life, in upcoming reviews. While the Pro is getting a big speed boost, I wouldn't expect any real change in the MacBook Air performance — the biggest move there is the price.
We tested 5G speeds in 13 cities. Here's what we found: Faster speed versus more coverage. That's the most important issue for 5G networks today.
We drowned AirPods, Powerbeats Pro and Galaxy Buds: We sprayed them, dunked them and even put them through the wash to find out which one of these three wireless earphones can handle the most water.
Source: https://www.cnet.com/news/hands-on-with-the-new-apple-macbook-air-and-macbook-pro/