WhatsApp test lets you share status with Facebook, without breaking rules
WhatsApp is testing the option to share your status with Facebook and Instagram, as well as third-party apps. The feature is currently available to those enrolled in the beta-test program …
The Verge's report gives Gmail and Google Photos as other options, which seems a little odd and isn't explained.
Starting today, users in WhatsApp's beta program will start to see a new sharing option beneath their status, which can be used to post a status directly to their Facebook story or send it to another app like Instagram, Gmail, or Google Photos. WhatsApp Status is the service's Instagram Stories-style feature that lets you post images, text, and videos on your profile that disappear after 24 hours […]

There is […] no option to have your WhatsApp status automatically shared to another service; WhatsApp tells me it wants the feature to be an active decision on the part of the user.
WhatsApp is careful to stress that when you share your status with Facebook, that option uses public APIs and is done on your own device. This means that Facebook itself doesn't have access to your WhatsApp data. As The Verge notes, this is something that has got the company into trouble in the past.
WhatsApp has to be careful about creating the impression of data sharing with Facebook. When Facebook acquired the messaging service back in 2014, WhatsApp promised that it wouldn't share user data with Facebook and said that it would function "independently and autonomously." That changed in 2016 when the company said it would start sharing user data with Facebook. Since then, Facebook has been told by the French and German regulators to stop the practice. In 2017, the company was fined $122 million by the European Commission for misleading regulators about the extent to which it could link accounts prior to the acquisition.
More recently, Facebook appears to be aiming to offer a single, unified messaging service across Messenger, WhatsApp and Instagram. Given the popularity of the first two in particular, this could well be a service which would rival the popularity of iMessage. CEO Mark Zuckerberg has so far said that the company is in the early stages of considering the move, which wouldn't happen before next year.
WhatsApp last month joined Apple, Google and others in condemning a UK proposal to secretly add law enforcement to encrypted chats, as a creative but highly dangerous method of circumventing end-to-end encryption.
Source: https://9to5mac.com/2019/06/27/sharing-status-with-facebook/
Instagram will now hide likes in 6 more countries
Would the internet be a better place if we all paid a little less attention to fake internet points? Instagram is still trying to figure it out.
Just a few months back, Instagram started testing a design tweak that would no longer show the total number of "likes" other users' posts had received. You could still see everyone that liked your photos and videos — but anyone else's stuff? Don't worry about it.
While the company hasn't said much about how the tests are going so far, it seems they're going well enough to expand them. Initially rolled out in just Canada, it'll roll out to users in six more countries starting today:
Ireland
Italy
Japan
Brazil
Australia
New Zealand
Curiously, some users in Canada (the first country where hidden likes were tested) reported yesterday that likes had returned to their feed. Instagram confirmed to us that the testing in Canada is still ongoing. Meanwhile, likes seem to be gone again in Canada as of this afternoon.
We wrote about Instagram's like-hiding experiments a few weeks prior to the public tests, after the pending rollout was discovered by reverse-engineering extraordinaire Jane Manchun Wong.
So why hide likes? Instagram says it's "because [they] want your followers to focus on the photos and videos you share, not how many likes they get."
In other words: when likes are public, people care too much about them. People view it as a metric of success — teasing those who get too few, or buying likes to try to gain admiration. If a post doesn't get enough likes, people delete them to make it seem like all of their photos are hits. In theory, hiding likes from the feed but making them visible to the creator lets people get some sense of what's working, without having to worry so much about whatever anyone else is taking away from the like count on any given photo.
Here's what Instagram looks like with the design tweak. Note the banner up top giving the user a heads up of the change, and that the like bar just says "Liked by username and others" instead of any specific number of users:
Source: https://techcrunch.com/2019/07/17/instagram-will-now-hide-likes-in-6-more-countries/
Twitter launches the 'Hide Replies' feature, in hopes of civilizing conversations
Twitter today is beginning its test of a radical and controversial change to its service with the launch of a new "Hide Replies" feature. Effectively, this option gives users the ability to wrestle back control over a conversation they've started by hiding any replies they feel aren't worthy contributions — for example, replies that are irrelevant or outright offensive.
One of the problems with Twitter — and with many social networks, for that matter — is that an otherwise healthy conversation can easily be disrupted by a single individual or a small number of people who don't contribute in a positive fashion. They come into a thread to start drama or they make inappropriate, rude or even hateful remarks.
Of course, users can choose for themselves to either Mute or Block people like this, which limits their ability to affect their own personal experience on Twitter. But this doesn't remove their comments from others' view. The "Hide Replies" feature, however, will.
But it's not the equivalent of a delete button. In other words, hidden replies are not removed from Twitter entirely, they are just placed behind an icon. If people want to see the hidden replies, they can press this icon to view them.
Twitter's goal with the feature is to encourage more civil conversation on its platform. It could work, as those who want their comments seen by a wide audience will have to find a way to express themselves in an appropriate fashion — without taking the conversation off course or resorting to insults or trolling. Otherwise, they know their replies could be hidden from the default view.
But this change is not without significant downsides.
For example, a user could choose to hide replies that simply (and even politely!) disagreed with their view. This would then create a "filter bubble" where only people who shared the original poster's same opinion would have their comments prominently displayed. In this case, the feature would be silencing other viewpoints — and that's in direct opposition to Twitter's larger goal of creating a public town square on the web, where every voice has a chance to be heard.
More worryingly, a user could choose to hide replies that attempt to correct misinformation or offer a fact check. That's a significant concern at a time when social media platforms have turned into propaganda dissemination machines, and have been infiltrated by state-supported actors from foreign governments looking to manipulate public sentiment and influence elections.
Twitter claims the feature provides transparency because hidden replies are still available for viewing to anyone who wishes to see them. But this assumes that people will notice the small "hidden replies" icon and bother to click it.
The ability to hide replies is initially available only to users in Canada, but tweets with hidden replies will be accessible by all Twitter users worldwide.
Twitter Support✔@TwitterSupport
We're testing a feature to hide replies from conversations. This experience will be available for everyone around the world, but at this time, only people in Canada can hide replies to their Tweets.

We want to know what you think. Please Tweet us your feedback and questions! https://twitter.com/TwitterCanada/status/1151547186636906498 …Twitter Canada✔@TwitterCanadaLaunching today. Let us know what you think! https://twitter.com/TwitterCanada/status/1149327628106641408 …1,0756:42 PM – Jul 17, 2019Twitter Ads info and privacy3,786 people are talking about this
In a statement posted as a series of tweets and replies to others, Twitter explained its goals around the new addition:
We're testing a feature to hide replies from conversations. This experience will be available for everyone around the world, but at this time, only people in Canada can hide replies to their Tweets…They'll be hidden from the main conversation for everyone behind a new icon. As long as it hasn't been deleted and/or is not from an account with protected Tweets, everyone can still interact with a hidden reply by clicking the icon to view. We want everyone on Twitter to have healthy conversations, and we're working on features that will help people feel more comfortable. We're testing a way for people to hide replies they feel are irrelevant or offensive.
Social media is due for a course correction, and Twitter at least isn't afraid to try significant changes to its platform. (It's even trying a new prototype of its app, called twttr.) However, some would argue that permanent bans on rulebreakers and more attention to enforcing existing policies would negate the need for features like this.
Twitter had previously confirmed its plans to test a "Hide Replies" feature, and had announced its plan to launch the feature sometime this week.
Source: https://techcrunch.com/2019/07/17/twitter-officially-launches-its-hide-replies-feature-initially-to-users-in-canada/
Twitter launches its faster, cleaner design, including new color themes
We've been hearing rumblings of a redesigned Twitter.com for months, but it's finally here. The social network today revealed its new look – designed to better line up with its mobile apps – is rolling out to users today.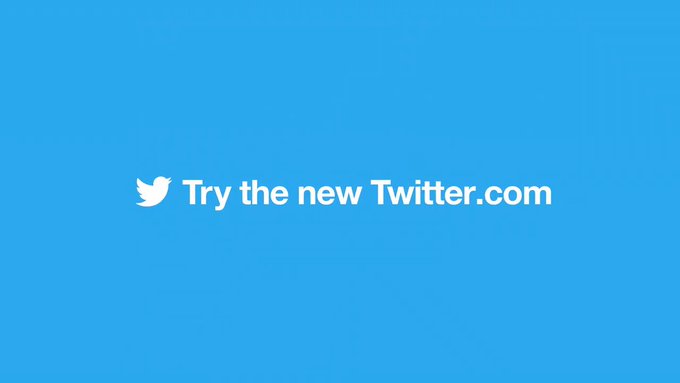 Woah, what's this? A shiny new https://Twitter.com for desktop? Yup. IT'S HERE.8,1366:00 PM – Jul 15, 20194,128 people are talking about thisTwitter Ads info and privacy
Hard Fork!
Hard Fork?HARD FORK
Cleaner aesthetics aside, there are a few key functionality changes:
The 'Explore' tab is now available on desktop, making it easier to find live video and local moments based on your location.
Bookmarks, lists, and your profile are easier to access with their own spots in the side navigation menu.
Direct Messages now have a larger view, allowing you to respond to messages and see your various conversations on the same screen.
The sidebar menu makes it easier to switch between accounts
You now have two options for dark mode, as well as various themes and color options.
These changes are built upon a major revamp of Twitter's back-end architecture – the company says it rebuilt Twitter.com from scratch.
Among its goals were creating a faster, more efficient platform, and ensuring mobile users have access to the same breadth of features as desktop users. Tablet users, for example, will be able to use the same keyboard shortcuts as desktop users. Moreover, the new site will only load features as you need them, helping save data for those on metered connections.
Twitter says it received "hundreds of thousands of responses" during its test period, guiding the final design. As usual, the internet is likely to be divided on a new look, but at least this one brings some meaningful improvements.
The design is rolling out gradually now, but if you don't have it yet, you can go ahead and try it by clicking on your avatar and selecting "Try the new Twitter." Be warned: once you switch, you can't go back.
Source: https://thenextweb.com/apps/2019/07/15/twitter-launches-its-faster-cleaner-design-including-new-color-themes/