Apple Watch survives two weeks underneath a lake
A pair of Apple Watches was recently recovered in perfectly fine working condition in Connecticut, where they'd spent two weeks at the bottom of a lake in one of the more remarkable stories we've seen so far about the resilience of Apple's signature wearable device.
"One of" being the operative phrase, since it's actually not the most impressive, but more on that later.
The Apple Watch Series 4 is able to withstand water at a depth of up to 50 meters. That helps explains why a police dive team in Brookfield, Connecticut, was able to find the pair of Apple Watches in good condition while conducting a routine training exercise. Afterward, they showed off their find on Twitter:

BrookfieldPoliceDept@Brookfield_PD
Our dive team did it again! While conducting training operations in #CandlewoodLake members of the BPD dive team located (2) @apple watches in just under 25 feet of water. They were still operational and returned to their owners ! We were told they have been there for two weeks!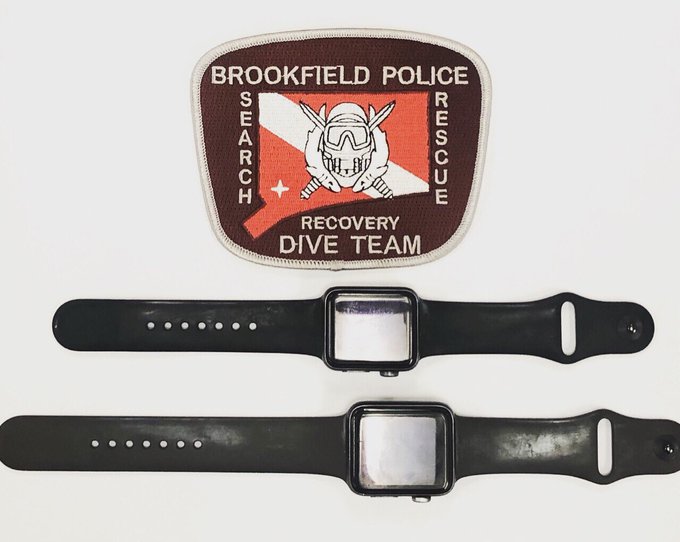 83:40 AM – Aug 7, 2019Twitter Ads info and privacySee BrookfieldPoliceDept's other Tweets
(Strange fact: This is actually not the first time Apple Watches have been recovered from that lake.)
We mentioned earlier that this is only "one of" the more remarkable examples of how resilient the watch is. That's because earlier this year we saw an even more dramatic recovery than this one, when a surfer from Huntington Beach, Calif., recovered his Apple Watch a whopping six months after it fell into the ocean.
Not only is the watch resilient, but it's also pretty much unassailably dominant — in its product category, that is. According to new data from Strategy Analytics, Apple shipped 5.7 million watches during the second quarter of this year. That's up a full 50% year-over-year, compared to 3.8 million watches during the same period in 2018. Moreover, Apple's share of the smartwatch market is now close to 50%, up from 44% during the same quarter last year.
"Apple Watch remains a long way ahead of the chasing pack," Strategy Analytics executive director Neil Mawston said in a statement about the numbers, adding that it's "fended off strong competition from hungry rivals" and "remains the clear smartwatch market leader."
Samsung and Fitbit are in second and third place, respectively, after Apple in the smartwatch category when ranked by market share, according to the Strategy Analytics data.
Source: https://bgr.com/2019/08/07/microsoft-voice-recordings-contractors-listen-to-skype-cortana-activity/
Trump accuses Apple of refusing to unlock criminals' iPhones, setting the stage for a fight
Trump just tweeted a tweet that might escalate a sticky situation into an outright showdown between Apple and the US Department of Justice — by effectively claiming that Apple is refusing to do its patriotic duty to unlock two iPhones connected to last month's shooting at a naval base in Pensacola, Florida.
Here's the tweet:

Donald J. Trump✔@realDonaldTrump
We are helping Apple all of the time on TRADE and so many other issues, and yet they refuse to unlock phones used by killers, drug dealers and other violent criminal elements. They will have to step up to the plate and help our great Country, NOW! MAKE AMERICA GREAT AGAIN.122K12:36 AM – Jan 15, 2020Twitter Ads info and privacy43.3K people are talking about this
Yesterday, Attorney General William Barr accused Apple of much the same thing, saying that the tech company had provided no "substantive assistance" to the FBI in unlocking the shooter's phones. But it's a much more nuanced matter than that.APPLE HAS ARGUED THAT UNLOCKING AN IPHONE MEANS WEAKENING ALL IPHONES
For starts, Apple claims that it has been continually assisting the FBI with the Pensacola phones, by providing data backed up from the phones to iCloud servers and account information, as we reported yesterday. Apple says it's handed over gigabytes of data to investigators, and has been responding to each request within hours. Apple also suggested that the FBI seemed to be satisfied until just eight days ago, saying that "The FBI only notified us on January 6th that they needed additional assistance — a month after the attack occurred."
But it's also not an easy matter to simply "unlock" an iPhone for the feds — even if Apple has refused to do so in this case, which isn't yet clear. We learned this in 2016 when Apple actually did publicly refuse to unlock an iPhone used by one of the San Bernadino shooters, leading to a protracted legal fight that ended embarrassingly for the federal government when it turned out the feds didn't need Apple's help after all — partly because it paid a third-party for a tool to break into that iPhone, and partly because investigators were able to find the password on their own.
I digress: what Apple claimed in 2016 was that it didn't actually have the existing ability to unlock a customers' iPhone for the feds, even if they were an alleged killer, and that Apple wasn't willing to build a backdoor into every iPhone just to make that happen — because it could potentially create a dangerous loophole that hackers could take advantage of as well.
That said, a poll at the time suggested that most Americans believed Apple should comply with the FBI's demands, even though a majority understood it might make their personal data less secure. Those are the sympathies that Trump is attempting to draw on now.
According to The New York Times, Apple is quietly preparing for a brand-new legal fight over the iPhone's encryption standards and the government's desire for a backdoor, but is also internally frustrated that the Justice Department hasn't spent more time trying to unlock the shooter's iPhone 5 and an iPhone 7 Plus — devices lacking Apple's most sophisticated encryption — with third-party tools. According to security experts who spoke to both the NYT and Bloomberg, third-party cell phone unlocking tools should be able to break into the Pensacola phones as well. Both phones were damaged in apparent attempts to destroy them, but the FBI managed to get both devices to turn on.
The American Civil Liberties Union (ACLU) has issued a statement in support of Apple and the need for strong encryption on personal devices in the US and abroad.THE GOVERNMENT'S DEMAND IS DANGEROUS AND UNCONSTITUTIONAL
"The government's demand is dangerous and unconstitutional, and would weaken the security of millions of iPhones," said the ACLU's Surveillance and Cybersecurity Counsel Jennifer Granick. "Strong encryption enables religious minorities facing genocide, like the Uyghurs in China, and journalists investigating powerful drug cartels in Mexico, to communicate safely with each other, knowledgeable sources, and the outside world. There is simply no way for Apple, or any other company, to provide the FBI access to encrypted communications without also providing it to authoritarian foreign governments and weakening our defenses against criminals and hackers."
Apple may have even more at stake now than it did in 2016: increasingly, Apple has repositioned itself as a "privacy" company, as if it's the only tech company you can trust. You may have seen the ads. And while Apple has stumbled a few times already on privacy, that's the image it wants to send.
It is true that Apple has benefited from a relationship with Trump, by the way, but not necessarily around trade — unless Trump's saying that Apple is why his proposed tariffs on phones and laptops keep getting delayed.
Apple didn't immediately respond to a request for comment on Trump's tweet.
Source:
https://www.theverge.com/2020/1/14/21066270/trump-accuses-apple-refuse-unlock-iphone-barr-pensacola-base-attack-tweet
Samsung claims 5G lead after 6.7 million shipments
Samsung has claimed to be leading the way for 5G device shipments at the close of 2019 after selling two million devices at IFA in September last year. Samsung seemingly romped through the final three months with a total of 6.7 million 5G device shipments for 2019. The figure eclipses the four million target the firm set itself, though as its main Android competitor (Huawei) is being stifled by political friction, it is hardly surprising Samsung has stormed into the lead.
According to estimates from Counterpoint Research, Samsung's sales up to the end of November give it a global market share for 5G devices of 53.9 per cent.
6.7 million devices is simply a drop in the ocean of potential and could be dwarfed by an aggressive campaign by Apple in the US or Huawei in China. As Counterpoint's Neil Shah notes, Apple could gain instant scale with a launch to turn these figures around. That said, you cannot argue with the figures; in the absence of main competitors, Samsung is maintaining its leadership position in the 5G segment as well as 4G.
"Consumers can't wait to experience 5G and we are proud to offer a diverse portfolio of devices that deliver the best 5G experience possible," said TM Roh, President of the IT & Mobile Communications Division.
"For Samsung, 2020 will be the year of Galaxy 5G and we are excited to bring 5G to even more device categories and introduce people to mobile experiences they never thought possible."
While many analysts do not share Samsung's belief that the consumer is clawing at the walls for 5G connectivity, there are likely to be more sales across the year. Firstly, geographical coverage will improve to whet the appetite, and secondly, 5G will come as standard on device; device shipments will most likely organically increase.
What will be worth keeping an eye on is the choices made by device manufacturers over the coming months as flagship models are pumped and hyped at industry conferences. Perhaps the most interesting element will be the ways and means by which the OEMs work with Qualcomm.
It has become widely accepted that the latest Qualcomm chipset features in the majority of flagship smartphone devices throughout the year. However, this year some OEMs will have a choice to make; to integrate or not to integrate?
Over the next few months Qualcomm will begin shipping both the Snapdragon 865 and Snapdragon 765 chipsets. The Snapdragon 865 is more powerful, though 5G is on a separate modem, potentially decreasing the power efficiency of devices. The Snapdragon 765 has 5G connectivity integrated, though is notably less powerful. Whichever chipset OEMs elect for, there will be a trade-off to stomach.
Looking at the rumours spreading through the press, it does appear many of the smartphone manufacturers are electing for the Snapdragon 865 and a paired 5G modem in the device. Samsung's Galaxy S11, Sony Xperia 2 and the Google Pixel 5 are only some of the launches suggested to feature the Snapdragon 865 as opposed to its 5G integrated sister chipset.
5G might not have gotten off to the blistering start some in the industry would have been hoping for, but there is still plenty to come. With Mobile World Congress kicking-off in just over two months, there is amble opportunity for new devices to be launched prior, during and just after the event, while the iLifers will have all eyes cast towards September for Apple's launch.
Source:
https://www.sunnewsonline.com/samsung-claims-5g-lead-after-6-7-million-shipments/
Sony apparently can't keep up with demand for its image sensors
If there's one common denominator among most devices this year is that they all have multiple cameras. And we're not just talking about just dual cameras: OEMs ranging from OnePlus, Nokia, Samsung, Huawei, Xiaomi and even Apple have come out with phones that have triple, quad, or even penta camera setups. More cameras don't necessarily correlate to a better camera experience, but it does unlock more features and versatility that is normally impossible for one single camera to pull off correctly. This versatility is what has prompted OEMs to pack in multiple cameras, increasing the demand for different image sensors. Because of this, Sony's semiconductor division is quite literally hot on their heels — so much that they can't seem to keep up with the ever-rising demand.
Mr. Terushi Shimizu, head of Sony's semiconductor division, says that "judging by the way things are going, even after all that investment in expanding capacity, it might still not be enough" when it comes to manufacturing capacity for their camera sensors, and that "we are having to apologize to customers because we just can't make enough", as reported by Bloomberg. The reason? The demand for their cameras as well as the number of smartphones being manufactured in mass with multiple sensor arrays. Sony is the main camera sensor provider for most smartphone manufacturers, and most devices we use nowadays have at least one Sony-made sensor. So even though the demand for smartphones has plateaued on a global scale, the demand for image sensors has steadily increased. Sony is even working around the clock to manufacture its in-demand image sensors, running its chip factories constantly through the holidays to keep up with the demand. But even 24-hour operations are said to be insufficient. The demand has grown so much that semiconductors are now Sony's second most profitable business, only surpassed by PlayStation.
Sony is the manufacturer behind the 48MP IMX586 sensor which was, very easily, the most popular flagship camera sensor this year, featuring on several devices including several Xiaomi phones (Redmi Note 7/7 Pro, Redmi Note 8, Xiaomi Mi 9 line, Redmi K20 Pro/Mi 9T Pro, Xiaomi Mi A3), the OnePlus 7/7T lineup, as well as on devices from Huawei, Oppo, Realme, Asus, Vivo, Motorola, et al. Its successor, the IMX686, will compete with Samsung's 108MP behemoth head-on featuring a 64MP resolution and will be featured on 2020 phones such as the Redmi K30. Sony claims to have a 51% market share as of May 2019, and its share is expected to have increased by a few percentage points in the intervening months.
Source:
https://www.xda-developers.com/sony-demand-smartphone-camera-image-sensors/