Apple Watch survives two weeks underneath a lake
A pair of Apple Watches was recently recovered in perfectly fine working condition in Connecticut, where they'd spent two weeks at the bottom of a lake in one of the more remarkable stories we've seen so far about the resilience of Apple's signature wearable device.
"One of" being the operative phrase, since it's actually not the most impressive, but more on that later.
The Apple Watch Series 4 is able to withstand water at a depth of up to 50 meters. That helps explains why a police dive team in Brookfield, Connecticut, was able to find the pair of Apple Watches in good condition while conducting a routine training exercise. Afterward, they showed off their find on Twitter:

BrookfieldPoliceDept@Brookfield_PD
Our dive team did it again! While conducting training operations in #CandlewoodLake members of the BPD dive team located (2) @apple watches in just under 25 feet of water. They were still operational and returned to their owners ! We were told they have been there for two weeks!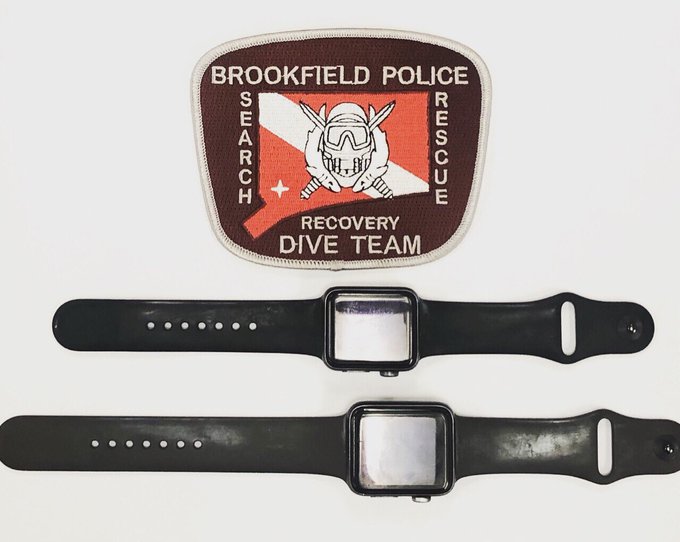 83:40 AM – Aug 7, 2019Twitter Ads info and privacySee BrookfieldPoliceDept's other Tweets
(Strange fact: This is actually not the first time Apple Watches have been recovered from that lake.)
We mentioned earlier that this is only "one of" the more remarkable examples of how resilient the watch is. That's because earlier this year we saw an even more dramatic recovery than this one, when a surfer from Huntington Beach, Calif., recovered his Apple Watch a whopping six months after it fell into the ocean.
Not only is the watch resilient, but it's also pretty much unassailably dominant — in its product category, that is. According to new data from Strategy Analytics, Apple shipped 5.7 million watches during the second quarter of this year. That's up a full 50% year-over-year, compared to 3.8 million watches during the same period in 2018. Moreover, Apple's share of the smartwatch market is now close to 50%, up from 44% during the same quarter last year.
"Apple Watch remains a long way ahead of the chasing pack," Strategy Analytics executive director Neil Mawston said in a statement about the numbers, adding that it's "fended off strong competition from hungry rivals" and "remains the clear smartwatch market leader."
Samsung and Fitbit are in second and third place, respectively, after Apple in the smartwatch category when ranked by market share, according to the Strategy Analytics data.
Source: https://bgr.com/2019/08/07/microsoft-voice-recordings-contractors-listen-to-skype-cortana-activity/
HUAWEI WON'T LAUNCH SMARTPHONE WITH HARMONY OS UNLESS…
Although Huawei has officially launched the Harmony OS (Hongmeng). In fact, it's been developed to Android OS on its smartphones. However, Huawei still emphasizes that the company is committed to staying in the eco-platform of Google. Recently, the Chinese communications and smartphone manufacturing giant said that there is no plan to launch a smartphone based on its self-developed system.
The above statement was made by Vincent Yang, senior vice president of Huawei, in a media event in New York on Wednesday. He pointed out that 'we hope to maintain a set of standards and a set of ecology… Harmony OS is the company's Plan B."
This means that if the US continues to implement the ban and even refuses Huawei to acquire key components of the Android system including GMS and Play Store, then Harmony will play a preventive role.
According to Huawei, the amount of code in Harmony OS is much lower than that of Android. In addition to TV, Huawei is preparing to use it in smartwatches, in-car products and so on.
In addition, Yang hinted that Huawei's next new flagship machine (which is widely believed to be the Mate 30 series) still runs the Android system. As for the switch to their OS, it will only happen at the last moment when the company is forced to disable Android.
WHEN WILL HUAWEI LAUNCH A SMARTPHONE RUNNING ON HARMONY OS?
According to Yang, Huawei currently has no plans to launch the smartphone running their own OS. But if the US maintains the ban, the situation may change.
P.S. Earlier, we have heard the first smartphone to come with this system will be the Mate 30 Lite. But now, after the statement of Huawei executive, there is no reason to think so. Although, in the case of Huawei, everything is possible.
Source: https://www.gizchina.com/2019/08/22/huawei-wont-launch-smartphone-with-harmony-os-unless/
Facebook loses Oculus executive who led its mobile VR efforts
Another Oculus executive who played a key role in Facebook's VR efforts is leaving the company. Just a few days ago, Oculus co-founder Nate Mitchell headed for the exit — now, Variety has revealed that Max Cohen, Oculus' head of mobile, is also peacing out. While Facebook refused to give the publication an official statement, Cohen's LinkedIn page confirms his departure. His current position says he's an "explorer" who's "learning new skills."
Cohen joined Oculus as VP of mobile just a few weeks before Facebook's acquisition and headed up several projects over the years. He led the Gear VR program and Oculus' Samsung partnership, and he also led the development of the standalone Oculus Go VR headset. In addition, he started the Oculus Quest program, which spawned a standalone headsetthat's able to play desktop-quality VR games.
What Cohen's departure means for Oculus remains to be seen. As Varietynoted, Facebook is holding the Oculus Connect developer conference on September 25th and 26th. The social network is expected to reveal its virtual and augmented reality plans, so we'll most likely hear about some of the projects Oculus is working on during the event.
Source: https://www.engadget.com/2019/08/21/facebook-loses-oculus-head-of-mobile-vr/
Samsung Beats Apple As AirPods Face Embarrassing Defeat
If you are looking for the best wireless earbuds for your phone's music, then Samsung is going to be very quick to point out that its Galaxy Buds have picked up the first 'excellent' rating for sound quality by a wireless device. Meanwhile Apple is going to be licking its wounds as the AirPods sit in a lowly 49th place in the same chart.
The rankings come from Consumer Reports' study of the market, and it picks out a number of key features. Kim Eun-jin reports for Business Korea:
The Galaxy Buds were ranked first with 86 points, while AirPods, which are used by about 60 percent of wireless earphone users, came in 49th with 56 points.

Consumer Reports ranked the wireless earphones based on an evaluation of their sound quality and designs.

In terms of sound quality, only the Galaxy Buds received the "Excellent" grade. Consumer Reports said that the Galaxy Buds were one of the first portable Bluetooth earphones to achieve the highest sound quality grade.
The first is the aforementioned sound quality. Given the AirPods hang in the ear in the exact same way as a brick designed to look like Douglas Adams does not, and the Galaxy Buds fill the outer ear with optional 'wings' this should not come as a huge surprise to anyone who has experienced both.
Power was also highlighted. Not only do the Galaxy Buds offer more battery capacity with the six hours of advertised audio time reachable, the carry case (which tops up to allow for another seven hours) comes with wireless charging as standard.
Finally there's the price. Once you pick and mix from Apple's options to build a similar package of AirPods to the Buds, you realise that Samsung's package significantly cheaper.
The report also acknowledges that Apple is the market leader here with sixty percent of the wireless earbuds market. As with most Apple products, you don't have full feature parity, and what you do you have is more expensive than the competition.
Source: https://www.forbes.com/sites/ewanspence/2019/08/19/samsung-galaxy-buds-vs-apple-airpods-wireless-headphones-best-winner-loser/#41384d6163e3