Xiaomi's 100MP camera phone is very crazy
This week we're hearing from Xiaomi – from the company itself – that they're developing a 100MP camera. That means 108,000,000 pixels in total – 12032 x 9024 pixel resolution. If you think this is "absolutely crazy", per one of their fans Manu Kumar Jain, you might also think you're in a time-loop when you look at the camera phone released half a decade ago by Nokia.
What's in a megapixel? Do you really need to be capturing photos with THAT many pixels? For most people the answer is no, absolutely no, that's just silly. Most people capture photos and never look at them again, or if they DO look at them again, they upload said photos to services that make little use of the majority of the pixels captured in the first place.
#MiFan Manu Kumar Jain✔@manukumarjain
WHOA! #100MP camera

Yes, we've been working on 100MP camera flagship phone!

Beginning of 2019, we launched #48MP, & today all flagships use it. We'll soon disrupt the market again with #64MP camera.

And then #100MP

RT if you think this is absolutely crazy! #Xiaomi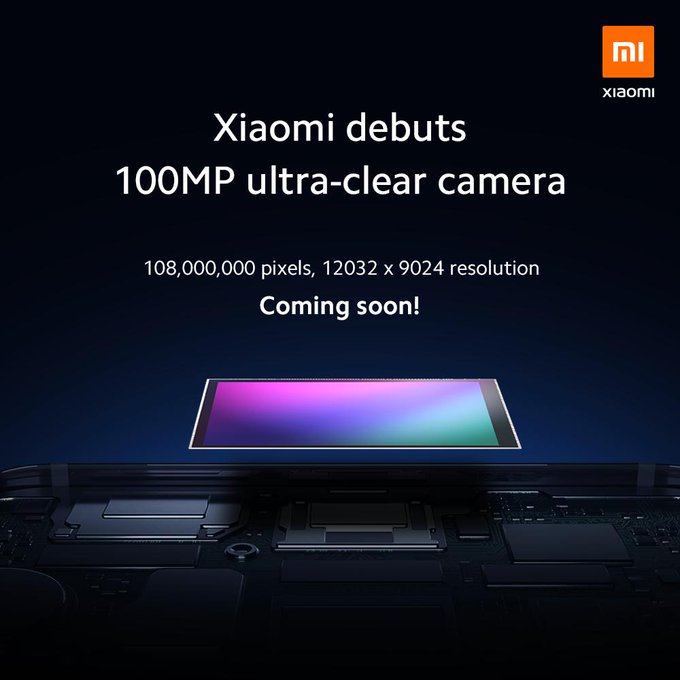 Just in case you vaguely remember Nokia having a smartphone in the early 2010s with a mega-massive camera full of megapixels, but cannot recall its name, here it is: Nokia 808 PureView. That thing had a 41-megapixel camera sensor in the year 2012. How strange is that?
If you upload a photo to Instagram right now, it'll be re-sized to 1000 x 1000 pixels. Those pictures you upload are stored at 1000 x 1000 with Instagram, then they're displayed (often times) at sizes much, much smaller than that for mobile viewing. Most views of these images occur as the viewer is flying by, scrolling at extreme speed.
So why when the end product is often just a fraction of the pixels, would Xiaomi want to develop a smartphone camera sensor that can capture 100MP photos? The simple answer is hype – news – getting a handle on one of the last legacy features that can still sensibly be improved.
Now that the public seems to have realized that we've reached the no-sharper point in mobile displays, the camera is the next obvious place to move. Xiaomi wishes to push the idea that more megapixels are, by their nature, better. This 100MP camera appeals to our basest desires: to have the best and most advanced abilities in the world.
Xiaomi suggests they've already moved to 64MP camera sensors that'll come in 2020, then they'll bring some 100MP sensors in 2021. Whether that'll make any difference in the quality of the images the cameras capture – we'll just have to wait and see.
Source: https://www.slashgear.com/xiaomis-100mp-camera-phone-is-more-than-madness-07586623/
WhatsApp, Instagram, Twitter, YouTube: How to enable dark mode on Android, iOS?
After a long wait, WhatsApp has finally enabled dark mode on its beta app for Android. While the feature is still under beta, it suggests that the stable rollout is not far anymore. Dark mode became a sensation in the industry recently and now almost every popular app and custom UI skin includes a toggle for a dark theme. Dark mode basically turns the light colours into darker or black shades. This not only makes it easier on the eyes during the night time but also helps in saving battery on phones with OLED panels.
How to enable dark mode on WhatsApp?
WhatsApp has just added support for a dark theme on the beta version of WhatsApp for Android. The feature will soon be made available to the stable version of the app. Once available, follow these steps to enable dark mode: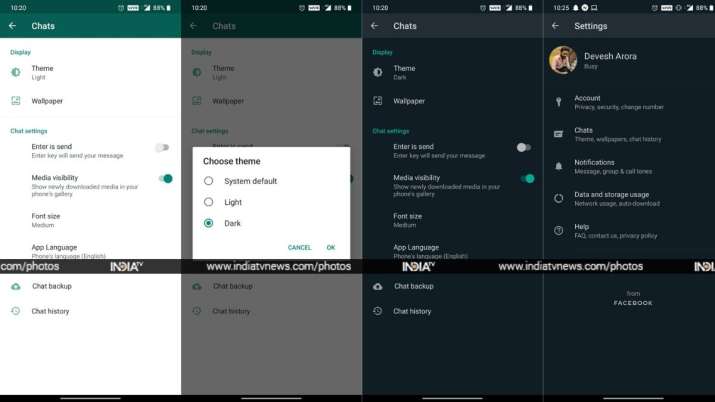 WhatsApp Dark Mode
Open WhatsApp
Head over to Settings > Chats > Theme
Tap on Dark and then press ok
Once done, you should see a dark theme across the app. Alternatively, you can also select System Default, which will switch the theme of the app depending on your phone's theme.
How to enable dark mode on Instagram?
Unlike other apps, Instagram does not have a toggle for switching between dark and light modes. However, it does have a dark mode feature that depends on the phone's theme. If you have a smartphone running on Android 10, you can enable dark mode in the smartphone's settings page. On iOS, head over to Settings > Display & Brightness and select Dark mode. Once the dark mode is enabled in the system settings, the Instagram theme will automatically switch to the dark theme.
How to enable dark mode on YouTube?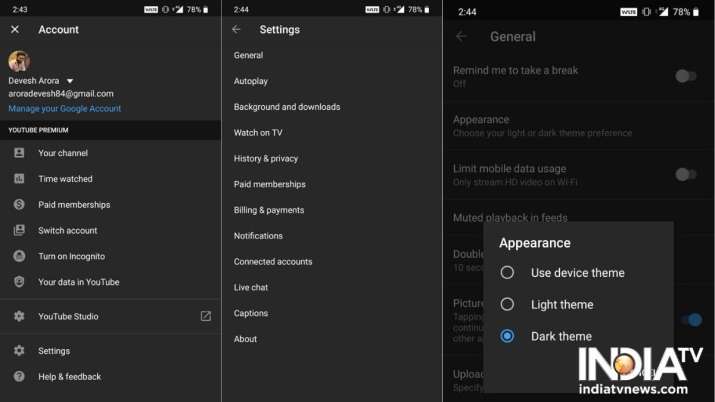 YouTube Dark Mode
YouTube is another popular app that has also received the dark mode feature on all three platforms – Android, iOS and Web. On both mobile platforms, head over to the YouTube Settings > General and enable the dark theme option. As for the website, tap on your profile icon and then look for the dark theme option. Enable it in order to switch to the dark mode.
How to enable dark mode on Facebook Messenger?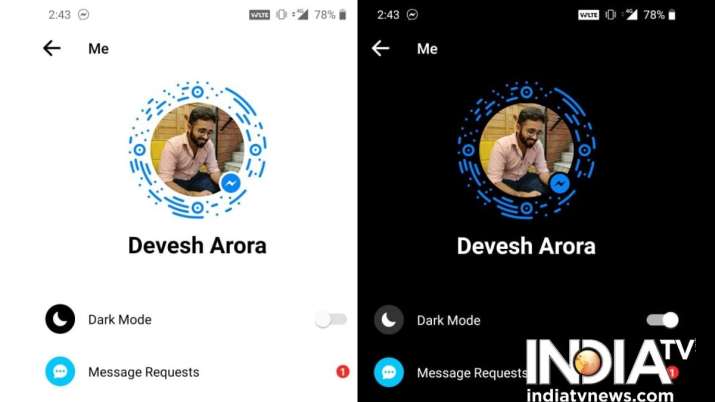 Facebook Messenger
While the Facebook app itself has not received the dark mode update, the Messenger app for Facebook has received the feature. In order to enable the feature on your Android or iOS smartphone just tap on your profile icon and then toggle the dark mode switch.
How to enable dark mode on Twitter?
Twitter also has the dark mode feature on all the platforms including Android, iOS and Web. On Android and iOS, head over to the Twitter Settings by tapping on your profile and go to Display and Sound. Here, you can enable and customise the dark mode according to your taste. Alternatively, you can also tap on your profile icon and then tap the light icon on the bottom left corner to switch themes. On the website, tap on "More" and head over to Settings and Privacy > Display and select the type of background you want.
Source:
https://www.indiatvnews.com/technology/news-how-to-enable-dark-mode-whatsapp-instagram-twitter-youtube-android-ios-582577
#5 Best Gadgets from CES 2020 That Will Blow Your Mind
The thing about technology is that it never fails to disappoint it, and which CES, the world's biggest tech show already happening in Las Vegas, we can't help but appreciate how cool things technology can invent.
Renowned companies like Samsung, Lenovo, LG, Sony like every year has showcased the best of their products. While popular companies always have something to present, we also have companies who have showcased some really quirky products this year making us say, "Isn't that just so cool?"
From the coolest laptops, phones, drones to foldable laptops, vertical TVs, there is something for everyone. In order to give you a quick update, we have curated a list of some exciting products that will hit the store in 2020.
Samsung Galaxy Chromebook
If experience is something that pleases you Samsung's Galaxy Chromebook might be the best Chrome OS machine to date. A rival to premium Google Pixelbook, this 2-in-1 device sets a higher standard in the mobile computing industry. The device has a 13.3 inch 4k AMOLED display and is powered by the latest 10th Gen Intel® Core™ i5 processor along with Intel® Wi-Fi 6.
Expected Release and Price: 1st Quater of 2020 and will be approximately for INR 72,000.
Harman Kardon Citation Oasis
While the device resembles a lot to Amazon Echo Dot, the thing about Samsung's Harman Kardon subsidiary is that they know how to set them apart. They have a built-in wireless charging which Echo Dot lack. Citation Oasis, a smart speaker has an LED clock, wireless charging and onboard Google AssistanSo with 8 hours of running time. To be honest, it does slow our two purposes. Some also believe that this would be the best smart clock out there.
Expected Release and Price: INR 14,230
Suunto 7
Sunnota who are known for their sporty smartwatches presented a wearable that has smart features from Wear OS by Google. The device has a feature of an outdoor map of around 50+ km range letting you follow the location and a wrist-based control for music. The smartwatch also lets you track your heartbeat, has a built-in GPS, something that adventurous people would love.
Expected Release and Price: 31 January 2020 and will be approximately for INR 34,260
LG Signature RX
When it comes to TV no one can beat LG. Every year the company overtakes its own invention. This year the developers have presented its first rollable TV. is set to hit the market for consumers later this year. The LG Signature RX's marquee rolls up when your power it down. The AI processor directs your 4K picture behind the scenes and comes with the ability to develop with time. It does redefine your watching experience. However, if you are planning to buy it, the hefty price might make you think.
Expected Release and Price: Third quarter of 2020 and will be approximately for INR 42,89,220 ($60,000).
Welt Smart Belt Pro
A belt is a necessity! However, when it gets combined with technology it just adds more value to a must-have accessory. Welt Smart Belt Pro won the CES 2020 Innovation Awards for its new product and it is kind of a quirky invention. An update of the previous version and first of its kind, it comes with a prevent fall feature. The belt comes with its own app that lets you monitor things like waist size, eating pattern, sitting time measurement, step count and more.
Samsung's knife-wielding robotic chef is all flash
Last year, we asked whether Samsung was getting serious about robotics. A year later, we're not any closer to answering the question. This year's presser played out roughly the same as last on the robotics front — all flash and little productizing to show for it.
Samsung's approach to robotics thus far appears to be the model of many other big electronics companies. It's flirtation with a technology that brings some sense of showmanship to the stage and booth. There's no better example than Bot Chef. I got a preview of the tech in Samsung's booth this week, pitched as "an extra set of hands in the kitchen."
You can't fault the technology for not being ready for prime time, at this point, of course. That's not really the point yet. The question, however, is how serious Samsung is about bringing a pair of robot arms to kitchens across the globe to sauté tofu and liberally apply Sriracha. I would love to say "very," and that the different demos were things the company was actively pursuing delivering on these products.
The futuristic theme of last night's keynote, however, implied that the company is offering up hypotheticals for what a future could look like — not what it will. Even Ballie, which seems a more realistic addition to the company's smart home strategy is also still very much conceptual. As with last year's robot demos, I wasn't able to get an answer from the company about how much of the robot's functions were autonomous and how much were choreographed. It's a cool demo regardless. But is it a serious one?
At the end of the day, I hope Samsung is getting serious about the category. The company has tremendous resources and a lot of smart people. If it really takes the leap, it could be a key player in making robotics more mainstream among consumers. For now, however, I'm unconvinced.
Source:
https://techcrunch.com/2020/01/07/samsungs-knife-wielding-robotic-chef-is-all-flash/