Huawei has built the Disneyland of tech R&D
A couple hours outside Huawei's old headquarters in Shenzhen, China, the company has built a new campus in the city of Dongguan to eventually house 25,000 R&D employees. But this is no sprawling network of glass towers – it's composed of 12 mini-districts built to look like a different European city, all linked by a full-size train.
In other words, it's a lot like a Disneyland for tech research.
Walt Disney's famous park is around 85 acres (0.34 square kilometers), but this research center is four times the size at 296 acres (1.2 square kilometers) – which grows to 1,976 acres (8 square kilometers) if you include the factories across an adjacent lake. Each mini-district – allegedly called 'towns' by some Huawei employees – has grandiose buildings, cobbled or bricked streets and landscaped greenery.
Huawei invited tech media out for a casual tour of the grounds, and TechRadar got a close-up look. We started at a coffee shop and got on a two-car train in a bold orange with brass accents, looking straight out of Industrial-era Europe.
We breezed past areas patterned after Paris, Burgundy, Heidelberg, Cesky Krumlov, and Bologna, packed with 'towns' in the style of, and laid out like, each city – some so large, they might as well be castles. It was completely impressive, yet out of place amid the lush Chinese flora and the shabby residential high-rises in the distance. Image 1 of 5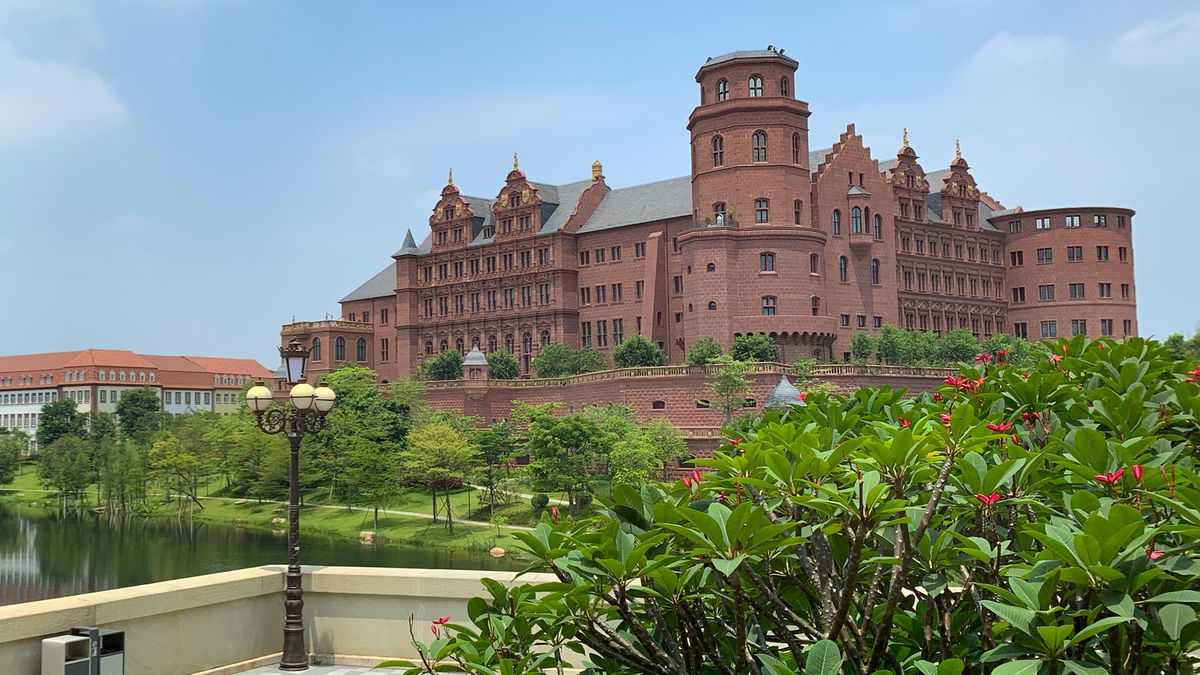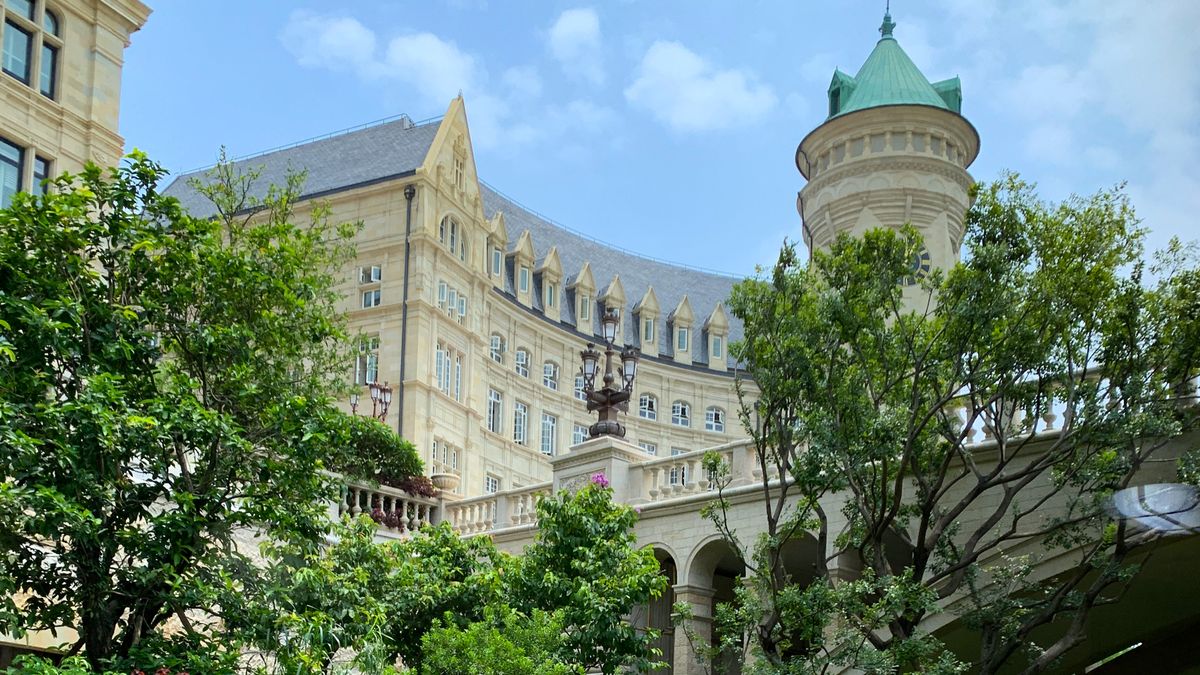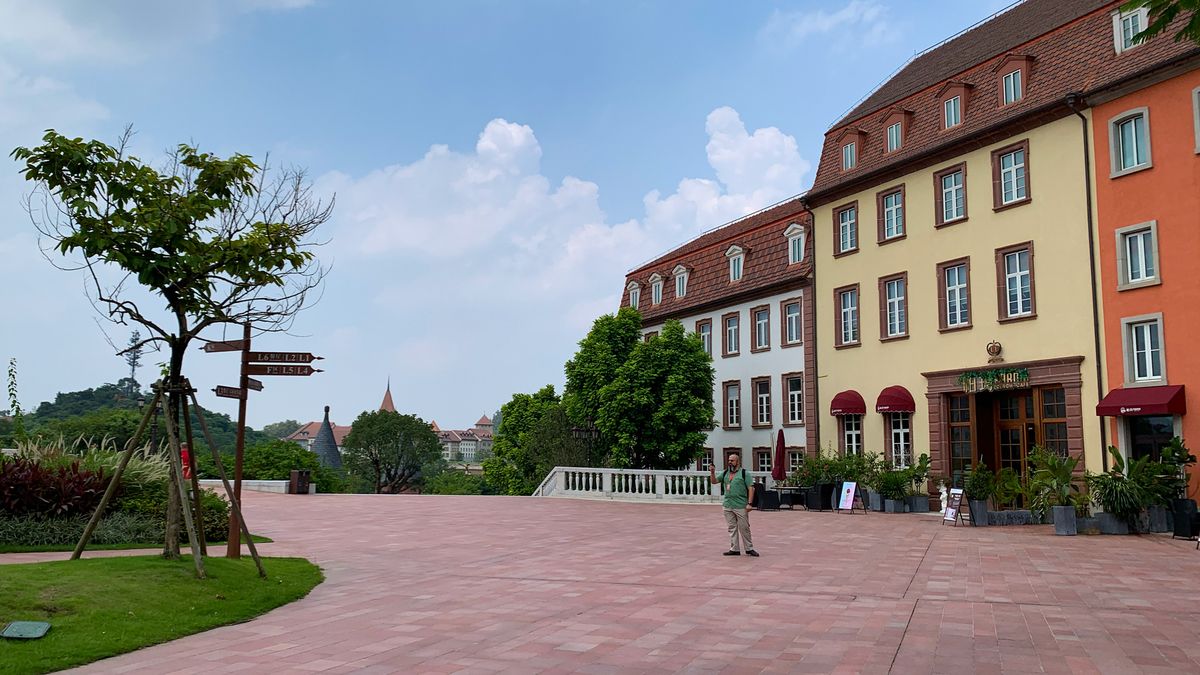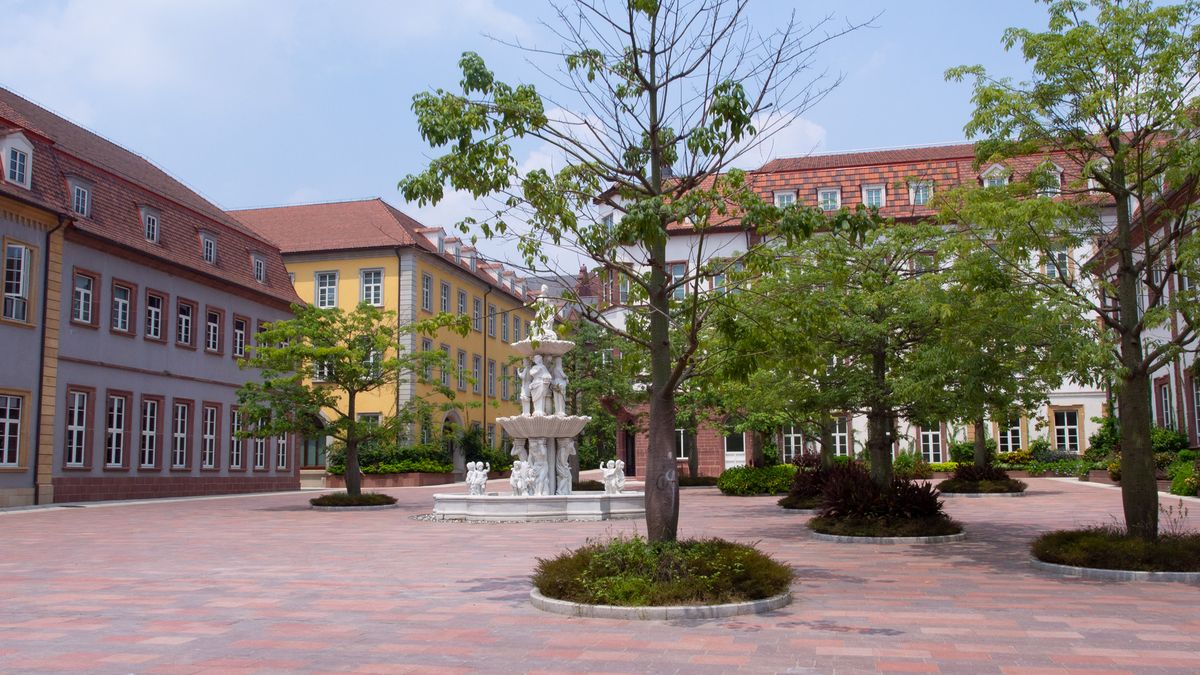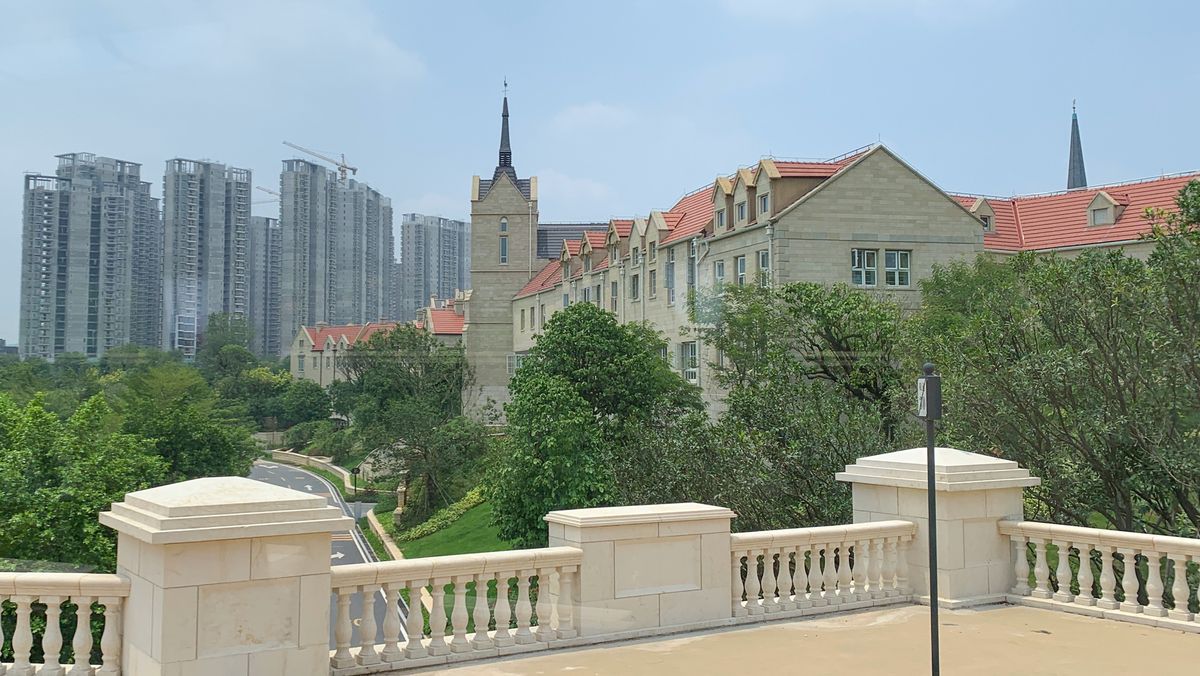 The effect was surreal – a dizzying dissonance between carefully-constructed medieval and Renaissance European buildings that would still function as everyday workplaces. Each member of our media group stared agog as we took the long orange train beyond the completed 'towns' (seven of twelve are work-ready, five years after construction started ) to get a sense of the installation's scale.
We were left with the obvious question: Why?
Huawei's workplace 'Disneyland,' a new center of research
Or to reframe the inquiry: why not just make a modern glass-and-grass campus like the other tech titans? Our guide explained the philosophy behind the Dongguan facility: Huawei founder and CEO Ren Zhengfei wanted employees to work in a place they found peaceful, which is a far cry from the busy metropolitan sprawl in Shenzhen or Dongguan. Image 1 of 5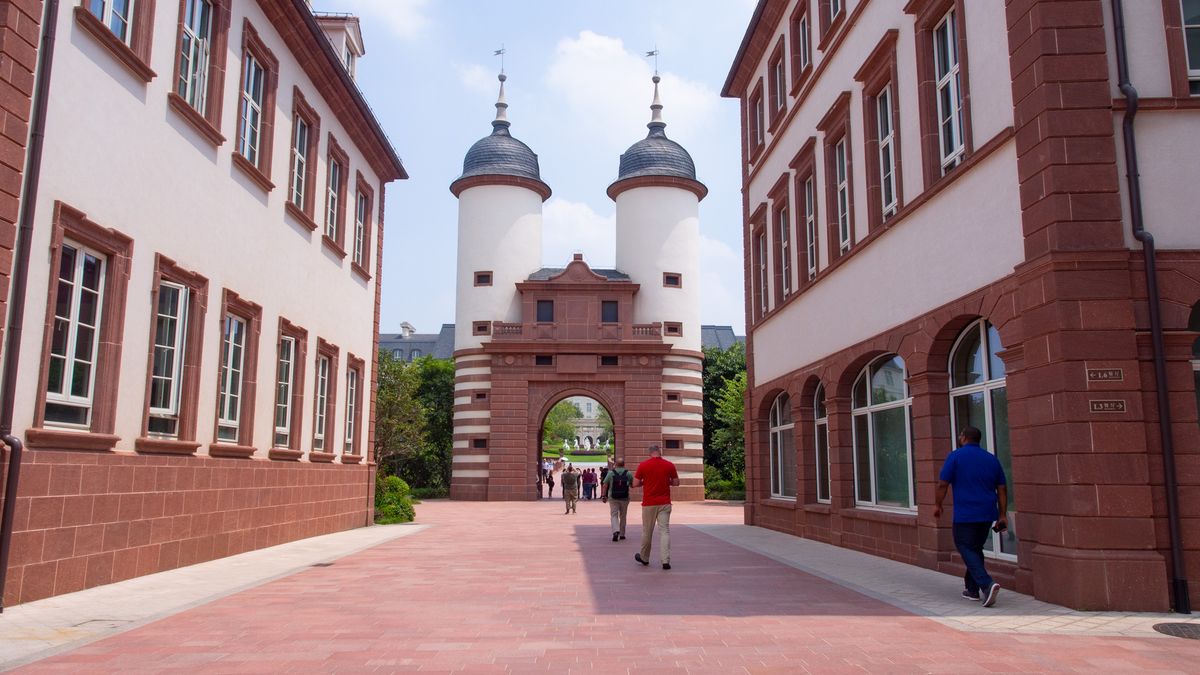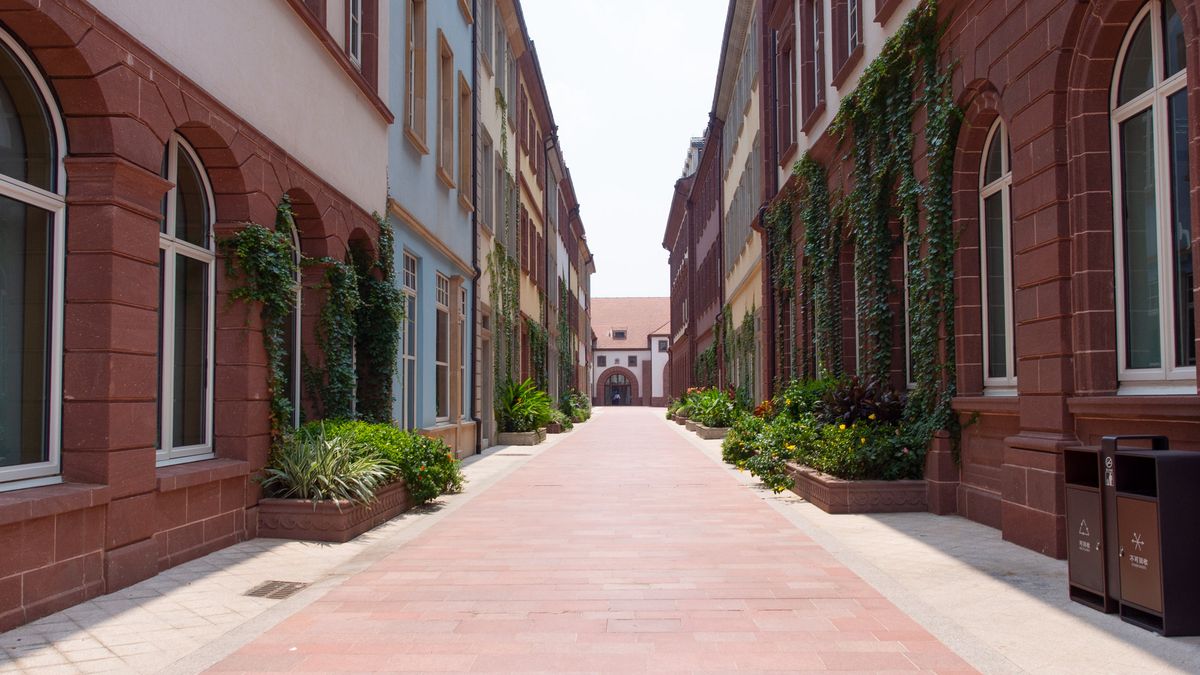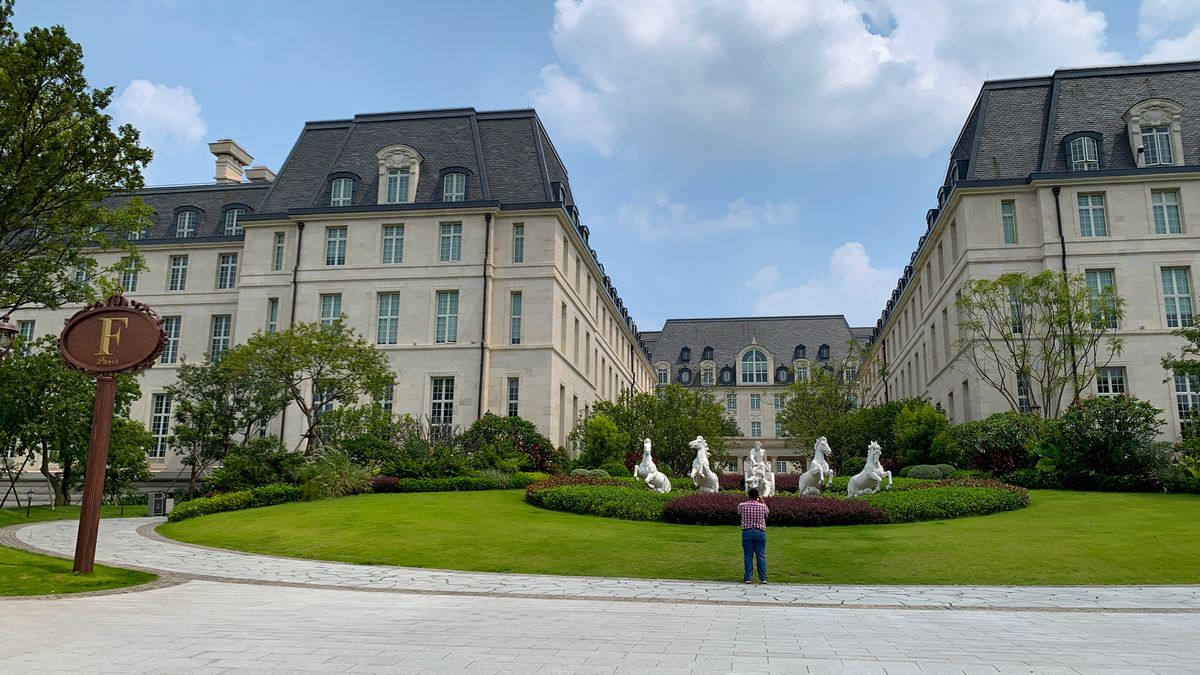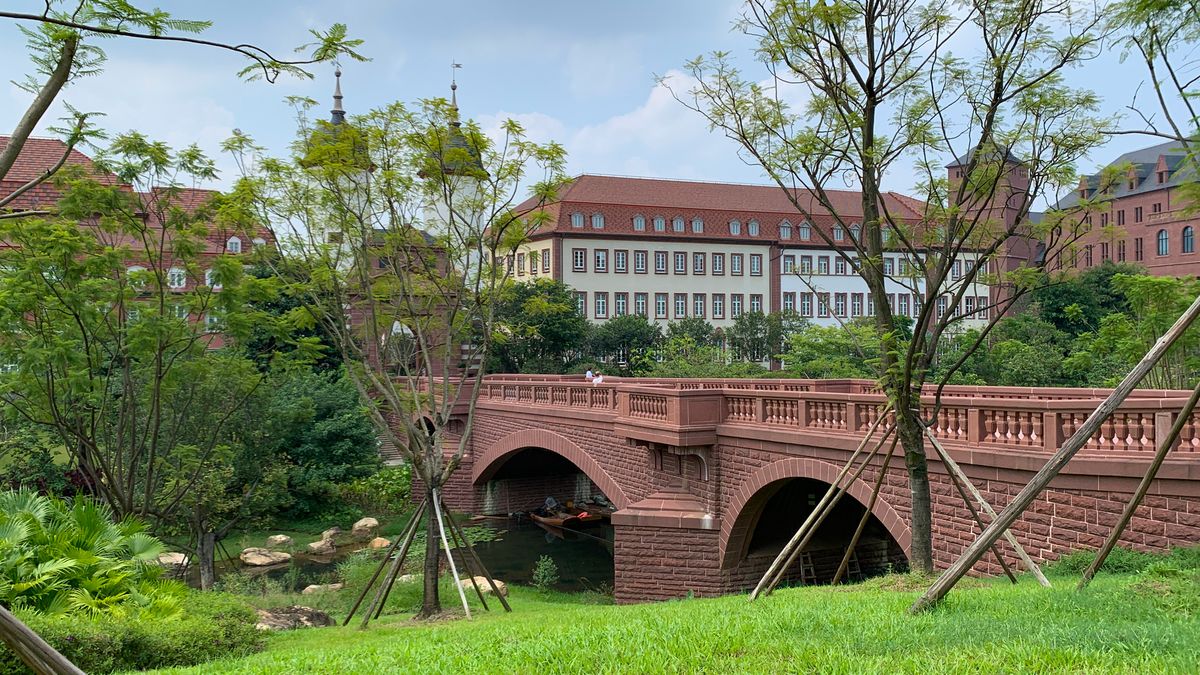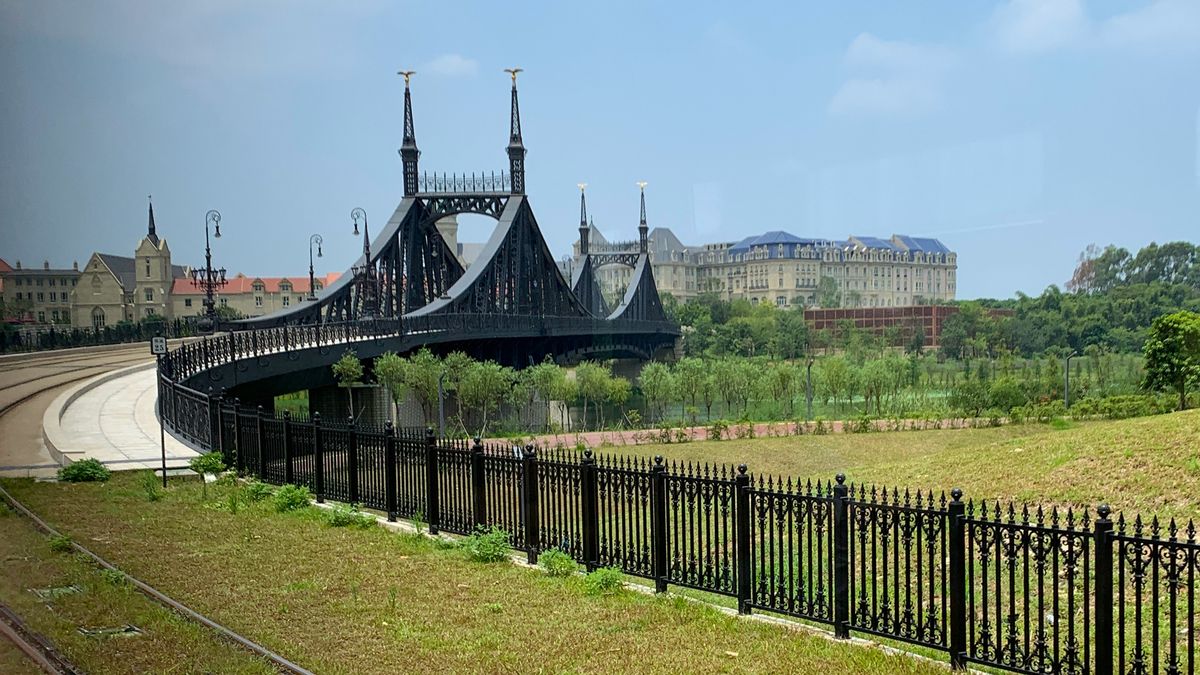 If true, that sentiment – and the sheer resources spent to bring this city-replicating vision into reality – evokes the whimsy and dedication Walt Disney swirled together to make Disneyland. "Here age relives fond memories of the past, and here youth may savor the challenge and promise of the future," Disney famously said at the park's opening in 1955 in a brief dedication.
Sixty-odd years later, those words could strangely apply to Huawei's Dongguan R&D campus.
On our visit, tech media were introduced to the company's myriad applications of its tech, from augmenting existing industries with 5G to making cities 'smart' with enough sensors to monitor power consumption, air quality, and even the capacities of individual trash cans. And, yes, streamlining the networks behind security camera systems (to help missing children and crowd control, a Huawei tour guide said) as well as networks (and sometimes chips) behind facial recognition software.
Of course, the company's tech innovations aren't just made in Dongguan: that still-unfinished facility is one of 16 global R&D centers. Nine of them are in China, but whereas the others have around 10,000 employees each, the Dongguan installation will house around 25,000 once it's finished – combined, the R&D contingent is over half of Huawei's 188,000 employees.
But those other R&D facilities weren't built as a paean to culturally significant European cities. It's unclear if the Dongguan campus was built so extravagantly to lure employees or to satisfy the eccentric whims of upper staff (if not Zhengfei himself) – or both, or neither. What is clear: if this was built in the US, it would be soundly criticized as a needlessly ornate and expensive feat of engineering – just like Disneyland had been before it showed up its critics.
Source: https://www.techradar.com/news/huawei-has-built-the-disneyland-of-tech-randd
YouTube's new policy creates uncertainty among content creators
Online streaming service, YouTube seems to have instilled fear in content creators with its newly updated Terms of Service scheduled to take effect from December 10, 2019.
Although the new terms do not change the way YouTube treats or uses content uploaded by users, it has clarified some policies that were making users get worried that their accounts could be deleted.
According to the section titled 'Account Suspension & Termination' with the subheading 'Terminations by YouTube for Service Changes', "YouTube may terminate your access, or your Google account's access to all or part of the Service if YouTube reasonably believes that its provision of the Service to you is no longer commercially viable."
What this means: This means accounts of YouTubers, who aren't making enough money nor generating enough views, may be deleted. This is one of the updates that are not in YouTube's current policy.
The new policy gives YouTube the power to delete a creator's account if they upload or livestream video that doesn't pull in enough advertising revenue. It is pertinent to note that apart from content creators, YouTube could also remove accounts of viewers as the terms do not explicitly state content creators alone.
Reactions: Since the pop-up window of notification for the new policy started showing when users log on to the app, YouTube has been criticized as YouTubers have been lamenting on Twitter.
Nevertheless, some think the policy applies to users who make videos without following the rules and regulations of YouTube and so hurt the brand, instead of users who do not make enough money for the company.
THE END IS HERE, THE END OF YOUTUBE IS HERE!

Starting around December 10th, YouTube's new terms of service basically says if your channel doesnt make enough money, it has a chance of being terminated. this is legit unacceptable, i dont use that word often. spread the word please
5313:58 – 10 Nov 2019Twitter Ads information and privacy40 people are talking about this
YouTube is deleting channels that don't make enough money (or any money at all) as of December 10. This takes away our freedom of expression, and I will not stand for it! https://weirdmixofweirdness.tumblr.com/post/188951126067/as-of-december-10th-youtube-will-add-a-new-policy …As of December 10th, YouTube will add a new policy to their terms of service.According to these new terms, if you do not make enough revenue (or none at all) for YouTube, your account will be deleted. This means that… If you run a small channel, your account will be…weirdmixofweirdness.tumblr.com317:24 – 10 Nov 2019Twitter Ads information and privacySee Tori Wesley's other Tweets
Bunty(Thanksgiving Month)ジョシュア@GalacticalCrew
GUYS STOP COMPLAINING ABOUT THE NEW YOUTUBE TERMS OF SERVICE!

I wanna let yall know that in reality, they have the right to take your account down if they no longer make money, so we're ok.1016:50 – 10 Nov 2019Twitter Ads information and privacySee Bunty(Thanksgiving Month)ジョシュア's other Tweets
@YTCreators @YouTube @SusanWojcicki

Your new terms of service have actually revealed your true colors. There's thousands of content creators who do this for fun, and you might actually terminate them cause they don't give you enough money?!?!

Disgraceful
Selfish
Pitiful314:37 – 10 Nov 2019Twitter Ads information and privacySee ADG 's other Tweets

@TeamYouTube Dear YouTube,

I'm pretty offended after reading your new Terms of Service.

Basically what this means is that you are terminating small accounts for no reason!

This is not acceptable and I don't like the direction you are going at all.

-Angry YouTuber114:31 – 10 Nov 2019Twitter Ads information and privacySee Sophie BM's other Tweets
Christian Maracle@MaracleMan · 9 Nov 2019
YouTube has new Terms Of Service on December 10th. This basically says that if channels don't make enough money, THEY WILL POSSIBLY TERMINATE THEM!!!

Looks like I fought to the very end but now I may be close to losing my livelihood, losing my passion, my audience and my…

If provision of the service is no longer commercially profitable for YOUTUBE, it's not that if you don't make money, is if YouTube Loses money by allowing your channel to exist. It means don't make hate videos that hurts YouTube as a brand.6320:22 – 9 Nov 2019Twitter Ads information and privacy16 people are talking about this
The company was said to have sent a mail to inform content creators first before throwing it out to the general public. This move by YouTube could either make or mar the company as it now seems it is focusing more on its biggest, most profitable creators while giving smaller creators fewer chances of monetizing their work.
Source: https://nairametrics.com/2019/11/11/youtubes-new-policy-creates-uncertainty-among-content-creators/
Lasers can silently issue 'voice commands' to your smart speakers
Laser pointers can apparently trick smart speakers, phones and tablets into following voice commands to open doors or make purchases, even from hundreds of feet away. Researchers from Tokyo and the University of Michigan have revealed that they were able to take over Google Assistant, Apple Siri and Amazon Alexa devices by shining laser pointers or flashlights at their microphones. One of the researchers, Daniel Genkin, was also part of the team that discovered the Meltdown and Spectre CPU vulnerabilities.
The team has published a paper detailing the light flaw after seven months of experimentation. They were able to hijack smart speakers 230 to 350 feet away by focusing lasers using a telephoto lens. In fact, the Google Home they tricked into opening a garage door was inside a room in another building. The laser modulation they beamed at its microphone port through the window is equivalent to the voice command "OK Google, open the garage door."
They explained that there's a small plate called a diaphragm inside devices' microphones that moves when hit by sound. Lasers can replicate that movement and convert it into electric signals that the device can understand. They said opening the garage door by taking over Google Home was easy to do, and they could've easily made online purchases, opened doors protected by smart locks and even remotely unlocked cars connected to voice AI-powered devices by using the same method.
The researchers have already notified Tesla, Ford, Amazon, Apple and Google about the issue — a move that's highly important to get the problem fixed, since simply covering microphones with tape wouldn't solve it. Most microphones, they said, would have to be redesigned. The team was able to hijack Google Home/Nest, Echo Plus/Show/Dot, Facebook Portal Mini, Fire Cube TV, EchoBee 4, iPhone XR, iPad 6th Gen, Samsung Galaxy S9 and Google Pixel 2 devices using the technique. It was much easier hijacking smart speakers from afar, though. The method only worked on the mobile devices from a maximum distance of 16 to 65 feet.
This is far from the first digital assistant vulnerability security researchers have discovered. Researchers from China's Zheijiang University found that Siri, Alexa and other voice assistants can be manipulated with commands sent in ultrasonic frequencies. Meanwhile, a group from the University of California, Berkeley found that they can take over smart speakers by embedding commands, which aren't audible to the human ear, directly into recordings of music or spoken text.
Source: https://www.engadget.com/2019/11/05/lasers-voice-commands-smart-speaker/
Gender-neutral emojis hit screens in new Apple update
Apple has put out new gender neutral emojis of most of its people icons — including punks, clowns and zombies — as part of an update to its mobile operating system.
The tech giant has offered growing numbers of inclusive emoji designs in recent years, putting out a range of skin tones and occupations, with Google's Android publishing its own non-binary faces in May.
A wheelchair, guide dog and a flexing prosthetic arm are among Apple's latest batch — put out on Monday with the iOS 13.2 upgrade — that users can slip into messages to get their points across.
The new gender-neutral emojis differ slightly from the male and female ones.
In some, the style and colour of their clothes are changed. In others the haircuts are different and a "gender-neutral facial structure" is used, says the Emojipedia website.
The attempt at on-screen inclusivity has not pleased everyone however, with some suggesting the icons indicate how gender-nonconforming people should look.
"How do u determine that these emojis are how gender-neutrality should be represented or that these emojis even represent most gnc people," wrote one Twitter user.
"I don't understand why they weren't just all neutral to begin with," wrote another.
"Regular old smileys were neutral. I don't know why we had to go and start gendering everything in the first place."
When it unveiled the designs earlier this year, Apple said they would "bring even more diversity to the keyboard" and "fill a significant gap" in the selection of emojis.
"Users will now be able to select any combination of skin tone, in addition to gender," it said.
Apple also serves up some niche offerings in the new update including a plate of falafel, a skunk and a banjo.
Businesses have paid increasing attention to becoming more inclusive in recent times.
Toymaker Mattel, for example, released gender-neutral dolls last month with none of the curves or large muscles of the traditional Barbie or GI Joe, while many small fashion brands and make-up companies are marketing non-binary products.
Source: https://punchng.com/gender-neutral-emojis-hit-screens-in-new-apple-update/