Beyond Chrome: 7 Alternative Web Browsers
Though large tech corporations leverage their market dominance to relentlessly push their web browsers on the world, you do have a choice in software you use to browse the web. You may find that some of the many available alternative browsers offer capabilities that appeal to you, such as greater customization, privacy, and browsing tools.
If you're like the majority of web users, you're using Google Chrome, which means you're missing a few very useful features. For example, Chrome offers no reading mode, which you find in many of the alternatives included here. This mode lets you read a news article in a cleaned-up view without all the screaming clutter that adorns today's webpages (present company included).
Perhaps of greatest importance is that Chrome's built-in ad blocker doesn't offer true ad blocking and privacy—only ad blocking that permits its own ad network to function unimpeded. Google has announced that even effective ad-blocking extensions won't fully work in the future. Several browsers included here let you install plugins that block all ads and tracking. Some browsers in this list go even further, offering turbocharged privacy that includes VPN and Tor encryption.
A big factor in browser choice is customization. Chrome and Firefox offer backgrounds, but Vivaldi takes customization to new levels, Opera features a very useful customizable side-rail toolbar and a tile-based Speed Dial home page for easy access to your most-frequented websites.
Without further ado, here are some alternative browsers well worth your consideration. We've downloaded and installed them all to assure they work as advertised.
1. Brave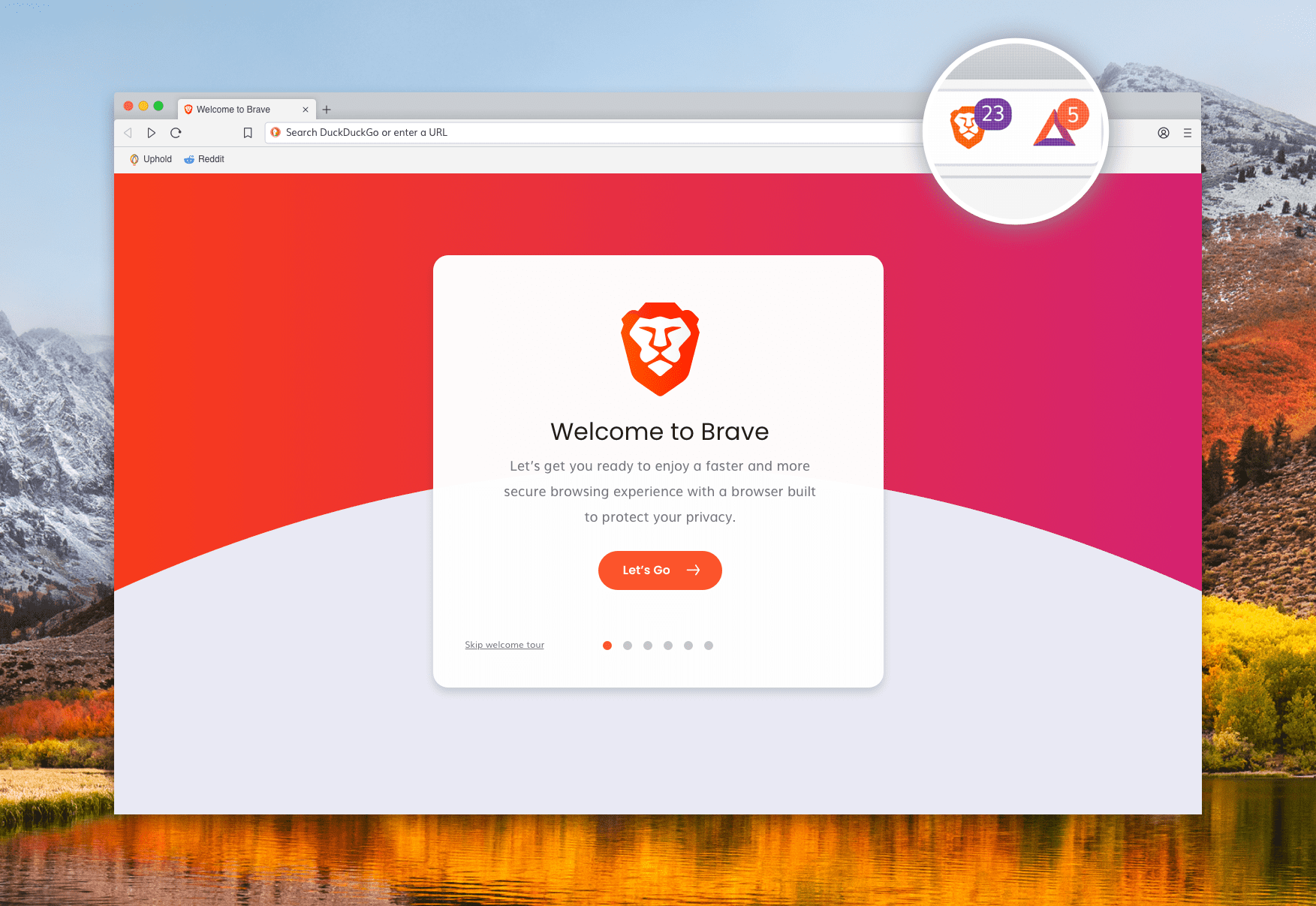 Brave wants to change the web economy from its foundations up. The browser blocks standard web ads by default, but beyond that, it introduces a new way for websites to monetize your attention. Like the Bing search engine, Brave can even reward you for your browsing, with a cut of the ad revenue you generate. Your rewards come in the form of Brave's own cryptocurrency, BAT (Basic Attention Token), and they're based on advertisers paying you for your attention. But your rewards are capped at a mere $1 million dollars' worth of tokens. Wait, that's a lot!Brave is based on Chromium, Google's open-source project underpinning the company's Chrome browser. It features all the standard browser features—bookmarks, history, extensions, themes, and syncing. A nice tool it offers is "Distill page," though this is really just a reading mode, decluttering the page. Impressively, Brave even includes a Tor view, for added privacy (though slowed speeds.)
2. Epic Privacy Browser
The Epic browser is all about privacy and security. Not only does its maker claim that Epic blocks ads, trackers, fingerprinting, crypto mining, ultrasound signaling and more, but (like Opera) it includes a built-in VPN. The Chrome-based browser adds an umbrella icon that lets you set ad blocking, disable plugins, and tracker blocking notifications. It also blocks scripts, social media tracking buttons, and sites that try to use your computer for crypto mining.

The default search provider is the privatized Epicsearch.in—which, in fact, the company claims is the only truly private search engine, since it routes your traffic encrypted through a proxy, hiding it from your ISP. Beyond merely offering privacy features, Epic includes a web video downloader.
3. Maxthon Cloud Browser
Although Americans are increasingly leery of technology from China, the Maxthon browser offers some unique, helpful features. The very customizable browser includes the Resource Sniffer tool for downloading all media on a webpage, which is handy for those who like to establish a local library of media. Also available for iOS and Android, Maxthon claims over 600 million users. Maxthon is the only browser in this group that lets you switch rendering engine between Webkit and IE (versions 5 through 11)—similar to a feature of Microsoft's upcoming Edge browser intended to support businesses running legacy ActiveX code.
Like Opera, Maxthon includes a customizable left button rail for things like notes, favorites, and RSS feeds. The highly customizable browser includes other intriguing features such as a built-in screenshot tool and a Night Mode that turns web pages black with white text to save your eyes during late night web reading.Like Brave, Maxthon has blockchain ambitions to change web commerce. In the future, the browser will reward users with LivesToken (LVTC) for usage. LVTC is a product of the Singapore-based Symbiosism Economy Foundation. The cloud aspect is that the browser lets you download to cloud storage rather than local.
4. Opera
Opera has been an alternative browser choice since before several of the current leaders in the category existed. The browser's developers are responsible for introducing many standard features we now take for granted, including basic things like tabs, built-in search, a pop-up blocker, and page zooming.
So many innovations have appeared during Opera's development, that more have been discarded by the browser than most others ever contributed. For example, at one point Opera let you use it as a server, so that you could host your own photo galleries or chat rooms and access them from anywhere. It also once had a built-in email client, a Turbo mode of cached websites, and even a BitTorrent client. (Turbo mode remains on Opera's mobile versions.)
The innovation and unique features continue into the current version: It's the first browser with a built-in (and very good) VPN, a cryptocurrency wallet, and built-in ad blocking. The Opera Flow feature takes syncing between mobile a desktop to a new level. Though ad blocking isn't turned on by default, Opera you can get it by checking the option called "Block ads and surf the web up to three times faster." Like many browser alternatives, Opera runs on top of the Chromium code base, which powers Chrome, so you're unlikely to run into site incompatibilities.
5. Tor Browser
Tor is more than a browser, it's a complete privacy software stack. It also offers a window into the so-called dark web, an alternative to the internet that's free from advertisement and tracking. Your Tor traffic is not only encrypted, but it's forwarded to multiple nodes, with each successively encrypting it again. At the end your traffic is inside multiple layers, like those of an onion. Hence the name Tor, which stands for the onion router. Private Tor sites even use the .onion extension.

The browser itself is based on Firefox, with some privacy extensions and settings locked, so standard websites display just fine inside this private browsing space. The big downside: All that routing and encryption slow down your browsing considerably.
6. Torch
Torch is all about downloading media, and it even includes a BitTorrent client for downloading from that P2P file-sharing community. You can also use it to download standard web videos and music. It also includes a casual games directory and tools for enjoying the media—a video player and an audio player. Torch is based on Google Chrome, so it should handle most web content without issues and with speed. One downside: It uses the old-style Chrome tabs.
7. Vivaldi
Coming from one of the creators of the Opera browser, Vivaldi offers customization galore. It's based on the Chromium open source browser code that's managed by Google and used in its Chrome browser. As you can see in the screenshot, you can enable, disable, and tweak every minute aspect of the browser.

Vivaldi resembles Opera in using a tile-based start page, tab previews, mouse gestures, and a side rail of buttons for frequent actions like note-taking, downloads, history, and favorites. Unique features include a screenshot tool, clutter-free printing, and an Image Properties view complete with histogram. A favorite trick of mine is that the browser window changes color to match the site you're on.
Source: https://www.pcmag.com/feature/370405/beyond-chrome-7-alternative-web-browsers/8
Android 10: 8 of the best features and how to use them
Android 10 is rolling out to Google's Pixel phones right now, with more devices to gain the latest version of Android in the near future. Google recently announced Android 10 as the official name, replacing Android Q and the dessert naming scheme Google has always used. Operating system updates like Android 10 add new features and capabilities and can be refreshing if you're growing tired of your phone. Google released the first beta of Android Q in March, and we've been testing it all along.
From a new Bubbles notification feature, full-on gesture navigation, improved privacy settings and a slick Live Caption feature — there's a lot to like about Android 10. Let's take a look at some of the highlights.
Bubbles
Do you still use Facebook Messenger's Chat Heads feature? If so, then you're going to love Android 10's new Bubbles feature. Bubbles work just like Chat Heads, with a circular notification floating above whatever is on your screen. Google wants developers to be mindful of what types of apps use Bubbles simply because a stream of notifications showing up on your screen, regardless of what you're doing, would get real annoying real fast.
As you can see in the screenshots above, Bubbles is working with the Google Phone app. I triggered Bubbles by leaving an active call, after which a small circle showed up with the contact's picture. While dragging the Bubble around, two options showed up at the bottom of the screen: Hide and End Call. Dragging the icon to either option caused that action. A single tap on the Bubble revealed a few more options, such as enabling the speaker or muting the call.
Wi-Fi and QR codes
Sharing your Wi-Fi network password with friends or asking for theirs can be awkward. Android 10 has a new feature that lets you create a QR code for your Wi-Fi network or scan a QR code to join a Wi-Fi network, directly in the device's Wi-Fi settings. To use this new feature, go to Wi-Fi settings and then select your home network, followed by the Share button with a small QR code just above it.
Undo app removal
Ever accidentally remove an app from your home screen, and then realize you can't remember which app was there? I have.
With Android 10, you have a few seconds after an app has been removed to undo the change. You'll find the undo button along the bottom of the screen. Press it and bam, the app is back where it belongs.
Location control
Android is finally getting more granular control over how an app can use location information. Currently, you can give an app access to your location either all the time or not all. With Android 10, you will gain the option of letting an app access your location information only while you're actively using the app. Not only is this a privacy matter, but it's sure to help save on battery life.
Privacy settings
With Android 10, there's now a dedicated Privacy section in the settings app. Opening it will reveal the various permissions apps can request for things like calendar, location, camera, contacts and microphone.
Android has lacked a clear-cut way to view what apps have access to what data on your device. The new section makes it easy to discover and revoke permissions for specific apps. Take a few minutes to learn exactly what can be done in the new Android 10 Privacy settings page. Trust us, it's worth it.
Better notification controls
When you long-press an alert, you're now given two different options: Alerting and Silent. Selecting Alerting will allow the app to make sound with each new alert. Silent will not make a sound or cause your phone to vibrate. You can further tailor how notifications behave by going into Settings > Apps & notifications > Notifications.
This is a small but important feature because you no longer have to dig into the Settings app to figure out how to customize an app's alerts. You simply long-press, pick an option and you're done
Live Caption

As a way to make Android more accessible, Google developed Live Caption. The feature will live-caption any video that's being played, without a data connection. To activate Live Caption, play a video and then press a volume button. The volume slider that shows up will have a caption button at the bottom — tap it. You can then move around the caption by dragging it around the screen.
You can install Android 10 if you have a Pixel phone, then be sure to familiarize yourself with gesture navigations and dig into the new privacy settings.
Source: https://www.cnet.com/how-to/android-10-8-of-the-best-features-and-how-to-use-them/
iPhone 11? Phone XI? Exactly What Will Apple Name Its 2019 Phones?
Tomorrow, Tuesday, September 10, Apple will introduce its latest iPhones, plus a new Apple Watch and perhaps more stuff.
But while we think we know what we're getting, we still don't know for sure what the new iPhones are going to be called.
Regular Forbes readers will know that this guessing game is something I do each year. And my track record in 2018 and 2017 is quite remarkable. Well, what I mean is, as you'll have seen if you clicked on those links, I'm usually wrong.
In 2017 I did think iPhone X was a good name but plumped for another name in the end. Last year, I was completely wrong.
So, at least I'm consistent, right?
Let's see if I can score a hat trick with a look at the contenders…Today In: Innovation
iPhone 11
Could this be the name? I'm hoping so, mostly because I honestly can't wait for Tim Cook to say, at last, "these iPhones go to 11". Though whether a Spinal Tap reference really will make the keynote is another matter.
Well, there's something straightforward about this, and since we're all already talking about the iPhone 11, it would make a lot of sense to go with this name. I think it's pretty likely. But, never forget, Apple doesn't like to be predictable.
Also, there are three iPhones in the 2018 range, likely to be mimicked this time around. So, which iPhone would be the iPhone 11? When the iPhone X launched, it was the flagship, so does that mean the iPhone 11 will be the replacement for the iPhone XS? I don't think so.
The entry-level iPhone XR, arguably the most successful phone Apple released last year, is now very much a member of the family. Just as XR indicates an 'X'-type phone, so this year I think the XR replacement will have 11 in its name.
In fact, as it's the popular and most affordable iPhone, perhaps it should have the iPhone 11 name all to itself.
What does that mean for the replacements for iPhone XS and iPhone XS Max?
Max makes a return
The one thing I'm sure of is that the word Max will be in the name of the largest iPhone, the presumed 6.5in screener to replace the iPhone XS Max. Before the XS Max, that sized phone was called a Plus size by Apple. To remind you that the display went edge to edge, Apple called it Max. As the next phone will have the same all-screen effect, I am sure Max will be in the mix.
How about Pro?
Pro came up as a possible name choice in 2017 for what turned out to be iPhone X. If the XR replacement is just called iPhone 11, then what do you call the XS replacement? One rumor doing the rounds in iPhone 11 Pro, or just iPhone Pro.
This is not a bad idea, but there's one sticking point for me: the Lightning connector. While it's true the first iPad Pro had a Lightning socket, the move to USB-C on the more recent models indicated the importance of the versatile, universally used connector, and now the whole iPad Pro range has USB-C.
I don't think any iPhone will have a USB-C connector this year.
Of course, Apple can say that one of the reasons the iPad Pro has USB-C is to make it easier to connect the tablet to external devices such as monitors, and that won't be the purpose with the iPhone, so Lightning is fine, thank you very much.
If it is Pro, then what?
Then there's the question of whether it should be iPhone Pro or iPhone 11 Pro. Once that's decided, where do you put the Max? iPhone Pro Max or iPhone 11 Pro both sound like a health supplement, so maybe it could be iPhone 11 Max Pro.
But that's quite a mouthful.
How about iPhone XI?
Although Apple has favored roman numerals, I don't think they'll be used this year. After all, almost everyone talks about the iPhone X, sounding the X as a letter not as ten.
Although Apple is proud of the iPhone X, I think it will move on to regular numbers this time around. Not least so everyone says it right.
What's the answer then?
I'm betting on iPhone 11 for the XR replacement. Then iPhone 11 with a suffix for the XS successor and the same including the word Max for the largest model. On balance, I think the most likely names for these two are iPhone 11 Pro and iPhone 11 Pro Max or, just possibly, iPhone 11 Max Pro.
But you never can tell with Apple. Only hours until we know.
Source: https://www.forbes.com/sites/davidphelan/2019/09/09/phone-11-phone-xi-exactly-what-will-apple-name-its-2019-phones/?ss=consumertech#2eb9a7ec2c7e
Employees who are treated rudely get their revenge with the silent treatment, research shows
Employees who are treated rudely at work get their revenge by withholding important information from colleagues and managers, new research shows.
The British Academy of Management's annual conference in Birmingham heard today [Thursday 5 September] that employees who experience workplace incivility are more likely to engage in "deviant behaviors" directed toward both colleagues and the organization.
Researchers asked almost 300 employees in US firms to rate how rude colleagues had been to them, and how much they kept silent in order to get even or to harm their employers.
Three academics at the Universite de Pau et des Pays de l'Adour in France conducted online surveys with 297 employees working in various industries in the United States, a representative sample of the workforce.
Professor Jean Pierre Neveu, Dr. Ghulam Murtaza and Rahman Khan asked the employees to rate on a scale of 1 (never) to 5 (every day) how often a colleague or boss had been rude to them during the previous two months. They also asked them to rate from 1 to 5 how much they had remained silent about an important matter when they should have spoken up, in order to get even with a colleague or hurt their employer.
The researchers found that the average score for the rudeness experienced was 2.12, and that for every 1 unit increase, the likelihood that workers would remain silent increased by about a third. An employee who experience rudeness every day would be around twice as likely to remain silent as the average.
Employee silence, an increasingly recognized phenomenon, can be costly for organizations. Examples include staff failing to speak up when workplace plans and procedures are riddled with inaccuracies or faulty thinking.
"Experiencing incivility at work leads to deviant silence in which an individual withholds useful information to harm someone," Mr Khan told the conference.
Staying silent was "a response to experiencing incivility because the individual thinks that it's fair to retaliate against the perpetrator," he said.
"Employees intentionally remain silent about important issues because they perceive their work environment is not conducive for it, which can posit serious harm to the organizations.
"Experiencing workplace incivility may not only be harmful to a victim's mental health but can also motivate him or her to make unethical choices. In turn, such deviant behaviors can hurt an organization's culture as well as its financial condition."
Mr Khan said that staying silent could backfire and created a vicious cycle. "Deviant behavior like hiding valuable information can lead colleagues or superiors to make wrong decisions and may cause negative emotions in them thus further leading to subsequent mistreatment targeted towards the perpetrator as they want to pay him back."
Source: https://phys.org/news/2019-09-employees-rudely-revenge-silent-treatment.html