Best Android tips for optimum performance
There are many ways to customise an Android device and maximise performance. In addition to changing the look and feel of the interface, set up your smartphone so that autocorrect does not embarrass you, the right app launches when you need it, the battery lasts longer, and you never go over your data limit.
According to www.lifewire.com, there are also features that make the device easier to use and manage. Here are 17 tips to customise your Android phone and increase your productivity.
Keep notifications at bay
Having a smartphone means always being connected and reachable, but everyone needs quiet time and privacy. New in Android 8.0 is the ability to snooze notifications. Notification Dots appear on app icons, so you can see unread notifications by app, and view and dismiss notifications at any time.
Tap a notification to reschedule it for 15 minutes to two hours later. Take advantage of other notification features offered in Android Marshmallow and after, including Do Not Disturb, which blocks all notifications or only lets the most urgent ones through.
Lose the bloatware
Often, the only way to uninstall pre-installed apps is to root the phone. However, these apps can be disabled. Then, you won't get unnecessary notifications or updates that take up storage space.
Track data usage
If you don't have an unlimited data plan, you have to keep an eye on how much you use every month. Android makes it easy to keep track of data usage and set limits. To access these options, open the Settings app and go to the Wireless and Networks section. There are also third-party apps that track usage week-by-week or day-by-day.
Reduce data consumption
Using too much data? Often, a phone may consume data in the background, which can be a big culprit. Open the Settings app and look at your data usage to see which apps use the most data. Then, turn off background data on the worst offenders. It's also a good idea to use Wi-Fi whenever possible.
Set default apps
When you click a link or open a photo on a new smartphone, you are prompted to choose which app to use and whether to use that app always or just once. If you select Always and change your mind, set and clear default apps. Open the Settings and look under Applications. This shows which apps are set as defaults, and depending on the operating system you can either clear defaults all at once or one-by-one.
Save battery life
There are many simple ways to save battery life. Reducing data usage is one fix, especially if you restrict the apps that are allowed to run in the background. Turn off Wi-Fi and Bluetooth when you're not using them. There are also third-party apps available that can help conserve battery life.
Gain storage space
Even with a memory card slot, an Android device can fill up fast if you download a lot of apps, snap a lot of photos, and take a lot of videos. To free up space quickly, delete unused apps, and move older photos and videos to the cloud or to a computer. Move as much data as you can to a memory card if the phone has one, then swap it out for an empty card when it fills up.
Find the file manager
On Android Marshmallow, access the Android file manager to delete and copy files and folders. The file manager shows how much storage is used and how much room is left. This is another easy way to make space on your smartphone since you can access files that are usually hidden away.
Try some widgets
Want at-a-glance weather information, quick access to music controls, or an overview of your appointments? Get all of this and more by adding widgets to the Home screen. Many apps offer one or more widgets of various sizes that offer top-line information, including those for fitness, productivity, messaging, navigation, and more.
Download a launcher
One of the great things about Android is that if you don't like something about it, change it, and you don't have to root the device. An Android launcher is one such example. Use a launcher to manage apps, customise screens, and change the way you interact with the interface by adding gesture controls and more.
Move your data to a new device
Setting up a new smartphone can be tedious, but it doesn't have to be. Android makes it simple to move contacts, apps, photos, and other data from one device to another. In some cases, you can use NFC, which is one of the fastest methods, and much preferable to paying a wireless carrier to do it. Be sure to back up your data too, just in case. New Pixel devices come with a cable for data transfer.
Take Screenshots
Whether you want to save a screen from your favourite game or a snippet from the web to share with friends, knowing how to take a screenshot is important. To take a screenshot, hold the Power/Lock button and the Home button. If the device has a soft key for the Home button, hold the Power/Lock and the Volume Down button.
There is also a variety of third-party screenshot apps for Android that offer additional capabilities such as the ability to crop images, share screenshots, and add highlights and annotations.
Tether for free
Using a smartphone as a mobile hotspot used to require an add-on plan from most carriers. Now, this feature is free in most cases, and when it's not, download a third-party app. Open the Settings app and look for the Tethering section. There you can enable the mobile hotspot feature, as well as Bluetooth and USB tethering. This uses mobile data.
Stay on top of security
Android has had some high profile security issues, so it's important to be proactive about protecting devices. New to Android 8.0 is Google Play Protect, which continuously scans apps in the store to ensure they're legit.
Use 'Find My Device'
Protect your privacy with the Find My Device feature (previously called the Android Device Manager), which enables you to track the device location and lock and reset it remotely. Resetting it means wiping the data from the device if you lose it permanently. You can also make your device emit a sound even if it's in silent mode if it is misplaced.
Set up Google smart lock
It can be annoying to constantly unlock a device when you're at home or at the office. Google Smart Lock (also known as Android Smart Lock) lets you personalise the settings so that your device stays unlocked in certain locations and situations. This way, if you spend the day on the couch, your device won't lock every time it goes idle.
Customise your lock screen
There are plenty of options to customise the Lock screen. When you lock the screen, choose a method to unlock it: pattern, pin code, or password. You can also specify whether notifications appear on-screen and how much detail display. There are apps that offer even more options, including custom themes and the ability to display widgets.
#Takeaway
Document grinding
Document grinding is the process of analysing documents to extract meaningful data. The term is often associated with computer hacking, since hackers may "grind" documents to reveal confidential data. However, document grinding is also used for non-malicious purposes. Examples include identifying unknown file types and viewing file metadata, according to www.techterms.com.
It is possible to perform document grinding on both plain text and binary files.
Text files
Grinding text files is a simple process since they store data as plain text. You can search for characters and strings within a text document using a tool like grep or another search utility. Since text processing is a relatively fast computer operation, it may be possible to grind several large documents in less than a second.
Common text file types targeted for document grinding include log files (.LOG, .TXT) and configuration files (.CONF, .CNF). If a hacker gains access to a web server, for example, he may search these files for usernames, passwords, and other confidential data.
Binary files
Binary files may contain some plain text, but they also store binary data – 1s and 0s. It is more difficult to grind binary data since it cannot be searched with a text search tool. Additionally, many binary files are saved in a proprietary file format, which is difficult to parse without the corresponding application. Therefore binary document grinding typically focuses on the header and footer of a document, which may contain plain text. It may also aim to extract file metadata.
Many binary files contain information about the file type in the header of the file. For example, in the sample image, the letters "PNG" in the header indicate the file is a PNG image. This information is useful for identifying the file type since it does not have a file extension. Similarly, digital photos often contain hidden EXIF data saved when the photo was taken. An image-viewing program or a document grinding script may be able to detect and extract this information.
Source: https://punchng.com/best-android-tips-for-optimum-performance/
#5 Best Gadgets from CES 2020 That Will Blow Your Mind
The thing about technology is that it never fails to disappoint it, and which CES, the world's biggest tech show already happening in Las Vegas, we can't help but appreciate how cool things technology can invent.
Renowned companies like Samsung, Lenovo, LG, Sony like every year has showcased the best of their products. While popular companies always have something to present, we also have companies who have showcased some really quirky products this year making us say, "Isn't that just so cool?"
From the coolest laptops, phones, drones to foldable laptops, vertical TVs, there is something for everyone. In order to give you a quick update, we have curated a list of some exciting products that will hit the store in 2020.
Samsung Galaxy Chromebook
If experience is something that pleases you Samsung's Galaxy Chromebook might be the best Chrome OS machine to date. A rival to premium Google Pixelbook, this 2-in-1 device sets a higher standard in the mobile computing industry. The device has a 13.3 inch 4k AMOLED display and is powered by the latest 10th Gen Intel® Core™ i5 processor along with Intel® Wi-Fi 6.
Expected Release and Price: 1st Quater of 2020 and will be approximately for INR 72,000.
Harman Kardon Citation Oasis
While the device resembles a lot to Amazon Echo Dot, the thing about Samsung's Harman Kardon subsidiary is that they know how to set them apart. They have a built-in wireless charging which Echo Dot lack. Citation Oasis, a smart speaker has an LED clock, wireless charging and onboard Google AssistanSo with 8 hours of running time. To be honest, it does slow our two purposes. Some also believe that this would be the best smart clock out there.
Expected Release and Price: INR 14,230
Suunto 7
Sunnota who are known for their sporty smartwatches presented a wearable that has smart features from Wear OS by Google. The device has a feature of an outdoor map of around 50+ km range letting you follow the location and a wrist-based control for music. The smartwatch also lets you track your heartbeat, has a built-in GPS, something that adventurous people would love.
Expected Release and Price: 31 January 2020 and will be approximately for INR 34,260
LG Signature RX
When it comes to TV no one can beat LG. Every year the company overtakes its own invention. This year the developers have presented its first rollable TV. is set to hit the market for consumers later this year. The LG Signature RX's marquee rolls up when your power it down. The AI processor directs your 4K picture behind the scenes and comes with the ability to develop with time. It does redefine your watching experience. However, if you are planning to buy it, the hefty price might make you think.
Expected Release and Price: Third quarter of 2020 and will be approximately for INR 42,89,220 ($60,000).
Welt Smart Belt Pro
A belt is a necessity! However, when it gets combined with technology it just adds more value to a must-have accessory. Welt Smart Belt Pro won the CES 2020 Innovation Awards for its new product and it is kind of a quirky invention. An update of the previous version and first of its kind, it comes with a prevent fall feature. The belt comes with its own app that lets you monitor things like waist size, eating pattern, sitting time measurement, step count and more.
Samsung's knife-wielding robotic chef is all flash
Last year, we asked whether Samsung was getting serious about robotics. A year later, we're not any closer to answering the question. This year's presser played out roughly the same as last on the robotics front — all flash and little productizing to show for it.
Samsung's approach to robotics thus far appears to be the model of many other big electronics companies. It's flirtation with a technology that brings some sense of showmanship to the stage and booth. There's no better example than Bot Chef. I got a preview of the tech in Samsung's booth this week, pitched as "an extra set of hands in the kitchen."
You can't fault the technology for not being ready for prime time, at this point, of course. That's not really the point yet. The question, however, is how serious Samsung is about bringing a pair of robot arms to kitchens across the globe to sauté tofu and liberally apply Sriracha. I would love to say "very," and that the different demos were things the company was actively pursuing delivering on these products.
The futuristic theme of last night's keynote, however, implied that the company is offering up hypotheticals for what a future could look like — not what it will. Even Ballie, which seems a more realistic addition to the company's smart home strategy is also still very much conceptual. As with last year's robot demos, I wasn't able to get an answer from the company about how much of the robot's functions were autonomous and how much were choreographed. It's a cool demo regardless. But is it a serious one?
At the end of the day, I hope Samsung is getting serious about the category. The company has tremendous resources and a lot of smart people. If it really takes the leap, it could be a key player in making robotics more mainstream among consumers. For now, however, I'm unconvinced.
Source:
https://techcrunch.com/2020/01/07/samsungs-knife-wielding-robotic-chef-is-all-flash/
Images of Huawei P40 Pro case show a penta camera on the back, flat screen on the front
Last month we saw the Huawei P40 Pro in some renders by OnLeaks, but they were too dark to gather much beyond the outline of the rectangular camera island. Alleged renders for a protective case now offer a better look at the phone.
The camera hump shows five cameras, matching the rumors so far. The one in the top right appears to be a periscope cam (the P40 Pro is supposed to feature 10x optical zoom), though case renders are not usually reliable about such things. From a recent leak we know that the Huawei P40 will have a triple camera instead.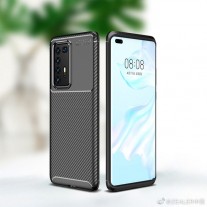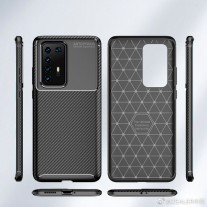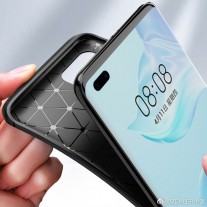 Huawei P40 Pro case renders
The front of the P40 Pro is quite interesting as well. Probably the first thing you notice is the dual punch hole selfie camera, similar to the nova 6 5G. But also have a close look at the screen – its sides are not nearly as rounded as the ultra-curved "Horizon Display" on the Mate 30 Pro.
You can even see traditional hardware keys on the side, rather than on-screen controls (we know not everyone was a fan). For what it's worth, the OnLeaks renders also hint at a mostly flat display.
There's no 3.5mm headphone jack, that's probably reserved for the non-Pro model. The top side of the phone seems to house an IR blaster.
The Huawei P40 and P40 Pro will be unveiled at the end of March in Paris with the Kirin 990 chipset on board and likely no Google services.
Source:
https://www.gsmarena.com/images_of_huawei_p40_pro_case_show_a_penta_camera_on_the_back_flat_screen_on_the_front-news-40907.php