tvOS 13 is what Apple TVs should've been like 4 years ago
I have a real soft spot for the Apple TV. I've used the range for years, and it's still got pride of place in my home — but I also think it's one of Apple's disappointing products.
And that makes me sad.
The recent tvOS 13 update has been a long-awaited push in the right direction for the hardware, yet for this current iteration of the device, I have a feeling it's too little, too late.
Oh no, you're going to get all David Copperfield aren't you?
Damn straight.
Now, the first Apple TV I used (which I believe was a second generation device) felt ahead of its time. I remember being in awe of how you could just send a video straight from your iPhone or iPad to the television. Honestly, my friends and I spent hours playing YouTube videos through the big screen. It was magical.
Unfortunately, things have been on a downward trend since then.
Aside from a few small additions (better hardware, new remote, Siri-integration, a 4k model), the Apple TV hasn't added any features as powerful or interesting as those early days of casting video.
Hell, I wouldn't even say the Apple TV is even the best at that any longer. These days, the substantially cheaper Chromecast ($35 compared to the Apple TV HD's $149) is far more efficient at sending phone video to your TV.
In terms of functionality, the purpose of the Apple TV became… muddy. Yes, it works well as media streamer, but you can get way cheaper Android media boxes for that price (like the $70 Roku stick for example). It didn't really have any features that truly separated it from the market.
In other words, it felt like Apple had a great, ahead-of-its-time thing going, but just kinda ignored the hardware until it lost its competitive advantage.
I feel there's a tvOS 13-related 'but' coming here…
Well, tvOS 13 has included some of the first interesting updates of the Apple TV since… well, ever. Now, I assume this increased focus on the device is down to the launch of the confusingly named Apple TV+, also known as the company's streaming service.
With this set to be a big focus for the tech giant, it makes sense that'd it turn some attention to one of the primary ways to view the upcoming shows and movies: its video-playing hardware.
Right. So what are the tvOS 13 updates then?
Let's use the ever-dependable bullet point list to help us get this done quickly:
Multi-user support: you know how Netflix has users so you can watch your own shit? The Apple TV has that now too
Apple Arcade: yep, you can now play a huge library of games on the hardware
You can connect Xbox and Playstation controllers to the Apple TV now: not bad, right?
A control centre: kinda minor, but you can now hold down the TV button on the remote and access a menu similar to the iOS version
There are a few other minor updates (like wireless sound syncing and new screensavers), but these are just incremental features — even if they are useful.
What Apple has done here — specifically with Apple Arcade and controllers — is give the Apple TV a point of differentiation: gaming.
In theory, you should be able to play a title on your mobile on the train, then arrive home and pick-up where you left off on the Apple TV. That's cool. It makes the hardware feel more relevant again, like it can do something none of its competitors can.
But what's the problem?
Well, it's the hardware itself.
The Apple TV HD was launched in October 2015, while the 4K version was released in September 2017. That's old. This means the performance of some Apple Arcade games isn't really that great. If you're looking for a great gaming experience, you want something that can handle it.
Or, if you view it another way, we're looking at hardware that's effectively coming to the end of its life before there's a clear reason to buy one. That's not a particularly appealing thing to say about a product, especially from Apple.
So what would you do differently?
It always surprised me that something like Apple Arcade wasn't released ages ago, as gaming seemed like an ideal fit for the hardware. But at least we're there now.
Another thing I would've loved to see would've been Apple investing more in supporting tvOS developers. If you browse through the app store on the device it's… uninspiring. Deeply so. While the iPad, iPhone, and even the Apple Watch have apps that seem built for the system, there's really a lack of exciting software for the Apple TV. Any help the company could've given to increase this community would've paid dividends.
It'd also be great if Apple could open up the Apple TV to more third-party video services from across the globe, even though I don't expect this to happen, as it's got this far with its walled-garden approach to software. You can always dream though.
Then what's the future?
Basically, I think the time of the current Apple TV devices is over. They're looking out-of-date and were never really developed to their full potential — which kinda sucks considering I've owned mine for almost four years now.
So, yes, tvOS 13 is a step in the right direction, but it has come too late to save the current Apple TV crop — but it's good news for the next generation Apple TV.
If the company feels the pressure from Apple TV+, keeps updating tvOS, and maybe throws in a hardware surprise or two, the next generation of the Apple TV might end up being the first must-buy version of the hardware in an age. And for that, I'm excited.
Source: https://thenextweb.com/plugged/2019/10/07/tvos-13-apple-tv-been-like-years-ago-analysis/
#5 Best Gadgets from CES 2020 That Will Blow Your Mind
The thing about technology is that it never fails to disappoint it, and which CES, the world's biggest tech show already happening in Las Vegas, we can't help but appreciate how cool things technology can invent.
Renowned companies like Samsung, Lenovo, LG, Sony like every year has showcased the best of their products. While popular companies always have something to present, we also have companies who have showcased some really quirky products this year making us say, "Isn't that just so cool?"
From the coolest laptops, phones, drones to foldable laptops, vertical TVs, there is something for everyone. In order to give you a quick update, we have curated a list of some exciting products that will hit the store in 2020.
Samsung Galaxy Chromebook
If experience is something that pleases you Samsung's Galaxy Chromebook might be the best Chrome OS machine to date. A rival to premium Google Pixelbook, this 2-in-1 device sets a higher standard in the mobile computing industry. The device has a 13.3 inch 4k AMOLED display and is powered by the latest 10th Gen Intel® Core™ i5 processor along with Intel® Wi-Fi 6.
Expected Release and Price: 1st Quater of 2020 and will be approximately for INR 72,000.
Harman Kardon Citation Oasis
While the device resembles a lot to Amazon Echo Dot, the thing about Samsung's Harman Kardon subsidiary is that they know how to set them apart. They have a built-in wireless charging which Echo Dot lack. Citation Oasis, a smart speaker has an LED clock, wireless charging and onboard Google AssistanSo with 8 hours of running time. To be honest, it does slow our two purposes. Some also believe that this would be the best smart clock out there.
Expected Release and Price: INR 14,230
Suunto 7
Sunnota who are known for their sporty smartwatches presented a wearable that has smart features from Wear OS by Google. The device has a feature of an outdoor map of around 50+ km range letting you follow the location and a wrist-based control for music. The smartwatch also lets you track your heartbeat, has a built-in GPS, something that adventurous people would love.
Expected Release and Price: 31 January 2020 and will be approximately for INR 34,260
LG Signature RX
When it comes to TV no one can beat LG. Every year the company overtakes its own invention. This year the developers have presented its first rollable TV. is set to hit the market for consumers later this year. The LG Signature RX's marquee rolls up when your power it down. The AI processor directs your 4K picture behind the scenes and comes with the ability to develop with time. It does redefine your watching experience. However, if you are planning to buy it, the hefty price might make you think.
Expected Release and Price: Third quarter of 2020 and will be approximately for INR 42,89,220 ($60,000).
Welt Smart Belt Pro
A belt is a necessity! However, when it gets combined with technology it just adds more value to a must-have accessory. Welt Smart Belt Pro won the CES 2020 Innovation Awards for its new product and it is kind of a quirky invention. An update of the previous version and first of its kind, it comes with a prevent fall feature. The belt comes with its own app that lets you monitor things like waist size, eating pattern, sitting time measurement, step count and more.
Samsung's knife-wielding robotic chef is all flash
Last year, we asked whether Samsung was getting serious about robotics. A year later, we're not any closer to answering the question. This year's presser played out roughly the same as last on the robotics front — all flash and little productizing to show for it.
Samsung's approach to robotics thus far appears to be the model of many other big electronics companies. It's flirtation with a technology that brings some sense of showmanship to the stage and booth. There's no better example than Bot Chef. I got a preview of the tech in Samsung's booth this week, pitched as "an extra set of hands in the kitchen."
You can't fault the technology for not being ready for prime time, at this point, of course. That's not really the point yet. The question, however, is how serious Samsung is about bringing a pair of robot arms to kitchens across the globe to sauté tofu and liberally apply Sriracha. I would love to say "very," and that the different demos were things the company was actively pursuing delivering on these products.
The futuristic theme of last night's keynote, however, implied that the company is offering up hypotheticals for what a future could look like — not what it will. Even Ballie, which seems a more realistic addition to the company's smart home strategy is also still very much conceptual. As with last year's robot demos, I wasn't able to get an answer from the company about how much of the robot's functions were autonomous and how much were choreographed. It's a cool demo regardless. But is it a serious one?
At the end of the day, I hope Samsung is getting serious about the category. The company has tremendous resources and a lot of smart people. If it really takes the leap, it could be a key player in making robotics more mainstream among consumers. For now, however, I'm unconvinced.
Source:
https://techcrunch.com/2020/01/07/samsungs-knife-wielding-robotic-chef-is-all-flash/
Images of Huawei P40 Pro case show a penta camera on the back, flat screen on the front
Last month we saw the Huawei P40 Pro in some renders by OnLeaks, but they were too dark to gather much beyond the outline of the rectangular camera island. Alleged renders for a protective case now offer a better look at the phone.
The camera hump shows five cameras, matching the rumors so far. The one in the top right appears to be a periscope cam (the P40 Pro is supposed to feature 10x optical zoom), though case renders are not usually reliable about such things. From a recent leak we know that the Huawei P40 will have a triple camera instead.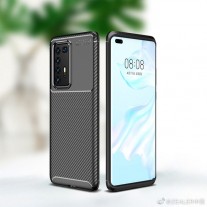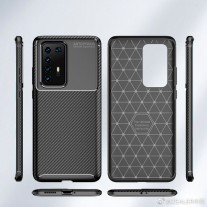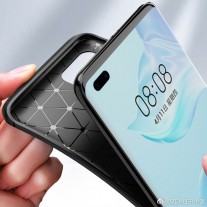 Huawei P40 Pro case renders
The front of the P40 Pro is quite interesting as well. Probably the first thing you notice is the dual punch hole selfie camera, similar to the nova 6 5G. But also have a close look at the screen – its sides are not nearly as rounded as the ultra-curved "Horizon Display" on the Mate 30 Pro.
You can even see traditional hardware keys on the side, rather than on-screen controls (we know not everyone was a fan). For what it's worth, the OnLeaks renders also hint at a mostly flat display.
There's no 3.5mm headphone jack, that's probably reserved for the non-Pro model. The top side of the phone seems to house an IR blaster.
The Huawei P40 and P40 Pro will be unveiled at the end of March in Paris with the Kirin 990 chipset on board and likely no Google services.
Source:
https://www.gsmarena.com/images_of_huawei_p40_pro_case_show_a_penta_camera_on_the_back_flat_screen_on_the_front-news-40907.php