Apple TV+'s head of scripted and unscripted shows has left the company
Apple has lost one its streaming service's top personnel, just a couple of weeks after TV+ went live. According to Deadline, Kim Rozenfeld, the head of current scripted programming and unscripted content for Apple TV+, has stepped down from his position. Deadline's report didn't expound on the circumstances behind Rozenfeld's departure, but it did say that he signed a first-look deal with Apple for his production company, Half Full Studios. His LinkedIn page also says he left Apple this month, and that he has a "development, producing and consultant deal with Apple TV+ for scripted and documentary series" under his company.
Rozenfeld was one of the first people from Sony TV that Zack Van Amburg and Jamie Erlicht (former Sony TV heads) hired when they went to Apple. There was clearly a shift of some sort in the division after launch, though it's still unclear what that means for TV+. Now that he's exited, the service will combine its development and current programming teams under a single group of executives. Matt Cherniss, who was Rozenfeld's counterpart as head of scripted development, will now also head up the service's current scripted series team.
Source: https://www.engadget.com/2019/11/12/apple-tv-kim-rozenfeld-steps-down/
Huawei will build more HarmonyOS devices next year and sell them globally
Huawei is planning to release more devices powered by HarmonyOS next year and will market them globally. However, there are no plans to switch its phones, tablets and computers over to the in-house OS. The company already stated that it will not release a Harmony phone this year and it looks like there won't be one next year either.
It will release peripheral products like smartwatches, though (the current breed of Huawei smartwatches run Lite OS). Huawei is also planning on building smart speakers and VR devices that will run Harmony. Smart TVs too, of course, like the Honor Vision, which will launch in Europe in the near future.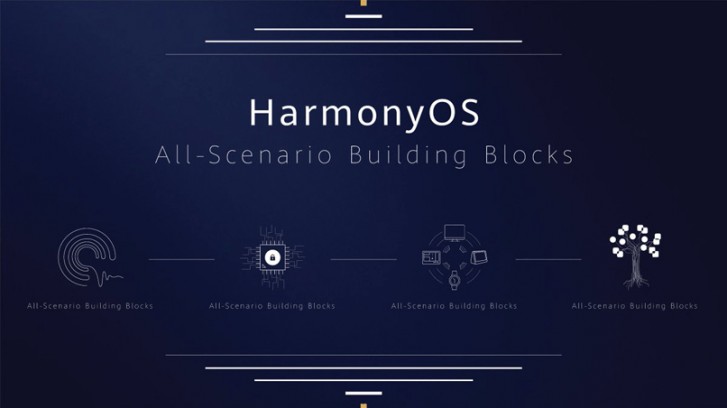 While the plan is to develop HarmonyOS into a fully-featured OS capable of powering smartphones, the company prefers to stick with Android – it's Google Mobile Services that need replacing in Huawei's view. Currently, the company relies on extensions to continue using tech and services provided by US companies.
Source:
https://www.gsmarena.com/huawei_will_build_more_harmonyos_devices_next_year_and_sell_them_globally-news-40481.php
Huawei's Mate 30 contains no American parts
When the extent of the Trump administration's sanctions targeting Huawei became clear, we wondered whether the Chinese telecoms giant would be able to make a smartphone without American components. The answer, according to a new report by The Wall Street Journal, is apparently yes.
The analysis by UBS and Fomalhaut Techno Solutions says that Huawei's Mate 30 contains no US parts at all. Huawei appears to have found non-American suppliers for several critical components. For example, it's now sourcing audio amplifiers from the Netherlands' NXP rather than Cirrus Logic, relying entirely on its own HiSilicon semiconductor division for Wi-Fi and Bluetooth chips rather than Broadcom, and using other companies like Japan's Murata and Taiwan's MediaTek for other parts previously supplied by US manufacturers.
New Huawei Mate 30 used zero US suppliers, teardown analysis shows

Intel
Broadcom
Qualcomm
Qorvo
Skyworks
Cirrus Logic

all provide parts to Huawei https://www.wsj.com/articles/huawei-manages-to-make-smartphones-without-american-chips-11575196201 …Huawei Manages to Make Smartphones Without American ChipsAmerican tech companies are getting the go-ahead to resume business with Chinese smartphone giant Huawei, but it may be too late: it is now building smartphones without U.S. chips.wsj.com
UBS: Huawei's internalization effort looks to have progressed faster than expected, as we now see some Huawei 4G models (Y9 Prime 2019 and Mate 30) which are not using any US components anymore

h/t @WigglesPalmer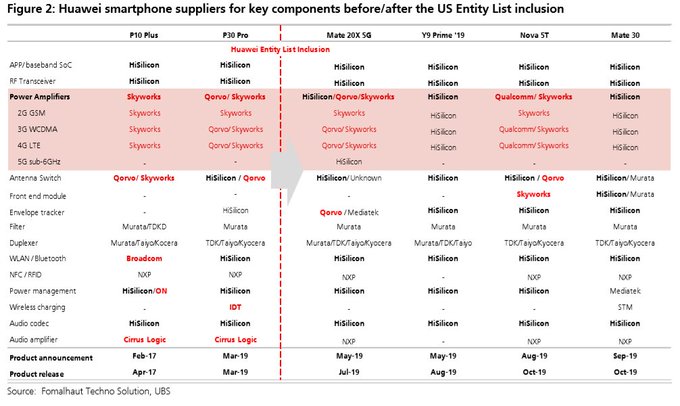 72:30 PM – Dec 2, 2019Twitter Ads info and privacySee Sally Shin's other Tweets
Huawei has a "clear preference to continue to integrate and buy components from U.S. supply partners," a company spokesperson told the WSJ. "If that proves impossible because of the decisions of the US government, we will have no choice but to find alternative supply from non-US sources."
Huawei hasn't been able to divest itself of US suppliers entirely, even though it's banned from doing business with most of them. The company said it had been stockpiling components in anticipation of sanctions, and separate teardowns reveal that some newer devices are still reliant on American parts. TechInsights, for example, shows that the higher-end Mate 30 Pro 5G uses chips from Qualcomm and Texas Instruments.
This could be for any number of reasons; presumably Huawei would want to use up the chips it saved for this scenario regardless of whether it had any other options. It's also not surprising that the company would be making big moves to diversify its supply chain. What the UBS teardown does demonstrate, however, is that Huawei is entirely capable of manufacturing high-end smartphones without American suppliers. The question remains whether anyone outside China will buy one.
Source:
https://www.theverge.com/2019/12/3/20993148/huawei-mate-30-no-american-components-manufacturers
Facebook buys maker of hit VR game 'Beat Saber'
Facebook-owned Oculus on Tuesday said it is buying the studio behind hit virtual reality game "Beat Saber" as it looks to expand VR technology to wider audiences.
Oculus, which makes Rift and Quest VR headgear, did not disclose financial terms of the deal to acquire Prague-based Beat Games.
"Beat Games is joining us in our quest to bring VR to more people around the world," Oculus director of augmented and virtual reality content Mike Verdu said in a blog post.
"Beat Games' accomplishments are already impressive, but Facebook and the Beat Games team know that there is so much more that can be done across VR, games, and music."
Verdu assured players that the studio would continue to ship content and updates for "Beat Saber" on platforms where it is already available.
In the virtual game, players use light sabers to slash oncoming, large cubes to the beat of the music, sometimes twisting or ducking to avoid oncoming walls.
"VR reimagines old genres and invents new ones," Verdu said.
Oculus is exploring ways, including acquisitions, to accelerate the adoption of virtual reality technology, which Facebook chief Mark Zuckerberg has heralded as the next major computing platform.
"With the resources and know-how that we can offer, Beat Games will be able to accelerate, adding more music and more exciting features to 'Beat Saber' as well as bringing the game to more people," Verdu said.
Facebook is planning a virtual social community where users of its Oculus headgear can "explore new places" via its Horizon virtual world, which is set for a beta launch in 2020.
Oculus users will be able to choose an avatar and interact with others in the virtual community, Facebook said earlier this year.
Horizon will replace earlier versions of the social VR community Facebook Spaces and Oculus Rooms.
Oculus remains a small part of Facebook, whose core social network and other platforms reach more than two billion people worldwide.
Analysts expect sales of 1.3 million units in 2019 of the Oculus Quest, a wireless VR headset unveiled last year.
Source:
https://guardian.ng/technology/facebook-buys-maker-of-hit-vr-game-beat-saber/