Apple should be supporting education, not attacking competition
While launching a $2,300 laptop, Apple's Schiller says Chromebooks won't help students succeed

At the end of an interview with CNET's Roger Cheng, Apple's Phil Schiller, the interim Head of Communications since Apple's VP of Comms left abruptly in September, took a swipe at Chromebooks. While touting the specific benefits of the Swift Playground and other Apple-specific educational features available on the iPad, Schiller made the off-hand claim that Chromebooks were being used mostly as testing tools and that students who rely on Chromebooks would be less likely to succeed.
There is attacking your competition, and then there is attacking your competition's customers. This is neither of those. This is an Apple executive predicting doom for school children who use a competing platform and any of the dozens of devices that operate it. Schiller's logic supposes that if you buy Chromebooks for your students, then you only care about testing and you aren't buying the cutting-edge learning tools that will help kids achieve their best results. Ergo, they will not succeed, to paraphrase.
Education is a competitive market, and Apple is not doing well. In the U.S., Chromebooks dominate sales while Apple is slipping. Last year, Chromebooks grabbed 60% of mobile computer sales for education, while Apple slipped from 19.5% to 17.7%, according to an Edweek report on Futuresource Consulting). If you remember a time when schools were dominated by Apple II desktops and stout Mac Classics, then you either remember Apple's heyday (or you more likely lived in an affluent school district).
The truth is that the education market doesn't have the time or patience for petty squabbles between platform spokespeople. Schiller's jabs at Chromebooks are not meant for education buyers, they are meant for business market analysts and media. Educators don't have the luxury of making buying decisions or comparing the benefits of iPad OS versus Chrome OS. They simply need more technology — in school, in the home — everywhere.
The education market doesn't have the time or patience for petty squabbles.
In 2017, Futuresource said the sub-$300 computer segment accounted for 68.5% of the education market. The vast majority of classroom computers need to be cheap, first and foremost. Without debating the total cost, it's easy to see that Apple is targeting the initial pricing as it launched its iPad 10.2 tablet, landing in this price range with education bulk discounts. Still, unlike Chromebooks, the iPad also needs a keyboard, and maybe a pen.
Schiller doubled-down on this line of attack later in the day on Twitter. In promoting the CNET story, which promoted Apple's responsive design team and the new flagship professional laptop, Schiller again implied that Apple's competitor only cares about helping students take a test, not about real success.
Every child has the ability to succeed — helping them to do that has always been our mission. In the full conversation with CNET, we discussed giving kids and teachers the content, curriculum and tools they need to learn, explore and grow. Not just to take a test.9279:48 PM – Nov 13, 2019Twitter Ads info and privacy436 people are talking about this
It's not the best time for Schiller to be making attacks that paint his competitor as a cause of student failure. While there is certainly market share to be gained by stealing sales from Chromebooks, there is an even larger opportunity to help the remainder of the market that is behind in all technology, whether it be iPadOS, Chrome OS, Windows, or otherwise.
Unfortunately, these disparities fall on familiar socio-economic fault lines. Rich suburban communities are ahead of poor communities in terms of technology access. If you are a student in a family with an income below the poverty threshold (around $25,000), there is a 20% chance that you have no broadband internet access at home and possibly no dial-up option. An eighth-grader who is eligible for a free school lunch is five times more likely to have never used a computer than students whose higher income level excludes them from free lunches. Wealthier 12th graders surveyed in 2015 were 50% more likely to have seen their first computer in Kindergarten than their lower-income peers.
Educators are scrappy and work with whatever resources they can muster.
As a former full-time high school teacher, I used Chromebooks, iPads, MacBooks, Windows laptops, and more. They all do well for education, but at the same time, maybe none of them work at all. Some of the highest-profile technology buying programs have produced lackluster results. Still, no educator is suggesting we give up technology.
Educators are scrappy and work with whatever resources they can muster. Until every student has equitable access to technology, I'd rather see technology executives offering ideas for helping technology work together to help students succeed, rather than threatening our students with failure if they use the wrong laptop.
Source; https://www.androidcentral.com/apple-should-be-supporting-education-not-attacking-competition
Huawei will build more HarmonyOS devices next year and sell them globally
Huawei is planning to release more devices powered by HarmonyOS next year and will market them globally. However, there are no plans to switch its phones, tablets and computers over to the in-house OS. The company already stated that it will not release a Harmony phone this year and it looks like there won't be one next year either.
It will release peripheral products like smartwatches, though (the current breed of Huawei smartwatches run Lite OS). Huawei is also planning on building smart speakers and VR devices that will run Harmony. Smart TVs too, of course, like the Honor Vision, which will launch in Europe in the near future.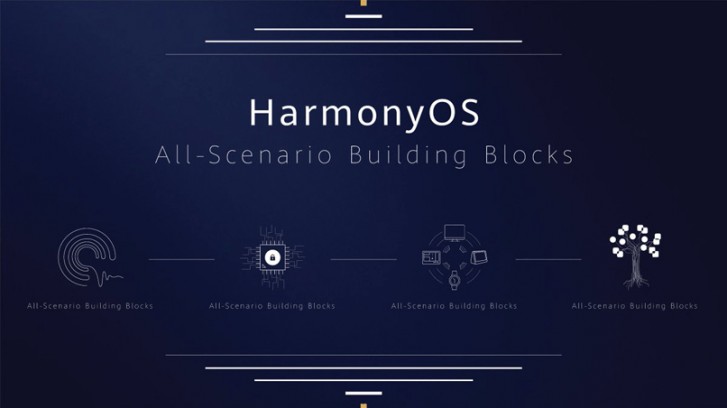 While the plan is to develop HarmonyOS into a fully-featured OS capable of powering smartphones, the company prefers to stick with Android – it's Google Mobile Services that need replacing in Huawei's view. Currently, the company relies on extensions to continue using tech and services provided by US companies.
Source:
https://www.gsmarena.com/huawei_will_build_more_harmonyos_devices_next_year_and_sell_them_globally-news-40481.php
Huawei's Mate 30 contains no American parts
When the extent of the Trump administration's sanctions targeting Huawei became clear, we wondered whether the Chinese telecoms giant would be able to make a smartphone without American components. The answer, according to a new report by The Wall Street Journal, is apparently yes.
The analysis by UBS and Fomalhaut Techno Solutions says that Huawei's Mate 30 contains no US parts at all. Huawei appears to have found non-American suppliers for several critical components. For example, it's now sourcing audio amplifiers from the Netherlands' NXP rather than Cirrus Logic, relying entirely on its own HiSilicon semiconductor division for Wi-Fi and Bluetooth chips rather than Broadcom, and using other companies like Japan's Murata and Taiwan's MediaTek for other parts previously supplied by US manufacturers.
New Huawei Mate 30 used zero US suppliers, teardown analysis shows

Intel
Broadcom
Qualcomm
Qorvo
Skyworks
Cirrus Logic

all provide parts to Huawei https://www.wsj.com/articles/huawei-manages-to-make-smartphones-without-american-chips-11575196201 …Huawei Manages to Make Smartphones Without American ChipsAmerican tech companies are getting the go-ahead to resume business with Chinese smartphone giant Huawei, but it may be too late: it is now building smartphones without U.S. chips.wsj.com
UBS: Huawei's internalization effort looks to have progressed faster than expected, as we now see some Huawei 4G models (Y9 Prime 2019 and Mate 30) which are not using any US components anymore

h/t @WigglesPalmer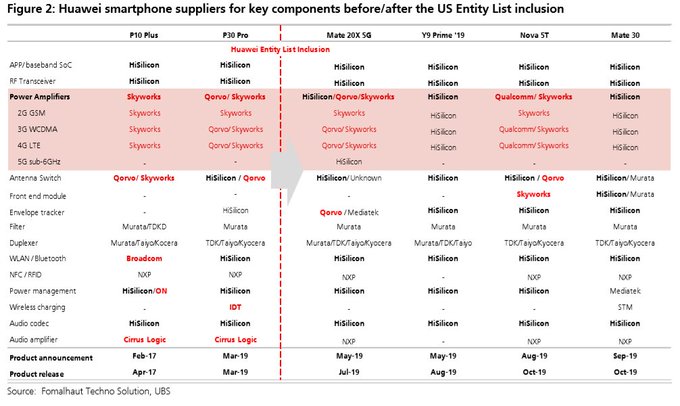 72:30 PM – Dec 2, 2019Twitter Ads info and privacySee Sally Shin's other Tweets
Huawei has a "clear preference to continue to integrate and buy components from U.S. supply partners," a company spokesperson told the WSJ. "If that proves impossible because of the decisions of the US government, we will have no choice but to find alternative supply from non-US sources."
Huawei hasn't been able to divest itself of US suppliers entirely, even though it's banned from doing business with most of them. The company said it had been stockpiling components in anticipation of sanctions, and separate teardowns reveal that some newer devices are still reliant on American parts. TechInsights, for example, shows that the higher-end Mate 30 Pro 5G uses chips from Qualcomm and Texas Instruments.
This could be for any number of reasons; presumably Huawei would want to use up the chips it saved for this scenario regardless of whether it had any other options. It's also not surprising that the company would be making big moves to diversify its supply chain. What the UBS teardown does demonstrate, however, is that Huawei is entirely capable of manufacturing high-end smartphones without American suppliers. The question remains whether anyone outside China will buy one.
Source:
https://www.theverge.com/2019/12/3/20993148/huawei-mate-30-no-american-components-manufacturers
Facebook buys maker of hit VR game 'Beat Saber'
Facebook-owned Oculus on Tuesday said it is buying the studio behind hit virtual reality game "Beat Saber" as it looks to expand VR technology to wider audiences.
Oculus, which makes Rift and Quest VR headgear, did not disclose financial terms of the deal to acquire Prague-based Beat Games.
"Beat Games is joining us in our quest to bring VR to more people around the world," Oculus director of augmented and virtual reality content Mike Verdu said in a blog post.
"Beat Games' accomplishments are already impressive, but Facebook and the Beat Games team know that there is so much more that can be done across VR, games, and music."
Verdu assured players that the studio would continue to ship content and updates for "Beat Saber" on platforms where it is already available.
In the virtual game, players use light sabers to slash oncoming, large cubes to the beat of the music, sometimes twisting or ducking to avoid oncoming walls.
"VR reimagines old genres and invents new ones," Verdu said.
Oculus is exploring ways, including acquisitions, to accelerate the adoption of virtual reality technology, which Facebook chief Mark Zuckerberg has heralded as the next major computing platform.
"With the resources and know-how that we can offer, Beat Games will be able to accelerate, adding more music and more exciting features to 'Beat Saber' as well as bringing the game to more people," Verdu said.
Facebook is planning a virtual social community where users of its Oculus headgear can "explore new places" via its Horizon virtual world, which is set for a beta launch in 2020.
Oculus users will be able to choose an avatar and interact with others in the virtual community, Facebook said earlier this year.
Horizon will replace earlier versions of the social VR community Facebook Spaces and Oculus Rooms.
Oculus remains a small part of Facebook, whose core social network and other platforms reach more than two billion people worldwide.
Analysts expect sales of 1.3 million units in 2019 of the Oculus Quest, a wireless VR headset unveiled last year.
Source:
https://guardian.ng/technology/facebook-buys-maker-of-hit-vr-game-beat-saber/