Hollywood actor Ryan Reynolds buys ownership in Mint Mobile
Today, Mint Mobile has a new owner. Famous movie actor Ryan Reynolds has purchase ownership stake in the US carrier. The California-based network offers low-cost data plans with unlimited talk and text to folks who bring their own phones to the network. Mint Mobile is an MVNO that operates on T-Mobile's nationwide LTE network.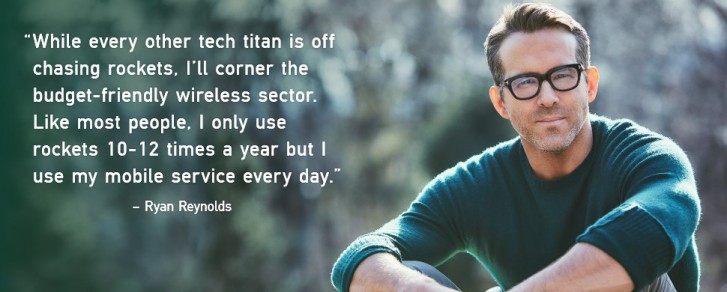 Mint Mobile currently offers a promotion of $45 for three months of service with 12 GB of data per month. You renew your service by paying for a few months at a time, up to 12 months. After the promotional rate, it'll cost $75 to renew the 12 GB plan for three months. Honestly, their pricing structure can be a bit confusing so make sure you do enough research.
It's a bit unconventional which is why I like it. Celebrities generally invest in high-end products like skincare brands or delicious gin companies. Yet Mint is making wireless way more affordable at a time when the average American is paying 65 dollars a month. I'm excited to champion a more practical approach to the most essential technology. – Ryan Reynolds
"Mint Mobile's consumer-centric approach and maniacal focus on generating consumer value has kicked Mint into hyper-growth mode. It's fitting that the most disruptive wireless company is now owned by the most innovative marketer on the planet," explained Mint CEO David Glickman.
Daniel Bader✔@journeydan · Nov 25, 2019
Not sure if trolling, but wow if true. https://twitter.com/VancityReynolds/status/1198950566719840256 …Ryan Reynolds✔@VancityReynoldsNewest @_MintMobile customer. Also, owner of the company. To keep things above board, I'll be paying myself $15 a month. #MintOwner
Ryan Reynolds✔@VancityReynolds
True story.5333:12 PM – Nov 25, 2019Twitter Ads info and privacy29 people are talking about this
Reynolds will help Mint's communication team, marketing efforts, and strategic decision making. Reynolds starred in both Detective Pikachu and Deadpool as their respective protagonists.
Source:
https://www.gsmarena.com/hollywood_actor_ryan_reynolds_buys_ownership_in_mint_mobile-news-40262.php
Google Maps for iOS gets Incognito Mode
You no longer need an Android phone if you want to keep your Google Maps activity (mostly) private. Google is rolling out Incognito Mode to iOS users as of today, giving you the same ability to search for and navigate to locations without leaving records behind on your account or Location History. Again, this won't affect Assistant queries or prevent outsiders from theoretically snooping on your Google Maps traffic — this is mainly so that Google (and anyone with access to your phone) won't know what you've been looking for.
Android users are getting an additional privacy control of their own. There will soon be a bulk delete option for your Timeline so that you can quickly remove a group of places you've visited without venturing into Maps' settings and specifying date ranges. This could be particularly helpful if you've been looking for gifts and would rather not spoil the surprise when your partner borrows your phone. The feature will miss the holidays with its January rollout, but hey — it'll be ready for next year.
Source:
https://www.engadget.com/2019/12/09/google-maps-incognito-mode-ios/
Google now wants users to chat within Google Photos app
Yesterday, we wrote about how you can now upload your Facebook photos and videos to Google Photos. Today, Google announced another feature that adds even more functionality to its photo management service — the ability to chat within the Google Photos app.
When users share a photo or video within Google Photos, they can now add them to an ongoing conversation in the app where they can easily like and comment on them. Users can even save photos and videos from these conversations to their own gallery without any loss in image quality.
No, this feature is not designed to replace your existing chat apps, and all conversations are private. This just adds a subtle usability tweak to the app and encourages users to share photos with close family and friends more often.
This Google Photos chat feature is gradually rolling out over the next week, and it will work across Android, iOS, and web apps.
Source:
https://www.androidauthority.com/google-photos-chat-1062403/
How to put lyrics on your Instagram story along with a snippet of a song
You can share up to 15 seconds of your favorite songs and put the lyrics on your Instagram story for your followers to enjoy for the next 24 hours.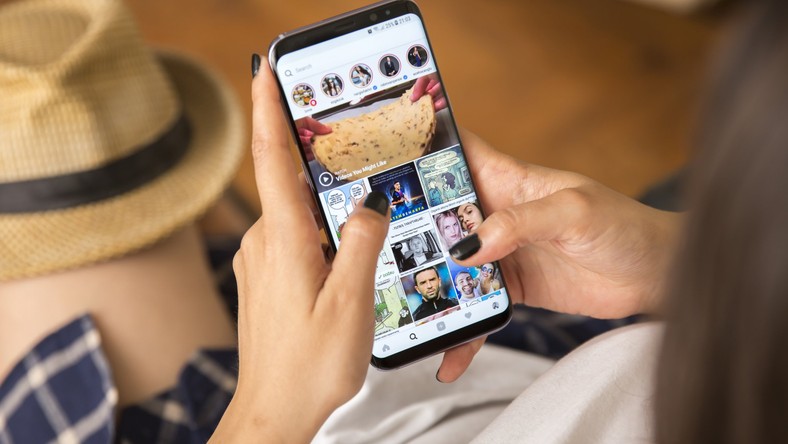 After you've added a photo or video to your Instagram story, swipe up on the screen and select "Music" to add a particular song and its lyrics, which you can customize the display of.
Since 2016, Instagram has allowed users the option to create Instagram stories and share them for 24 hours with followers, similar to Snapchat. Instagram stories also allow users to create polls and share music from various platforms, such as SoundCloud and Spotify .
However, earlier this year, Instagram announced that users can now add the lyrics to their favorite songs to their Instagram story as well. Here's how to do it.
How to put lyrics on your Instagram story
1. Launch the Instagram app on your iPhone or Android phone.
2. On the home screen of Instagram, click your profile picture in the top-left corner to add (or create) an Instagram story.
3. Add a picture (or video) you want to feature with the music lyrics.
4. Before you publish the story, swipe up and select "Music." If you do not see it on your screen, tap on the search bar and type "Music.
How to put lyrics on Instagram storyTaylor Lyles/Business Insider
5. Select a song you wish to add the lyrics from to your Instagram story. You can scroll through the songs suggested to you, or tap the search bar and search for a song.
How to put lyrics on Instagram storyTaylor Lyles/Business Insider
6. After you select the song, choose a snippet of the song and the corresponding lyrics will appear. You can feature up to 15 seconds of the song and the lyrics from the timestamp will appear on the screen.
For songs that have lyrics available, you'll have four different lyric-formatting options to choose from by tapping any of the available "A" icons.
7. After you select the snippet of the song, press "Done" in the top right-hand corner of the screen and proceed to position or resize the lyrics as you'd like, then upload the story.
Source:
https://www.pulse.ng/bi/tech/how-to-put-lyrics-on-your-instagram-story-along-with-a-snippet-of-a-song/eq58hdq