Gamers Gift Guide Christmas 2019: Controllers, headsets, accessories & more
With Christmas just around the corner, it's fair to say that present buying season is well and truly underway!
Whether you're looking for the perfect piece of tech to put on your wish list or you're buying an accessory for a fellow gamer, we're got you covered!
RealSport is here to breakdown the best tech and gaming gifts available this Christmas.
Headsets
When it comes to gaming headsets there are plenty to choose from. Here are some of the best headphones we've tried out.
SteelSeries Arctis 7
SteelSeries has excelled in their execution of the Arctis 7 Wireless. The price may be a little high, but it's very much a case of getting what you pay for.
With top of the line comfort and sound performance, if you are in the market for a wireless headset this winter, SteelSeries are a great option.
Gioteck TX-50
Premium comfort, premium finish, good audio. If you are gaming on a budget, this is the perfect headset for you.
The only slight issue is the portability of the headset (due to the lack of a foldable design), but the comfort and price of the headset make up for it.
Sennheiser GSP 370
A high-quality headset without the bulk of some of its rivals. If you want to shed the weight of a headset without sacrificing quality, this is the one for you.
Turtle Beach Elite Atlas Aero
This headset is superb – the design is simple and while a big headset it does fold for added portability.
At £129.99 they're not cheap, but if you like joining up with a squad to dominate Fortnite, take down opponents on Call of Duty, or just want to truly dive into the world of your favourite RPG then the Elite Atlas Aero is the one for you.
Turtle Beach Battle Buds (In-Ear)
The in-ear gaming headset is built to battle on any platform – and plugs easily into your controller.
A great, well-priced headset that'll win fans over because of its light-weight design and comfort. They make a fantastic companion for the Nintendo Switch.
Controllers
There are a load of great controllers on the market so whether you're a casual or serious gamer, there's one to fit your needs.
Nacon REVOLUTION Pro Controller 3 (PS4)
The REVOLUTION Pro Controller 3 is a wired controller (with the option to go wireless) that has been created specifically for competitive gamers looking for performance and comfort.
Asymmetric analogue sticks, wider action buttons and triggers and two weight compartments offer a truly personalised experience.
Xbox Elite Wireless Controller Series 2
The all-new Xbox Elite Wireless Controller Series 2 features over 30 new ways to play like a pro.
Adjustable-tension thumbsticks, shorter hair trigger locks and wrap-around rubberised grip are just some of the amazing features that helps the Elite controller enhance your gameplay.
Gioteck VX4 Wireless (PS4 & PC)
Gioteck's VX4 controller is a good piece of kit for its price. This controller is perfect for a casual gamer or a player who is looking to buy/replace an affordable, secondary controller for offline multiplayer gaming.
Gioteck WX4 Wireless (Nintendo Switch)
The Gioteck WX4 for Nintendo Switch is the perfect 'pro controller' for owners of Nintendo's latest console.
Not only can you get it for an incredibly reasonable price, but it outperforms the stock Switch controls by a long-shot in terms of extended gaming.
Stocking Fillers
These gifts make up perfect stocking fillers for any gamers.
Cable Guys
These little guys make the perfect Christmas gift for any gamers. They make up an inventive controller holder, which you can use to dock your controllers whilst they're charging. We tried out the Miles Morales Spiderman and Ezio (Assassin's Creed) Cable guys, but there's a ton of popular characters to choose from!
Gamer Socks
These socks are great for gamers and rather apt! Grab these here as a secret santa or to put in a gamer's stocking.
Retro Pocket Games
This neat bit of kit allows you to conveniently play retro games wherever you go. With over 100 8-bit games to choose from you'll be sure to find some of you old favourites – and all for below a tenner!
Source:
https://realsport101.com/tech/gamers-gamer-gaming-gift-idea-ideas-guide-christmas-2019-best-controllers-headsets-stocking-filler-fillers-present-for-him-her/
#5 Best Gadgets from CES 2020 That Will Blow Your Mind
The thing about technology is that it never fails to disappoint it, and which CES, the world's biggest tech show already happening in Las Vegas, we can't help but appreciate how cool things technology can invent.
Renowned companies like Samsung, Lenovo, LG, Sony like every year has showcased the best of their products. While popular companies always have something to present, we also have companies who have showcased some really quirky products this year making us say, "Isn't that just so cool?"
From the coolest laptops, phones, drones to foldable laptops, vertical TVs, there is something for everyone. In order to give you a quick update, we have curated a list of some exciting products that will hit the store in 2020.
Samsung Galaxy Chromebook
If experience is something that pleases you Samsung's Galaxy Chromebook might be the best Chrome OS machine to date. A rival to premium Google Pixelbook, this 2-in-1 device sets a higher standard in the mobile computing industry. The device has a 13.3 inch 4k AMOLED display and is powered by the latest 10th Gen Intel® Core™ i5 processor along with Intel® Wi-Fi 6.
Expected Release and Price: 1st Quater of 2020 and will be approximately for INR 72,000.
Harman Kardon Citation Oasis
While the device resembles a lot to Amazon Echo Dot, the thing about Samsung's Harman Kardon subsidiary is that they know how to set them apart. They have a built-in wireless charging which Echo Dot lack. Citation Oasis, a smart speaker has an LED clock, wireless charging and onboard Google AssistanSo with 8 hours of running time. To be honest, it does slow our two purposes. Some also believe that this would be the best smart clock out there.
Expected Release and Price: INR 14,230
Suunto 7
Sunnota who are known for their sporty smartwatches presented a wearable that has smart features from Wear OS by Google. The device has a feature of an outdoor map of around 50+ km range letting you follow the location and a wrist-based control for music. The smartwatch also lets you track your heartbeat, has a built-in GPS, something that adventurous people would love.
Expected Release and Price: 31 January 2020 and will be approximately for INR 34,260
LG Signature RX
When it comes to TV no one can beat LG. Every year the company overtakes its own invention. This year the developers have presented its first rollable TV. is set to hit the market for consumers later this year. The LG Signature RX's marquee rolls up when your power it down. The AI processor directs your 4K picture behind the scenes and comes with the ability to develop with time. It does redefine your watching experience. However, if you are planning to buy it, the hefty price might make you think.
Expected Release and Price: Third quarter of 2020 and will be approximately for INR 42,89,220 ($60,000).
Welt Smart Belt Pro
A belt is a necessity! However, when it gets combined with technology it just adds more value to a must-have accessory. Welt Smart Belt Pro won the CES 2020 Innovation Awards for its new product and it is kind of a quirky invention. An update of the previous version and first of its kind, it comes with a prevent fall feature. The belt comes with its own app that lets you monitor things like waist size, eating pattern, sitting time measurement, step count and more.
Samsung's knife-wielding robotic chef is all flash
Last year, we asked whether Samsung was getting serious about robotics. A year later, we're not any closer to answering the question. This year's presser played out roughly the same as last on the robotics front — all flash and little productizing to show for it.
Samsung's approach to robotics thus far appears to be the model of many other big electronics companies. It's flirtation with a technology that brings some sense of showmanship to the stage and booth. There's no better example than Bot Chef. I got a preview of the tech in Samsung's booth this week, pitched as "an extra set of hands in the kitchen."
You can't fault the technology for not being ready for prime time, at this point, of course. That's not really the point yet. The question, however, is how serious Samsung is about bringing a pair of robot arms to kitchens across the globe to sauté tofu and liberally apply Sriracha. I would love to say "very," and that the different demos were things the company was actively pursuing delivering on these products.
The futuristic theme of last night's keynote, however, implied that the company is offering up hypotheticals for what a future could look like — not what it will. Even Ballie, which seems a more realistic addition to the company's smart home strategy is also still very much conceptual. As with last year's robot demos, I wasn't able to get an answer from the company about how much of the robot's functions were autonomous and how much were choreographed. It's a cool demo regardless. But is it a serious one?
At the end of the day, I hope Samsung is getting serious about the category. The company has tremendous resources and a lot of smart people. If it really takes the leap, it could be a key player in making robotics more mainstream among consumers. For now, however, I'm unconvinced.
Source:
https://techcrunch.com/2020/01/07/samsungs-knife-wielding-robotic-chef-is-all-flash/
Images of Huawei P40 Pro case show a penta camera on the back, flat screen on the front
Last month we saw the Huawei P40 Pro in some renders by OnLeaks, but they were too dark to gather much beyond the outline of the rectangular camera island. Alleged renders for a protective case now offer a better look at the phone.
The camera hump shows five cameras, matching the rumors so far. The one in the top right appears to be a periscope cam (the P40 Pro is supposed to feature 10x optical zoom), though case renders are not usually reliable about such things. From a recent leak we know that the Huawei P40 will have a triple camera instead.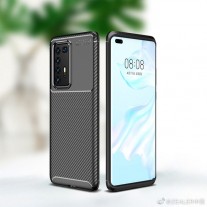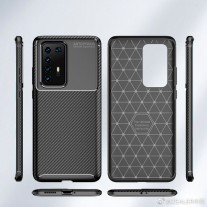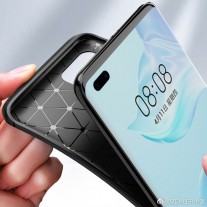 Huawei P40 Pro case renders
The front of the P40 Pro is quite interesting as well. Probably the first thing you notice is the dual punch hole selfie camera, similar to the nova 6 5G. But also have a close look at the screen – its sides are not nearly as rounded as the ultra-curved "Horizon Display" on the Mate 30 Pro.
You can even see traditional hardware keys on the side, rather than on-screen controls (we know not everyone was a fan). For what it's worth, the OnLeaks renders also hint at a mostly flat display.
There's no 3.5mm headphone jack, that's probably reserved for the non-Pro model. The top side of the phone seems to house an IR blaster.
The Huawei P40 and P40 Pro will be unveiled at the end of March in Paris with the Kirin 990 chipset on board and likely no Google services.
Source:
https://www.gsmarena.com/images_of_huawei_p40_pro_case_show_a_penta_camera_on_the_back_flat_screen_on_the_front-news-40907.php