2020 iPhone Shock As 'All-New' Apple iPhone Revealed
Apple is making major changes to its iPhone 12 range, but now we know the company is working on something much bigger.
The news comes from Front Page Tech's Jon Prosser, the standout Apple leaker of 2020 with a near-perfect track record. Prosser explains that Apple will remove the Lightning port but not for USB-C, instead the company will shock the industry with the first "portless iPhone coming next year".
Prosser states that it will be just one model, presumably a new flagship halo device – much like the original iPhone X, which stood out from the iPhone 8 and iPhone 8 Plus that were announced alongside it. Given the 2021 iPhone would be four generations on from the iPhone X, it also makes sense that Apple would look to deliver an all-new headline-grabbing design.
05/15 Update: speaking to me, Prosser has now added further information about this port-less phone. He explains that there will technically be a port, in the form of an Apple Smart Connector, but no port slot like you'd find with Lightning or USB-C. "Kinda like the old MagSafe chargers," he explains, "SmartConnector will act as a transition into totally wireless [at a future date]". Prosser also said the Smart Connector will be on the bottom of the phone, which makes sense for regular dock charging. Wireless charging on the back of the phone will also remain.
05/16 Update: Prosser has given me further details about Apple's new portless iPhone. Interestingly, he states that it should not be taken for granted that this model will be a flagship iPhone and Apple may instead opt to debut it on a cheaper iPhone, such as the delayed iPhone SE Plus. Presumably, this is because Apple will be able to save money by not installing a physical port or the company believes it can offset the charges of fitting a Smart Connector through the upgrades it expects buyers of this iPhone will need to purchase. Could this be Apple running head-first into another collision with customers, similar to when it removed the headphone jack?
05/18 Update: Thanks to further information given to me by Jon Prosser, this story has taken another twist. Prosser explains that Apple's first port-less phone may well ship without a charger. That ties in with his feeling that this iPhone is unlikely to be a flagship device, and it would open up Apple to another lucrative market of accessories to replace its proprietary Lightning port: "From what I'm hearing (which may anger some people) they [Apple] don't plan on shipping a wireless charger of any kind in the box," explained Prosser. "Similar to how they never shipped AirPods in the box. A 'courage' thing. Since only one of the phones is portless, if you make the choice to get the portless one, you're also responsible for buying your own wireless charger." If Prosser is right, expect this story to blow up as news spreads.
Furthermore, with in-display fingerprint readers maturing and under-display cameras coming to market, Apple could really make a bold statement (the evidence is certainly mounting). A portless iPhone would also likely be more durable as it should have even higher water and dust resistance ratings.
Of course, not everyone will want a portless iPhone. First, Apple's wireless charging speeds currently lag a long way behind the competition, so the company needs to significantly up its game here. Second, it will kill the hopes of those wishing Apple would adopt USB-C, the universal charging standard used by every other smartphone maker along with Apple's own MacBooks. But Prosser is blunt here: "Never USB-C", he states.
So should you wait for this big 2021 iPhone redesign? If you have an iPhone 11 or iPhone XS model, I think so. That said, Apple is bringing a lot to the table this year with new phone sizes, 5G across the range, a potentially groundbreaking new chipset, upgraded cameras alongside the company's new LiDAR sensor and – most importantly – a price point that is set to undercut the competition.
So yes, 2021 sounds radical but Apple's 2020 iPhone plans are exciting as well. For iPhone fans looking to upgrade, it's going to be a tough call.
Source:  https://www.forbes.com/sites/gordonkelly/2020/05/18/apple-2021-iphone-design-release-cameras-notch-touch-id-upgrade-iphone-12-iphone-11-pro-max/#5c3792e65016
Classic Hangouts to Google Chat migration starts in earnest for G Suite
Last August, Google delayed the classic Hangouts transition for G Suite customers into this year. Starting today, admins can migrate their users to Google Chat in earnest and get access to Gmail integration.
For the past year, Google has been testing the transition within an Accelerated Transition Program. Anyone can now use Chat in Gmail if their G Suite admins select the "Chat preferred" preference.
The Chat preferred setting allows you to migrate all of your users at once for the most effective and seamless transition. If some people use classic Hangouts and others use Chat, it can lead to missed messages and become burdensome for admins. And if you have a remote or distributed workforce, unifying your users onto a single chat network can help everyone communicate successfully.
As the setting implies, Google Chat will "become the default chat application for your organization." This will disable the classic Hangouts applications for Android and iOS, though hangouts.google.com will remain available. Users are advised to use the Chat mobile apps and chat.google.com, which is now a PWA. Google will also offer a classic Hangouts bot to notify users of unread group messages.
Meanwhile, classic Hangouts in the bottom-left corner of Gmail on the web will also be replaced. Google Chat 1:1 and group direct messages will appear instead, along with full-screen rooms. Other features include bot integrations, forward to inbox, emoji reactions, and message edit/delete.
This "Chat preferred" is rolling out now to Admin console and available for all G Suite users. For Google, this marks Phase 3 of the classic Hangouts deprecation timeline. The final step — where classic Hangouts is disabled entirely — will see all enterprise users "upgraded" in "late 2020."
Source: https://9to5google.com/2020/06/02/classic-hangouts-google-chat/
Motorola Razr 2 to come with bigger displays
The second-gen Motorola Razr is expected to arrive in September and while Motorola hasn't revealed any details about the Razr 2 (unofficial name) yet, new information coming our way reveals the foldable smartphone will sport displays bigger than its predecessor's.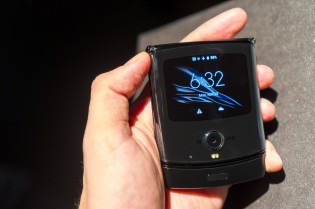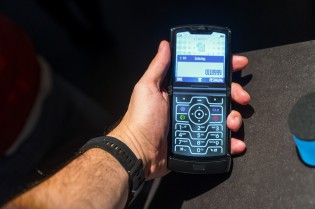 Motorola Razr 2019
According to Display Supply Chain Consultants' (DSCC) CEO Ross Young, the Razr 2 will come with a 6.7″ main display, which is 0.5″ larger than the current Razr. Young claims that the secondary external screen on the Razr 2 will also have a larger diagonal, but doesn't reveal the exact size.
The current Razr comes with a 2.7″ secondary display, and Motorola will be looking to maximize the available area on the cover better this time around.
The Motorola Razr 2 screen size will increase to the same size as the Galaxy Z Flip, 6.7". The front display will also increase in size.— Ross Young (@DSCCRoss) June 3, 2020
The Motorola Razr doesn't support 5G, but rumors have it that Razr 2 will support the next-gen networks – thanks to the Snapdragon 765 SoC at the helm.
Other rumored specs include 8GB RAM, 256GB storage, Android 10, 48MP main camera, and 20MP selfie camera.
Source: https://www.gsmarena.com/motorola_razr_2_bigger_displays-news-43575.php
Remember plus codes? Google's now making them easier to use
Google Maps is now making it a lot easier to use a feature it gained nearly half a decade ago.
Instead of explaining to friends and couriers where your house is located, you can use a plus code.
The plus code replaces confusing long form addresses by marking an exact spot on a map. It consists of a few letters, possibly numbers too, and, well, a plus symbol.
Google Maps users could find plus codes for places or interests, restaurants and other landmarks in their descriptions within the app. Now users can find the plus code for this own address by finding their place of residence, dropping a pin, tapping on the blue dot, and viewing the code in the respective pop-up.
This options is also available when sharing addresses across apps in Android.
For those who can't access Google Maps, the plus code is also searchable in Google, making it a nifty and compact alternative to full addresses.