A new iPad Pro refresh will reportedly arrive 'around March' 2020
What you need to know
Apple is expected to refresh its iPad Pro lineup this year.
A new report has new tablets arriving as soon as next month.
But it also notes that manufacturing has been slow to ramp up.
Anew report by the reliably unreliable DigiTimes has Apple getting ready to announce new iPad Pro products as soon as next month. We've been hearing for months that new iPad Pro models will be announced at some point in 2020, but this is the first time a March time window has seemed likely.
Despite feeling a March release is in the cards, DigiTimes does also note that mass production of the new models has so far been slow to get going, a situation likely not helped by the ongoing coronavirus situation in China.
Apple is scheduled to launch its new ‌iPad Pro‌ series around March, with related suppliers already kicking off production for the model ahead of the Lunar New Year holiday. However, their output has started growing slowly after the extended Lunar New Year break in China with shipments unlikely to peak until after April, according to industry sources.
If Apple is set to announce something in the coming weeks, March does fit with its modus operandi. Spring events do tend to happen in March, with Apple also heavily rumored to have a new iPhone 9 just waiting to be announced.
Source: https://www.imore.com/new-ipad-pro-refresh-will-reportedly-arrive-around-march-2020
Future version of WhatsApp could let you run the application on multiple devices
Users will soon be able to use a single WhatsApp account across multiple devices. The feature was first spotted in the beta version of WhatsApp, and is expected to make its way to a stable release in the near future. The chances of cross-platform support, however, look grim.
Despite its widespread popularity among users across the world, WhatsApp still lacks several key features that have existed in competing products such as Telegram and Signal. The ability to run across multiple devices happens to be one of them. At the moment, it is possible to run WhatsApp on only one phone, much to the dismay of people who use multiple devices. However, this could change with a future version of the instant messaging app. WhatsApp is reportedly working on adding multi-device support to the mobile app in a subsequent release.
WABetainfo, a site dedicated to fishing out new features out of beta versions of the app, stumbled upon what appears to be multi-device support for WhatsApp. Since WhatsApp uses end-to-end encryption across all of its devices, adding or removing a device will mean that there'll be a new encryption key for all future communication. All contacts will receive a notification about the encryption key change in their chats. Cross-platform support, on the other hand, will be tricky as WhatsApp relies on Google Drive as a backup medium on Android and iCloud on iOS. Currently, there is no way to switch things around and looking at the state of things; there isn't going to be one in the foreseeable future.
Since multiple device support is an experimental feature found in a beta version of WhatsApp, it could be a while before it makes its way to a stable release of the application. Let's hope it comes sooner, rather than later, as a lot of users would welcome it. Currently, the only way to get WhatsApp running on multiple devices is via the browser version. It is not as feature-rich and quite cumbersome to use after a point.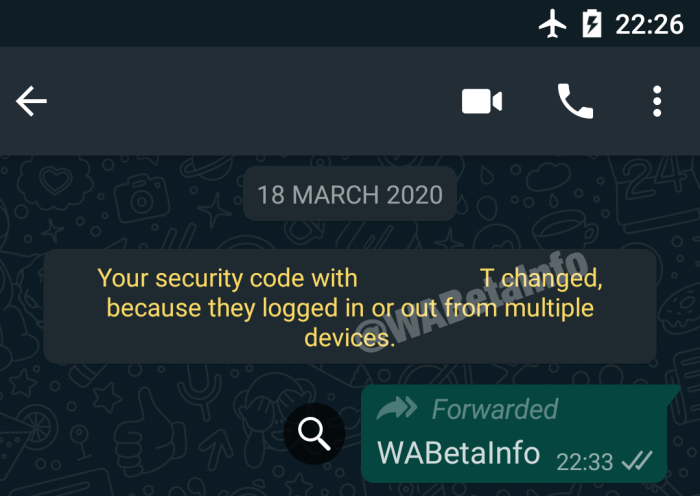 Source: https://www.notebookcheck.net/Future-version-of-WhatsApp-could-let-you-run-the-application-on-multiple-devices.459686.0.html
Next Apple Watch Series 6 will have even more features
Before we get another Apple Watch, it's going to be by Fall of the year 2020 which is the time we'll be seeing the likes of the Apple 12, 12 Pro and the 12 Pro Max (what we think they'll be called at least) meanwhile, there's a lot of room for more and as more rumors breaks about the Watch 6, it's obvious the device is going to trump the previous model and be a really better upgrade. Below are a list of what we're expected to see when the Apple Watch 6 gets released all based on rumors and Apple patents.
A new round design might be implemented
Way back since the first Apple Watch back in 2014, there hasn't been much changes as the device's looked very similar to one another as the generation progresses. This new model might just be a few tweaks here and there with slightly larger display, a different design materials as well as a different watch band designs.
There has been rumors of a circular watch face in the Apple Watches since way back but Apple do release the square face. Compared to the likes of Galaxy Watch, Amazfit Verge, Huawei GT, most of which have circular designs, Apple might just be the next on the line. Another thing that might confirm the rumor is the fact that the company has issued a couple Apple Watch patent that shows a round display.
But not to get too excited as this isn't official yet as it's just a possibility. Changing the display from square to circle will mean Apple has to go through a ton of reworks which includes redesigning both the software and the hardware to fit this changes so there is no guarantee about it.
Even more watch faces
Apple Watch will add more to its tons of watch faces which ranges from the likes of Disney Characters to animated weather interfaces. The fact remains the company probably won't be ditching its third-party watch faces so soon.
What Apple might also be including this time is the ability to share those watch faces according to 9to5Mac with each watch face being configurable and can be shared as a unique file through Airdrop.
The report, which cites leaked iOS 14 code as the source of its information, also says WatchOS 7, the next version of Apple's smartwatch software, will add an analog-style tachymeter to its design options that would measure speed and distance.
Another interesting thing is the ability to share albums from photos app and create a customised watch face that cycles through the photos in that album. That can give family members the opportunity to add up individual photos to the shared album for everyone in the group to see on their wrists I think that might not be gimmicky.
Lastly, for patriotic users, WatchOS 7 may add an "international" option that lets you choose a country's flag as your watch face so God Bless America.
A native fitness app that works with the core
Good fitness feature is very important and that has been the core functionality of the Apple Watch ever since its been launched and that might be further enhanced now this new year.
MacRumors has it that the company I'd working on creating a standalone fitness application which unlike the current Activity application which tracks your progress and already on the Apple Watch, the new upgrade or should I say new app will guide workout activities which includes running, cycling, rowing, strength training, dance and yoga.
While there are tons of third-party applications that do just this, the fact that Apple is creating something native to the WatchOS 7 core might be a good intention this time around. The app won't be limited to just the watch but also the iPhone and the Apple TV which might be free to download.
Also there's no evidence of in-app purchases but do not rule out the possibility of subscription based services such as the Apple music just yet.
Native sleep tracking may finally arrive
Sleep tracking might be coming natively to the device. Apple acquired Sleep sensor Beddit, a tracker that sits right underneath your mattress back in 2017. The rumor that Apple could incorporate this two devices into one another might be a good thing.
So the inclusion of a Sleep Watch might be a great thing and not to forget about the accidental mention through a screenshot of Apple's preinstalled Alarm app in the App Store. The image was spotted by a reader of MacRumos back in October, and has since been removed.
By using third-party services, users of the Apple Watch can access sleep tracking but implementing it right into the core of the watch system will be a big improvement that will also impact on the device's battery life.
This would likely drain the battery much faster. It's in the company's best interest to solve this issue soon though; many Apple Watch competitors like Fitbit and Samsung have had it on their devices for years.
More health features are coming
Wellness applications will continue to expand throughout the device's ecosystem with bthe biggest feature being the SPO2 tracking which is going to measure the level of Oxygen in your blood and alert you in case there's any abnormal count.
The Apple Watch already does something similar with heart rate, and alerts you if it detects an abnormally high, low or irregular heart rhythm.
The current sensors on the Apple Watch 5 won't be able to do just this and so there could be need for other type of sensors such as the Pulse Oximeter but implementing it right within the current hardware might not be easy.
Other health rumors include glucose and blood-pressure monitoring on the next Apple Watch, but these could be further off.
Parental controls coming to new IOS
The next big thing on the Watch 6 includes a more better parental control which is also rumored to come on the iOS 14 which will allow two Apple Watches to be setup on a single iPhone which can allow parents to keep tabs on their kids but not to buy them an iPhone.
Source: https://www.brumpost.com/next-apple-watch-series-6-will-have-even-more-features/
Latest iOS 14 leaks include new fitness app, expanded Pencil support, and more
Yesterday 9to5Mac posted details of several new features it found in supposed unreleased iOS 14 code, and now MacRumors is adding to the deluge of leaks in a series of posts. It's not clear that every one of these features pertains to iOS 14 specifically, but they do all sound like the sort of thing that could accompany a major software upgrade from Apple.
First up is a new fitness app codenamed "Seymour" and possibly to be called Fit or Fitness in its shipping form. It's said to be a standalone app targeting iOS 14, watchOS 7, and tvOS 14, rather than a replacement for the current Activity app. The new app reportedly lets you download fitness videos with different workouts and activities that you can perform as the Apple Watch tracks your session, potentially expanding the types of exercise that the Watch is able to be used for.HANDWRITING RECOGNITION SET FOR APPLE PENCIL?
iOS 14 is also set to include a new API called PencilKit that allows the Apple Pencil to be used in more situations. It allows for handwriting recognition and conversion in regular text input fields, which isn't currently a standard feature; MacRumors says it'll let you use the pencil to enter text in apps like Messages, Mail, Calendar, and others. Third-party developers will apparently get some form of access to PencilKit, too.
iMessage may also get some new features in iOS 14, though none of them sound like much more than what is already standard UI in many other chat apps. Apple is reportedly testing features like @-tagging contacts in group chats, unsending messages, a /me status update function, and the ability to mark messages as unread. MacRumors cautions that these tweaks are only in testing and may not see release.
Finally, MacRumors has some details on Apple's long-rumored object-tracking tags. They're set to be called AirTags, a name that has come up before, and are likely to use CR2032 button batteries. Pulling a tab on the AirTag activates it, according to the report, and then it can be paired with an iPhone or iPad by bringing it close. MacRumors notes, however, that this is based on an AirTag prototype, and points out that Apple Watch-style inductive charging has also been rumored.
9to5Mac's Apple leaks, meanwhile, include details on new features for watchOS 7, improved mouse support in iPadOS, blood oxygen monitoring for the Apple Watch, and further signs that Apple plans to release its own over-ear headphones.
Source; https://www.theverge.com/2020/3/10/21172751/ios-14-leaks-fit-app-apple-pencil-handwriting-rumors