ASOS Is Flogging Silver Ear Pieces That Look Like Apple AirPods
Fashion can be a truly baffling thing, which can prove even more divisive than Marmite. After all, one man's charity shop junk is another man's super rare vintage find, while someone's lavish payday treat may be seen as a complete rip-off by the next person.
The latest item to divide opinion brings a little bit of tech into the mix, with an interesting ASOS ear piece mimicking the iconic Apple AirPods.
While the 'ASOS DESIGN faux headphone ear piece in silver tone' isn't an explicit ode to Apple's popular wireless headphones, the similarity hasn't gone unnoticed by shoppers – one of whom took to Twitter to share the bizarre find, writing: "Next level from ASOS: fake non-functional airpods."
Next level from ASOS: fake non functional airpods
4,3292:55 PM – Sep 20, 2019Twitter Ads info and privacy377 people are talking about this
Since being posted, the tweet has since racked up more than 4,300 likes.
One Twitter user lamented: "Where did we go so wrong?"
The 'headphone design' ear piece is made from 100 percent zinc with a 'silver-tone finish'.
It's yours for just £6, which is a fraction of the cost of real AirPods, which are sold on the Apple website for £159. Mind you, you do get two of those at least – plus they come in a charging case and you can get your name, initials or phone number engraved for free, so…
Even the mobile network Three tweeted a photo of the ASOS item, saying: "Our mates at @ASOS are flogging a faux headphone earpiece (£5) for when you want to flex AirPods but Monzo says nah."
our mates at @ASOS are flogging a faux headphone earpiece (£5) for when you want to flex AirPods but Monzo says nah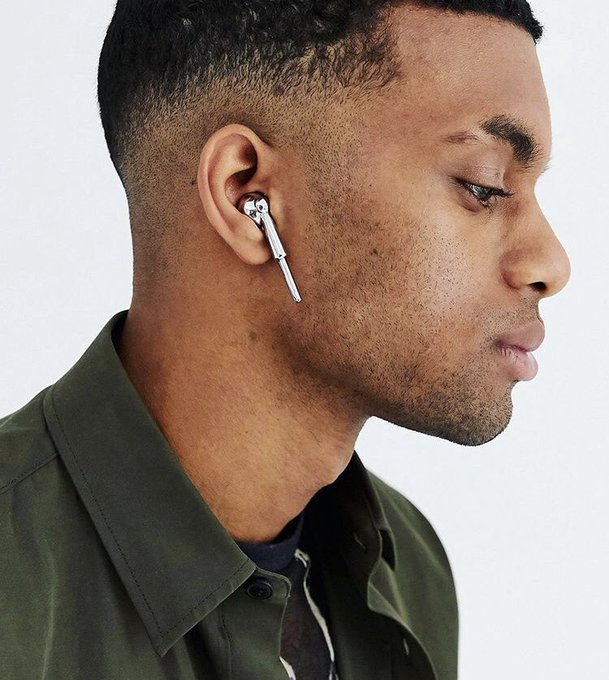 527:04 PM – Sep 19, 2019Twitter Ads info and privacy20 people are talking about this
Then Monzo also waded in, tweeting: "We still say nah."
Savage.
Mind you, if it's genuine(ish) AirPod earrings you're after, then a designer in the United States has just the thing for you.
Gabrielle Reilly, who hails from Virginia, makes earrings out of AirPod buds – having been inspired to create headphones that we won't keep losing.
Gabrielle shared a video of the product in action, modelling the jewellery as earrings before placing the actual earphones into her ears to show off their dual function.
Gabrielle, 22, said: "A lot of people either tell me I'm a genius or question the design.
"I think AirPod earrings was an idea a lot of people had, but didn't know how to realise the concept.
"I have been making jewellery ever since I can remember because my mom is very into DIY.
"Initially, I had put the AirPods on a chain necklace because I absolutely refuse to lose them.
"A lot of people ask, 'Why not just get regular earphones?' – I wanted AirPods because my cat has chewed through numerous wired earphones and I was tired of it.
"The necklace held up really well, so I thought, 'Why not make earrings?'
"It was more or less a joke, especially considering how AirPods have become a meme – but it was a functional joke."
Source: https://www.ladbible.com/news/uk-asos-flogging-silver-ear-pieces-that-look-like-apple-airpods-20190930
Samsung Galaxy S20 FE: Inspired by fans, for the fans
Samsung Electronics Co., Ltd. has revealed the Galaxy S20 Fan Edition (FE), the newest member of the Galaxy S20 series. Galaxy S20 FE is a premium flagship smartphone that includes innovations Galaxy fans told us they love most, and it is also made available at an accessible price point. COVID-19 disrupted the world as we knew it and technology is now playing a more crucial role in our lives and that is why we created Galaxy S20 FE; to deliver flagship experiences to more consumers.
Samsung took select features of the Galaxy S20 series, such as the super smooth scrolling display, an AI-powered camera, advanced chipset, hyper-fast connectivity, all day battery, expandable storage, with a streamlined premium design, in order to create the all-new Galaxy S20 FE.
"The S20 FE is an extension of the Galaxy S20 family and is the start of a new way to bring meaningful innovation to even more people to let them do the things they love with the best of Galaxy." Says Mr. Caden Yu, the Managing Director, Samsung Electronics West Africa.
All you want, to do what you love
Express the best of yourself when out on a day trip or at night catching fun with a pop of color that reflects your personal style, attitude and personality. The S20 FE comes in variant colors of Cloud Red, Cloud Lavender, Cloud Mint and Cloud Navy.
With the S20 FE, the fun never stops. The pro grade camera and 30X Space zoom help you capture memorable moments whether near or far at day time.
Plus, the night mode multi-frame and powerful performance gets you through the fun nights and the 4500mAH battery keeps you on all day with little in between time to recharge using the 15W fast charging.
And since life can be unpredictable, the Galaxy S20 FE is water and dust resistant; IP68 rated. Better yet, when accidents happens, one can rest easy knowing the 24 months warranty and Screen repair offer that comes with Pre order has got your back.
Pre order
The S20 FE is available for pre order from the 9th of October with a Wireless Bluetooth earphones, Clear Standing cover and Screen repair offer. You also get a 4 month Free Subscription on YouTube premium. Trade In Discount Offer also available from Pre order. Trade in your old phones and enjoy discount on the S20 FE
Launch.
The S20 FE would be officially available in the market from the 23rd of October. Visit any of our Samsung Experience Store nationwide for an amazing and pleasurable experience.
Device Specifications
With its variants of colors, S20 FE comes with a 6GB RAM/128GB ROM, a long lasting battery of 4500mAh with 15W fast charging, a 32MP selfie camera and a 120Hz Super-Amoled display.
FIFA 21: No demo for upcoming game, EA Sports confirm
EA Sports has announced that the company will not be releasing a demo for FIFA 21.
FIFA 21 is set to be released on PlayStation 4 and Xbox One on Friday, October 9, having being pushed back from its usual September release date due to the coronavirus pandemic.
In addition, the game will also be eventually released on the upcoming Sony PlayStation 5 and Xbox Series X, making this year's release one of the most important in recent years.
Typically, EA Sports release a demo for each year's game around three weeks before the official release, allowing players to test out the gameplay in one-off matches featuring some of the game's top teams.
The demo is then typically followed by an early access period for those that are EA Play members, offering players a chance to play the full game for a limited time before release.
However, EA confirmed on Monday that this year's game will not have a demo, with the company instead focusing on making sure the full game is prepared for its October 9 release date.
"We aren't releasing a demo for FIFA 21. Instead we've made the decision to focus our development team's time on delivering the best full game experience for current & next-gen consoles," EA said in a statement.

"We look forward to EA PLAY members jumping in 10 days from now and launching the game Oct 9."

In recent weeks, EA has begun to unveil the list of the highest-rated players in the game, with Lionel Messi, Cristiano Ronaldo and Robert Lewandowski earning the top three places on this year's rankings on the men's side with U.S. women's national team star Megan Rapinoe leading the way for the women.

This year's game will feature improvements to career mode, new attacking systems such as Agile Dribbling, Positioning Personality and Creative Runs and improvements to the highly-popular Ultimate Team mode including FUT Co-Op gameplay and increased club customisation options.

Additionally, the game will feature a series of new icons: Eric Cantona, Ferenc Puskas, Xavi, Nemanja Vidic, Petr Cech, Samuel Eto'o, Bastian Schweinsteiger, Phillip Lahm, Fernando Torres, Ashley Cole and Davor Suker.

Source: https://www.goal.com/en/news/fifa-21-no-demo-for-upcoming-game-ea-sports-confirm/w6bswvm9fg9h16crm45vzt6qs
Editing HTML Like A Boss In VS Code
Here's a seven minute video from Caleb Porzio that focuses on some of Emmet's HTML editing features. You might think of Emmet as that thing that expands abbreviations like table.stats>tr*3>td*3 into glorious, expanded, and perfect HTML. But Emmet has other HTML editing trickery up its sleeve. My favorite is "wrap with abbreviation" (which happens to be Cmd/Ctrl + Shift + A on CodePen), but there are more, like expanding your selection inward and outward and tag changing.
If you haven't seen it, the Emmet 2 preview on CodePen is pretty neeeeat. It shows you what you're about to expand into before you do it:
Source: https://css-tricks.com/editing-html-like-a-boss-in-vs-code/