AUTOMATION WILL MAKE LIFELONG LEARNING A NECESSARY PART OF WORK
Shifts in skills are not new: we have seen such a shift from physical to cognitive tasks, and more recently to digital skills. But the coming shift in workforce skills could be massive in scale, write Jacques Bughin, Susan Lund, and Eric Hazin in Harvard Business Review.
President Emmanuel Macron together with many Silicon Valley CEOs will kick off the VivaTech conference in Paris this week with the aim of showcasing the "good" side of technology. Our research highlights some of those benefits, especially the productivity growth and performance gains that automation and artificial intelligence can bring to the economy — and to society more broadly, if these technologies are used to tackle major issues such as fighting disease and tackling climate change. But we also note some critical challenges that need to be overcome. Foremost among them: a massive shift in the skills that we will need in the workplace in the future.
To see just how big those shifts could be, our latest research analyzed skill requirements for individual work activities in more than 800 occupations to examine the number of hours that the workforce spends on 25 core skills today. We then estimated the extent to which these skill requirements could change by 2030, as automation and artificial technologies are deployed in the workplace, and backed up our findings with a detailed survey of more than 3,000 business leaders in seven countries, who largely confirmed our quantitative findings. We grouped the 25 skills into five categories: physical and manual (which is the largest category today), basic cognitive, higher cognitive, social and emotional, and technological skills (today's smallest category).
The findings highlight the major challenge confronting our workforces, our economies, and the well-being of our societies. Among other priorities, they show the urgency of putting in place large-scale retraining initiatives for a majority of workers who will be affected by automation — initiatives that are sorely lacking today.
Shifts in skills are not new: we have seen such a shift from physical to cognitive tasks, and more recently to digital skills. But the coming shift in workforce skills could be massive in scale. To give a sense of magnitude: more than one in three workers may need to adapt their skills' mix by 2030, which is more than double the number who could be displaced by automation under some of our adoption scenarios — and lifelong learning of new skills will be essential for all. With the advent of AI, basic cognitive skills, such as reading and basic numeracy, will not suffice for many jobs, while demand for advanced technological skills, such as coding and programming, will rise, by 55% in 2030, according to our analysis.
The need for social and emotional skills including initiative taking and leadership will also rise sharply, by 24%, and among higher cognitive skills, creativity and complex information and problem solving will also become significantly more important. These are often seen as "soft" skills that schools and education systems in general are not set up to impart. Yet in a more automated future, when machines are capable of taking on many more rote tasks, these skills will become increasingly important — precisely because machines are still far from able to provide expertise and coaching, or manage complex relationships.
While many people fear that automation will reduce the number of jobs for humans, we note that the diffusion of AI will take time. The need for basic cognitive skills as well as physical and manual skills will not disappear. In fact, physical and manual skills will remain the largest skill category in many countries by hours worked, but with different importance across countries. In France and the United Kingdom, for example, manual skills will be overtaken by demand for social and emotional skills, while in Germany, higher cognitive skills will become preeminent. These country differences are the result of different industry mixes in each country, which in turn affect the automation potential of economies and the future skills mix. While we based our estimates on the automation potential of sectors and countries today, this could change depending on the pace and enthusiasm with which AI is adopted in companies, sectors, and countries. Already, it is clear that China is moving rapidly to become a leading AI player, and Asia as a whole is ahead of Europe in the volume of AI investment.
We see retraining (or "reskilling" as some like to call it), as the imperative of the coming decade. It is a challenge not just for companies, which are on the front lines, but also for educational institutions, industry and labor groups, philanthropists, and of course, policy makers, who will need to find new ways to incentivize investments in human capital.
For companies, these shifts are part of the larger automation challenge that will require a thorough rethink of how work is organized within firms — including what the strategic workforce needs are likely to be, and how to set about achieving them. In our research, we find some examples of companies that are focusing on retraining, either in-house — for example, Germany's SAP — or by working with outside educational institutions, as AT&T is doing. Overall, our survey suggests that European firms are more likely to fill future staffing needs in the new automation era by focusing on retraining, while US firms are more open to new hiring. The starting point for all of this will be a mindset change, with companies seeking to measure future success by their ability to provide continuous learning options to employees.
The skill shift is not only a challenge, it is an opportunity. If companies and societies are able to equip workers with the new skills that are needed, the upside will be considerable, in terms of higher productivity growth, rising wages, and increased prosperity. M. Macron's point about technology being a force for good will become a self-fulfilling prophecy. Conversely, a failure to address these shifting skill demands could exacerbate income polarization and stoke political and social tensions. The stakes are high, but we can already see the outlines of what needs to be done — and we have a little time to work on solutions.
Source: Harvard Business Review
Russian Gamer Brothers Are the Newest Hidden Billionaires
Russian-born Igor and Dmitry Bukhman are seeking growth to challenge Tencent and Activision.

Almost two decades ago, in a remote Russian city best known for its butter and linen, two brothers shared a bedroom and a Pentium 100-powered computer they used to code their first game.
Wall Street wants a piece of what they've built since.
Playrix has met with some of the biggest banks "and visited their skyscrapers," said Dmitry Bukhman, 34, citing meetings with dealmakers at Goldman Sachs Group Inc. and Bank of America Corp. For now, though, "we are focused on growing the business."
He and Igor Bukhman, 37, are the brains behind Playrix Holding Ltd., the creator of popular games similar to Candy Crush, including Fishdom and Gardenscapes, with more than 30 million daily users from China to the U.S. and annual sales of $1.2 billion, according to Newzoo. That makes the company one of the top 10 iOS and Google Play app developers by revenue, data from researcher AppAnnie show, putting Playrix in the same league as Tencent Holdings Ltd., NetEase Inc. and Activision Blizzard Inc.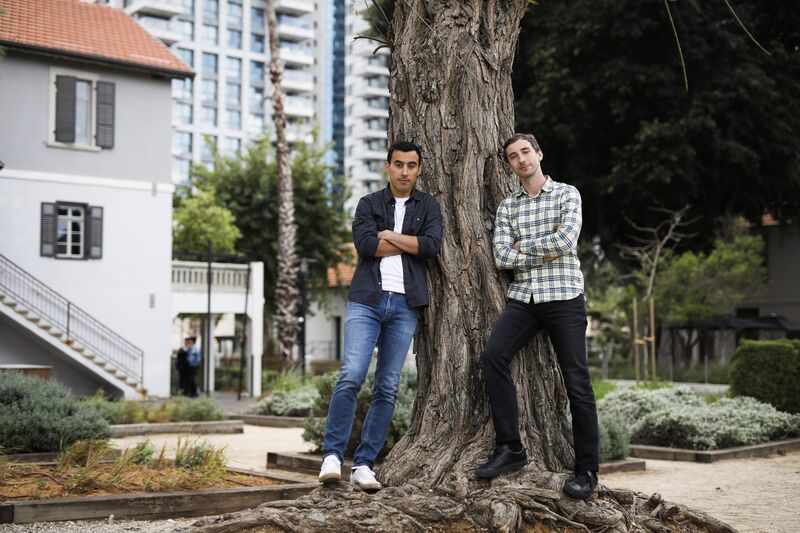 Today, each brother is worth about $1.4 billion, according to the Bloomberg Billionaires Index. They haven't previously appeared in a global wealth ranking.
Their road to riches started in 2001 in the city of Vologda, almost 300 miles (483 kilometers) north of Moscow, where Igor learned from a university professor that he could sell software online. He decided to try with Dmitry, who was still in high school at the time.
"We had no experience, no business understanding whatsoever—everything we could imagine was writing games," Igor said.
The U.S. is Playrix's biggest market, followed by China and Japan, the brothers said in a recent interview in Tel Aviv, where they spend some of their time. The two remotely manage about 1,100 employees, including personnel at its Ireland headquarters and developers in Russia, Ukraine and Belarus.
"For $3 billion we won't sell"
The brothers' first product was a game akin to Xonix in which players must use a cursor to open pieces of a hidden picture before being struck by flying balls. They wrote it during a summer break and generated $60 in the first month and later $100 a month, about half of the average salary in Vologda.
"We thought, 'If one game makes $100, we can write several dozen of them and make a lot of money,"' Igor said.
Their second game, featuring an animated character designed by an outsourced artist, brought in $200 a month. Their copycat of Tetris brought in $700 a month, but the brothers shut that down after learning that the game was protected by a license. In 2004, when the business reached $10,000 of monthly revenue, they registered a legal entity, rented space for an office in the basement of a book warehouse and hired other staff to accelerate production.
In the early years, they sold casual games through sites such as majorgeeks.com or download.com, before moving to bigger platforms like Yahoo! and AOL. Then, within the past decade, games started moving first to Facebook and then smartphones. Many of them were available for free, with users paying only for certain in-game features.
Playrix makes most of its money from in-app purchases and the brothers mostly shun advertising, which detracts from the user experience. Ads generate less than 3 percent of revenue, Dmitry said.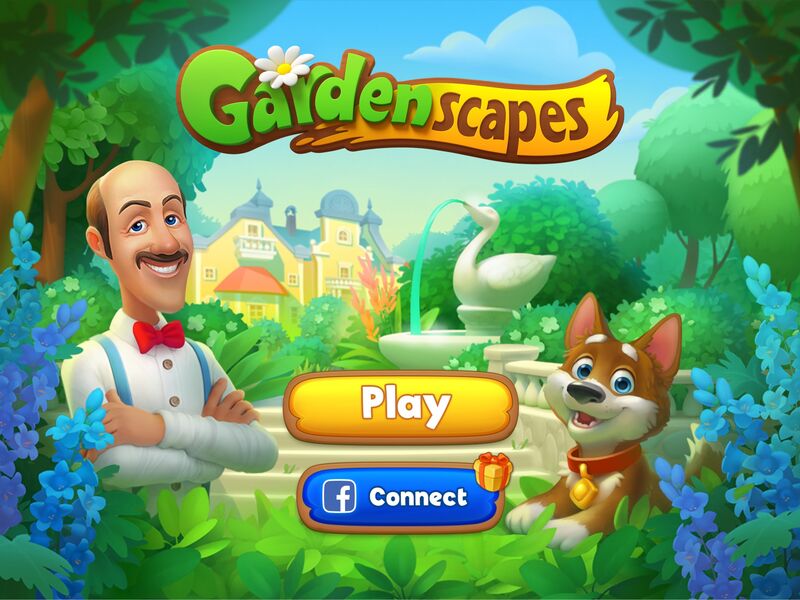 "It was a major challenge for us to switch to developing free-to-play games—that's totally different DNA," Dmitry said. "Free-to-play games aren't games that you develop, release and move on to making another one. They are services that need to be supported constantly as users are waiting for regular updates."
Playrix succeeded in this transition, achieving worldwide recognition over the past three years with Gardenscapes and its sequel, Homescapes, a new variety of match-3 puzzle in which a player completes rows of at least three elements to pass levels and progress through an animated storyline—in this case, helping a butler named Austin renovate a house with a garden.
"Austin engages in dialog with you, you help him to select ways to decorate the mansion, you dive into the history of this character and become related with him," Dmitry said. "This genre variety we introduced—match-3 with meta game—became very successful, and other companies started copying us."
"Playrix is certainly responsible for the first major innovation in the match-3 genre since King Digital Entertainment Plc seemingly had the market locked down with Candy Crush," said Newzoo analyst Tom Wijman. "Playrix managed to add a layer of complexity and 'meta game' to the match-3 genre without driving away casual mobile players."
The company employs several full-time script writers who work on Austin's dialog, and it's always improving the games, Dmitry said.
"It's like apps, like Spotify—people can use them for years," he said. "More and more people are getting accustomed that it's perfectly normal. Why not pay $5 to get pleasure from playing a game on a smartphone rather than watching videos or listening to music?"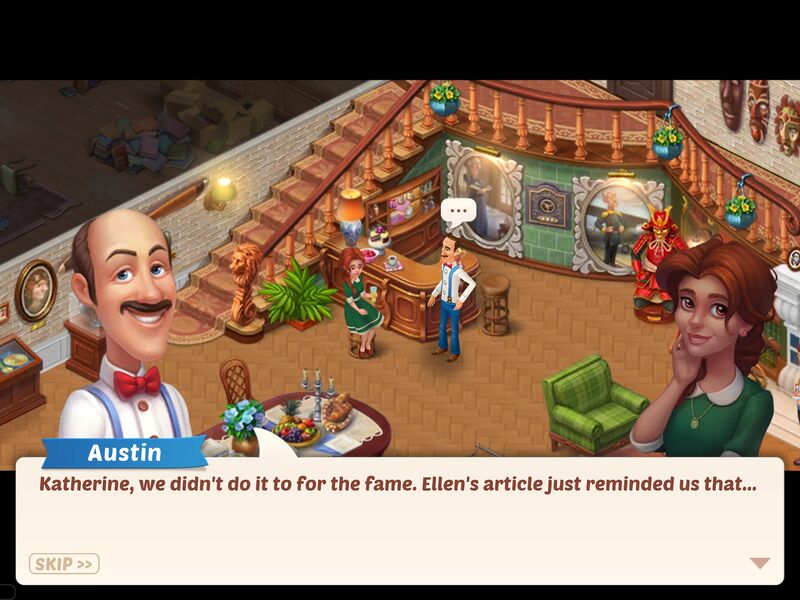 While Playrix hasn't introduced a new title since 2017, the company recently acquired several gaming studios to expand into new genres, Igor said, declining to disclose which studios until it releases games developed by them later this year.
Successful titles attract whales. Activision Blizzard acquired King Digital in 2015 for $5.9 billion, and a year later Tencent led investors in an $8.6 billion deal to acquire a majority stake in "Clash of Clans" maker Supercell Oy.
Could Playrix be next? In February, the Information reported that it could be sold for $3 billion, citing Chinese firms iDreamSky Technology Holdings and FunPlus Game Co. as potential suitors.
The brothers dismissed the report.
"For $3 billion we won't sell," Dmitry said with a smile, while acknowledging that Playrix had been discussing strategic options as recently as last year, noting its meetings with Wall Street banks.
Their goal, for now, is to become a "top-tier gaming company," that rivals Activision Blizzard and Electronic Arts in the West, and NetEase Inc. and Tencent in China, Igor said.
"We want to grow as big as they are, using developer talent from our region—the former USSR and Eastern Europe," he said.
There's no magic number that would compel the Bukhmans to sell the company, because they say money is secondary to doing what they love.
"Some may think that when you have a lot of money, everything becomes different and more interesting, you start doing different things," Dmitry said. "But no. We just keep working."
Did Polish tech entrepreneur Marek Zmyslowski defraud Nigerian investors?
Did Polish entrepreneur and former founder of Nigerian startup HotelOga Marek Zmyslowski defraud his Nigerian investors or is he – as he claims, simply the victim of investors who are trying to extort $300 000 by using an extradition request sent through Interpol?
While Zymslowski (pictured above) continues to deny that he defrauded investors, investors claim he siphoned off tens of thousands of dollars in company funds into his private account, that he went behind their backs to make deals to sell the company and that he ran a secret Polish-registered entity where the hotel management software platform's intellectual property (IP) was held.
The lead Nigerian investor and the man Zmyslowski calls The Godfather, Kenyan-born entrepreneur Maneesh Garg (Zmyslowski confirmed to Ventureburn on 19 February that Garg is "The Godfather") told Ventureburn that he was sold a lie when he invested $150 000 in the Polish entrepreneur's hotel management software company in 2016.
Garg is the founder of the Afriglobal Group which has operations around the world.
Nigerian investors claim they never knew about Marek Zmyslowski's secret Polish entity, that he siphoned off company funds, brokered unauthorised deals
An Edmund Olotu, who is the founder of Nigerian fintech company Tech Advance last week wrote a blog post on Medium in which he presented various evidence such as bank deposits, emailed correspondence, an extradition request sent from Nigerian to Polish authorities and a shareholder agreement — all to back up claims that Zmyslowski conned investors.
It's not known currently how Olotu is linked to the matter. Olotu has declined various attempts by Ventureburn to get comment from him, including on how he is linked to this matter. However what is known is Olotu's current CFO Gulbert Kiros is the former CFO of HotelOga. According to Zmyslowski, Kiros contributed cash of $20 000 to the business, when he accepted the position at HotelOga.
Zmyslowski said it is possible that Olotu was the person who did indeed front Kiros's contribution. But Zmyslowski says he never dealt with Olotu.
'Zmyslowski lied about Polish entity'
Garg's investment was made in a Nigerian-registered entity — Hospitality Technology Solutions (HTS) Ltd, through his Marathon Real Estate company.
Olotu and Garg's central contention is that Zmyslowski lied about the existence of a second company domiciled in Poland called Hotel Online sp. z.o.o, which held the startup's IP. Zmyslowski was a shareholder in both entities.
A copy of the company registration document presented on Olotu's blog post shows that the Polish entity, was registered on 9 November 2015.
According to a blog post earlier this month by Nigerian tech blogger Benjamin Dada, the Nigerian entity (Hospitality Technology Solutions) was registered just four days before this — on 5 November 2015.
Garg says he and Zmyslowski met at a tech talk. He initially found him "inspirational" and "charismatic". The two became friends and would often go out together, with the later accompanied by his girlfriend.
He says Zmyslowski told him that he was the co-founder of Hotel Oga. He then put in $150 000, while Zmyslowski said he had two investors from Poland too.
He later also introduced him to his childhood friend Majiek Prostak, from Poland. Prostak was a director in both the Nigerian entity and in the Polish entity. At the time Garg says he believed Majiek was a director in Nigeria, while he was really in Poland.
Records provided by Olotu show that a shareholder agreement was signed between the parties in February 2016.
Garg claims he knew nothing of the existence of the Polish entity. He says when he invested he said he wanted to both ensure that the IP remained in Nigeria and secondly that he had put options – the option to sell.
He argues that an experienced businessman like himself – with over 25 years in business – would not have invested in the Nigerian entity if he had known that the IP was really held elsewhere: in a Polish entity.
'Accounting discrepancies'
Garg says following the investment there were "challenges" as Zmyslowski and the auditor were not getting along. He claims Zmyslowski wasn't co-operating. "We weren't able to understand what was happening in Poland," he added.
He says issues with the assets needed to be documented, which was when he asked that Zmyslowski hire an auditor "At one stage Marek fired the auditor," he added.
Zmyslowski then brought in Gulbet Kiros, an American Ethiopian with an investment banking background who he knew from his days at Jovago (the Rocket Internet backed firm that the Polish entrepreneur founded before HotelOga), to act as a CFO.
Garg says it was when Kiros began doing a reconciliation of the book, that he began noticing "discrepancies" as well as the existence of a separate company in Poland. "Imagine discovering this – that a man has two wives," he says, adding that there was "a lot of mess" between Zmyslowski's account and the company account.
He says he then decided that the best was to get out using his put option to claim the $150 000 he originally invested, plus an investment return of 30%. However, he says Kiros wanted to let the company continue operating and suggested to Garg that he could take over running it from Zmyslowski.
When Zmyslowski told him he was in discussions with Savanna Sunrise, Garg says he agreed that the deal should go ahead. "I said okay fine, let's just sell it off and get the things." At the time he said Kiros had remarked to Garg that he was "too trusting". He pointed out that once the company was sold Garg would have far less leverage.
"For some reason the sale didn't go through. At some stage it got quite convoluted and at some stage Majiek asked me to take over. Majiek said he'd had issues (with Zmyslowski). I don't know if it's only (drug) abuse or not."
While he accuses Zmyslowski of servicing commissions in his own name and account, he also says Zmyslowski went behind his back to try sell HotelOga to a South African company NightsBridge.
The deal subsequently didn't come off, but only after Garg sent a cease and desist request to Nightsbridge, after discovering that the SA company had made a $30 000 payment to a Citibank account in London for a "software licensing agreement" (a screengrab of which is shown on one of the Nigerian investor's recent blog posts).
'It's not extortion'
Zmyslowski claimed in a blog post on Medium earlier this month, that Garg and his Nigerian investors are using an Interpol Red Notice to try to extort $300 000 out of him (an amount which Garg says is made up of the original amount owed to investors plus legal fees).
But Garg denies he's trying to extort the Pole. He says the case landed up at Interpol after he made a case with the Nigerian police, adding that he was pursuing the matter through attorneys in the UK and Poland. "Interpol is a serious matter," he adds.
He says the whole of last year turned in to this "cat and mouse" game between Zmyslowski and investors and where the Pole was unable to travel outside of Poland. "Initially he was like 'If I pay you, do the cases go away?'" says Garg.
Garg however, says he's not even sure Zmyslowski has the money. He claims that after numerous requests from Garg to show him that he had the money to pay, Zmyslowski put the money in an account and shared with Garg's Polish lawyer Ewa Lejman bank records which indicated that he had just short of $200 000. Zmyslowski, he says, claimed the account was his mother's.
"He said he's 'buying his freedom'." Then he told Garg someone had to go to Poland. Garg says he didn't go himself, but sent an attorney to meet him. In the final quarter of last year he says the whole thing began "dying down".
In January however Garg came to hear that Zmyslowski was busy writing a book. He even got in touch with Garg in the week of 18 February.
'Sweet talk, women, drugs'
He says Zmyslowski is a "sweet talker" who has low ethical standards, is arrogant and has cognitive dissonance.
"He is basically about 'me, myself and I' and extremely egoistic," he said. "He likes women and partying," he says, adding that Marek would at times disappear for two or three days on end, claiming that it was when Zmyslowski was using cocaine.
In addition, he says board meetings were often called off because Zmyslowski would cancel at the last minute. "He claimed I was old fashioned," says Garg, about the Pole's view on corporate governance. "We tried to have quarterly board meetings, he always claimed he couldn't come because of girlfriend problems."
He says Zmyslowski is a big spender. In June 2016 he gave him a $15 000 personal loan after he approached him to cover his living costs "so that he could eat". He came to him a second time. Altogether he reckons he loaned him $20 000 to $25 000 in personal loans.
"He's good looking and charming. He can sell a comb to a bald man," he says.
I didn't trust him – Nightsbridge woman
NightsBridge managing director Theresa Emerick, with whom Zmyslowski tried to cut a deal in April 2017 to make an asset sale of his Nigerian business, told Ventureburn she didn't trust the Polish entrepreneur either.
"He will tell any story just to have a good image," she said. She said finance was not his strength. "This is like the founder of Jumia, the Rocket Internet money. Then he went out on his own and is good at marketing," she said.
Garg and Olotu contend that he never told them that he was negotiating with Nightsbridge. Emerick backs this up.
She said she first met Zmyslowski during a trip to Nigeria, in which time she visited two other companies there. She went to see Zmyslowski "just to meet the competition". At the time, she said, he was "jokingly" talking about a merger, and there was no indication that his company was in trouble. However, a few weeks later he sent her an email to say that the company is in trouble.
Zmyslowski contacted her on 4 April 2017 and they signed a term sheet on the 8th.
She said at the time Zmyslowski told her that he couldn't sell before getting permission from his investors. "He kept saying that he was trying to get in contact with him (Maneesh) but that he was confident that he would get hold of him soon," she said.
On 24 April 2017 according to records provided by a Nigerian investor on his blog post last week, Emerick received an emailed invoice from HotelOga for $30 000 for software licensing agreement set up of code base environment. Payment to be made to a Citibank account in Canary Wharf, London in name of Hospitality Technology Solutions. Emerick paid HotelOga a further $13 000 on top of this.
A formal sale of assets agreement on the 25th April. The plan was for Emerick's company to take over employees and the hotel contracts, not the software or the entities. The sale of assets agreement provided by Zymslowski to Ventureburn shows that he sought to make an asset sale of $100,000 to her.
"As the company was in dire straits, we made several payments towards salaries, operating costs and settling some of the debt to hotels during the DD (due diligence) phase, to keep operations going till we could proceed to a transition," she said.
But Emerick says the accusation that Zmyslowski was going to sell HotelOga's source code to Nightsbridge is "entirely incorrect". "We weren't going to buy their code as we had our own," she told Ventureburn. She said rather, that the agreement concerned the porting of his clients to Nightsbridge's software.
Emerick said she sent a formal Creditor's Claim on 20 May 2017 to Zmyslowski stating that the agreement had lapsed (it was still in the due diligence phase) when it became clear that he didn't have the consent of his other investors, which was a condition precedent to the sale.
On 21 May 2017 (see the screengrab on the same post as above) she requested that Zymslowski repay the $43 000 she had paid over to HotelOga. She says they wouldn't proceed as cease and desist order from Garg shows that he has a claim against Hospitality Technology Solutions.
A cease and desist order was sent by Garg and investors to Nightsbridge on 29 June 2017 (see here). "Of that claim, Marek refunded 30K in August 2018. The rest (a smaller amount), we didn't pursue further, as it had mainly been used to back-pay staff salaries, some of whom we eventually employed.
However, she said when she had sight of his Nigerian account she could see that there was money going to staff and hotels. Still, she said she wonders how HotelOga was ever expected to make money, as the company was charging a commission of just two percent on what hotels were charging.
'Perturbed by HotelOnline actions'
Telling however, is an email dated 30 June 2017 that Olotu shows on the same post, from Emerick to a Mr Piotr Rychta in Poland who appears to be an attorney of the Nigerian investors.
In the email Emerick says she has been "very perturbed by the actions of HotelOnline after being bought by Savannah Sunrise, as they re-entered the Nigerian market claiming all previous contracts and clients of HotelOga.
"The claim to the market is that HotelOga (Hotel Technology Solutions) had been set up as a reseller only of the HotelOnline technology." She said in the letter that she wonders if such an agreement even exists. "I'm very happy to provide proof of these actions, as I think it is reprehensible".
The arrangement that Emerick is referring to is the merger that came off in the end between a Kenyan based competitor of HotelOga, Savanna Sunrise, and HotelOga's Polish entity, Hotel Online sp. z.o.o. The deal was concluded only after Zymslowski gave his shares in the Polish entity to his Polish shareholders.
'They knew about Polish entity'
In his defence, Zymslowski maintains that the Nigerian investors always knew about the existence of the Polish entity.
Ventureburn then asked Zymslowski if there is any email or written communication to Nigerian investors where they acknowledge the existence of the Polish entity.
Zymslowski responded saying: "There is no email from him (Garg) that states exactly that, but I have other proof that suggests directly or indirectly (phone call conversations, financial statements) that.
"If he didn't know about Poland then he must have believed that all our developers worked for free for more than a year, etc and that we had an office for free. There are also emails to investors where I explain cash flows and he (Garg) was in them," he said.
He said the reason for having two companies "was simple". "We hired developers in Poland, my polish cofounder was in Poland too. In Nigeria we had local sales stuff, marketing and clients.
"The second reason was that the Nigerian investor (Garg) wanted to invest partially with Naira, so he could only invest in Nigerian entity. Our polish investor — a VC fund, because of EU regulations, could only invest in Polish entity.
"The third reason is that one of our main partners — Expedia, didn't want to send revenue from bookings in dollars to the Nigerian entity. So Expedia was sending the revenue to Polish entity, which then sent the money to Nigerian entity (which is proven in bank transfers)," he said.
He says most of the costs originated in Nigeria, "so the Polish entity funded the Nigerian one with $200 000. The Nigerian entity got most of the money from all investors," he added. He said it was also agreed between the investors (there was only four at this stage.
Zymslowski, his Polish co-founder Maciej Prostak, Polish VC Speed Up Group and Marathon Real Estate), that when the right time comes (before the series A), they will create a new main entity (in Dubai or Mauritius) and all shares will be transferred there.
"We didn't do it immediately not too create overly high corporate paperwork costs. On top of all, the entities couldn't exist without each other, HotelOga couldn't operate if any entity stopped working. So all investors were secured. The attacking side currently took a narrative it didn't know about Polish part of business, because it fits their goal of accusing me of fraud," he says.
'Bank account numbers don't add up'
The extradition request (which was sent to Ventureburn by Zymslowski) makes mention of an attached copy of the account history of a bank account at Polish Alior Bank, containing proof of transfers to his private account.
But Zymslowski claims there was no attachment — even though Olotu was able to seemingly produce it (they were Alior Bank history) in his blog post.
"There was no attachment in the extradition request. They never sent anything. That's the point of the craziness of this accusation."
"I also have bank statements from Nigerian account showing how much money landed from my own account. Their numbers don't add up." He says the bank statements he has show surplus in the Nigeria account "being fuelled by Polish entity and my private pocket". "The Polish prosecutor requested the attachments, they never sent anything."
Zymslowski sent Ventureburn bank records for amounts debited between May and November 2016 from his personal account at Zenith Bank and records for the same period that show sums of the same amount credited to his Nigerian entity Hotel Technology Solutions' Zenith Bank account.
However there is no way to tell whether this shows the full picture, as these were records of only certain individual bank transactions Zymslowski made or received — not the actual account history, which would more accurately show the movement of money.
Furthermore, the amounts that the Nigerian investors claim that were moved into his personal bank account, pertain to Polish Alior Bank and were then made (credited) to his personal account at Zenith Bank.
Zymslowski's records to Ventureburn show only debits to his personal account at Zenith Bank, not credits.
'Investors were kept in loop'
The Nigerian investors also argue that Zymslowski kept them in the dark about investment decisions.
But Zmyslowski argues that all investors were always informed at any time of any decisions and that they knew about both the first negotiations with Savanna Sunrise (where he says the Nigerian investors were offered seats in the board of directors) and Nightsbridge. He contends that throughout the whole process of "fighting for company survival" he paid more than $100 000 from "his own pocket".
'I never fled Nigeria'
He says he never fled Nigeria to escape having to pay investors. "I never fled Nigeria. Throughout whole 2016 and 2017 I was constantly travelling between African and European countries, being semi based in Lagos, Cape Town, Warsaw. I was coming to Nigeria almost every month.
"Last time it was around December 2017, I then went to Dominican Republic and Poland for Christmas. Then my plan was to fly to London. That's where I found about the Red Notice. I was extremely lucky to be stopped in Poland.
"If I was stopped in Nigeria (which he contends was Garg's plan since beginning), my chance of defending myself would be non existent," he adds.
'Investor tried to teach me lesson'
He says he was "close friends" with Garg for almost two years before they decided to business together and was a guest in his home many times.
"Things started going south when he showed his second face as a very ruthless investor. He wasn't happy with the way I was reporting company progress. It was related more to the reporting type and formats, not numbers themselves. I pushed back. We had many fights where we said many mean things to each other, because we took advantage of knowledge of our deep private life.
"I think he was hurt and since then was trying to fight for revenge and teach me a lesson, like many people in Nigeria would like to see about me now.
He says he then tried to fix the situation by hiring an auditor, recommended by Garg and a CFO. He contends that the auditor "never found any wrongdoings".
He says hiring the CFO was the "single worst decision" of his career. He claims the CFO, who was supposed to help close deals with investors, acted to sabotage the company.
"After (an) investigation I realised he convinced Maneesh (Garg) to give him Power of Attorney to represent him, he spent his time in the company searching for reasons to fire me, he convinced two of my employees to be his accomplices.
"Where he made a mistake is when he offered Maciej, my cofounder, to do the same. Maciej was offered the VP role (CFO wanted to become CEO). Of course Maciej told me about it immediately and we fired the CFO," he says.
CFO driving whole clusterf***
"To sum up, the CFO is the person driving the whole clusterf*** with HotelOga," he says. He says the CFO feeds off Garg's "hurt pride" and intention to teach him a lesson.
He admits that he's made "a lot of mistakes" as CEO of HotelOga and HotelOnline. "Mostly around bad hires and bad investor relationships management. But none the mistakes has anything to do with intentionally hurting investors business," he says.
Zymslowski says part of the Kiros deal when we hired him was to invest $20 000.
"He was supposed to get a big share pool when he brings in investors, plus a big premium, and a salary). It's possible that this was not his money, but maybe this Edmund (Olotu) guy's. But I never dealt with him (Edmund)."
"Kiros has no right to the shares since he didn't deliver on the agreed results – bringing investment. We had a very clear deal agreed in an email.
Savanna Sunrise deal
What about the Savanna Sunrise deal?
After Ventureburn ran Zmyslowski's blog post of 14 February in which the Polish entrepreneur says HotelOga merged to become Hotel Online, the publication was contacted by Savanna Sunrise co-founder Havar Bauck (who is now HotelOnline chairman) .
Bauck told Ventureburn that the "now-defunct HotelOga was a different company, using HotelOnline's technology".
He says the two began merger talks in 2017, after Zmyslowski contacted him to say that HotelOga was struggling financially and needed a partner in order to carry on. But Bauck said he pulled out, "as our due diligence showed that the transaction was not viable. HotelOga collapsed shortly after", he said.
He told Ventureburn that Savanna Sunrise changed its name to Hotel Online and then after Zmyslowski transferred his shares in Hotel Online sp. z.o.o to his Polish partners, then the new company Hotel Online acquired Hotel Online sp. z.o.o. Bauck said he received no calls from Nigerian investors when he was negotiating with Zmyslowski.
He says while he never met Zmyslowski, his business partner Endre Opdal said he made "a credible first impression". "From what I see today I could see it differently," he said, adding that the Pole was "a shareholder in a small bankrupted technology company that we acquired"
Despite the initial merger between HotelOga and Savanna Sunrise never having taken place, a press release (see here) sent out in February 2017, as well as a pitchdeck at the time for Series-A funding (that Zymslowski sent to Ventureburn and that has Zymslowski included as part of the ("merged" company) states that Savanna Sunrise and HotelOga had merged.
While the deal didn't come off in the end between HotelOga and Savanna Sunrise, it was closed later between Savanna Sunrise and the Polish entity Hotel Online — after Zymslowski gave his shares in the Polish entity to his fellow shareholders.
Zymslowski claims that his Polish entity's name was literally HotelOnline (its public data). Bauck claims it was he who registered the Hotel Online domain name.
Says Zymslowski: "When I reached out, Savanna Sunrise and we discussed the merger — I convinced them to change the name of the new company to HotelOnline. Even though I left before the merger happened (I gave out shares of HotelOnline to my Polish founders), they still (stuck) to the concept.
"The reason why I pulled out just before the merger is that I was exhausted with all the situation with Nigeria, and the fact that Savanna Sunrise changed the terms of the merger 24 hours before the contract signing – was a stab in the back for me. I couldn't work with someone like that.
'Civil dispute turned criminal'
Zymslowski's key contention in the entire issue with his Nigerian investors that what is "strictly a civil business dispute" has been "turned into a fake criminal case (which I already proved in court) by the other side".
"The only reason why I was forced to make this public is because the other side intentionally doing everything to keep the disinformation around the allegations," he claims.
"I can't defend myself because I was never presented the evidence of any allegations. Ministry of foreign affairs doesn't respond to the Polish embassy when asked about details of my accusations.
"The Nigerian Minister of Justice doesn't respond to Polish prosecutor questions around my extradition request. The Nigerian Police doesn't honour the Federal Court order and kicks out my lawyer from their office.
He said the documents of his alleged "criminal case" in a Nigerian magistrate court have "disappeared", twice.
"This paralysis hurts my freedom of doing business and travel, and is designed to force me to pay in the end," he says.
While it's not certain who is to blame here, one thing is for sure — Zymslowski has a lot to answer for.
Ventureburn requested legal documents from both Zymslowski and Garg and his Nigerian and Polish attorneys of their respective legal arguments. Both did not provide these at the time of publication.
VINE, HQ TRIVIA COFOUNDER DEAD AT 34
NEW YORK: US tech star Colin Kroll, who co-founded Vine and popular gaming app HQ Trivia, was found dead Dec 16 in New York of an apparent drug overdose.
Police found Kroll, 34, unconscious and unresponsive in a bedroom of his Manhattan apartment, a New York police spokesman said.
A drug overdose is the suspected cause of death, police said, and an investigation is underway.
Kroll co-founded Vine, the popular short-form video service acquired in 2012 by Twitter that is now defunct.
In September, he was named the chief executive of HQ Trivia, a smartphone-based trivia platform.
HQ Trivia confirmed his death in a statement.
"We learned today of the passing of our friend and founder, Colin Kroll, and it's with deep sadness that we say goodbye," it said. "Our thoughts go out to his family, friends and loved ones during this incredibly difficult time."
HQ Trivia, launched in August 2017, was a blockbuster, hitting a March milestone of two million concurrent players.
But by November, the number of users plunged from millions to hundreds of thousands, according to tech news site Recode.
Time magazine said Kroll, who was reportedly fired from Twitter over poor management behaviour, was facing allegations he had acted inappropriately at HQ Trivia.