Copying, supremacy and capturing moments: welcome to Facebook's web
We are entering a world where Facebook defines our online experience. Back in 2005, when the social network blinked into the public consciousness, I don't think anyone thought its power would be quite this vast and all-encompassing.
Just like many social networks of the day, Facebook was just another thing to have, a profile among the Friendsters, MySpaces and hi5s (if you still remember that) of the world. Unlike its predecessors however, Facebook is turning into a utility rather a place to catch up on family and high school gossip. It is becoming the web, or at least that seems to be the general consensus.
Mark Zuckerberg hasn't just built another social network. It is a utility that is intended to be in every aspect of your life. During his call to investors during the company's much talked about IPO he said:
We make decisions at Facebook not optimizing for what's going to happen in the next year, but to set us up to really be in this world where every product experience you have is social, and that's all powered by Facebook.
The social network's valuation is the highest in tech history and that was before Facebook figured out how to be a real business. It is easy to see traits of Google in Facebook. After all, Google is synonymous with the web, but Facebook wants to be much more than that.
As John Herrman points out, Facebook wants to be the internet:
Facebook, to Facebook, isn't a service, or a site, or an app, but an internet. It's imagined internally as the next internet, where the connective tissue is people rather than content. This is the closest thing Facebook has to a unifying mission statement (or, as people in the Valley would call it, earnestly, a "vision statement").
When Facebook doled out a billion dollars for Instagram, a company with no real business model, we assumed it was to gather up the competition before it got too big and people began sharing their photographic moments away from Facebook. That makes sense: Instagram's blazing popularity has begun to define the way people share their moments online, something the photo app's founder Kevin Systrom champions.
"When I think about what Instagram is, I think about moments," he said while introducing the platform's new feature video yesterday. "Our mission is to capture and share the world's moments."
And the world's moments will be tethered to Facebook.
Facebook is the largest social network with more than one-billion people sharing their lives via the platform. The platform is dominating and winning the net not because it is the best experience out there, but because it is bullish and set on conquering despite the blatant copying and series of failures.
Hermman pegs that ambition to a privileged background combined with a mix of jealousy and ruthlessness:
Facebook has continued to grow since. But other services have grown faster. Facebook's response, from its new, privileged perspective, has been to behave with a mixture of jealousy and ruthlessness. It blatantly ripped off Snapchat with Poke, which was a flop. It responded to the rise of messaging apps with a messaging app of its own, which was a success. It released a clear Instagram rip-off, which was a failure, before buying Instagram.

Today, Instagram founder Kevin Systrom took the stage to give an uncharacteristically forced and wooden speech about a new video feature in his app. The invitation to the event said, "A small team has been working on a big idea." Systrom's script included, more than once, the phrase, "This changes everything." The app, in every important way, resembles Twitter's suddenly popular Vine.
PandoDaily's Sarah Lacy meanwhile sums up the future of Facebook as the second coming of the Bill Gates era of Microsoft. In a tight competition to win the OS of the web from Google, Lacy reckons that Facebook has shown some of the same characteristics that Microsoft had in its Gates heydays. Facebook has continually changed its position on opening up its platform.
According to Lacy:
…while Facebook Connect is becoming a default way that people sign up for services on the web, how many third-party Facebook apps do you actually use, compared to Apple or Android apps? When Facebook first opened its platform, it hoped to give rise to several billion dollar companies. There's been one: Zynga. And its stock is in the tank, partially because it relied on Facebook for so long and wasn't aggressive enough about mobile.
Facebook's aggressiveness around competition plays out more like a playground bully meets spoiled brat who will either copy the competition or buy it out if it fails to do so. Facebook failed in its attempt to buy Twitter for US$500-million now both companies are bitter rivals. Facebook bought Instagram for US1$-billion. That certainly raised the ire of Jack Dorsey, who originally invested with the understanding that the photo-sharing network would exit to Twitter one day.
source: http://memeburn.com/2013/06/copying-supremacy-and-moments-welcome-to-facebooks-web/
Instagram is working on a new messaging app
Rivaling Snapchat, Threads will enable users to automatically share their location, movements, and battery life with their IG 'close friends' list
Now Facebook is a wasteland for your racist aunt and high school friends' wedding photos, the platform is determined to maintain its social media stronghold via Instagram and WhatsApp (sorry, 'Instagram and WhatsApp from Facebook'). Its latest venture? A new messaging app called Threads.
As reported by The Verge, Threads will be a companion app to Instagram, promoting constant sharing between users and their IG 'close friends' list. The app will enable people to automatically share their location, movements, and battery life with each other, as well as send text, photo, and video messages.
The development could be seen as another attempt to rival Snapchat – which already lets users share their location – following Instagram's introduction of Stories three years ago.
Instagram has been trying to develop the messaging side of its app since late 2017 when the company started working on Direct, a standalone camera-first app exclusively for DMs. The platform ceased work in May this year after research revealed users found it frustrating to switch apps when they wanted to send a message – although this is exactly what happened with Facebook Messenger in 2016.
Screenshots acquired by The Verge show that users have the option to switch on automatic sharing, but are also able to update their statuses manually. Although Threads encourages friends to share their location with one another, it will reportedly show updates like 'on the move', rather than a real-time location.
The app's main feed will show all messages, as well as friends' updates and active status, and will allow users to watch their close friends' IG stories as opposed to having to go back to Instagram to view them.
This announcement comes after a number of updates to the platform, including the removal of likes, an anti-bullying feature, and a tool to report fake news. Although, there's currently no launch date for Threads, and given Instagram's history with fucked-up trials, it may never even materialise.
Source: https://www.dazeddigital.com/science-tech/article/45768/1/instagram-facebook-new-social-media-messaging-app-threads-to-rival-snapchat
Massive change coming to WhatsApp with introduction of ads
WhatsApp will see a massive change by 2020 with the introduction of adverts into the instant messaging app.
It's been rumoured for a while and now WhatsApp looks set to finally bring adverts to its popular messaging app.
The Facebook-owned firm revealed the news during its annual Marking Summit in the Netherlands, with a rollout expected next year.
Photos of the way these new adverts will look have even been posted online with attendee Olivier Ponteville, giving fans a closer look at what's to come.
The image, which can be seen on Twitter, shows how ads currently appear on Facebook and Instagram with a WhatsApp screenshot then revealed with a full-screen advert.
According to technology website BGR, once the message appears users will be able to "swipe up when an ad appears for more information about the product or service being advertised."
Adverts in WhatsApp have been spoken about for a while but this is the first evidence that things are changing within the popular service.
How fans react is yet to been seen but it's unlikely to go down well with its billions of users.
The bad news is that it seems there's nothing that can be done to stop this new feature from arriving within the app.
It seems almost certain that there will be no way to switch them off or hide these paid-for messages which may prove to be hugely irritating.
Source: https://www.thenewsguru.com/technology/internet/article/massive-change-coming-whatsapp-introduction-ads/
Facebook Messenger finally adds quoted replies
Today Facebook Messenger has added a sorely missing feature – quoted replies. This allows you to reply to a specific message in a conversation, and is incredibly helpful when you're engaged in chats that have a big range of topics. Using the new feature, the people you're talking to will now know exactly what you were replying to with that "LOL", for example.
This has been a feature in WhatsApp, which is also owned by Facebook, for a very long time, and it's always been sort of a baffling omission in Messenger. So it's good to finally see it there too.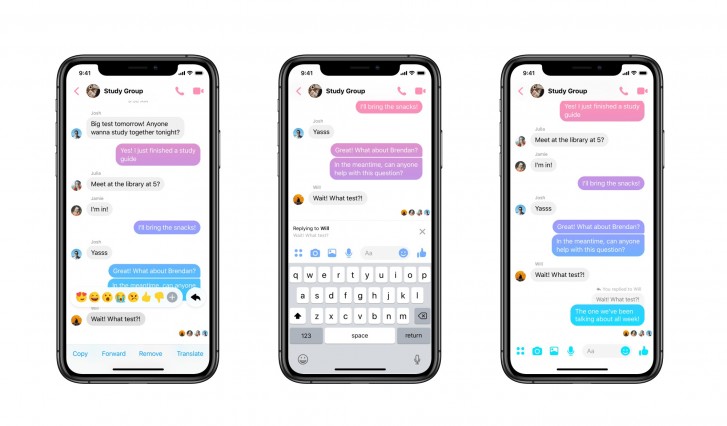 In order to quote a specific message, long tap on it and you'll see a new Reply button to the right of the reaction emojis. Tap that, write your reply, and, just like in WhatsApp, the message you're replying to will appear above your reply. Easy. This potentially means you'll have less misunderstandings with your friends as to which message was referencing what.
The feature is rolling out now on both iOS and Android.