Encrypted e-mail grows in popularity
People have the responsibility to guard their personal data despite a South African law that offers some protection. (Duncan Alfreds, News24)
Washington – A new push to encrypt e-mail, keeping messages free from government snooping, is gaining momentum.
One new e-mail service promising "end-to-end" encryption launched on Friday, and others are being developed while major services such as Google Gmail and Yahoo Mail have stepped up security measures.
A major catalyst for e-mail encryption were revelations about widespread online surveillance in documents leaked by Edward Snowden, the former National Security Agency contractor.
"A lot of people were upset with those revelations, and that coalesced into this effort," said Jason Stockman, a co-developer of ProtonMail, a new encrypted e-mail service which launched on Friday with collaboration of scientists from Harvard, the Massachusetts Institute of Technology and the European research lab Cern.
Stockman said ProtonMail aims to be as user-friendly as the major commercial services, but with extra security, and with its servers located in Switzerland to make it more difficult for US law enforcement to access.
Free account
Encryption is a tool that can help dissident activists avoid detection in places like China or Iran, but the movement has also gained credence in the US among those who want to stay clear of snooping from the NSA or other intelligence services.
"Our vision is to make encryption and privacy mainstream by making it easy to use," Stockman said. "There's no installation. Everything happens behind the scenes automatically."
Even though e-mail encryption using special codes or keys, a system known as PGP, has been around for two decades, "it was so complicated", and did not gain widespread adoption, Stockman said.
After testing over the past few months, ProtonMail went public using a "freemium" model – a basic account will be free with some added features for a paid account.
"As our users from China, Iran, Russia, and other countries around the world have shown us in the past months, ProtonMail is an important tool for freedom of speech and we are happy to finally be able to provide this to the whole world," the company said in a blog post.
Google and Yahoo recently announced efforts to encrypt their e-mail communications, but some specialists say the effort falls short.
"These big companies don't want to encrypt your stuff because they spy on you, too," said Bruce Schneier, a well-known cryptographer and author who is chief technology officer for CO3 Systems.
"Hopefully, the NSA debate is creating incentives for people to build more encryption."
Technical hurdles
Stockman said that with services like Gmail, even if data is encrypted, "they have the key right next to it… if you have the key and lock next to each other, so it's pretty much useless."
By locating in Switzerland, ProtonMail hopes to avoid the legal woes of services like Lavabit – widely believed to be used by Snowden – which shut down rather than hand over data to the US government, and which now faces a contempt of court order.
Even if a Swiss court ordered data to be turned over, Stockman said, "We would hand over piles of encrypted data. We don't have a key. We never see the password."
Lavabit founder Ladar Levison meanwhile hopes to launch a new service with other developers in a coalition known as the Dark Mail Alliance.
Levison said he hopes to have a new encrypted e-mail system in testing within a few months and widely available later this year.
"The goal is to make it ubiquitous, so people don't have to turn it on," he said.
But he added that the technical hurdles are formidable, because the more user-friendly the system becomes, "the more susceptible it is to a sophisticated attacker with fake or spoofed key information".
Levison said he hopes Dark Mail will become a new open standard that can be adopted by other e-mail services.
Encrypted mobile phone
Jon Callas, a cryptographer who developed the PGP standard and later co-founded the secure communications firm Silent Circle, cited challenges in making a system that is both secure and ubiquitous.
"If you are a bank you have to have an e-mail system that complies with banking regulations," Callas said, which could allow, for example, certain e-mails to be subject to regulatory or court review.
"Many of the services on the internet started with zero security. We want to start with a system that is totally secure and let people dial it down."
The new e-mail system would complement Silent Circle's existing secure messaging system and encrypted mobile phone, which was launched earlier this year.
"If we start competing for customers on the basis of maximum privacy, that's good for everybody," Callas said.
source:http://www.news24.com/Technology/News/Encrypted-e-mail-grows-in-popularity-20140518
Instagram is working on a new messaging app
Rivaling Snapchat, Threads will enable users to automatically share their location, movements, and battery life with their IG 'close friends' list
Now Facebook is a wasteland for your racist aunt and high school friends' wedding photos, the platform is determined to maintain its social media stronghold via Instagram and WhatsApp (sorry, 'Instagram and WhatsApp from Facebook'). Its latest venture? A new messaging app called Threads.
As reported by The Verge, Threads will be a companion app to Instagram, promoting constant sharing between users and their IG 'close friends' list. The app will enable people to automatically share their location, movements, and battery life with each other, as well as send text, photo, and video messages.
The development could be seen as another attempt to rival Snapchat – which already lets users share their location – following Instagram's introduction of Stories three years ago.
Instagram has been trying to develop the messaging side of its app since late 2017 when the company started working on Direct, a standalone camera-first app exclusively for DMs. The platform ceased work in May this year after research revealed users found it frustrating to switch apps when they wanted to send a message – although this is exactly what happened with Facebook Messenger in 2016.
Screenshots acquired by The Verge show that users have the option to switch on automatic sharing, but are also able to update their statuses manually. Although Threads encourages friends to share their location with one another, it will reportedly show updates like 'on the move', rather than a real-time location.
The app's main feed will show all messages, as well as friends' updates and active status, and will allow users to watch their close friends' IG stories as opposed to having to go back to Instagram to view them.
This announcement comes after a number of updates to the platform, including the removal of likes, an anti-bullying feature, and a tool to report fake news. Although, there's currently no launch date for Threads, and given Instagram's history with fucked-up trials, it may never even materialise.
Source: https://www.dazeddigital.com/science-tech/article/45768/1/instagram-facebook-new-social-media-messaging-app-threads-to-rival-snapchat
Massive change coming to WhatsApp with introduction of ads
WhatsApp will see a massive change by 2020 with the introduction of adverts into the instant messaging app.
It's been rumoured for a while and now WhatsApp looks set to finally bring adverts to its popular messaging app.
The Facebook-owned firm revealed the news during its annual Marking Summit in the Netherlands, with a rollout expected next year.
Photos of the way these new adverts will look have even been posted online with attendee Olivier Ponteville, giving fans a closer look at what's to come.
The image, which can be seen on Twitter, shows how ads currently appear on Facebook and Instagram with a WhatsApp screenshot then revealed with a full-screen advert.
According to technology website BGR, once the message appears users will be able to "swipe up when an ad appears for more information about the product or service being advertised."
Adverts in WhatsApp have been spoken about for a while but this is the first evidence that things are changing within the popular service.
How fans react is yet to been seen but it's unlikely to go down well with its billions of users.
The bad news is that it seems there's nothing that can be done to stop this new feature from arriving within the app.
It seems almost certain that there will be no way to switch them off or hide these paid-for messages which may prove to be hugely irritating.
Source: https://www.thenewsguru.com/technology/internet/article/massive-change-coming-whatsapp-introduction-ads/
Facebook Messenger finally adds quoted replies
Today Facebook Messenger has added a sorely missing feature – quoted replies. This allows you to reply to a specific message in a conversation, and is incredibly helpful when you're engaged in chats that have a big range of topics. Using the new feature, the people you're talking to will now know exactly what you were replying to with that "LOL", for example.
This has been a feature in WhatsApp, which is also owned by Facebook, for a very long time, and it's always been sort of a baffling omission in Messenger. So it's good to finally see it there too.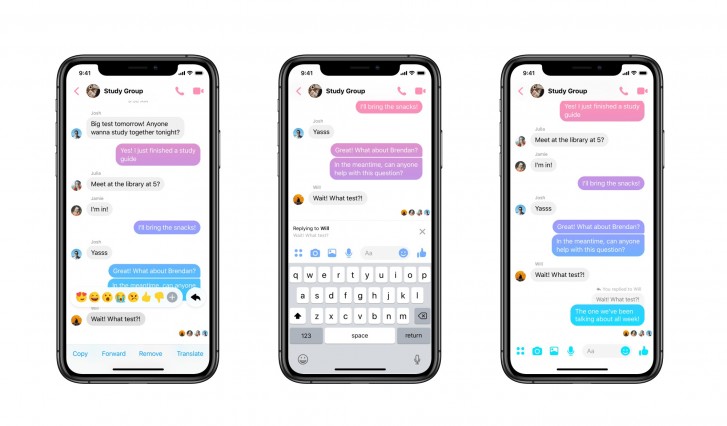 In order to quote a specific message, long tap on it and you'll see a new Reply button to the right of the reaction emojis. Tap that, write your reply, and, just like in WhatsApp, the message you're replying to will appear above your reply. Easy. This potentially means you'll have less misunderstandings with your friends as to which message was referencing what.
The feature is rolling out now on both iOS and Android.