Facebook discontinues its affordable Oculus Go VR headset
Facebook entered the VR market with the purchase of Oculus VR Inc back in 2014. At the time, the Oculus Rift was the king of VR headsets and can be credited for kickstarting the trend of virtual reality gaming and media consumption. However, VR headsets were priced well out of reach for the average consumer as not only were the headsets themselves quite expensive but they also required being tethered to powerful PC hardware. That's why Facebook's standalone VR headsets like the Oculus Go, and more importantly the Oculus Quest, have really taken off among consumers. The Oculus Go, powered by the Qualcomm Snapdragon 821, is now being discontinued.
In late 2017, Facebook launched the Oculus Go in partnership with Xiaomi. It was a decidedly entry-level standalone VR headset supporting only 3 degrees of freedom (3DoF) and having a 5.5″ LCD with 1280×1440 per eye, up to 72Hz refresh rate, and a 2600mAh battery for up to 2 hours of gaming or 2.5 hours of video playback. It was followed-up by the Oculus Quest, which was superior in pretty much every way including in the display (OLED display with 1440×1600 resolution per eye), a faster processor (the Qualcomm Snapdragon 835), active cooling, and 6 degrees of freedom. Additionally, an even better Oculus Quest model is reportedly launching by the end of the year with features such as a 90Hz refresh rate, which could bring down the price of the current Oculus Quest. Because of this, there's little room for the Oculus Go, so Facebook is ending sales of the VR headset this year. What's more is that the company won't release any more VR headsets with 3DOF.
Oculus Go XDA Forum ||| Oculus Quest XDA Forum
You'll still be able to continue using the Oculus Go if you own one already, and it will continue to receive bug fixes and security updates through 2022 after which the device will reach end-of-life (EOL) status. Developers will not be able to submit any new apps or app updates for the device after December 4, 2020, and new apps won't be published to the store after December 18, 2020. Updates from that point onwards will not include any new features, sticking strictly to bug fixes and security updates as we just mentioned. If you're looking to buy one now, you might be interested in checking out the Oculus Quest instead, which is a better and more complete device anyway.
New Way to Distribute Apps
In addition to discontinuing the Oculus Go, Facebook is also announcing that they're working on an easier way for developers to distribute Oculus Quest apps outside of the Oculus Store. In 2021, developers will be able to share their apps to anyone with a Quest without the need for sideloading or being accepted into the Oculus Store. Facebook does not have any details to share yet on how this will work but they're making this announcement so developers will have time to adapt their apps to target the Quest.
Source: https://www.xda-developers.com/facebook-discontinues-affordable-oculus-go-vr-headset/
Next Galaxy Z Flip to sport 120Hz display and narrower frame says leakster
Samsung already has two foldable clamshells in its lineup with the Galaxy Z Flip and Z Flip 5G and we've been hearing about a successor coming in Q2 of 2021. Now, leakster IceUniverse shared a couple of bits about the upcoming foldable which is referred to as the Galaxy Z Flip3.
According to his intel, the Z Flip3 will sport a 120Hz AMOLED display which would match Samsung's Galaxy Z Fold2 and Galaxy Note20 Ultra flagships. The new Z Flip is also touted to feature a narrower frame which likely means less bezels around the panel.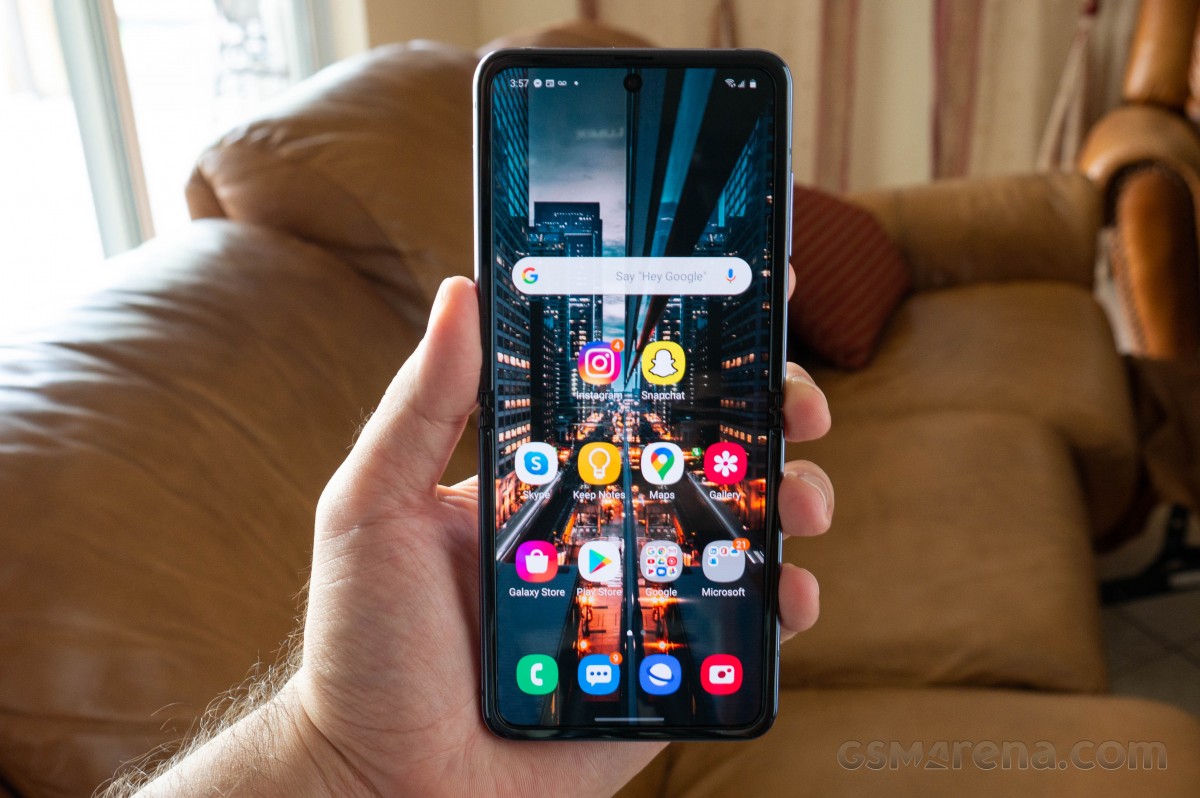 The tipster also mentions a cheaper pricetag though we don't get specific numbers here. Previous reports on the upcoming Z Flip model suggest it will feature stereo speakers and is expected to launch around March 2021, separate from the Galaxy S21 line. There's also talk of a Galaxy Z Flip Lite model in the works as Samsung's most affordable folding phone.
Source: https://www.gsmarena.com/next_galaxy_z_flip_to_sport_120hz_display_and_narrower_frame_says_leakster-news-46438.php
Google Zork Chromebook with AMD Ryzen 3 3250C spotted on Google Play Console
HIGHLIGHTS
Google Zork Chromebook specifications have been spotted on Google Play Console
Key specs include AMD Ryzen 3 3250C, 4GB RAM, Radeon Vega 3 GPU, and Full HD display
There could be another variant with Ryzen 7 3700C processor, as per Geekbench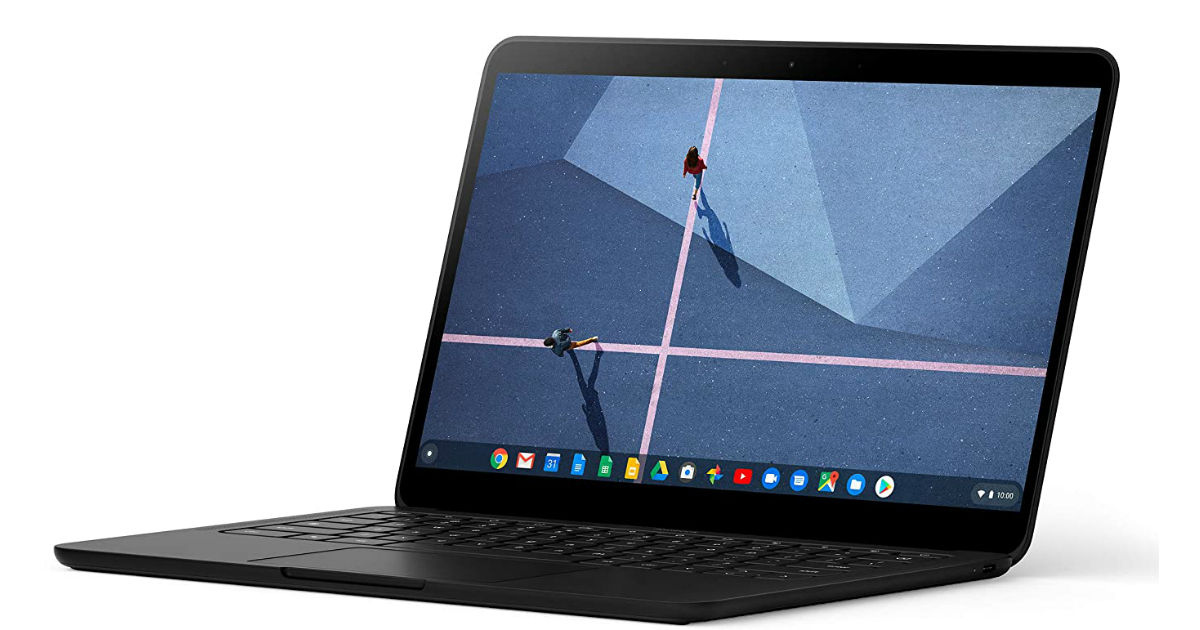 Google is said to be working on a new Chromebook with the codename 'Zork' and it was spotted on the Geekbench platform back in April revealing key information, including the Android operating system version and chipset powering it. Now, the same Google Zork Chromebook has appeared on the Google Play Console, 91mobiles has discovered. The listing reveals more specifications of the notebook and reiterates earlier leaked details. Google Zork Chromebook specs, as per the listing, include the AMD Ryzen 3 3250C paired with 4GB RAM, Radeon Vega 3 GPU, a Full HD display with 1,920 X 1,080 pixels resolution, and 160 screen density.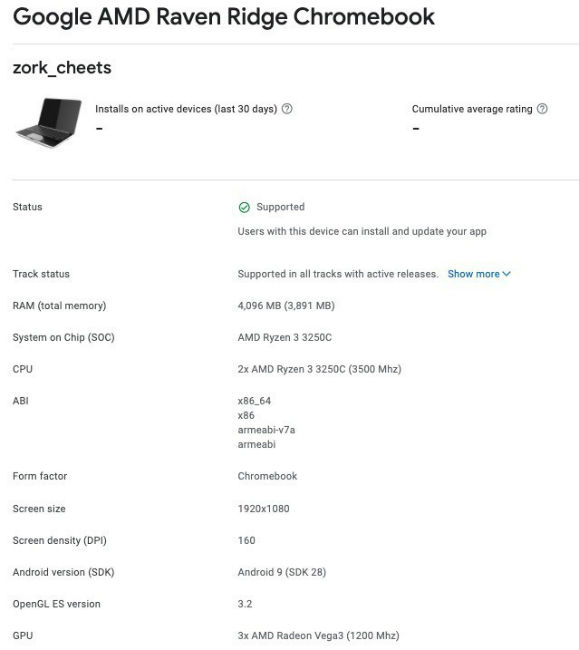 Though the Google Play Console listing shows the device will run Android 9 OS, we suspect it might run on Chrome OS considering Android devices aren't powered by AMD processors. The HP Pro Chromebook c645 that was introduced recently comes with the same AMD Ryzen 3 3250C processor, thereby making way for more Chromebooks with AMD processors. The listing also includes a render of the notebook with a sizeable trackpad and a proper keyboard with a matte finish. However, it's possible the image could be a placeholder for now and may not represent the actual design of Google Zork.
Google Zork Chromebook specifications on Geekbench previously also mentioned a variant with the AMD Ryzen 7 3700C processor variant that has 4 CPU cores and 8 threads. The chipset is paired with Radeon Vega Mobile GFX graphics module and a large 8GB of RAM. Since the Chromebook has started appearing on the web, we suspect the development is inching closer to the final stages and the launch could be around the corner. We hope to learn more information soon. Stick around.
Source: https://www.91mobiles.com/hub/google-zork-chromebook-specifications-on-google-play-console/
LG Rollable looks LIGHT YEARS ahead of Samsung Galaxy Z Fold 2 thanks to OLED TV tech
Foldable smartphones are big news in the mobile industry thanks to the likes of Samsung's Galaxy Fold and Galaxy Z Flip. But LG is looking to go big or go home with its LG Rollable phone. Also known as LG Project B, it features – naturally enough – a rollable display. It leverages the tech behind the LG Rollable OLED TV to give a whole new twist on folding smartphones – or should we say rolling smartphones?
LG's Explorer Project has already seen the LG Wing made its debut – a unique swivel handset that offer multi-screen functionality without folding – but its new Project B handset with a rollable screen is on another level entirely.
LG has been working on a rollable display for a while, and we initially heard about its Project B smartphone last November, with its extendable screen, as opposed to flexible, foldable display like the Galaxy Z Fold 2, or Motorola Razr.
Now, LetsGoDigital reports, the company has been awarded a patent for a device with the retractable display.
At first glance, the handset looks like a standard smartphone, but the frame can be pulled out to both the left and the right to double the screen real estate. This is achieved thanks to an inner, flexible frame that slides out of the device's metal housing.
The design has some advantage over foldable phones on the market now, with the biggest one being the absence of a hinge or crease; a panel with a fold in it will see the crease put under strain, potentially affecting the structural integrity of the display.
What's more, the rollable can adapt to how the smartphone is being used – in much the same way as the LG Wing. In landscape mode, for example, expanding the screen while playing a video or streaming music could reveal the controls so that your viewing remains uninterrupted. There's also the option of multitasking with a split-screen mode.
LG is reportedly skipping straight over the foldable trend, and is looking to launch its rollable smartphone in March, 2021 according to Neowin. It's possible that the handset will only be extendable on one side, as opposed to both as depicted in the patent, but it's a radical concept and we're intrigued to see a company bucking the foldable trend to try something new.
Source: https://www.t3.com/us/news/lg-rollable-smartphone-light-years-ahead-of-samsung-z-fold