Facebook Pages: Updated for Mobile, Better for Business
JOHANNESBURG, South-Africa, September 15, 2015/African Press Organization (APO)/ — Now that there are more mobile connections around the world than there are humans on the planet, people are spending more time on mobile, and they expect to be able to do more from their phones and tablets. They expect information to be available at their fingertips and that people and businesses will reply to their messages as soon as possible. These trends have far-reaching conclusions for businesses, the biggest of which is that it's never been more important to make your business easily accessible on mobile.
"With more than a billion people visiting Pages on Facebook every month, Pages are the best place for businesses, and in particular small businesses, to reach the people who care about their business and want to learn more exactly where they are – on mobile. We are committed to providing the 45 million businesses with better ways to achieve their goals and supporting these with the right tools" says Helen Smyth, SMB Community Engagement for Facebook (NASDAQ:FB) (http://www.facebook.com).
"For people on Facebook who want to learn about or interact with a business, a business's presence on Facebook is the best place to do this because it the simplest way to find all the information you need or take action, where you already spend time, and because it is a place to have a genuine and trustworthy interaction with the businesses you care about" Smyth continues.
A few weeks ago we updated messaging features for Pages to help people and businesses connect faster and more conveniently (http://www.apo.af/PftBuv). Today we're adding new features to Pages to make it easier for the more than 45 million active businesses on Facebook to highlight important information and reach their goals. The new features for Pages reflect our belief that no matter if you're a plumbing company, a flower shop, a non-profit or a brand, your Page should house the information people are looking for, help you communicate with your customers, and support your unique goals.
New and more prominent call-to-action buttons
Call-to-action buttons bring a business's most important objective to the forefront of its Page, whether it's encouraging people to book an appointment or browse an online shop. And now, Page call-to-action buttons on mobile are more prominent, making it easier for businesses to use their Page to accomplish their goals.
The new look of the call-to-action button on mobile is bigger, brighter and directly under the Page cover photo.
We're also testing several new call-to-action buttons on mobile, including "Call Now", "Send Message" and "Contact Us", making it easier for people and businesses to connect directly. Over time, we'll add additional calls to action to further help businesses drive their unique goals.
New sections for Pages
Until now, Pages have been largely the same for every business. Now we're beginning to add new sections to Pages, so different types of businesses can prominently feature the information that is most relevant to their organization.
Today we're announcing two new sections for Pages. The new Shop section helps retail businesses bring their products to the forefront of their Page, while the new Services section enables professional services businesses to showcase a list of their offerings at the top of their Page. So now, for example, a spa can add their services menu to their Page or highlight the line of products they sell, helping people get to know their business faster. And understanding the services and products a business offers is key to deciding to work with that business.
Because different types of organizations need to highlight different information to meet their goals, we plan on building additional sections for Pages in the near future.
Improved Page layout
As more people connect with Pages from phones and tablets, we want to make it easier to navigate through Pages on mobile. We're updating the Pages layout so information is easy to find without lots of scrolling and clicking. One way we're doing this is by giving each Page section a corresponding tab, just like how videos and photos have their own tabs. When this new layout launches in the coming weeks, Page visitors will be able to click on the tab associated with a section to see more details. The Home tab, which is the landing tab on Pages, will also contain highlights of each section, so relevant information is front and center when someone first gets to a Page.
The coming layout changes to Pages organize information better, so people can find what they're looking for quickly.
Update your Page for mobile
People are spending more time on their phones and tablets, which means businesses need to keep up with people's expectation that they can find information and communicate with a business anytime, anywhere, on any device. The recent updates to Pages help businesses communicate easily with people through messaging and emphasize the information that helps them drive their goals, making Facebook the mobile solution for your business. And this is just the beginning.
Make your business more accessible on mobile today by adding new sections and a call-to-action button.
As we continue testing and adding new features to Pages, look for updates here.
Resources ((https://www.facebook.com/business) for getting started with updated Pages:
Pages Messaging: New Ways for People and Businesses to Connect: https://www.facebook.com/business/news/pages-messaging-updates
The Admin's Guide to Pages Messaging: https://www.facebook.com/business/news/pages-messaging-tips
Marketing on Facebook starts with a Page: https://www.facebook.com/business/products/pages/
Pages overview: https://www.facebook.com/business/learn/facebook-page-basics/
Small businesses can now speak directly to potential and existing customers, and generate sales. They can do this in a cost effective way, and they can measure the results very easily. In effect, SMEs can now do what big brands have been doing for decades, and it they can do it immediately.
Facebook also offers global scale. African small businesses can interact with customers around the corner, across the country, over the continent or around the world. Factoring global reach into a low budget entrepreneurial business strategy is no longer a dream. It's a matter of choice.
Small Business Mobile marketing Success
EatOut (https://www.facebook.com/eatoutkenya?fref=ts) is an online restaurant guide, booking system and magazine. Founded in 2010 by Mikul Shah who, after living in London for over a decade, returned to Kenya and found there was no single place to find, review and book restaurants. EatOut has since grown from a blog with 1 employee to a full-fledged company with an amazing team of 13 and growing. Facebook is the only marketing platform used by the company. They have since won numerous awards including Kenya Tourism Award for Best Digital.
Wakaberry (https://www.facebook.com/wakaberryfroyo), a South African yoghurt dessert brand, used to rely on passing trade. Now it uses social media to showcase its stores, products and promotions. Thanks to Facebook, many customers entering a Wakaberry store already know where they are going, and what they want. This new context has powered a big sales shift for the brand. Wakaberry's 30 Days of Summer Facebook campaign resulted in a three-fold increase in post-campaign sales.
Businesses used to be confined by the limitations of geography and budget. Today, they use Facebook to achieve local, national and international growth. The innovative children's brand FunKidz (https://www.facebook.com/funkidz) opened 4 years ago. It provides high quality children's furniture designed and manufactured in Kenya. Owner Ciiru Waweru founded the business as when she was pregnant she was unhappy with the quality and styles available. The brand built solely through Facebook. The company has expanded into Uganda and Rwanda in response to Facebook demand.
Thando's (https://www.facebook.com/ThandosShoes?fref=ts) is the brainchild of entrepreneurial couple, and NYU Alums, J.G. and Taffi Ayodele. They have designed Africa's first foldable ballerina flat shoe. Their company aims to create a platform for creative talent on the African continent by crowdsourcing designs from African men and women who would otherwise have limited opportunities to design for a global audience. Each purchase results in shared profits for the designers who were crowd sourced or selected as brand ambassadors. Thando's are a new company but love the traction they're seeing from Instagram and Facebook.
KEY STATS

Kenya:  Q2 2015
63% of people on Facebook in Kenya are connected to an SMB
Internal FB data as of May 2015.
2.2 million total daily active users (DAUs)
2.1  million mobile DAU
4.5 million total monthly active users (MAUs)
4.3 million mobile MAU (95% of MAUs)
Nigeria: Q2 2015
54% of people on Facebook in Nigeria are connected to an SMB
Internal FB data as of May 2015.
7.1 million total daily active users (DAUs)
6.9 million mobile DAU
15 million total monthly active users (MAUs)
15 million mobile MAU (100% of MAUs)
South Africa: Q2 2015
61% of people on Facebook in South Africa are connected to an SMB
80% of people on Facebook in South Africa are connected to a Page
Internal FB data as of May 2015.
7.3 million total daily active users (DAUs)
7 million mobile DAU
12 million total monthly active users (MAUs)
12 million mobile MAU (100% of MAUs)
Instagram is working on a new messaging app
Rivaling Snapchat, Threads will enable users to automatically share their location, movements, and battery life with their IG 'close friends' list
Now Facebook is a wasteland for your racist aunt and high school friends' wedding photos, the platform is determined to maintain its social media stronghold via Instagram and WhatsApp (sorry, 'Instagram and WhatsApp from Facebook'). Its latest venture? A new messaging app called Threads.
As reported by The Verge, Threads will be a companion app to Instagram, promoting constant sharing between users and their IG 'close friends' list. The app will enable people to automatically share their location, movements, and battery life with each other, as well as send text, photo, and video messages.
The development could be seen as another attempt to rival Snapchat – which already lets users share their location – following Instagram's introduction of Stories three years ago.
Instagram has been trying to develop the messaging side of its app since late 2017 when the company started working on Direct, a standalone camera-first app exclusively for DMs. The platform ceased work in May this year after research revealed users found it frustrating to switch apps when they wanted to send a message – although this is exactly what happened with Facebook Messenger in 2016.
Screenshots acquired by The Verge show that users have the option to switch on automatic sharing, but are also able to update their statuses manually. Although Threads encourages friends to share their location with one another, it will reportedly show updates like 'on the move', rather than a real-time location.
The app's main feed will show all messages, as well as friends' updates and active status, and will allow users to watch their close friends' IG stories as opposed to having to go back to Instagram to view them.
This announcement comes after a number of updates to the platform, including the removal of likes, an anti-bullying feature, and a tool to report fake news. Although, there's currently no launch date for Threads, and given Instagram's history with fucked-up trials, it may never even materialise.
Source: https://www.dazeddigital.com/science-tech/article/45768/1/instagram-facebook-new-social-media-messaging-app-threads-to-rival-snapchat
Massive change coming to WhatsApp with introduction of ads
WhatsApp will see a massive change by 2020 with the introduction of adverts into the instant messaging app.
It's been rumoured for a while and now WhatsApp looks set to finally bring adverts to its popular messaging app.
The Facebook-owned firm revealed the news during its annual Marking Summit in the Netherlands, with a rollout expected next year.
Photos of the way these new adverts will look have even been posted online with attendee Olivier Ponteville, giving fans a closer look at what's to come.
The image, which can be seen on Twitter, shows how ads currently appear on Facebook and Instagram with a WhatsApp screenshot then revealed with a full-screen advert.
According to technology website BGR, once the message appears users will be able to "swipe up when an ad appears for more information about the product or service being advertised."
Adverts in WhatsApp have been spoken about for a while but this is the first evidence that things are changing within the popular service.
How fans react is yet to been seen but it's unlikely to go down well with its billions of users.
The bad news is that it seems there's nothing that can be done to stop this new feature from arriving within the app.
It seems almost certain that there will be no way to switch them off or hide these paid-for messages which may prove to be hugely irritating.
Source: https://www.thenewsguru.com/technology/internet/article/massive-change-coming-whatsapp-introduction-ads/
Facebook Messenger finally adds quoted replies
Today Facebook Messenger has added a sorely missing feature – quoted replies. This allows you to reply to a specific message in a conversation, and is incredibly helpful when you're engaged in chats that have a big range of topics. Using the new feature, the people you're talking to will now know exactly what you were replying to with that "LOL", for example.
This has been a feature in WhatsApp, which is also owned by Facebook, for a very long time, and it's always been sort of a baffling omission in Messenger. So it's good to finally see it there too.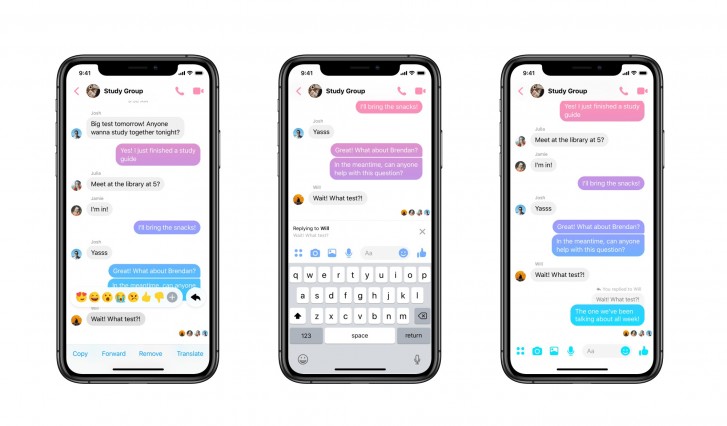 In order to quote a specific message, long tap on it and you'll see a new Reply button to the right of the reaction emojis. Tap that, write your reply, and, just like in WhatsApp, the message you're replying to will appear above your reply. Easy. This potentially means you'll have less misunderstandings with your friends as to which message was referencing what.
The feature is rolling out now on both iOS and Android.