Facebook to scale up free mobile Internet service to boost usage

Facebook plans to scale up its service to offer free basic Internet on mobile phones, an executive said, after introducing the application in 17 developing countries over the past year.
In a blog post released to mark the first year of the initiative, Facebook said it will open a portal allowing any mobile operator to offer the service under its Internet.org platform. Facebook currently partners with specific operators to launch the service in different countries.
Internet.org has brought over 9 million people online over the past year, Chris Daniels, vice president of product for Internet.org, told Reuters on Monday. Facebook developed the platform with six technology partners to bring an estimated 4.5 billion unconnected people online, mainly in Latin America, Asia and Africa.
It offers pared-down web services for free to users, along with access to Facebook's own social network and messaging services.
Facebook's blog post said that over the past year, the service had bought new users onto mobile networks on average over 50 percent faster and that more than half the people using Internet.org are paying for data to access the wider Internet within 30 days.
"This is really a customer acquisition tool for mobile operators where the benefit to them of offering a very light amount of free data is to bring on more paying subscribers to their networks," Daniels said, speaking over phone from Nairobi, where he is attending a summit.
Facebook was not paying for any of the data being used to access the service, he said.
The Internet.org application, launched in India in February in partnership with Reliance Communications, faced backlash with a number of leading technology and Internet firms pulling out of the service after activists claimed it violated the principles of a neutral Internet.
"I would say India is unique in that respect and very much an outlier. In other markets, Internet.org has been embraced as a pro-connectivity initiative that has garnered a lot of support," Daniels said.
A committee of the telecoms ministry set up to examine the issue of net neutrality earlier this month recommended that collaborations between mobile operators and content providers that enable "gatekeeping" roles should be discouraged.
source:http://www.timeslive.co.za/scitech/2015/07/27/Facebook-to-scale-up-free-mobile-Internet-service-to-boost-usage
Instagram is working on a new messaging app
Rivaling Snapchat, Threads will enable users to automatically share their location, movements, and battery life with their IG 'close friends' list
Now Facebook is a wasteland for your racist aunt and high school friends' wedding photos, the platform is determined to maintain its social media stronghold via Instagram and WhatsApp (sorry, 'Instagram and WhatsApp from Facebook'). Its latest venture? A new messaging app called Threads.
As reported by The Verge, Threads will be a companion app to Instagram, promoting constant sharing between users and their IG 'close friends' list. The app will enable people to automatically share their location, movements, and battery life with each other, as well as send text, photo, and video messages.
The development could be seen as another attempt to rival Snapchat – which already lets users share their location – following Instagram's introduction of Stories three years ago.
Instagram has been trying to develop the messaging side of its app since late 2017 when the company started working on Direct, a standalone camera-first app exclusively for DMs. The platform ceased work in May this year after research revealed users found it frustrating to switch apps when they wanted to send a message – although this is exactly what happened with Facebook Messenger in 2016.
Screenshots acquired by The Verge show that users have the option to switch on automatic sharing, but are also able to update their statuses manually. Although Threads encourages friends to share their location with one another, it will reportedly show updates like 'on the move', rather than a real-time location.
The app's main feed will show all messages, as well as friends' updates and active status, and will allow users to watch their close friends' IG stories as opposed to having to go back to Instagram to view them.
This announcement comes after a number of updates to the platform, including the removal of likes, an anti-bullying feature, and a tool to report fake news. Although, there's currently no launch date for Threads, and given Instagram's history with fucked-up trials, it may never even materialise.
Source: https://www.dazeddigital.com/science-tech/article/45768/1/instagram-facebook-new-social-media-messaging-app-threads-to-rival-snapchat
Massive change coming to WhatsApp with introduction of ads
WhatsApp will see a massive change by 2020 with the introduction of adverts into the instant messaging app.
It's been rumoured for a while and now WhatsApp looks set to finally bring adverts to its popular messaging app.
The Facebook-owned firm revealed the news during its annual Marking Summit in the Netherlands, with a rollout expected next year.
Photos of the way these new adverts will look have even been posted online with attendee Olivier Ponteville, giving fans a closer look at what's to come.
The image, which can be seen on Twitter, shows how ads currently appear on Facebook and Instagram with a WhatsApp screenshot then revealed with a full-screen advert.
According to technology website BGR, once the message appears users will be able to "swipe up when an ad appears for more information about the product or service being advertised."
Adverts in WhatsApp have been spoken about for a while but this is the first evidence that things are changing within the popular service.
How fans react is yet to been seen but it's unlikely to go down well with its billions of users.
The bad news is that it seems there's nothing that can be done to stop this new feature from arriving within the app.
It seems almost certain that there will be no way to switch them off or hide these paid-for messages which may prove to be hugely irritating.
Source: https://www.thenewsguru.com/technology/internet/article/massive-change-coming-whatsapp-introduction-ads/
Facebook Messenger finally adds quoted replies
Today Facebook Messenger has added a sorely missing feature – quoted replies. This allows you to reply to a specific message in a conversation, and is incredibly helpful when you're engaged in chats that have a big range of topics. Using the new feature, the people you're talking to will now know exactly what you were replying to with that "LOL", for example.
This has been a feature in WhatsApp, which is also owned by Facebook, for a very long time, and it's always been sort of a baffling omission in Messenger. So it's good to finally see it there too.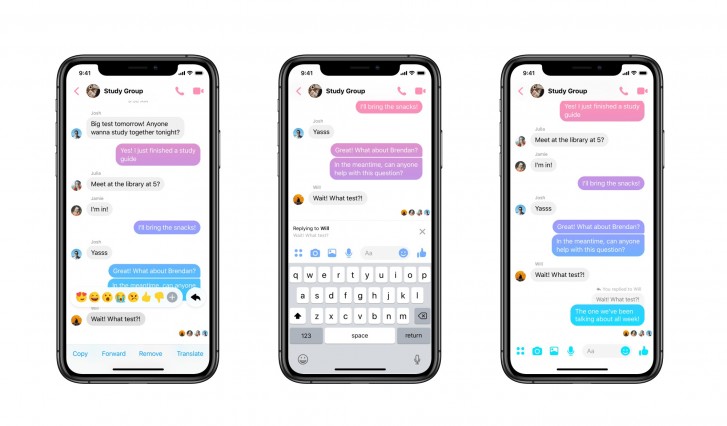 In order to quote a specific message, long tap on it and you'll see a new Reply button to the right of the reaction emojis. Tap that, write your reply, and, just like in WhatsApp, the message you're replying to will appear above your reply. Easy. This potentially means you'll have less misunderstandings with your friends as to which message was referencing what.
The feature is rolling out now on both iOS and Android.