How iPhone 5S makes your finger into a password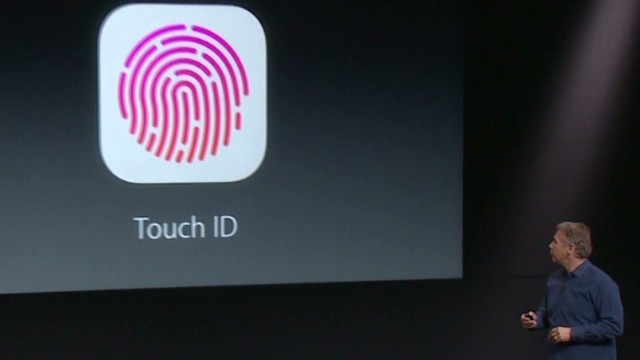 iPhone 5S has fingerprint technology
The most impressive feature of the new iPhone 5S may be its ability to turn your finger into a password.
Touch ID is Apple's name for a new fingerprint scanner that would act as a security tool for log-ins and for making purchases from iTunes and other Apple stores.
"Your fingerprint is one of the best passwords in the world," said Dan Riccio, a senior vice president for hardware design at Apple, in a promotional video. "It's always with you and no two are exactly alike."
Apple unveiled the iPhone 5S, along with a cheaper, simpler iPhone 5C, at an event Tuesday at the company's California headquarters.
Read: Hands-on impressions of the new iPhones
On the new 5S, the Home button will be made of sapphire crystal and act as a reader. According to Apple a fingerprint — up to five prints from different users, depending on who else shares your phone — can be read by the sensor from any angle to give access the same way a password does currently.
The fingerprint data is encrypted, Riccio said, and stored internally on the phone.
"It's never available to other software and it's never stored on Apple's servers or backed up to iCloud," he said.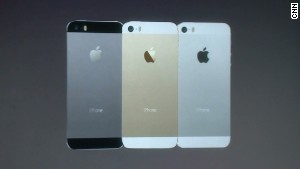 iPhone 5S to come in gold, gray, silver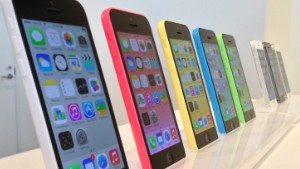 Check out Apple's new iPhone 5C
The iPhone isn't the first phone to have a fingerprint sensor. In 2011, the Motorola ATRIX 4G included one, though adoption among users wasn't particularly high and the company eventually discontinued the feature. And at least one Android phone to be released this year also will have the technology, according to a Wall Street Journal report.
Some laptops and PCs have had fingerprint readers for several years now. But the technology has never really caught on, with users often complaining about them being balky and unreliable.
Maybe Apple can change that.
"Fingerprint sensors have come a long way," said Michael Barrett, president of the Fast Identity Online Alliance, an industry group advocating for universal security authentication tools. "They are by and large much better quality now and very readily able to detect 'Is this just an image of a finger or a real-life finger?'"
But while he called Touch ID "an exciting announcement," Barrett still sees some problems.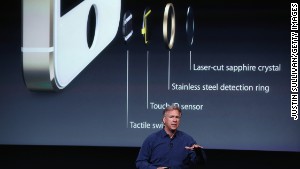 Apple marketing chief Phil Schiller speaks about security features of the new iPhone 5S.
First, he said, fingerprint scanning still isn't perfect. He mentioned his wife, an artist, who has trouble accessing her PC with a fingerprint scanner when she's been working with plaster, which dries out her hands.
"Like many biometrics, it falls slightly into 'your mileage may vary,'" he said. "If it works for you, great. But it may not work for you all the time."
The former chief information security officer at PayPal, Barrett also sees limitations to using the system for online purchases. While it may work fine on iTunes or in the App Store, it's not likely other Web retailers are going to spend millions of dollars to make their systems accommodate an Apple feature used on fewer than 17 percent of the world's smartphones.
That means iPhone 5S owners who used Touch ID for purchases inside Apple's "walled garden" would still need to use other security tools to shop elsewhere with the same phone.
David Rogers, director of the Columbia Business School's Digital Marketing program and executive director of its Center for Global Brand Leadership, called Touch ID one of several "nice," but ultimately underwhelming, features on the iPhone 5S.
"Touch ID … could have been that killer app. But so far, it's just a feature that saves you a couple seconds logging in," he said.
"If they can manage to link it to multiple profiles on a device, like the new Google Nexus tablets, or make it a password to controlling smart devices in the home — your stereo, thermostat, etc. — that could make for a truly killer feature. But they just didn't get there today."
Paco Hope, principal consultant at software security firm Cigital, said that, if nothing else, Apple will widely expand the public's understanding of the use of biometrics in the digital world.
"People's ideas about biometrics were as informed by Hollywood as they were by real products and experiences," he said. "Now, when someone asks the value of a fingerprint scanner, we can point to the iPhone and use it as a reference, for better or worse.
"Esoteric and academic theories of usability, reliability, false positives, false negatives, and so on will suddenly be tested by millions of real users in real situations."
SAMSUNG WATCH ACTIVE 2 SPECS IS ONLINE
SAMSUNG WATCH ACTIVE 2 SPECS IS ONLINE, While Samsung is gearing up to launch the Galaxy Note 10 series on August 7,
While Samsung is gearing up to launch the Galaxy Note 10 series on August 7, there are reports about the arrival of a Galaxy Watch Active 2. It's unclear if whether the company will launch the wearable with the new smartphone series, or if its launch will be moved forward. Despite this, more and more leaks are surfacing and revealing details about the Watch Active 2.
A couple of pictures were revealed today by the popular leakster, Evan Blass, from evleaks. According to another report from SamMobile, the Galaxy Watch Active 2 will come in two sizes, 40mm and 44mm. The former has a 1.2-inch screen, while the latter will be equipped with a 1.4-inch display. Both displays will boast AMOLED technology plus Gorilla Glass DX+. Last but not least they'll sport 360×360 pixels of resolution. Join GizChina on Telegram
The smaller model will weigh 31g, while the bigger one scales at 36g. They will arrive in either aluminum or stainless steel case, both are built to comply with MIL-STD 810G durability standards. According to reports, Samsung will equip the newer models with a touch-sensitive bezel. Therefore it will allow users to interact with functions without having to touch on the screen. That's an interesting feature, after all, smartwatches displays are usually too small so it's hard to interact with a touch-sensitive display without covering the content.
The Watch Active 2 will carry Samsung Exynos 9110 SoC underhood. The smartwatch boasts 768 MB of RAM on the Bluetooth-only model and 1.5GB on the LTE-capable variant. Both versions will boast 4GB of Internal Storage. Reportedly, the 40mm unit will have a 247 mAh battery. The 44mm model will fit a larger 340 mAh cell. As previously rumored, ECG and fall detection are both on board. However, the former can take some time to arrive at the shelves.
Last details include Bluetooth 5.0 connectivity and a plethora of colors for the aluminum variants: Silver, Black and Pink Gold, while the stainless steel color will arrive in Silver, Black and Gold. Worth noting that the LTE variant will only be available with a stainless steel finish.
Source: https://www.gizchina.com/2019/07/23/samsung-galaxy-watch-active-2-specs-surface-online/
MacBook Pro 2019 will be a 16-inch LCD laptop
MacBook Pro 2019 will be a 16-inch LCD laptop, New report affirms rumors and points to $3,000 starting price
New report affirms rumors and points to $3,000 starting price
We may have already seen new MacBook Pro models refreshed for 2019, but the true MacBook Pro 2019 is expected to land this October as a 16-inch LCD laptop, according to Taiwan's United Daily News (UDN).
Given that this would be Apple's largest MacBook Pro laptop since 2012's final run of the 17-inch MacBook Pro, the company reportedly plans to slap a gargantuan baseline price tag onto this year's model – which could rise above $3,000 (about £2,450, AU$4,350).
This laptop will likely be pushed heavily toward content creators and developers as a demonstration of Apple's sincerity in serving those audiences. Here's to hoping it will somehow satisfy the cross-section of folks that also like to game on their workhorse machines.
MacBook Pro 2019 backs down from OLED
This report corroborates one published by London-based market analysts IHS Markit, adding the pricing element to the mix. More importantly, this is the second report to state that the 16-inch MacBook Pro 2019 display will not be an OLED product.
Instead, it will be an LCD to the tune of a 3,072 x 1,920 pixel resolution, which would give the display a rather competitive 226 pixels per inch (ppi) rating and a total of 5.9 million pixels. LCD or not, this is going to be a sharp 3K display.
Will that alone be enough to justify such an exorbitant starting price? Hardly. There are surely other features that Apple has cooking for this device.
We know that Apple is planning to allow this MacBook Pro up to 32GB of memory (RAM), which is already possible on the 15-inch MacBook Pro.
And, of course, every report mentions an entirely new design likely focused on smaller screen bezels.
Exactly what kind of processor technology will be inside these laptops is also up in the air. Is Apple's supposed ARM laptop processor to be finished in time for these new laptops? Or, will Apple go all in with AMD considering Intel's faltering pole position in the laptop computing space?
We'll almost certainly see more about these missing MacBook Pro 2019 details as we get closer to October 2019.
Source: https://www.techradar.com/news/macbook-pro-16-inch-2019
Google pays users to help build its FaceID
Google pays users to help build its FaceID, Google's Pixel 4's moderately sized bezel has been rumoured to be hiding
Google's Pixel 4's moderately sized bezel has been rumoured to be hiding a powerful secret — its own take on FaceID. Much like how Pixel Imprint is Google's version of TouchID, Google is expected to add an additional form of biometric authentication to the Pixel 4 and 4 XL with this year.
As per a report from ZDNet, men on the street have been approached by Google employees and asked to capture different angles of their face in exchange for a $5 Amazon or Starbucks Giftcard. The images were taken with a phone in a case which obscured its design likely the Pixel 4 or 4 XL (or a prototype of one or the other.)
The firm is said to be doing this for multiple sites across the US to gather a large number of pictures with which to train its Pixel's authentication system before launch.
Google previously offered facial recognition for its Android devices in the past. This method is likely to be more secure and 3D based than before.
Source: Google is paying users $5 to help build its FaceID competitor