How Windows, OS X, and Ubuntu are slowly turning your PC into a smartphone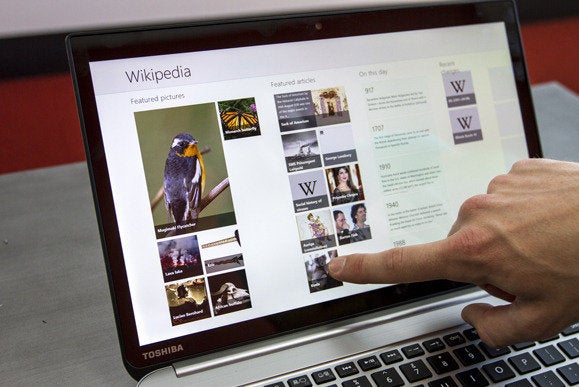 The glorious era of PC stardom is over. Once the belle of the technology ball, desktops and laptops now share the spotlight with smartphones and tablets, and the embrace of mobile devices by consumers has provoked deep changes in the computing landscape.No, PCs aren't dying out, but they are shifting form to more closely resemble the Hot New Things. And there's good reason for it.

"Consumers are mainly driven by simplicity and familiarity," says Carolina Milanesi, Gartner's research vice president of consumer technology.

In a word, people yearn for consistency. And as the industry struggles to satisfy that demand, mobile design is bleeding over to the desktop—though the Big Three PC operating systems are approaching the convergence in drastically different ways.

"Microsoft's philosophy is 'Okay, we want to be consistent across our operating systems,' and the way it worked in their brains was to just make one," says Ben Bajarin, the director of consumer technology at Creative Strategies. "Whereas Apple said, 'Well, we'll make two [operating systems], but we're going to have gestures and some UI consistencies [across iOS and OS X] so that you have a consistent experience.'"

And that's not even getting into what Linux is doing, via Canonical's audacious Ubuntu for Android. But let's get into it! Follow along, dearest desktop diehard, as we examine how mobile elements are creeping into Windows, OS X, and yes, even Linux.
Windows 8
C'mon now, you know where we had to start.
Determined to jump-start its mobile ambitions, Microsoft infused Windows 8 with tablet-friendly modern apps, gesture controls, and the Live Tile–infused Start screen. But hey! The traditional desktop is still around for PC aficionados. It's the best of both worlds, right? Not quite.
Designing a single operating system to run across multiple hardware form factors has led to some glaring usability problems. Rather than feeling like one OS, Windows 8 is more akin to a patchwork Frankensystem, with the traditional desktop and the modern UI awkwardly bolted together instead of working together as a cohesive whole.
"When Microsoft first started talking about Windows 8…there was a lot of optimism around it, because we're a mobile-first generation and mobile computing is important, and Microsoft was trying to bring unification with that to the table," says Bajarin. "The problem is they failed at the implementation."
While desktop jockeys can get by in the modern UI, its large buttons and vast empty spaces were clearly built more for swiping and prodding than for keyboarding and mousing. All of that wasted space requires a ton of extra scrolling, and the relative dearth of onscreen information requires a ton of extra menu clicking—two burdens that are anathema to traditional PC users. Likewise, while hidden menus and charm bars work wonderfully on tablets, they're far less natural-feeling on desktops.
The problem isn't limited to PCs proper. Trying to use the Windows desktop on slates is an exercise in frustration, given the small fonts and even smaller menu buttons of classic desktop software (the millions of programs built with a mouse in mind)."Part of the problem when you use a touch device is, the second you leave Metro, you can't even use touch," says Bajarin.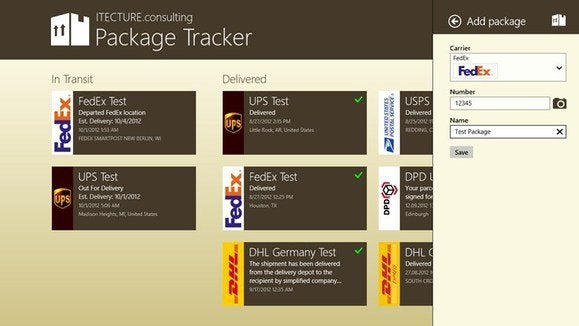 Some crucial settings and programs work only on the desktop, and some work only in the modern UI. Because of that, Windows 8 has a bad habit of ripping you out of one UI and dropping you into the other—a jarring experience, to say the least.
On the plus side, once you've overcome its substantial learning curve, Windows 8's consistent experience permits you to jump in and use any hardware the OS calls home. (Windows 8.1's usability improvements will help.) And don't forget—the (cough) relatively few (cough) apps available in the Windows Store work just fine across the wide spectrum of Windows 8 devices out there.
In the long term, those benefits may outweigh today's rough patches. But in the short term, Microsoft may be forcing its desktop customers to bite off more than they can comfortably chew.
OS X
On the flip side of the convergence coin is Apple. Given the company's strength in mobile devices, you might think Apple would be rushing to merge iOS and OS X, but thus far it has taken a fairly cautious approach.
The extensive reach of the iPad and iPhone is definitely affecting Macs, but in a much more subtle way. OS X Lion introduced iOS-like elements such as the LaunchPad, the Mac App Store, and full-screen and sandboxed apps. OS X Mountain Lion added a wider range of multitouch gestures, a Notification Center, iCloud, a Messages app that plays nice with iMessages, and some native apps that first appeared on iDevices. The upcoming OS X Mavericks drags Maps and iBooks along for the ride.
These are all baby steps, rather than a single, traumatic, Windows 8-style leap into the new and unproven. And each step of the way, Apple has tried to integrate the iOS features fully into OS X's desktop context, rather than simply forcing a round mobile peg into a square desktop hole. The OS X Notification Center is not a mirror image of the iOS version, for example—though it feels largely the same.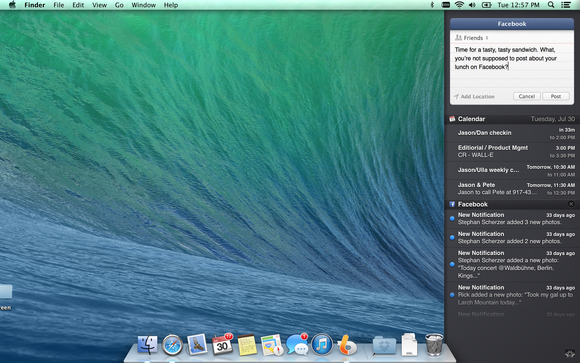 The downside to this approach, of course, is that Apple doesn't have the exact same apps and UI across all hardware, unlike Windows 8. Experts argue that that's a good thing, though.
"[Windows 8] just feels like two drastically different operating systems and two drastically different UI paradigms struggling over the same thing," says Bajarin. "Apple lets a PC be a PC, and a mobile device be a mobile device. Shared similarities and consistencies exist, but they're not breaking the paradigm."
"I like that Apple was more gentle about the 'phasing in' [of mobile elements]," says Wes Miller, a research vice president at Directions on Microsoft. "I'm not going to say there will never be a touchscreen Mac—but if there is, I think Apple's going to make sure the App Store's there, first."

Both experts admired the way Apple integrated multitouch elements into Macs via the touchpad, rather via than actual touchscreens. Touchpads let you use gesture controls in a way that feels much more natural than lifting your hands from your keyboard or mouse to poke your monitor, thereby minimizing the physical impact of touch on your PC workflow. (Windows 8 technically offers the same, but most laptop touchpads just plain suck.)
Don't expect the Mac/iPad convergence to stop with OS X Mavericks, either. As Miller points out, the iCloud website was recently updated with "a very iOS 7 look and feel. That makes me think we can expect OS X in 2014 to have a flat, new look."
Baby steps.
Ubuntu Linux
Put down your pitchforks! I know Linux is a complex and varied ecosystem woven from a near-endless number of distributions and interfaces. But for the purposes of this article (and my sanity), I have to focus on just one Linux iteration—and that one is Ubuntu, which is making headlines with its audacious (and doomed) Ubuntu Edge crowdfunding campaign.
If anything, Ubuntu for Android and the Ubuntu Edge smartphone are even more forward-looking than Microsoft's and Apple's ecosystems. Ubuntu for Android functions pretty much like any other smartphone when you use it as a smartphone—with apps, gesture controls, all that. But when you connect a phone running Ubuntu for Android to an external monitor and mouse, the device seamlessly switches to the full desktop Ubuntu Linux distribution, sudo apt-get and all.
Rather than trying to merge portable and PC operating systems, Ubuntu for Android adjusts to offer the best experience for your needs, with the help of some hefty internal hardware. Contacts, photos, videos, and other files are accessible from either side of the OS wall. It's insanely ambitious—a glimpse into a future where one device can handle all our computing needs. But it faces two problems.
First and foremost, no hardware manufacturers have stepped up to actively use Ubuntu for Android. And the reason they haven't is likely tied to the second issue: We aren't living in a one-device kind of world just yet.
"That's a very future-centric [UI] paradigm," says Bajarin. "I don't think it's something we're going to see go big right away…I can see someday, when we've got so much processing power in our phone or tablets that there's no reason why it can't power all these other displays and be all these different PCs. And I think what Ubuntu's doing with the dual-modal software is very interesting.
"It's a very intriguing concept, and one could make a could case that over the next five to ten years, all the technological bits will be there to make that an equally good experience as what you get today with a notebook or a desktop."
But again, today is not tomorrow, and it's no surprise that the Ubuntu Edge campaign floundered.
To infinity, and beyond!
Don't let Ubuntu's jumping of the technological gun fool you, though. Like it or not, we're on the cusp of something different, as the computing industry struggles with a titanic shift that's dragging the monolithic PC into a future where multiple screens and consistent, cohesive multidevice experiences are the norm. And man, has that shift come quickly!
"If you look back five years, we're in 2008, and the iPhone is still this young thing that people aren't sure is going to take off," says Miller. The first iPad was still two years off at that point. "Technology is shifting so incredibly fast that the form factors [and interfaces] we'll be using in five years we may not even think of right now. We'll just look back and laugh at what we were using in 2013."
Change is a-coming, friends, and while Apple's kiddie-glove approach to merging mobile elements with desktop operating systems may be the most comfortable for consumers in the short term (sorry to break it to you, Microsoft), don't be surprised to see Macs and Windows PCs end up in similar places a few years down the road. The strategies differ, but the goal remains the same: consistency.
Who knows? Microsoft and Apple might even wind up where Ubuntu is trying (and failing) to go today.
source: http://www.pcworld.com/article/2047067/how-windows-os-x-and-ubuntu-are-slowly-turning-your-pc-into-a-smartphone.html#tk.twt_http://www.pcworld.com/article/2047067/how-windows-os-x-and-ubuntu-are-slowly-turning-your-pc-into-a-smartphone.html
72% OF GLOBAL 5G SMARTPHONE REVENUE COMES FROM CHINA
Counterpoint Research reported that in the second quarter of 2020, 5G smartphone shipments increased, accounting for 10% of global smartphone shipments.
REVENUE AND ASP OF 5G SMARTPHONE
In the second quarter of this year, 5G smartphone revenue accounted for 20% of global smartphone revenue. Among them, China is the largest contributor to 5G smartphone sales. It is reported that 72% of global 5G smartphone revenue comes from China. Most of them comes from 5G smartphones released by Huawei. In addition, the average selling price of the Chinese smartphone market also increased by 12% year-on-year.
According to the report, the Asia-Pacific region, China, Europe, the Middle East and Africa, North America and other regions contributed 10% of the overall growth rate in the average sales price in the second quarter of 2020. However, Latin America is the only country where average sales prices have fallen 5% year-on-year. Although the new coronavirus has had an impact on the entire market, the high-end segment has not fallen sharply. Compared with the overall market decline, it only faces a year-on-year decline of 8%.
The report also shows that in the second quarter of 2020, the average selling price (ASP) of the global smartphone market increased by 10% year-on-year. With the exception of Latin America, average selling prices increased in all regions. This is because many 5G phones sold well in the second quarter. The increasing demand for education, work, games, and entertainment is also a factor in users' preference for high-end smartphones.
Read Also:
Samsung may announce the Galaxy F41 smartphone tomorrow
Overall, due to the economic impact and the closure of offline retail stores, the market's demand for low-priced devices has decreased. Coupled with the resilience of the high-end market and the growth of 5G smartphone sales (especially in China), this quarter's increase in the average selling price of smartphones.
THE BOTTOM LINE
At the same time, smartphone shipments fell 23% year-on-year, reaching a record high. Although most OEM's smartphone shipments declined in the second quarter of 2020, Apple's shipments increased by 3% year-on-year, while iPhone revenue increased by 2% year-on-year. But we should also point out that Apple still has no 5G iPhone. The first models will come to the market only this year. Once this happens, and 5G appears on lower models, it will be quite interesting to see how the proportion changes.
Source: https://www.gizchina.com/2020/09/27/72-of-global-5g-smartphone-revenue-comes-from-china/
Former Blizzard CEO Mike Morhaime announces new game company
Two years after stepping down as CEO at Blizzard, the game company he co-founded in 1991, Mike Morhaime is back with his next venture. It's called Dreamhaven, and it's a combination of a publisher and developer, with "a common goal to empower creators, help bring their ideas to life, and create original gaming experiences that foster meaningful connections between players."
As part of the announcement, Dreamhaven also revealed its first two internal studios: Moonshot Games and Secret Door. Moonshot is headed by a trio of Blizzard veterans, including former Hearthstone lead Jason Chayes, StarCraft II director Dustin Browder, and Hearthstone creative director Ben Thompson. "Though it's very early days, when we think about Moonshot, we imagine a studio that celebrates curiosity and courage," Chayes said in a statement. "We aspire to be bold in our approach, and we think the best way to do that is to create a culture centered around trust."
Secret Door, meanwhile, is similarly led by a team of former Blizzard developers, including Chris Sigaty (executive producer on Hearthstone), Alan Dabiri (technical director on Warcraft III and StarCraft II), and Eric Dodds (designer on World of Warcraft and Starcraft). No projects have been announced for either studio.
Morhaime stepped down as CEO of Blizzard in 2018, though he stayed on in a consultancy role until last year. In an interview with The Washington Post, he said that one of the goals of the new company was to build an environment focused on creators — something that was likely a challenge under Activision, which became Blizzard's parent company in 2008.
"We've learned a ton about what goes into creating an environment that allows creators to do their best work, and we were very successful doing that for many years at Blizzard," Morhaime told the Post. "We reached a crossroads where we reassessed what we want to do with the rest of our lives."
Source: https://www.theverge.com/2020/9/23/21452256/former-blizzard-ceo-new-game-company-dreamhaven-morhaime
Apple Loop: Shock iPhone 12 Details, Massive iOS 14 Problems, Macbook Pro Delay
Taking a look back at another week of news and headlines from Cupertino, this week's Apple Loop includes surprising iPhone 12 benchmarks, big problems with iOS 14, two new iPads, Apple ignores MacOS, the "good/better/best" of the Apple Watch, the controversy around Apple One, and the Macs' never changing system System Preferences.
Apple Loop is here to remind you of a few of the very many discussions that have happened around Apple over the last seven days (and you can read my weekly digest of Android news here on Forbes).
Just How Fast Is Your Next iPhone?
We might not have seen the iPhone 12 family as part of Apple's virtual September launch event this week, but we have seen the benchmarks pop up on the AnTuTu website. That gives us a raw comparison of the numbers from last year's iPhone to this year's. Philip Michaels reports some pretty shocking numbers:
"Leaked benchmarks from Antutu, purportedly showing off an iPhone 12 Pro Max's performance, may help fill in some of the blanks. MySmartPrice spotted the leaked numbers, which claim to show off a device with 6GB of RAM and 128GB of storage running iOS 14.1.
"According to the leaks, the iPhone 12 Pro Max tallied a score of 572,333 on Antutu's test, which is a 9% gain over the iPhone 11 Pro Max's 524,436 result on the same test. MySmartPrice says the iPhone 12 Pro Max's reported tally would be the highest score ever posted by an iPhone, which you'd hope given that it's a new model.
The Big Problem With iOS 14
Apple may not have announced a release date for the iPhone, but it did announce the release date of iOS 14. And that has caused problems. Normally Apple will provide a week's worth of 'heads up' time to Developers so they can ensure their apps are ready for the jump up to the next major version of iOS. Not this year… developers had less than a days notice, and they are not happy. Matt Binder reports:
""Gone are the hopes of being on the store by the time users install the new iOS 14 and are looking for new apps. Gone is the chance to get some last-minute fixes into your existing apps to make sure they don't stop working outright by the time users get to upgrade their OS," explained Steve [Troughton-Smith from High Caffeine Content."
""There are some developers who have spent all summer working on something new, using the latest technologies, hoping to be there on day one and participate in the excitement (and press coverage) of the new iOS," he continued. "For many of them, they'll be incredibly upset to have it end like this instead of a triumphant launch, and it can dramatically decrease the amount of coverage or sales they receive.""
Take Two Tablets And Call Your iPhone In The Morning
Taking the flagship spot away from the 'missing presumed having a good time' iPhone 12 was Apple's new iPad Air. Beating the smartphone as the first device with Apple's new A14 ARM-based processor. Samuel Axon and Jim Salter report for Ars Technica:
"The iPad Air gets the new A14 Bionic CPU, built on 5nm process technology. It's a six-core CPU with two high-performance cores and four lower-power, more efficient cores for simpler background tasks. The A14 Bionic offers a 30 percent GPU performance boost compared to previous generations, and Apple says it puts up double the graphics performance of typical laptops."
As well as the increased power, 2020's iPad Air has a new design; USB-C has been added, the bezels have been trimmed away, the home button has been removed, and TouchID has been integrated into the power button. It;s not the only new iPad, as the entry-level iPad moves up rom the A10 to the A12 Bionic processor. Benjamin Mayo reports:
"The jump from A10 to A12 means Apple's cheapest iPad will feature the Neural Engine for the first time. Apple says the A12 chip offers more than twice the performance of the top selling Windows laptop, 6x faster than the top-selling Android tablet and 6x faster than the best-selling Chromebook.
"The 8th-generation iPad keeps the same price as the 7th-gen: that's $329 for general sale and $299 for education."
Will Mac Owners Be Satisfied With Safari After macOS Delay?
If you were waiting for MmcOS Big Sur to drop for your Mac or MacBook, then you are out of luck. Apple's event saw updates to iOS, iPadOS, tvOS, and watchOS… but macOS has been delayed. The 'Big Sur' release is still in the future, but a small crumb (perhaps from a cookie) has been handed to Mac fans in the form of Safari 14, presumably to offer cross-OS support with other devices. Juli Clover reports:
"Safari 14 brings improved performance, customizable start pages, a Privacy Report to see which cross-site trackers are being blocked, and a new tab bar design that provides tab previews so you can see what you have open at a glance. Today's update also removes Adobe Flash."
The Apple Watch Strikes Three 
Two new Apple Watch models were launched, and as the Apple Watch Series 3 remains, there is now a low-, a mid-, and a high-level smartwatch in the classic triplet that Apple was once famous for. Todd Haselton looks over the Series 6 Apple Watch for CNBC, including the headline 'wellness' features:
"The Series 6 also has Apple's most advanced sensors. You can run the ECG app for an electrocardiogram, for example, a feature that's not on the Apple Watch SE or Series 3. It's also the only model with the new blood-oxygen app. I tried that and it told me my blood oxygen was 96%, which seems good.
"…Apple is careful to explain that this isn't a medical device. You can use it if you're curious about your blood oxygen when you're hiking at high altitudes, but Apple isn't making any promises about detecting low oxygen should you fall ill with coronavirus."
Meanwhile, Apple has brought the 'SE' brand to the Apple Watch, again with the promise of a cheaper 'mid-range' slice of hardware that still delivers the core Apple experience. Chris Velazco has spent some time with the wearable to try and work out where it fits into the portfolio:
"For one, the SE uses the same S5 system-in-package (or SIP) that we got in last year's Series 5, which in turn contains the same dual-core processor as the Series 4. Meanwhile, Apple has confirmed that the SE has the same compass and always-on altimeter as the Series 6, along with a very similar screen.
"From what I can tell, it's the same bigger display we got in the Series 5, just without the always-on functionality enabled. And while the Series 4 was the first Apple Watch to come with heart-sensing ECG support, you simply don't get that here. Ditto for the Series 6's new blood oxygen measurement features."
Bouquets and Brickbats For Apple One 
Also announced alongside Apple's hardware, and perhaps an indication of where Apple wishes to focus on the future, were new options for the various subscription services offered by Cupertino. Apple One takes the popular options and bundles them together while offering a discount. Brian Heater reports:
"It's not quite mix and match yet, but there are three pricing tiers. Individual offers Apple Music, TV+, Arcade and iCloud for $15 a month. The Family version will get you those four services for $20 a month. For the hardcore, there's the $30 a month Premier tier, which bundles iCloud, Music, TV+, Arcade, News+ and [the new service] Fitness+."
"For those who have been putting off a given Apple subscription, such a bundle could certainly sweeten the pot — and make it even harder for users to escape the pull of the Apple software ecosystem."
More at TechCrunch. Given Apple's market position, using one service to pptentiallybolster another through a bundle has drawn the eye of the competition. Spotify – which has already filed an anti-trust complaint with the European Commission against Apple – drew attention to the issue shortly ager the end of the event.
"Once again, Apple is using its dominant position and unfair practices to disadvantage competitors and deprive consumers by favoring its own services. We call on competition authorities to act urgently to restrict Apple's anti-competitive behavior, which if left unchecked, will cause irreparable harm to the developer community and threaten our collective freedoms to listen, learn, create, and connect."
More on the Spotify statement at Apple Insider.
And Finally…
The look of the MacOS user interface has evolved since OSX was announced in 2000. One area has stayed relatively contestant, but the small changes highlight the thinking behind the OS over the years.
"The interface started glassy and skeuomorphic, mimicking the materials used on Macs. Over the decades, it went through significant revisions. One thing that seems to have remained relatively unchanged over the years is the System Preferences screen.
"But, at a closer glance, we'll see that this mundane part of the operating system has changed quite a bit and hides some fun easter eggs and surprises."
Arun Venkatesan has taken a closer look on his blog.
Apple Loop brings you seven days worth of highlights every weekend here on Forbes. Don't forget to follow me so you don't miss any coverage in the future. Last week's Apple Loop can be read here, or this week's edition of Loop's sister column, Android Circuit, is also available on Forbes.
Source: https://www.forbes.com/sites/ewanspence/2020/09/18/apple-news-headlines-iphone-12-benchmark-specs-launch-dates-ipad-air-apple-watch-se-ios-14-macos-macbook-pro/#2f5105752c07