Huawei has built the Disneyland of tech R&D
A couple hours outside Huawei's old headquarters in Shenzhen, China, the company has built a new campus in the city of Dongguan to eventually house 25,000 R&D employees. But this is no sprawling network of glass towers – it's composed of 12 mini-districts built to look like a different European city, all linked by a full-size train.
In other words, it's a lot like a Disneyland for tech research.
Walt Disney's famous park is around 85 acres (0.34 square kilometers), but this research center is four times the size at 296 acres (1.2 square kilometers) – which grows to 1,976 acres (8 square kilometers) if you include the factories across an adjacent lake. Each mini-district – allegedly called 'towns' by some Huawei employees – has grandiose buildings, cobbled or bricked streets and landscaped greenery.
Huawei invited tech media out for a casual tour of the grounds, and TechRadar got a close-up look. We started at a coffee shop and got on a two-car train in a bold orange with brass accents, looking straight out of Industrial-era Europe.
We breezed past areas patterned after Paris, Burgundy, Heidelberg, Cesky Krumlov, and Bologna, packed with 'towns' in the style of, and laid out like, each city – some so large, they might as well be castles. It was completely impressive, yet out of place amid the lush Chinese flora and the shabby residential high-rises in the distance. Image 1 of 5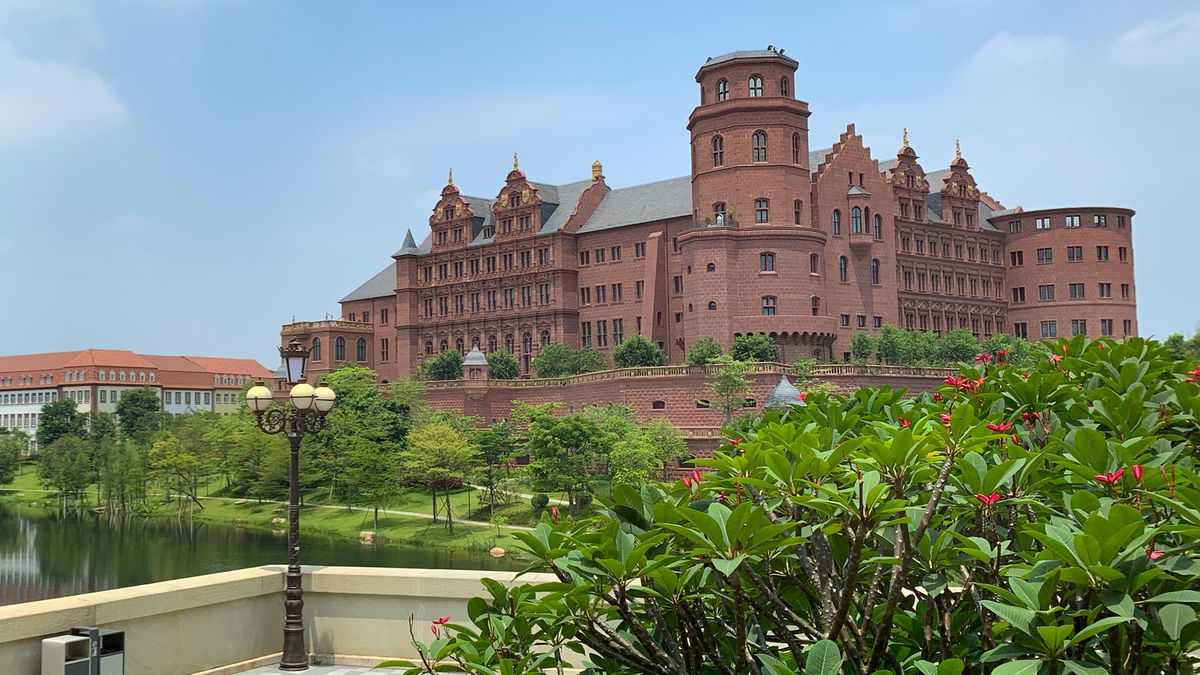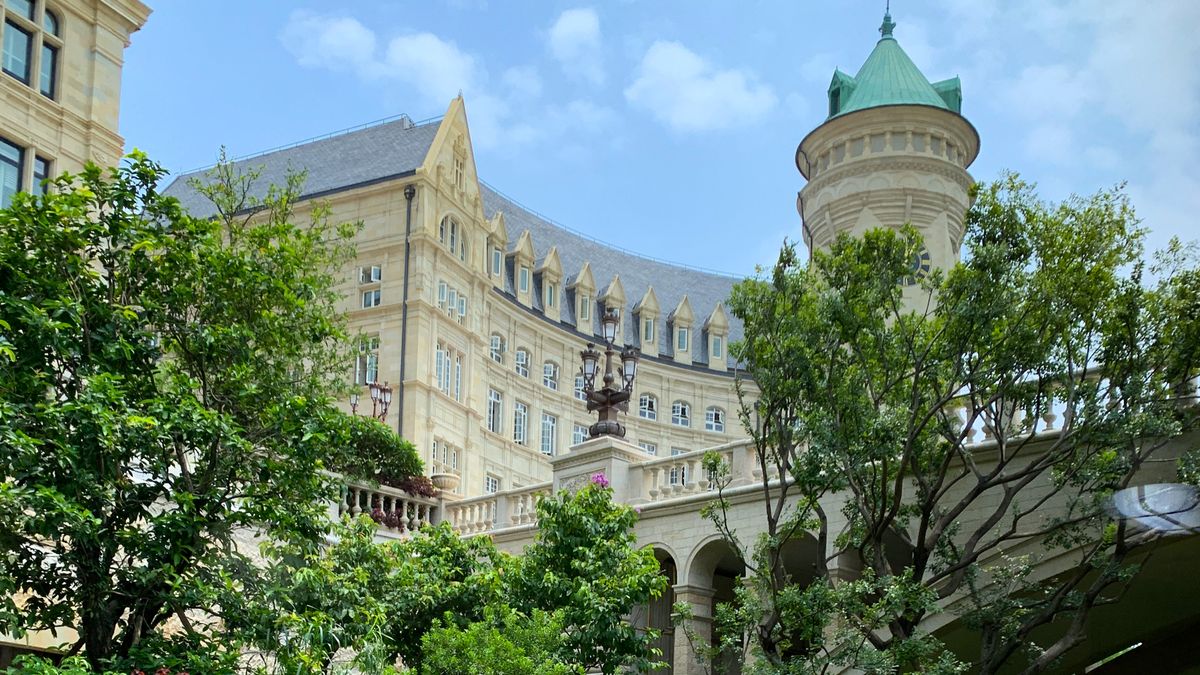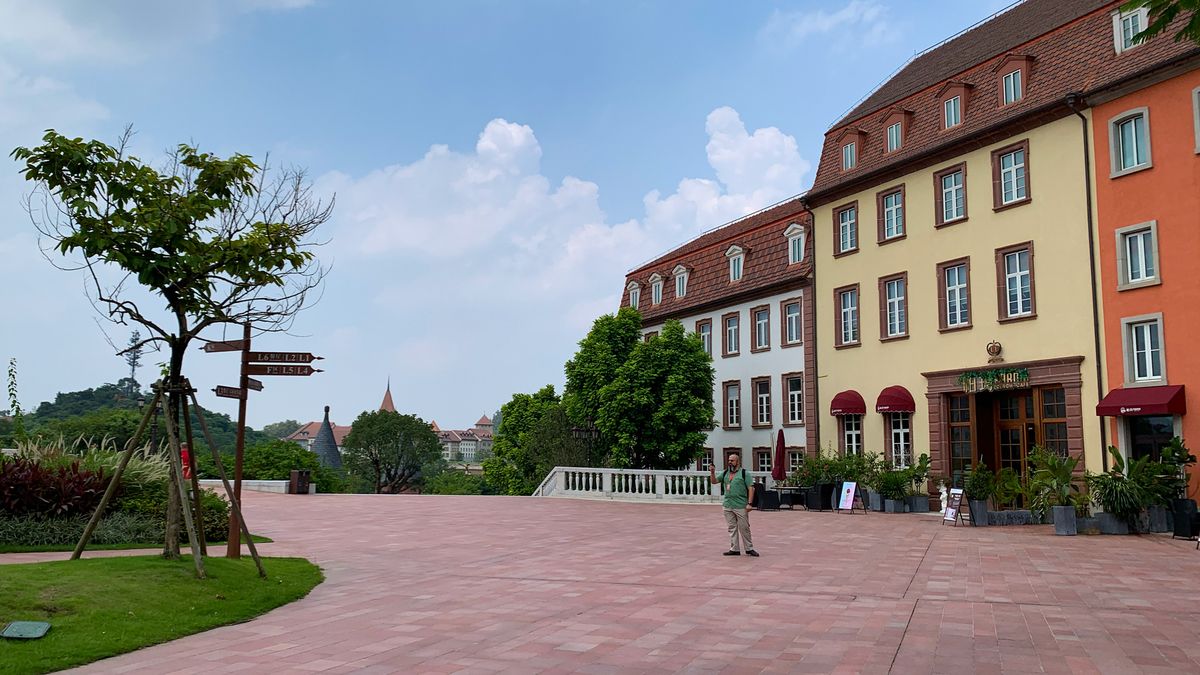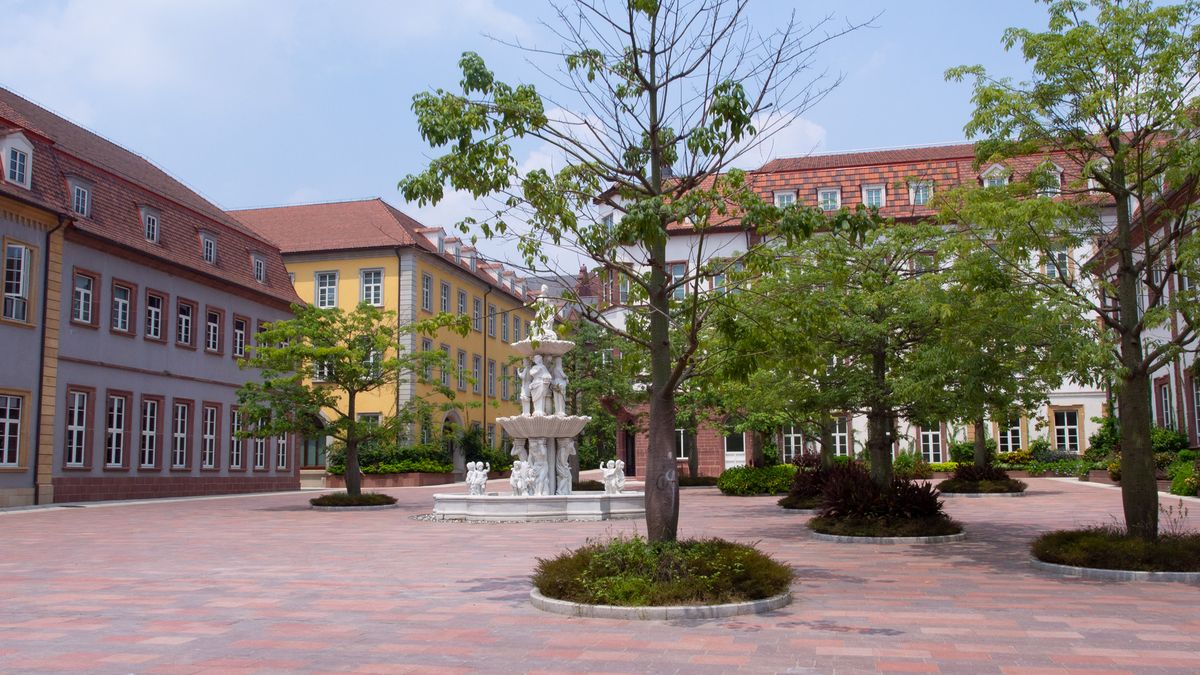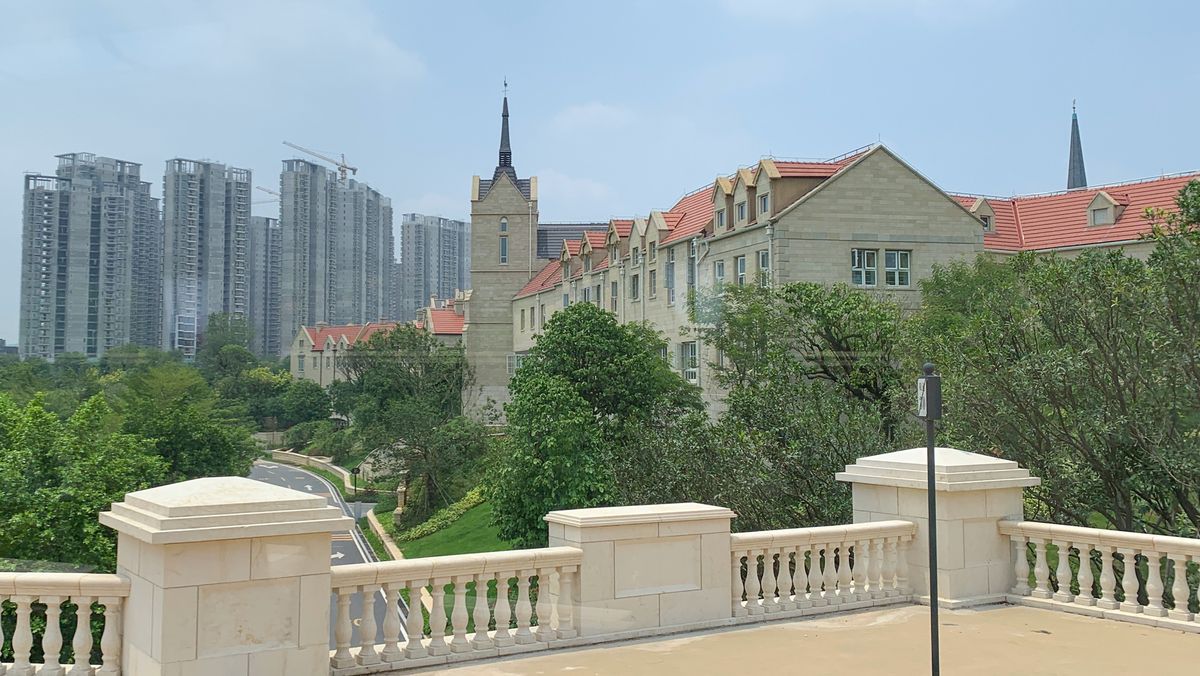 The effect was surreal – a dizzying dissonance between carefully-constructed medieval and Renaissance European buildings that would still function as everyday workplaces. Each member of our media group stared agog as we took the long orange train beyond the completed 'towns' (seven of twelve are work-ready, five years after construction started ) to get a sense of the installation's scale.
We were left with the obvious question: Why?
Huawei's workplace 'Disneyland,' a new center of research
Or to reframe the inquiry: why not just make a modern glass-and-grass campus like the other tech titans? Our guide explained the philosophy behind the Dongguan facility: Huawei founder and CEO Ren Zhengfei wanted employees to work in a place they found peaceful, which is a far cry from the busy metropolitan sprawl in Shenzhen or Dongguan. Image 1 of 5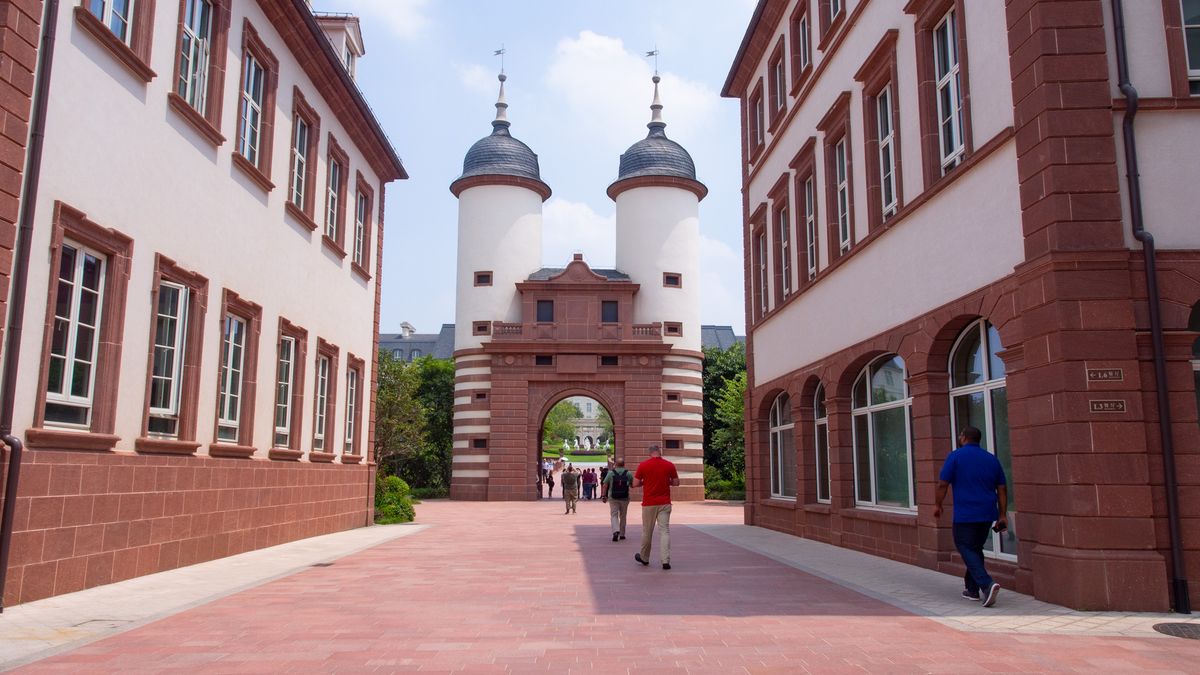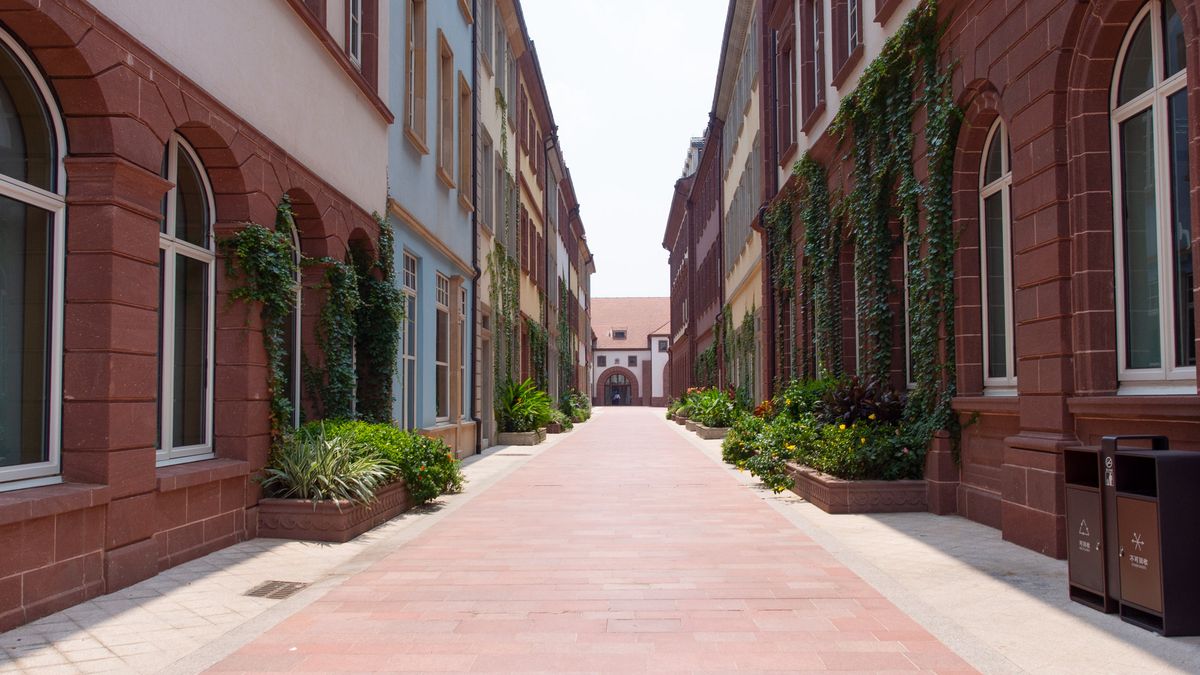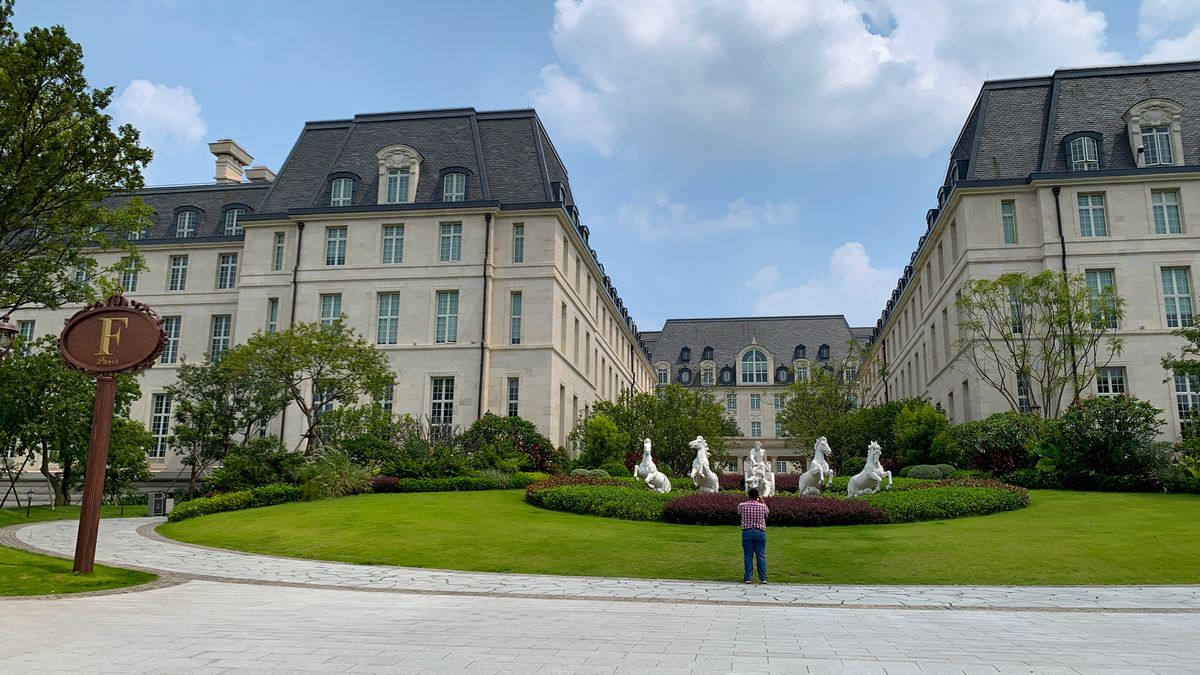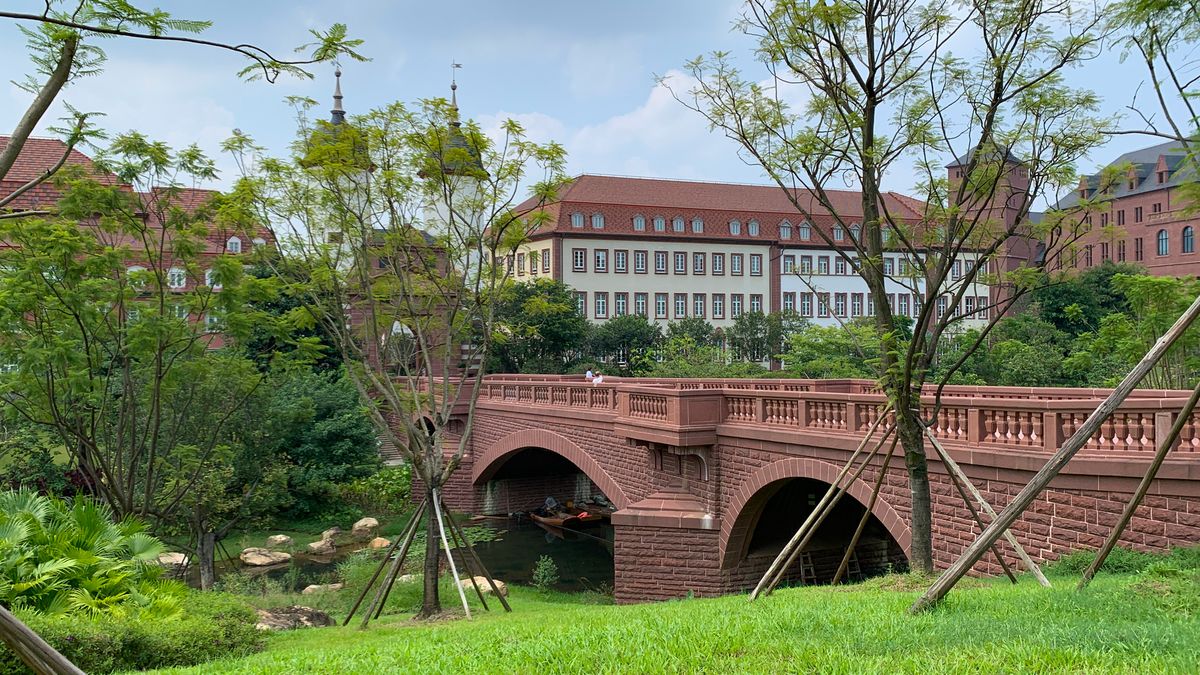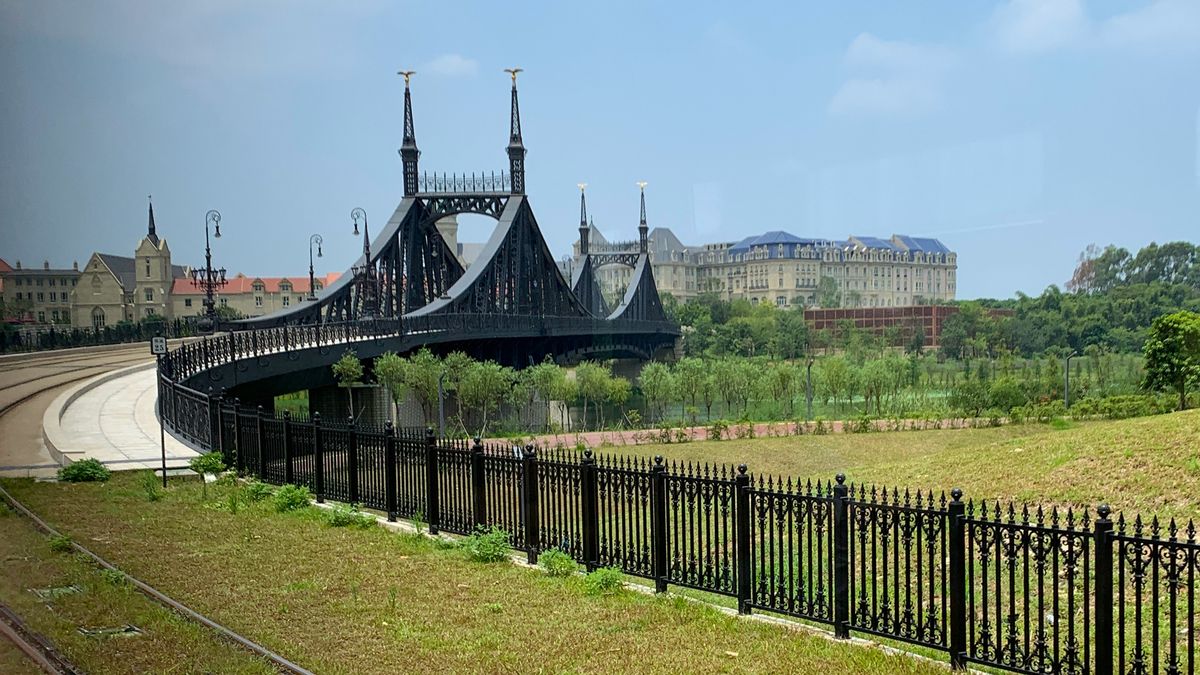 If true, that sentiment – and the sheer resources spent to bring this city-replicating vision into reality – evokes the whimsy and dedication Walt Disney swirled together to make Disneyland. "Here age relives fond memories of the past, and here youth may savor the challenge and promise of the future," Disney famously said at the park's opening in 1955 in a brief dedication.
Sixty-odd years later, those words could strangely apply to Huawei's Dongguan R&D campus.
On our visit, tech media were introduced to the company's myriad applications of its tech, from augmenting existing industries with 5G to making cities 'smart' with enough sensors to monitor power consumption, air quality, and even the capacities of individual trash cans. And, yes, streamlining the networks behind security camera systems (to help missing children and crowd control, a Huawei tour guide said) as well as networks (and sometimes chips) behind facial recognition software.
Of course, the company's tech innovations aren't just made in Dongguan: that still-unfinished facility is one of 16 global R&D centers. Nine of them are in China, but whereas the others have around 10,000 employees each, the Dongguan installation will house around 25,000 once it's finished – combined, the R&D contingent is over half of Huawei's 188,000 employees.
But those other R&D facilities weren't built as a paean to culturally significant European cities. It's unclear if the Dongguan campus was built so extravagantly to lure employees or to satisfy the eccentric whims of upper staff (if not Zhengfei himself) – or both, or neither. What is clear: if this was built in the US, it would be soundly criticized as a needlessly ornate and expensive feat of engineering – just like Disneyland had been before it showed up its critics.
Source: https://www.techradar.com/news/huawei-has-built-the-disneyland-of-tech-randd
FIFA 21: No demo for upcoming game, EA Sports confirm
EA Sports has announced that the company will not be releasing a demo for FIFA 21.
FIFA 21 is set to be released on PlayStation 4 and Xbox One on Friday, October 9, having being pushed back from its usual September release date due to the coronavirus pandemic.
In addition, the game will also be eventually released on the upcoming Sony PlayStation 5 and Xbox Series X, making this year's release one of the most important in recent years.
Typically, EA Sports release a demo for each year's game around three weeks before the official release, allowing players to test out the gameplay in one-off matches featuring some of the game's top teams.
The demo is then typically followed by an early access period for those that are EA Play members, offering players a chance to play the full game for a limited time before release.
However, EA confirmed on Monday that this year's game will not have a demo, with the company instead focusing on making sure the full game is prepared for its October 9 release date.
"We aren't releasing a demo for FIFA 21. Instead we've made the decision to focus our development team's time on delivering the best full game experience for current & next-gen consoles," EA said in a statement.

"We look forward to EA PLAY members jumping in 10 days from now and launching the game Oct 9."

In recent weeks, EA has begun to unveil the list of the highest-rated players in the game, with Lionel Messi, Cristiano Ronaldo and Robert Lewandowski earning the top three places on this year's rankings on the men's side with U.S. women's national team star Megan Rapinoe leading the way for the women.

This year's game will feature improvements to career mode, new attacking systems such as Agile Dribbling, Positioning Personality and Creative Runs and improvements to the highly-popular Ultimate Team mode including FUT Co-Op gameplay and increased club customisation options.

Additionally, the game will feature a series of new icons: Eric Cantona, Ferenc Puskas, Xavi, Nemanja Vidic, Petr Cech, Samuel Eto'o, Bastian Schweinsteiger, Phillip Lahm, Fernando Torres, Ashley Cole and Davor Suker.

Source: https://www.goal.com/en/news/fifa-21-no-demo-for-upcoming-game-ea-sports-confirm/w6bswvm9fg9h16crm45vzt6qs
Editing HTML Like A Boss In VS Code
Here's a seven minute video from Caleb Porzio that focuses on some of Emmet's HTML editing features. You might think of Emmet as that thing that expands abbreviations like table.stats>tr*3>td*3 into glorious, expanded, and perfect HTML. But Emmet has other HTML editing trickery up its sleeve. My favorite is "wrap with abbreviation" (which happens to be Cmd/Ctrl + Shift + A on CodePen), but there are more, like expanding your selection inward and outward and tag changing.
If you haven't seen it, the Emmet 2 preview on CodePen is pretty neeeeat. It shows you what you're about to expand into before you do it:
Source: https://css-tricks.com/editing-html-like-a-boss-in-vs-code/
PS5 Game Install Sizes Revealed, And They're Enormous
There was hope that the efficiency of the PlayStation 5's super-fast SSD hard drive would reduce game file sizes, as titles wouldn't need to duplicate data to ease read speeds. That, apparently, is not quite the case, as the minimum install requirements for a couple of PS5 launch games have been revealed – and they're enormous.
Demon's Souls, for example, will eat up 66GB of the next-gen system's storage space; Marvel's Spider-Man: Miles Morales will gobble up 50GB, and if you plump up for the Ultimate Edition – which includes Marvel's Spider-Man: Remastered as well – you'll lose an eye-watering 105GB. That's already an eighth of the device's available 825GB.
It's worth noting that textures will be more detailed on the PS5, so developers may well be saving space compared to PS4 titles, but using it up with higher quality assets. In the case of Marvel's Spider-Man: Remastered, for example, the original game with all of its DLC installed takes up approximately 75GB on the PS4, compared to roughly 55GB in its revamped form.
Still, it looks like you're definitely going to have to juggle which games you've got installed – although eventually you will be able to expand the system's storage space. You can find out more about that through the following link: Which SSD Drives Will Be Compatible with PS5?
Source: https://www.pushsquare.com/news/2020/09/ps5_game_install_sizes_revealed_and_theyre_enormous