IOS APPS ON MACS? GEE, THAT FEELS FAMILIAR…
Well, gang, it's official: Cross-platform convergence is now both magical and revolutionary.
Apple, in case you haven't heard, is taking a serious step toward bringing its mobile and desktop platforms together: At its annual Worldwide Developers Conference adjective-shouting extravaganza this week, the company announced a plan to let developers bring iOS apps onto MacOSstarting next year. So, yes: That means the Apple faithful will soon be able to run iPhone-like software on their regular ol' keyboard-packin' computers.
Pretty spiffy idea, right? Mobile software, on the desktop! Just think of the possibilities. But wait: Why does something about this seem so eerily familiar?
Oh, right — because it's exactly what we've been watching take shape with Android and Chrome OS over the past several years.
Now, before you grab the nearest suit of armor and novelty foam sword, hang on: I'm not here to play a game of "Who Did It First?" Let's be honest: That kind of talk is pretty tired at this point. Some years, Apple borrows heavily from Google; some years, Google borrows heavily from Apple. Sometimes, the inspiration-lifting is for the better, and sometimes, it's for the worse. I'm not an intellectual rights attorney (thank goodness) — and from a normal user's perspective, the arguments over who copied whom are equal parts boring and irrelevant.
What I do want to discuss is how much Apple's move validates the approach Google's been pursuing for some time now — and, at the same time, how its implementation of the idea is both similar and simultaneously different.
Let's jump in, shall we?
Apple, Google, and the tale of converging platforms
We'll start with Google. The move to bring Android apps to Chrome OS began in earnest in 2016. (Yes, the work technically started two years earlier, with the beta-wearing "App Runtime" project — but that was basically just a test, with significant limitations and nothing even close to a polished or mainstream-ready experience.)
For Google, the notion of bringing two platforms together was nothing short of transformational. Chromebooks had traditionally been cloud-centric computers — a model that provided some enticing advantagesover traditional PCs but required you to rely mostly on web-based software like Google Docs and Office Online. Realistically, that sort of setup was more than sufficient for the vast majority of modern-day computer users, but it also left a fair number of gaps in what a Chromebook was able to do.
By allowing anyone to install and run almost any Android app while still maintaining Chrome OS's security, simplicity, and speed-related advantages, Google accomplished several significant things: First, it redefined a Chromebook's possibilities and limitations, making the devices more compelling and feature-complete for an even broader array of users. (On a smaller and much more specifically targeted scale, the current move to allow Linux apps on Chrome OS serves a similar purpose.)
Beyond that, it essentially created a whole new category of device — the Chromebook/Android mashup. That's something we've seen progress considerably over the past couple years, as the hardware has slowly caught up with the software and convertible Chromebooks have effectively become the new Android tablets.
And last but not least, it created an ecosystem like no other. Developers could build and publish a single app and have it be available to the world's largest mobile platform and the world's increasingly dominant desktop computing environment. As long as the apps are built with responsive design and with a handful of form-specific optimizations in mind, it's a single, streamlined process with minimal extra effort involved.
Significant as those first two points may be, we can't underestimate the value of that last one — the ecosystem expansion. Remember, Chromebooks are hugely popular, particularly in schools. And developers tend to go where the users are. For the first time, Google could actually overcome its chicken-and-egg problem and have an existing audience that'd entice developers to craft large-screen-optimized apps — apps that, by their very definition, would straddle the lines of two overlapping ecosystems and benefit Android and Chrome OS alike.
Apple's approach is a bit different. Unlike Chromebooks, Macs already run traditional desktop software. Unlike Google, Apple already has a successful tablet platform. And unlike Google, Apple doesn't currently offer touch-enabled Macs — another one of those classic "it doesn't work" declarations from Steve Jobs, way back when — and even if the company does eventually come around to rethinking that stance, it doesn't seem likely that it'd look to phase out or de-emphasize the iPad anytime soon.
What Apple does share with Google, however, is the ecosystem part of the equation. Apple is all about the ecosystem, in fact, and it has been for a very long time. Google is the relative newcomer to that kind of focus.
So Apple, like Google, stands to benefit by aligning its platforms (a familiar phrase, no?) and making them more similar from a user's perspective. It's no secret that people adore their iPhones and the apps associated with them. Making MacOS follow iOS's lead in some ways and allowing users to run familiar mobile apps within it will make the Mac feel more consistent and connected with the iPhone — and thus could make it more appealing both to current users and also perhaps to those who don't presently own a traditional laptop or desktop computer.
Apple, like Google, could also benefit from energizing its desktop software ecosystem and giving developers added incentive to focus on that form. It may not be entirely comparable to Google's Chrome OS situation, but the idea that development on the desktop side of Apple's ecosystem is stagnating compared to the mobile side is a pretty common theme of discussion these days. Bringing iOS-like apps onto Macs could go a long way in reversing that view.
Perhaps most critically, aligning the ecosystems provides yet another piece of ammo for the famous "lock-in" weapon: You've got the environment you know and love and the apps you know and love on your iPhone and/or iPad — and now on your Mac, too. Just like Google is aiming to accomplish with Android phones and Chromebooks, our investments in these ecosystems are more expansive than ever — which, of course, means we're more likely than ever to stick with whichever ecosystem we choose and continue to buy its associated products year after year.
Interestingly, Apple and Google also share the same persistent view from pundits that "the two platforms must be combined!" — a view that no level of adamant denial or ongoing evidence to the contrary seems able to extinguish.
Converging platforms, diverging paths
One thing the two companies don't fully share is the specific approach to bringing mobile apps onto the desktop. Google, fitting with its general ethos, has established a bit of a free-for-all with Android apps on Chrome OS: By default (unless a developer explicitly disallows it or an app is inherently incompatible due to hardware requirements), most any Android app can be installed on a Chromebook. The Play Store you get on a Chromebook is quite literally the same Play Store you get on a phone.
So everyone is in, more or less — and it's then up to each developer to optimize an app and make it excel in the large-screen, keyboard-and-trackpad-using form. Or not. Most apps work well enough on a Chromebook out of the box, and in some scenarios, it's clear a developer went the extra mile to really make the experience shine. Either way, you can find plenty of useful titles that add meaningful value to the Chrome OS environment.
But you can also find plenty of apps that clearly weren't made to run on that type of hardware — where even the most minimal amount of effort is painfully lacking — and those apps, while technically compatible with a Chromebook, are incredibly awkward and unpleasant to use. (Hi, Instagram!)
From the sounds of it, Apple is taking the exact opposite approach: The door will be closed by default — and the MacOS-iOS collection will consist only of apps optimized for the traditional computer form. That's why Apple is releasing only its own iOS apps for the Mac to start and will be working with developers to optimize their apps for the desktop over the months ahead.
"There are millions of iOS apps out there, and some of them would be great on the Mac," Apple Chief Shirt Unbuttoner Craig Federighi noted during yesterday's announcement. The emphasis there is mine, but the message is clear: The entire App Store won't — and, in Apple's view, shouldn't — be coming to the desktop.
Apples and oranges
So which approach is better — Apple's or Google's? The reality is that each seems to have its own set of pros and cons, and it's tough to label either one as a definitive "winner." Google's implementation brings a massive number of new applications into the desktop environment and then puts the onus on the developers to make the experiences shine. The result, as we've established, is a bit of a mixed bag: You have tons of possibilities, many of which are valuable (with or sometimes even without form-specific optimizations) — but you also have apps that are just plain clumsy and out of place.
Apple appears poised to offer a more strictly curated selection of apps, allowing only those with form-specific optimizations into the mix. That should create a more consistent level of quality and experience, which is obviously a good thing, but it'll also mean some apps that might be more mobile-specific and not likely to be optimized probably won't become available.
Who cares? Well, consider one example: Apps like Netflix and YouTube are readily available via the web and don't seem like the types of titles that'd receive the full desktop optimization effort or the Apple stamp of "great on the Mac" approval. But running the mobile apps on the desktop gives you the unique advantage of being able to download videos from those respective services for offline viewing — a handy little loophole crafty Chromebook users have certainly come to appreciate.
When you stop and think about it, the differences here are very much analogous to the differences in the two companies' broader approaches to mobile app distribution: With Apple, you get a more closely controlled selection, which forces developers to comply more closely with guidelines and (in theory, at least) creates a more consistent experience. With Android, the less closely controlled gates mean more variance in the level of experience within — but that also means the door is open to more advanced and interesting types of creations that wouldn't make their way past Apple's gatekeepers.
I think most reasonable people would agree that Google could stand to gain some of Apple's quality control and ability to get developers to follow its lead, while Apple could stand to loosen things up at least a little and allow some different types of tools into its closely walled garden.
Neither scenario is perfect, but both serve to accomplish the same goal — one that, in this wild new cross-platform world, seems both sensible and inevitable, regardless of which ecosystem you prefer.
Source: Computer World
Samsung confirms the Galaxy S10 5G release date is April 5
Samsung has confirmed the Galaxy S10 5G release date today. It was initially supposed to release the device by the end of this month. The release had to be delayed due to ongoing discussions between carrier partners and the South Korean government. The company today confirmed that it will release the first 5G-enabled device on April 5 in South Korea.
There will not be any pre-order program for the device, Yonhap News reports. The Galaxy S10 5G is also expected to release in the United States in April. It will initially be exclusive to Verizon in the country. The carrier has confirmed that its mobile 5G network will launch on April 11.
Samsung once again aims for the world's first title
After launching the world's first foldable smartphone, the Galaxy Fold, Samsung is now eyeing the title of putting the world's first 5G smartphone on the market. Verizon is gearing up for the launch of its mobile 5G service on Motorola's Moto Z3 in Chicago and Minneapolis on April 11. That device doesn't have an integrated 5G modem like the Galaxy S10 5G. Customers will be required to purchase the 5G Moto Mod if they want to use the phone on a 5G network.
Samsung will comfortably beat it to market when its 5G flagship launches on April 5. The device has already passed the signal verification test from South Korea's National Radio Research Agency. It was reported yesterday that the South Korean government was hastening the launch of 5G services in the country after Verizon announced the April 11 date. It really wants South Korea to be the first country in the world to have commercial mobile 5G.
Although Samsung hasn't yet revealed the pricing of the Galaxy S10 5G, industry watchers expect it to cost around 1.5 million won ($1,332) in South Korea. Launch offers include free Galaxy Buds and a wireless charger for the customers who register the phone from April 5-16. Samsung is also offering a 50% discount on one-time screen replacement with the validity of 1 year.
Windows Virtual Desktop is now in public preview
Last year, Microsoft  announced the launch of its Windows Virtual Desktop service. At the time, this was a private preview, but starting today, any enterprise user who wants to try out what using a virtual Windows 10 desktop that's hosted in the Azure cloud looks like will be able to give it a try.
It's worth noting that this is very much a product for businesses. You're not going to use this to play Apex Legends on a virtual machine somewhere in the cloud. The idea here is that a service like this, which also includes access to Office 365 ProPlus, makes managing machines and the software that runs on them easier for enterprises. It also allows employers in regulated industries to provide their mobile workers with a virtual desktop that ensures that all of their precious data remains secure.
One stand-out feature here is that businesses can run multiple Windows 10 sessions on a single virtual machine.
It's also worth noting that many of the features of this service are powered by technology from FSLogix, which Microsoft acquired last year. Specifically, these technologies allow Microsoft to give the non-persistent users relatively fast access to applications like their Outlook and OneDrive applications, for example.
For most Microsoft 365 enterprise customers, access to this service is simply part of the subscription cost they already pay — though they will need an Azure subscription and pay for the virtual machines that run in the cloud.
Right now, the service is only available in the US East 2 and US Central Azure regions. Over time, and once the preview is over, Microsoft will expand it to all of its cloud regions.
How to AirDrop a file from an iPhone to a Mac or other Apple devices
Hands down, AirDrop is the easiest way to send files like photos, documents, and even web pages from an iPhone to a Mac (or to another Apple device).
AirDrop is automatically available on your iPhone 's sharing option whenever there's another AirDrop-compatible device in range.
You may need to set up AirDrop on your Mac before being able to AirDrop a file from an iPhone to that computer.
Compared to the ancient days of floppy disks, it's like we're living in a science fiction future today. After all, it's easy to share large files via email or on cloud services like Dropbox.
But Apple offers an even easier option: AirDrop. Armed with AirDrop, you can send files even ones too big for email from your iPhone to a Mac with just a tap, as long as the Mac is in range to receive them.
What's "in range"? AirDrop uses a combination of both Bluetooth and Wi-Fi to transmit files, so your Mac or other Apple device has to be within about 30 feet of the phone, according to Apple .
To successfully AirDrop, you'll need to configure AirDrop on a Mac you only need to do that once and then you can send files from your iPhone quickly and easily.
Activate AirDrop on your Mac or another Apple device
1. Click "Go" in the Finder menu and then click "AirDrop."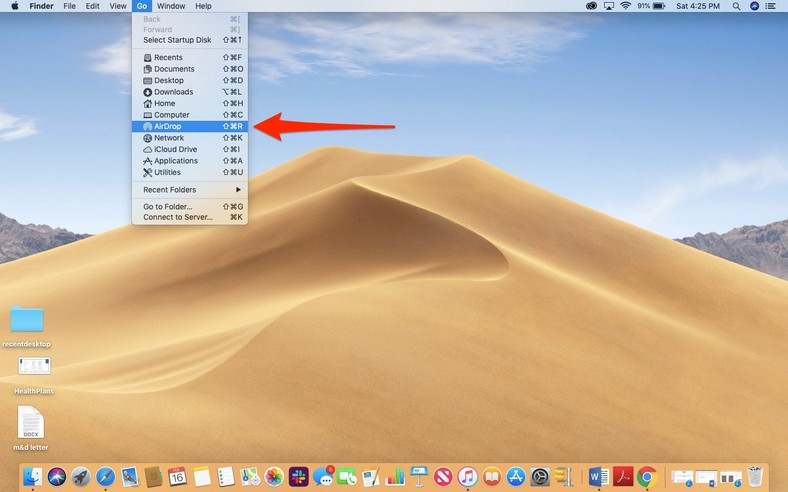 2. If your Mac's Bluetooth or Wi-fi is turned off, you will be asked to turn them on.
3. In the AirDrop window, choose who can AirDrop you. Click "Allow me to be discovered by" and choose either "Contacts Only" or "Everyone."
For Apple devices other than a Mac, including an iPhone, you can access the same permissions by going into your Settings, clicking General, and then selecting AirDrop to choose whether you can receive an AirDrop from "contacts only" or "everyone."
Limiting AirDrop only to your contacts is more secure, but choosing "everyone" is more convenient if you frequently have to receive files from a lot of different people.
It's generally easier to choose "Everyone." But be aware that if you are working in a public place (like a coffee shop), anyone in your vicinity will be able to try to send you files, so be careful whom you accept AirDrop files from.
Send a file from your iPhone
1. On your iPhone, open the app that you want to AirDrop from. To send a photo, for example, open Photos.
2. Select the file or photo you want to send (you can select more than one at a time).
3. Click the Share button.
4. In the AirDrop section of the Share screen, you should see icons for all of the AirDrop-compatible devices in range (it might take a moment for them to appear). Tap the icon for the Mac you want to send the file to.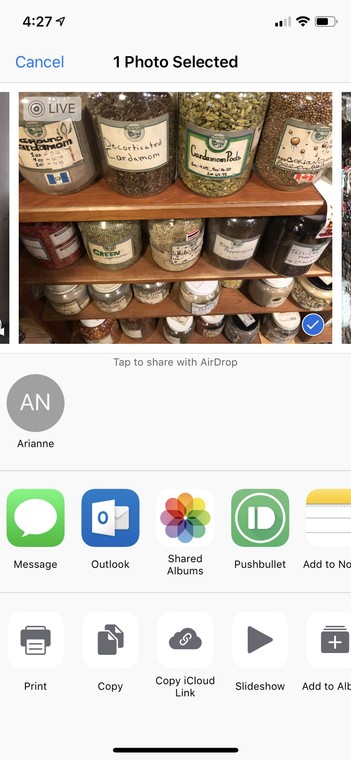 If you're in range, you should see a button for your Mac (and other AirDrop-compatible devices).
That's all you need to do on the iPhone; now the Mac or other device needs to accept the file.
Receive a file on your Mac or another Apple device
1. You should see a notification appear on your desktop or device's screen. Choose "Accept."
2. On a Mac, choose whether to open the file or save it to the Downloads folder.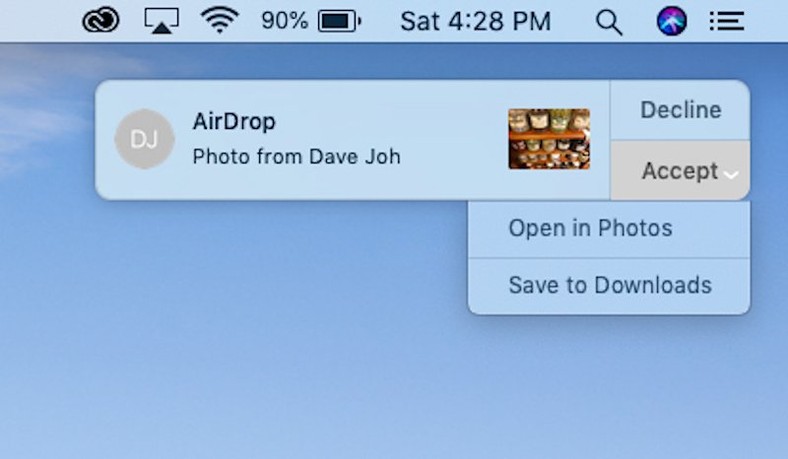 3. Open Downloads in Finder on your Mac. The file should be the most recent.
If you run into trouble
Like any technology, sometimes it doesn't work the way you expect. If you're having trouble with AirDrop, there are a few common things to check:
Is your Mac AirDrop-compatible? It needs to be running Mac OS X Yosemite or later.
Make sure that Bluetooth and Wi-fi are enabled on both your Mac and your iPhone.
It's possible the devices are too far apart, especially if you can't see the Mac on the iPhone's AirDrop list. Bring the two devices closer together.
Make sure that the iPhone isn't connecting to the Internet via a personal hotspot. Open Settings and make sure Personal Hotspot is "Off."