Jeff Bezos: I spend my billions on space because we're destroying Earth
Amazon boss Jeff Bezos is the richest person in the world with a current net worth of $125 billion, according to the Bloomberg Billionaire Index. And he's investing much of his Amazon fortune in the development of space technologies through his aerospace company Blue Origin.
Why? "Because I think it's important," Bezos tells Norah O'Donnell of "CBS Evening News" in an interview which aired Tuesday. "I think it is important for this planet. I think it's important for the dynamism of future generations. It is something I care deeply about. And it is something I have been thinking about all my life."
Bezos — who says "you don't choose your passions, your passions choose you" — became fascinated with space when he was a child watching astronauts Buzz Aldrin and Neil Armstrong land on the moon, he tells O'Donnell.
CBS Evening News✔@CBSEveningNews
CBS NEWS EXCLUSIVE: @JeffBezos wants his space tourism company Blue Origin to be "an instrumental part" of an American return to the Moon; alongside Amb. Caroline Kennedy, he tells @NorahODonnell that space exploration is critical to our survival. https://cbsn.ws/2JBhf8S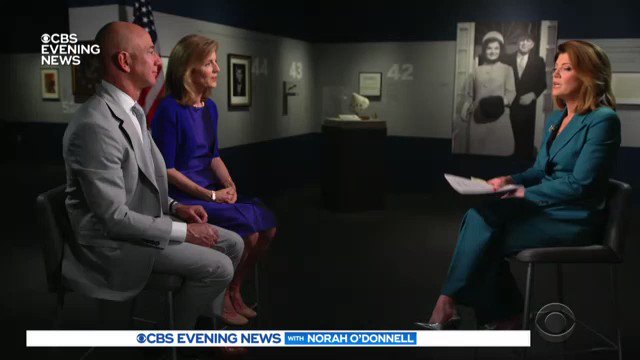 9711:52 PM – Jul 16, 2019Twitter Ads info and privacy84 people are talking about this
Further, developing space technologies is critical for human beings to have a long future, Bezos says.
"We humans have to go to space if we are going to continue to have a thriving civilization," Bezos says. "We have become big as a population, as a species, and this planet is relatively small. We see it in things like climate change and pollution and heavy industry. We are in the process of destroying this planet. And we have sent robotic probes to every planet in the solar system — this is the good one. So, we have to preserve this planet."
To do that will require being able to live and work in space, says Bezos.
"We send things up into space, but they are all made on Earth. Eventually it will be much cheaper and simpler to make really complicated things, like microprocessors and everything, in space and then send those highly complex manufactured objects back down to earth, so that we don't have the big factories and pollution generating industries that make those things now on Earth," Bezos says. "And Earth can be zoned residential."
The stunning Perito Moreno Glacier in Patagonia. We've sent robotic probes to every planet in this solar system. Earth is BY FAR the best one. We go to space to save the Earth. @BlueOrigin #NoPlanB #GradatimFerociter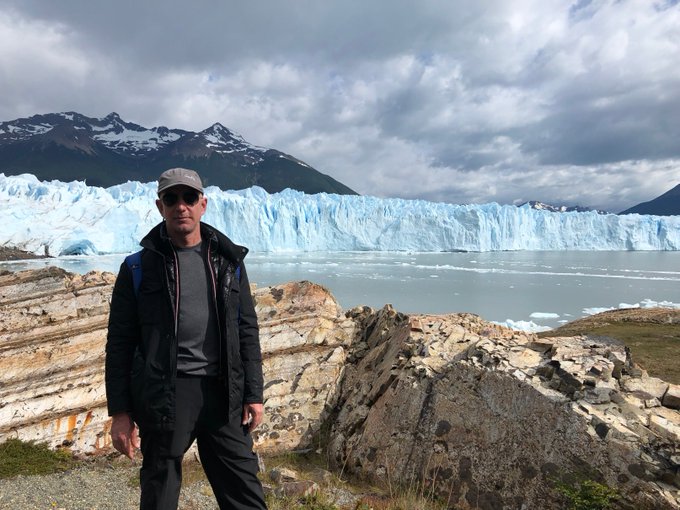 15.4K3:30 PM – Feb 3, 2018Twitter Ads info and privacy3,879 people are talking about this
It will be "multiple generations" and "hundreds of years" before this is a reality, Bezos said on CBS, but with Blue Origin he is working to develop the technology that will make it possible.
People will be able to live in space (in self-sufficient space structures) if they so choose, Bezos says.
"People are going to want to live on Earth, and they are going to want to live off Earth. There are going to be very nice places to live off earth as well. People will make that choice," Bezos says.
Astronaut John Glenn, the first American to orbit the Earth, wrote Bezos a letter in 2016 saying the work Bezos was doing would eventually make space travel as common as air travel.
"He wrote me the most beautiful letter just a few days before he passed away and I have it framed in my office and it is very meaningful to me," Bezos says. Glenn said in that letter he saw a future when we will board spacecraft like jetliners, and "when that happens, it will largely be because of your epic achievements."
"I think that is entirely believable," Bezos says. "If you went back in time a hundred years and told people today that you would be able to buy a ticket and fly across the world on a jetliner, they would have thought you were crazy. But that's the kind of change that can happen in just 100 years or less."
Blue Origin is building the infrastructure needed to unleash the next generation of dreamers. I met these young people today, and the future is in great hands. #BlueMoon @clubforfuture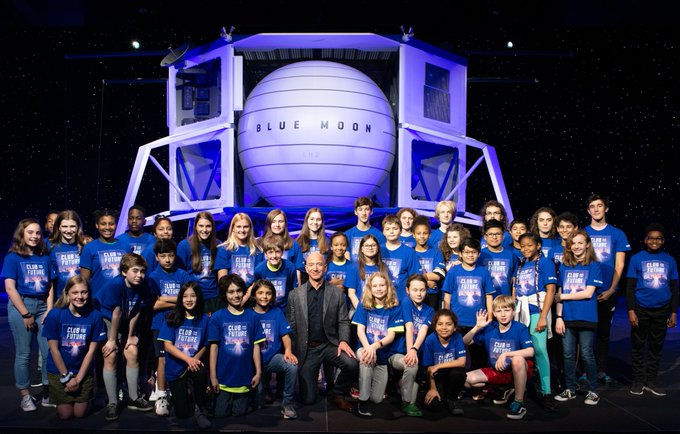 4,92812:46 AM – May 10, 2019Twitter Ads info and privacy1,230 people are talking about this
The first step in that journey is space tourism, Bezos says. Blue Origin is already testing its vehicle, the New Shepherd, for taking humans into space for short tourism trips.
"Everybody who goes to space says they come back a little changed and they realize how beautiful this planet is and how small and fragile it is," Bezos says. "Something that we can't see when we are down here, but from up there it becomes obvious."
Source: https://www.cnbc.com/2019/07/17/why-jeff-bezos-spends-billions-on-space-technology.html
Samsung Galaxy S20 FE: Inspired by fans, for the fans
Samsung Electronics Co., Ltd. has revealed the Galaxy S20 Fan Edition (FE), the newest member of the Galaxy S20 series. Galaxy S20 FE is a premium flagship smartphone that includes innovations Galaxy fans told us they love most, and it is also made available at an accessible price point. COVID-19 disrupted the world as we knew it and technology is now playing a more crucial role in our lives and that is why we created Galaxy S20 FE; to deliver flagship experiences to more consumers.
Samsung took select features of the Galaxy S20 series, such as the super smooth scrolling display, an AI-powered camera, advanced chipset, hyper-fast connectivity, all day battery, expandable storage, with a streamlined premium design, in order to create the all-new Galaxy S20 FE.
"The S20 FE is an extension of the Galaxy S20 family and is the start of a new way to bring meaningful innovation to even more people to let them do the things they love with the best of Galaxy." Says Mr. Caden Yu, the Managing Director, Samsung Electronics West Africa.
All you want, to do what you love
Express the best of yourself when out on a day trip or at night catching fun with a pop of color that reflects your personal style, attitude and personality. The S20 FE comes in variant colors of Cloud Red, Cloud Lavender, Cloud Mint and Cloud Navy.
With the S20 FE, the fun never stops. The pro grade camera and 30X Space zoom help you capture memorable moments whether near or far at day time.
Plus, the night mode multi-frame and powerful performance gets you through the fun nights and the 4500mAH battery keeps you on all day with little in between time to recharge using the 15W fast charging.
And since life can be unpredictable, the Galaxy S20 FE is water and dust resistant; IP68 rated. Better yet, when accidents happens, one can rest easy knowing the 24 months warranty and Screen repair offer that comes with Pre order has got your back.
Pre order
The S20 FE is available for pre order from the 9th of October with a Wireless Bluetooth earphones, Clear Standing cover and Screen repair offer. You also get a 4 month Free Subscription on YouTube premium. Trade In Discount Offer also available from Pre order. Trade in your old phones and enjoy discount on the S20 FE
Launch.
The S20 FE would be officially available in the market from the 23rd of October. Visit any of our Samsung Experience Store nationwide for an amazing and pleasurable experience.
Device Specifications
With its variants of colors, S20 FE comes with a 6GB RAM/128GB ROM, a long lasting battery of 4500mAh with 15W fast charging, a 32MP selfie camera and a 120Hz Super-Amoled display.
FIFA 21: No demo for upcoming game, EA Sports confirm
EA Sports has announced that the company will not be releasing a demo for FIFA 21.
FIFA 21 is set to be released on PlayStation 4 and Xbox One on Friday, October 9, having being pushed back from its usual September release date due to the coronavirus pandemic.
In addition, the game will also be eventually released on the upcoming Sony PlayStation 5 and Xbox Series X, making this year's release one of the most important in recent years.
Typically, EA Sports release a demo for each year's game around three weeks before the official release, allowing players to test out the gameplay in one-off matches featuring some of the game's top teams.
The demo is then typically followed by an early access period for those that are EA Play members, offering players a chance to play the full game for a limited time before release.
However, EA confirmed on Monday that this year's game will not have a demo, with the company instead focusing on making sure the full game is prepared for its October 9 release date.
"We aren't releasing a demo for FIFA 21. Instead we've made the decision to focus our development team's time on delivering the best full game experience for current & next-gen consoles," EA said in a statement.

"We look forward to EA PLAY members jumping in 10 days from now and launching the game Oct 9."

In recent weeks, EA has begun to unveil the list of the highest-rated players in the game, with Lionel Messi, Cristiano Ronaldo and Robert Lewandowski earning the top three places on this year's rankings on the men's side with U.S. women's national team star Megan Rapinoe leading the way for the women.

This year's game will feature improvements to career mode, new attacking systems such as Agile Dribbling, Positioning Personality and Creative Runs and improvements to the highly-popular Ultimate Team mode including FUT Co-Op gameplay and increased club customisation options.

Additionally, the game will feature a series of new icons: Eric Cantona, Ferenc Puskas, Xavi, Nemanja Vidic, Petr Cech, Samuel Eto'o, Bastian Schweinsteiger, Phillip Lahm, Fernando Torres, Ashley Cole and Davor Suker.

Source: https://www.goal.com/en/news/fifa-21-no-demo-for-upcoming-game-ea-sports-confirm/w6bswvm9fg9h16crm45vzt6qs
Editing HTML Like A Boss In VS Code
Here's a seven minute video from Caleb Porzio that focuses on some of Emmet's HTML editing features. You might think of Emmet as that thing that expands abbreviations like table.stats>tr*3>td*3 into glorious, expanded, and perfect HTML. But Emmet has other HTML editing trickery up its sleeve. My favorite is "wrap with abbreviation" (which happens to be Cmd/Ctrl + Shift + A on CodePen), but there are more, like expanding your selection inward and outward and tag changing.
If you haven't seen it, the Emmet 2 preview on CodePen is pretty neeeeat. It shows you what you're about to expand into before you do it:
Source: https://css-tricks.com/editing-html-like-a-boss-in-vs-code/