Mercedes engineers help deliver pandemic crisis device in under 100 hours
Mercedes has played a pivotal role in helping to produce a key device in the battle against the coronavirus.
The team's High Performance Powertrains [HPP] department, in conjunction with mechanical engineers at University College London [UCL] and clinicians at University College London Hospitals [UCLH], have developed a breathing aid that can help keep Covid-19 patients out of intensive care.00:2200:59
Known as Continuous Positive Airway Pressure (CPAP), the device has been used extensively in hospitals in Italy and China to help coronavirus patients with serious lung infections to breathe more easily, when oxygen alone is insufficient.
The first breathing aid was produced in under 100 hours following an initial meeting. One hundred devices are to be delivered to UCLH for clinical trials, followed by the delivery of thousands in a rapid roll-out to hospitals around the country ahead of the predicted surge in Covid-19 hospital admissions.
Professor Tim Baker, of UCL Mechanical Engineering, said: "Given the urgent need, we are thankful that we were able to reduce a process that could take years down to a matter of days.
"From being given the brief, we worked all hours of the day, disassembling and analysing an off-patent device. Using computer simulations, we improved the device further to create a state-of-the-art version suited to mass production.
"We were privileged to be able to call on the capability of Formula One – a collaboration made possible by the close links between UCL Mechanical Engineering and HPP."
Mercedes' assistance is part of 'Project Pitlane', a collaboration between seven UK teams – Red Bull, Racing Point, Haas, Mercedes, McLaren, Renault and Williams – who have answered the call of the UK government for assistance in the development and manufacture of ventilators.
HPP managing director Andy Cowell said: "The Formula One community has shown an impressive response to the call for support, coming together in the 'Project Pitlane' collective to support the national need at this time across a number of different projects.
"We have been proud to put our resources at the service of UCL to deliver the CPAP project to the highest standards and in the fastest possible timeframe."
Source: https://www.gpfans.com/en/articles/51327/mercedes-engineers-help-deliver-pandemic-crisis-device-in-under-100-hours/
Classic Hangouts to Google Chat migration starts in earnest for G Suite
Last August, Google delayed the classic Hangouts transition for G Suite customers into this year. Starting today, admins can migrate their users to Google Chat in earnest and get access to Gmail integration.
For the past year, Google has been testing the transition within an Accelerated Transition Program. Anyone can now use Chat in Gmail if their G Suite admins select the "Chat preferred" preference.
The Chat preferred setting allows you to migrate all of your users at once for the most effective and seamless transition. If some people use classic Hangouts and others use Chat, it can lead to missed messages and become burdensome for admins. And if you have a remote or distributed workforce, unifying your users onto a single chat network can help everyone communicate successfully.
As the setting implies, Google Chat will "become the default chat application for your organization." This will disable the classic Hangouts applications for Android and iOS, though hangouts.google.com will remain available. Users are advised to use the Chat mobile apps and chat.google.com, which is now a PWA. Google will also offer a classic Hangouts bot to notify users of unread group messages.
Meanwhile, classic Hangouts in the bottom-left corner of Gmail on the web will also be replaced. Google Chat 1:1 and group direct messages will appear instead, along with full-screen rooms. Other features include bot integrations, forward to inbox, emoji reactions, and message edit/delete.
This "Chat preferred" is rolling out now to Admin console and available for all G Suite users. For Google, this marks Phase 3 of the classic Hangouts deprecation timeline. The final step — where classic Hangouts is disabled entirely — will see all enterprise users "upgraded" in "late 2020."
Source: https://9to5google.com/2020/06/02/classic-hangouts-google-chat/
Motorola Razr 2 to come with bigger displays
The second-gen Motorola Razr is expected to arrive in September and while Motorola hasn't revealed any details about the Razr 2 (unofficial name) yet, new information coming our way reveals the foldable smartphone will sport displays bigger than its predecessor's.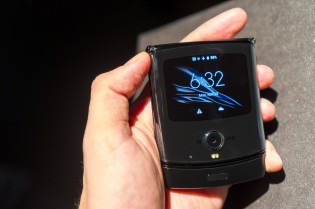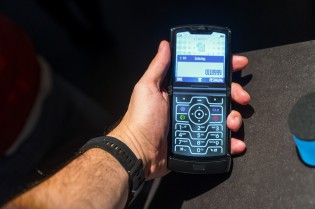 Motorola Razr 2019
According to Display Supply Chain Consultants' (DSCC) CEO Ross Young, the Razr 2 will come with a 6.7″ main display, which is 0.5″ larger than the current Razr. Young claims that the secondary external screen on the Razr 2 will also have a larger diagonal, but doesn't reveal the exact size.
The current Razr comes with a 2.7″ secondary display, and Motorola will be looking to maximize the available area on the cover better this time around.
The Motorola Razr 2 screen size will increase to the same size as the Galaxy Z Flip, 6.7". The front display will also increase in size.— Ross Young (@DSCCRoss) June 3, 2020
The Motorola Razr doesn't support 5G, but rumors have it that Razr 2 will support the next-gen networks – thanks to the Snapdragon 765 SoC at the helm.
Other rumored specs include 8GB RAM, 256GB storage, Android 10, 48MP main camera, and 20MP selfie camera.
Source: https://www.gsmarena.com/motorola_razr_2_bigger_displays-news-43575.php
Remember plus codes? Google's now making them easier to use
Google Maps is now making it a lot easier to use a feature it gained nearly half a decade ago.
Instead of explaining to friends and couriers where your house is located, you can use a plus code.
The plus code replaces confusing long form addresses by marking an exact spot on a map. It consists of a few letters, possibly numbers too, and, well, a plus symbol.
Google Maps users could find plus codes for places or interests, restaurants and other landmarks in their descriptions within the app. Now users can find the plus code for this own address by finding their place of residence, dropping a pin, tapping on the blue dot, and viewing the code in the respective pop-up.
This options is also available when sharing addresses across apps in Android.
For those who can't access Google Maps, the plus code is also searchable in Google, making it a nifty and compact alternative to full addresses.