Microsoft Bows to Pressure, Ends External Investment into Facial Recognition Startups Due to Limited Control
Computer software and hardware company, Microsoft has decided to suspend minority investment into startups developing facial recognition technology. This suspension comes after the tech giants, under heavy pressure, backed out of AnyVision, its last portfolio company developing facial recognition.
AnyVision is an Israeli startup. According to an audit initiated by Microsoft's venture arm, M12 and carried out by former US Attorney-General, Eric Holder and an international law firm, Covington and Burling LLP, AnyVision's facial recognition technology was being used by the Israeli government in surveillance of Palestinians along the West Bank.
While AnyVision wasn't implicated by the report for powering a mass surveillance programme in the West Bank and as such does not contravene the pledge the startup signed with M12, pressure was however mounting from both Palestinian, Jewish and American authorities to drop the startup.
Bowing to pressure after seeing the ultimate need to do so, Microsoft decided to cut ties with, not just AnyVision, but all minority investments developing sensitive tech.
By making a global change to its investment policies to end minority investments in companies that sell facial recognition technology, Microsoft's focus has shifted to commercial relationships that afford Microsoft greater oversight and control over the use of sensitive technologies.M12 said in a release
Regulating the application of Facial Recognition
The issue of regulations and policies surrounding facial recognition and other sensitive technology has been one which big tech companies like Microsoft have been unable to resolve with government and its agencies. And Microsoft has always been at the forefront in the fight to make solid regulations guiding the use of these technologies.
As far back as 2018, Microsoft president, Brad Smith had been calling on the US government to make clear and solid regulations to govern the use of these sensitive technologies. When his appeals seemed to fall on deaf ears, the president, alongside his board, decided to create their own regulations, tagging them 'principles'.
"We and other tech companies need to start creating safeguards to address facial recognition technology," Mr Smith said. "After substantial discussion and review, we have decided to adopt six principles to manage these issues at Microsoft. We are sharing these principles now, with a commitment and plans to implement them by the end of the first quarter in 2019."
These six Microsoft principles guiding its application, use and by extension, investment in facial recognition technology are: fairness, transparency, accountability, non-discrimination, notice and consent, and lawful surveillance.
Difficulty controlling minority investments
With its six principles laid out, Microsoft could control, not only how it deploys its own facial recognition technologies, but also how its portfolio companies developing the technology deploys it.
The problem, however, is controlling companies where it only has minority stakes or investments is not feasible. Thus, while it would share in the blame when such companies default, it couldn't really do much to make them conform to its principles.
Thus for the purpose of its image the sensible thing to do would be to walk away. Which is exactly what the company is doing.
"For Microsoft, the audit process reinforced the challenges of being a minority investor in a company that sells sensitive technology, since such investments do not generally allow for the level of oversight or control that Microsoft exercises over the use of its own technology," Microsoft said in its statement.
Facial recognition technology is one of those areas in tech considered as delicate. This is because of its close association with personal information and tracking which could easily violate the laws of privacy, enables stalking and even espionage.
Since its establishment in 2016, Microsoft's ventures arm, M12 has been involved in 353 funding rounds and investing nearly $5 billion into its portfolio companies.
Source: https://technext.ng/2020/03/30/microsoft-bows-to-pressure-ends-external-investment-into-facial-recognition-startups-due-to-limited-control/
Classic Hangouts to Google Chat migration starts in earnest for G Suite
Last August, Google delayed the classic Hangouts transition for G Suite customers into this year. Starting today, admins can migrate their users to Google Chat in earnest and get access to Gmail integration.
For the past year, Google has been testing the transition within an Accelerated Transition Program. Anyone can now use Chat in Gmail if their G Suite admins select the "Chat preferred" preference.
The Chat preferred setting allows you to migrate all of your users at once for the most effective and seamless transition. If some people use classic Hangouts and others use Chat, it can lead to missed messages and become burdensome for admins. And if you have a remote or distributed workforce, unifying your users onto a single chat network can help everyone communicate successfully.
As the setting implies, Google Chat will "become the default chat application for your organization." This will disable the classic Hangouts applications for Android and iOS, though hangouts.google.com will remain available. Users are advised to use the Chat mobile apps and chat.google.com, which is now a PWA. Google will also offer a classic Hangouts bot to notify users of unread group messages.
Meanwhile, classic Hangouts in the bottom-left corner of Gmail on the web will also be replaced. Google Chat 1:1 and group direct messages will appear instead, along with full-screen rooms. Other features include bot integrations, forward to inbox, emoji reactions, and message edit/delete.
This "Chat preferred" is rolling out now to Admin console and available for all G Suite users. For Google, this marks Phase 3 of the classic Hangouts deprecation timeline. The final step — where classic Hangouts is disabled entirely — will see all enterprise users "upgraded" in "late 2020."
Source: https://9to5google.com/2020/06/02/classic-hangouts-google-chat/
Motorola Razr 2 to come with bigger displays
The second-gen Motorola Razr is expected to arrive in September and while Motorola hasn't revealed any details about the Razr 2 (unofficial name) yet, new information coming our way reveals the foldable smartphone will sport displays bigger than its predecessor's.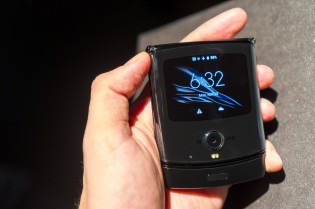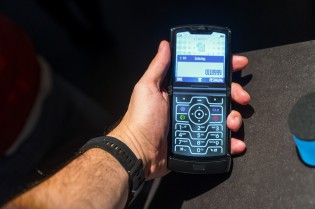 Motorola Razr 2019
According to Display Supply Chain Consultants' (DSCC) CEO Ross Young, the Razr 2 will come with a 6.7″ main display, which is 0.5″ larger than the current Razr. Young claims that the secondary external screen on the Razr 2 will also have a larger diagonal, but doesn't reveal the exact size.
The current Razr comes with a 2.7″ secondary display, and Motorola will be looking to maximize the available area on the cover better this time around.
The Motorola Razr 2 screen size will increase to the same size as the Galaxy Z Flip, 6.7". The front display will also increase in size.— Ross Young (@DSCCRoss) June 3, 2020
The Motorola Razr doesn't support 5G, but rumors have it that Razr 2 will support the next-gen networks – thanks to the Snapdragon 765 SoC at the helm.
Other rumored specs include 8GB RAM, 256GB storage, Android 10, 48MP main camera, and 20MP selfie camera.
Source: https://www.gsmarena.com/motorola_razr_2_bigger_displays-news-43575.php
Remember plus codes? Google's now making them easier to use
Google Maps is now making it a lot easier to use a feature it gained nearly half a decade ago.
Instead of explaining to friends and couriers where your house is located, you can use a plus code.
The plus code replaces confusing long form addresses by marking an exact spot on a map. It consists of a few letters, possibly numbers too, and, well, a plus symbol.
Google Maps users could find plus codes for places or interests, restaurants and other landmarks in their descriptions within the app. Now users can find the plus code for this own address by finding their place of residence, dropping a pin, tapping on the blue dot, and viewing the code in the respective pop-up.
This options is also available when sharing addresses across apps in Android.
For those who can't access Google Maps, the plus code is also searchable in Google, making it a nifty and compact alternative to full addresses.