Minister Attributes Victory over Ebola Virus to ICT Tools

Following the formal declaration that Nigeria is completely free from the deadly Ebola Virus, the Minister of Communications Technology, Dr. Omobola Johnson, has disclosed that a combination of Information and Communication Technology (ICT) tools, helped in containing the virus.
She listed the ICT tools to include the use of an Android app, Facebook and twitter.
Johnson made the disclosure in Busan, Republic of Korea, during the International Telecommunications Union (ITU) 2014 Plenipotentiary Conference.
Johnson informed delegates made up of ministers and senior officials from across the globe during the conference that mobile phone app helped in reducing reporting times of infections by seventy-five per cent. She said test results were scanned to tablets and uploaded to emergency databases and field teams got text message alerts on their phones informing them of the results.
Johnson explained that the combination of the internet and mobile cellular phones opened up tremendous opportunities for countries like Nigeria.
The steep increase in mobile use, according to Johnson, is driven by a number of factors, particularly, the additional ways in which mobile phones are being used in Nigeria. She added that beyond conducting voice conversations, mobile phones are often the preferred channel for receiving data and for conducting transactions in Nigeria, thus making phones an indispensable tool used as cameras, wallets, shops, music players, movie screens, and information or service centres of Nigerians.
Speaking on Nigeria's policy focus, Johnson noted it is in step with the reality of the mobile internet revolution spreading across the globe. She said the ministry was looking to create a viable environment for the proliferation of lower priced devices, increased investment in network infrastructure, and increased availability of spectrum for mobile broadband, in the knowledge that these will further drive growth in the nation's ICT sector.
Johnson also disclosed that through the implementation of the National ICT Policy, National Broadband Roadmap, and Guidelines for Nigerian Content in ICT, the ministry is bringing greater clarity and predictability to the Nigerian ICT sector.
She said in the past four years, Nigeria had seen mobile subscription increase from 87 million active Sim cards to over 131 million and mobile internet subscription stood at 67 million as at June 2014.
The ministry's policy framework, Johnson added is in line with the ITU's strategic plan for 2016-2019, particularly its identified goals and targets of growth, inclusiveness, sustainability, innovation and partnership.
"The ICT sector's contribution to Nigeria's GDP is growing and was about ten and a half per cent (10.44%) in 2013. The sector also indirectly impacts GDP through its influence on other key sectors; for example, in the 2013, ICTs were responsible for twelve per cent (12.05 per cent) of the value added by the Finance and Insurance sector to GDP. In terms of social growth, ICTs are helping government to meet health objectives, and are amplifying benefits in the education and agriculture sectors," Johnson said.
The ITU's growth priority of enabling and fostering access to and increased use of telecommunications/ICTs according to Johnson, resonates with Nigeria, both economically and socially.
source:http://www.thisdaylive.com/articles/minister-attributes-victory-over-ebola-virus-to-ict-tools/192351/
Instagram is working on a new messaging app
Rivaling Snapchat, Threads will enable users to automatically share their location, movements, and battery life with their IG 'close friends' list
Now Facebook is a wasteland for your racist aunt and high school friends' wedding photos, the platform is determined to maintain its social media stronghold via Instagram and WhatsApp (sorry, 'Instagram and WhatsApp from Facebook'). Its latest venture? A new messaging app called Threads.
As reported by The Verge, Threads will be a companion app to Instagram, promoting constant sharing between users and their IG 'close friends' list. The app will enable people to automatically share their location, movements, and battery life with each other, as well as send text, photo, and video messages.
The development could be seen as another attempt to rival Snapchat – which already lets users share their location – following Instagram's introduction of Stories three years ago.
Instagram has been trying to develop the messaging side of its app since late 2017 when the company started working on Direct, a standalone camera-first app exclusively for DMs. The platform ceased work in May this year after research revealed users found it frustrating to switch apps when they wanted to send a message – although this is exactly what happened with Facebook Messenger in 2016.
Screenshots acquired by The Verge show that users have the option to switch on automatic sharing, but are also able to update their statuses manually. Although Threads encourages friends to share their location with one another, it will reportedly show updates like 'on the move', rather than a real-time location.
The app's main feed will show all messages, as well as friends' updates and active status, and will allow users to watch their close friends' IG stories as opposed to having to go back to Instagram to view them.
This announcement comes after a number of updates to the platform, including the removal of likes, an anti-bullying feature, and a tool to report fake news. Although, there's currently no launch date for Threads, and given Instagram's history with fucked-up trials, it may never even materialise.
Source: https://www.dazeddigital.com/science-tech/article/45768/1/instagram-facebook-new-social-media-messaging-app-threads-to-rival-snapchat
Massive change coming to WhatsApp with introduction of ads
WhatsApp will see a massive change by 2020 with the introduction of adverts into the instant messaging app.
It's been rumoured for a while and now WhatsApp looks set to finally bring adverts to its popular messaging app.
The Facebook-owned firm revealed the news during its annual Marking Summit in the Netherlands, with a rollout expected next year.
Photos of the way these new adverts will look have even been posted online with attendee Olivier Ponteville, giving fans a closer look at what's to come.
The image, which can be seen on Twitter, shows how ads currently appear on Facebook and Instagram with a WhatsApp screenshot then revealed with a full-screen advert.
According to technology website BGR, once the message appears users will be able to "swipe up when an ad appears for more information about the product or service being advertised."
Adverts in WhatsApp have been spoken about for a while but this is the first evidence that things are changing within the popular service.
How fans react is yet to been seen but it's unlikely to go down well with its billions of users.
The bad news is that it seems there's nothing that can be done to stop this new feature from arriving within the app.
It seems almost certain that there will be no way to switch them off or hide these paid-for messages which may prove to be hugely irritating.
Source: https://www.thenewsguru.com/technology/internet/article/massive-change-coming-whatsapp-introduction-ads/
Facebook Messenger finally adds quoted replies
Today Facebook Messenger has added a sorely missing feature – quoted replies. This allows you to reply to a specific message in a conversation, and is incredibly helpful when you're engaged in chats that have a big range of topics. Using the new feature, the people you're talking to will now know exactly what you were replying to with that "LOL", for example.
This has been a feature in WhatsApp, which is also owned by Facebook, for a very long time, and it's always been sort of a baffling omission in Messenger. So it's good to finally see it there too.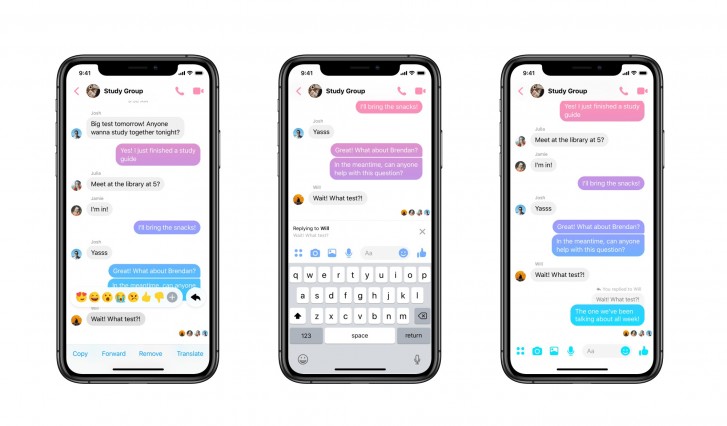 In order to quote a specific message, long tap on it and you'll see a new Reply button to the right of the reaction emojis. Tap that, write your reply, and, just like in WhatsApp, the message you're replying to will appear above your reply. Easy. This potentially means you'll have less misunderstandings with your friends as to which message was referencing what.
The feature is rolling out now on both iOS and Android.