One of the oldest businesses on the internet just got sold for $9 billion
One of the web's oldest businesses has a new owner.Norway's Adevinta is buying eBay's (EBAY) classified ads business for $9.2 billion to create the world's largest online classifieds company.In the age of Google (GOOGL)and Facebook (FB), classifieds aren't exactly a mammoth business: They made up only about 3% of the $125 billion internet advertising market in 2019, according to the Interactive Advertising Bureau, theglobal industry body for digital advertising.But there was a day when Craigslist and the company that became eBay Classifieds were among the biggest advertising platforms on the newfangled World Wide Web.EBay Classifieds Group got its start 25 years ago — just as CNN Interactive (now CNN.com) went online and eBay was brought to life as AuctionWeb. EBay's classifieds business was first known as DBA,a popular Danish all-classifieds newspaper that started publishing in the 1970s. It tried its hand with the fledgling web in 1995 just months after "Jerry and David's Guide to the World Wide Web" became Yahoo.EBay boughtDBA (and a ton of other classifieds businesses around the world) in 2008 to form eBay Classifieds Group. But classifieds were never really core to eBay's ecommerce ambitions: Classifieds delivered revenue of just $248 million in the first quarter of 2020, or just over 10% of the company's total.close dialogWith a history of spinning off non-core businesses (see: Skype, PayPal (PYPL) and StubHub), eBay decided to offload yet another as it struggles to keep pace with much-larger-rival Amazon (AMZN).
A meaner, leaner eBay
The sale by eBay is part of a strategic review it announced in March 2019 under pressure from activist investors such as Elliott Management. EBay sold StubHub to Viagogo in November in a $4 billion deal.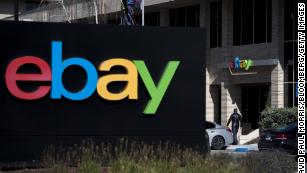 Adevinta reportedly beat out private equity firm Blackstone and Prosus, part of South African media company Naspers, in the auction of eBay's classifieds group, which includes Gumtree, Australia's Autotrader and Motors.co.uk.As part of the transaction, eBay will receive $2.5 billion in cash and 540 million Adevinta shares, or about 44% of the global online classifieds specialist. That will give eBay continued exposure to the classified ads business, while generating cash."This salecreates short-term and long-term value for shareholders and customers, while allowing us to participate in the future potential of the Classifieds business," eBay CEO Jamie Iannone, who replaced David Wenig in April, said in a statement on Tuesday.Adevinta, which began trading on the Oslo Stock Exchange last year, sawits shares rise 32% on Tuesday on news of the deal. It was spun off by Schibsted, a Nordic digital media and e-commerce company which began publishing newspapers in the 19th century.Adevinta's revenue fell 16% in the second quarter, compared to the same period last year, due to the impact of the coronavirus pandemic.Source: https://edition.cnn.com/2020/07/21/tech/ebay-classifieds-adevinta/index.html
GOOGLE OFFICIALLY ANNOUNCES ANDROID 11 FOR ANDROID TV
A few weeks ago, Google officially released its latest system, Android 11 for smartphones. Today, the company announced that Android 11 will now be available for Android TVs. However, the Android 11 for TV is not a direct copy of Android 11 for smartphones. There are some features that are exclusive to the large screen. According to Google, it will partner with multiple OEMs and Android 11 on TV will be available in a few months. However, those who already have the ADT-3 Developer Kit can get the update today.
This system for Android TVs will retain most of the basic features of the Android 11 for smartphones. This system will come with better memory management and one-time permissions for secure workability. Google also did more work on privacy features to reduce the system's vulnerability.
In addition, the Android 11 for Android TVs will come with an "Auto Low Latency Mode and low latency media decoding". This system will also bring a new Tuner Framework with updated Media CAS support. Furthermore, this system will support gamepads, a feature that will be important for Stadia on the TV. Developers of Android TV apps can seamlessly test their apps with Google's "test harness mode for Android TV".
According to Google, the Android 11 system allows better control over TV functions. The company said the "…new framework functionality for managing System LEDs and physical microphone mute buttons also facilitate integrations for far-field microphone enabled devices".
Source: https://www.gizchina.com/2020/09/22/google-officially-announces-android-11-for-android-tv/
Google Chrome prepares new tab groups feature that creates groups automatically
Months after announcing it, Google finally rolled out tab groups widely in the past couple of weeks. Now, an improvement could be coming to Chrome's tab group feature — the ability to recreate them automatically.
In the latest Chrome Canary release, a new flag is present that describes a feature Google is working on. That flag, titled "tab groups auto create," is one that has had us scratching our heads since it popped onto our radar earlier this week.
Google's description, too, unfortunately doesn't help matters. the company simply explains that the feature "automatically creates groups for users, if tab groups are enabled" in Chrome. What does that mean? We're not entirely sure, but there are a few possibilities!
For one, Google might be able to remember tab groups from a previous session and drop them into a group when opened. Alternatively, Google could intelligently create groups based on similar types of tabs. At this point, it's all up in the air. We can say pretty confidently, however, that this feature is not live in the latest Canary release.
Source: https://9to5google.com/2020/09/17/google-chrome-tab-groups-automatic-flag/
Facebook Is Apparently Adding Instagram Stories to Its Key Application
Facebook has built it no key that it would like to entwine Instagram into its principal blue app as a great deal as possible (to some Instagram users' chagrin.) Its most recent experiment evidently requires placing Instagram stories right on Facebook.
In accordance to a report in the Verge, some Facebook customers have lately started looking at Instagram stories in their Fb story feeds. A Fb representative apparently verified the news to Matt Navarra, a social media marketplace commentator and advisor, and stated that it was a restricted examination. The representative added that Facebook would be listening to feedback from its group on the prospective new characteristic.
In a screenshot posted by a Twitter consumer and Navarra on Friday, Fb seemingly points out that not just anyone can view an Instagram story on Facebook. In get to do so, consumers have to website link their Instagram accounts to Facebook and have this viewing placing turned on. Fb states that men and women who don't abide by a user on Instagram will not be ready to see that user's tales.
Fb also purportedly pressured that even however tales will be in two sites, users' overall practical experience would not improve. That is mainly because people will nevertheless essentially be sharing their tales with the similar persons on Facebook and Instagram. In addition, Instagram stories on Facebook (which will have a pink and orange circle) will surface with a user's Instagram take care of. And even though the tales will be seen on Fb, end users will see all tale sights and replies on Instagram.
G/O Media could get a fee
In new many years, Facebook has labored to convey all of its popular apps, which involve WhatsApp and Instagram, nearer with each other. Very last thirty day period, Facebook released a new exam working experience on Instagram messaging for some users. The new experience up-to-date the look of Instagram immediate messages and promoted the likelihood of chatting with individuals who use Fb.
Who knows, possibly in the foreseeable future we won't have an application named Instagram or Fb. We'll just have a person giant purple and blue app, owned by Facebook, that does almost everything.
Source: https://poptimesuk.com/facebook-is-apparently-adding-instagram-stories-to-its-key-application/175242/