Online Advertising – Maintaining an enviable spotlight
Online Advertising has come to stay. Today, we can confidently say that you can advertise 'Offline & Online' or 'Online alone'. But you're strongly advised never to do 'Offline alone'
Countless businesses have left Offline Advertising solely for Online Advertising. Online Advertisement coupled with Social Media Engagement deliver tremendous results. The success is not so much in the quantity as it is in the quality.While the quantitative result is quite enviable, the ability to deliver quality verifiable and measurable results makes Online Advertising your best shot at getting your message out there to One, the Right Audience, Two, at the Right Time, Three, with the Right Message.
The nature of Online Advertising positions the medium at a practically enviable and vantage position. The reason is because, in placing your advert online, you do not have to start from the scratch. The secret key is this, if the US government relies on these top (what I call) anchor websites (namely: yahoo, facebook, google, microsoft), these companies dominate the internet landscape today – if the US government relies on them for data, then you can be sure of one thing, they do have the data.
The question is, what data do they have and how relevant is it to you?
Well, this is how it works: anytime you browse the internet, certain little texts codes are left on your computer or laptop or mobile device, they are called 'cookies', yeah right, 'cookies', like giving a little child some sweet cookies in exchange for some little gossip-child-info, yeah, exactly, just what you thought.
These cookies hold the pattern of your online behaviour, the kind of sites you like to visit, the kinds of things you like to click, the kinds of things you have bought, the kind of news that you love to read, etc. These data is often read and re-read by these websites whenever you go online again and they are used in 'targeting', or if you like, tailoring specific adverts and information to you, based on your past online behaviour and what you will most likely do or need or want again. So, if your company, for example places an advert online, you can be sure that the adverts will be shown to the right audience, the people who are most likely to be interested in your product/service. What you're actually paying for when you place an advert online is the data mine that is already in place for you to tap from.
Again, in terms of cost, Online Advertising is far cheaper than what you will get when you advertise Offline in order to achieve the same or more result. For example, on a Standard Pricing for a Google Advert, you could work with, say $10 per day which comes to about N1,600 per day or N48,000 per month and you could get as much as One Million Impressions or Displays of your Adverts and you could get as much as 2500 actual clicks to website.
Lets say you the decide to opt for Offline Advertising and you decide to Print One Million Handbills to match the same amount of impressions as in  the Online Advert – well then, I don't need to buttress my point any further, am sure you can imagine already that printing One Million handbills won't cost you N48,000 talk more of the waste of papers that most of it would end up becoming and not even being seen by the right people.
With Online Advertising, you have both a comparative and a differential advantage. You create more value with your limited resource (advertising budget) at a lesser cost.
The final point is getting your Online Advertising done right. The Online Ecology is vivacious and quite complex. Placing your advert online requires both tact and strategy as well as familiarity with the terrain so your advert doesn't get lost in the multitude of several adverts. This means that you should engage a seasoned Social Media Expert or Online Ad Agency to place your advert for you so that you can get the most out of your Advertising Budget. While the Agency will charge you a small fee for running and managing your Online Advert and in some cases your Social Media presence too, it will be worth your while knowing that you are getting good value for your advertising budget.
We are currently placing Advert for Winnyz Interior (picture above), a bespoke furniture company and we have helped this company maintain the No. 1 Spot on Google Search for the third week in a row. This is by no means a small feat, but it gives the client joy as the calls keep coming in. It feels good to know that people have cared to ask – "hey, what are you selling there?"
Dipo Ajayi is a Lead Consultant & Senior Business Support Specialist @inventrium, you may reach him on phone: 08095487301 or send him an email on: [email protected] or follow him on twitter @lekeajayi or schedule a skype session: oladipo.ajayi
Instagram is working on a new messaging app
Rivaling Snapchat, Threads will enable users to automatically share their location, movements, and battery life with their IG 'close friends' list
Now Facebook is a wasteland for your racist aunt and high school friends' wedding photos, the platform is determined to maintain its social media stronghold via Instagram and WhatsApp (sorry, 'Instagram and WhatsApp from Facebook'). Its latest venture? A new messaging app called Threads.
As reported by The Verge, Threads will be a companion app to Instagram, promoting constant sharing between users and their IG 'close friends' list. The app will enable people to automatically share their location, movements, and battery life with each other, as well as send text, photo, and video messages.
The development could be seen as another attempt to rival Snapchat – which already lets users share their location – following Instagram's introduction of Stories three years ago.
Instagram has been trying to develop the messaging side of its app since late 2017 when the company started working on Direct, a standalone camera-first app exclusively for DMs. The platform ceased work in May this year after research revealed users found it frustrating to switch apps when they wanted to send a message – although this is exactly what happened with Facebook Messenger in 2016.
Screenshots acquired by The Verge show that users have the option to switch on automatic sharing, but are also able to update their statuses manually. Although Threads encourages friends to share their location with one another, it will reportedly show updates like 'on the move', rather than a real-time location.
The app's main feed will show all messages, as well as friends' updates and active status, and will allow users to watch their close friends' IG stories as opposed to having to go back to Instagram to view them.
This announcement comes after a number of updates to the platform, including the removal of likes, an anti-bullying feature, and a tool to report fake news. Although, there's currently no launch date for Threads, and given Instagram's history with fucked-up trials, it may never even materialise.
Source: https://www.dazeddigital.com/science-tech/article/45768/1/instagram-facebook-new-social-media-messaging-app-threads-to-rival-snapchat
Massive change coming to WhatsApp with introduction of ads
WhatsApp will see a massive change by 2020 with the introduction of adverts into the instant messaging app.
It's been rumoured for a while and now WhatsApp looks set to finally bring adverts to its popular messaging app.
The Facebook-owned firm revealed the news during its annual Marking Summit in the Netherlands, with a rollout expected next year.
Photos of the way these new adverts will look have even been posted online with attendee Olivier Ponteville, giving fans a closer look at what's to come.
The image, which can be seen on Twitter, shows how ads currently appear on Facebook and Instagram with a WhatsApp screenshot then revealed with a full-screen advert.
According to technology website BGR, once the message appears users will be able to "swipe up when an ad appears for more information about the product or service being advertised."
Adverts in WhatsApp have been spoken about for a while but this is the first evidence that things are changing within the popular service.
How fans react is yet to been seen but it's unlikely to go down well with its billions of users.
The bad news is that it seems there's nothing that can be done to stop this new feature from arriving within the app.
It seems almost certain that there will be no way to switch them off or hide these paid-for messages which may prove to be hugely irritating.
Source: https://www.thenewsguru.com/technology/internet/article/massive-change-coming-whatsapp-introduction-ads/
Facebook Messenger finally adds quoted replies
Today Facebook Messenger has added a sorely missing feature – quoted replies. This allows you to reply to a specific message in a conversation, and is incredibly helpful when you're engaged in chats that have a big range of topics. Using the new feature, the people you're talking to will now know exactly what you were replying to with that "LOL", for example.
This has been a feature in WhatsApp, which is also owned by Facebook, for a very long time, and it's always been sort of a baffling omission in Messenger. So it's good to finally see it there too.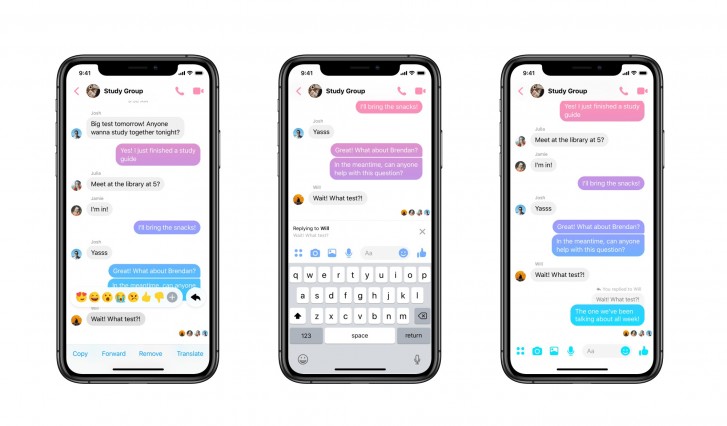 In order to quote a specific message, long tap on it and you'll see a new Reply button to the right of the reaction emojis. Tap that, write your reply, and, just like in WhatsApp, the message you're replying to will appear above your reply. Easy. This potentially means you'll have less misunderstandings with your friends as to which message was referencing what.
The feature is rolling out now on both iOS and Android.