PS5 might get new PSVR motion controllers for next-gen virtual reality
There has been plenty to indicate that a new PSVR 2 headset is in the works for PS5, and the uncovering of a new patent puts more weight behind the idea that next-generation virtual reality will be accompanying Sony's next-generation console.
As spotted by LetsGoDigital, the controller ditches the wand-like design of the ageing PlayStation Move controllers (first introduced way back 10 years ago in the Playstation 3 generation), and instead shows a joystick-equipped grip with a halo-like band surrounding it.
The patent (detailed in a 34-page document filed back in March 2020), discusses how  a single controller could be used, or a pair in tandem. As well as standard face buttons and joysticks, the controller would also support triggers and a touch sensor, which could be optionally added.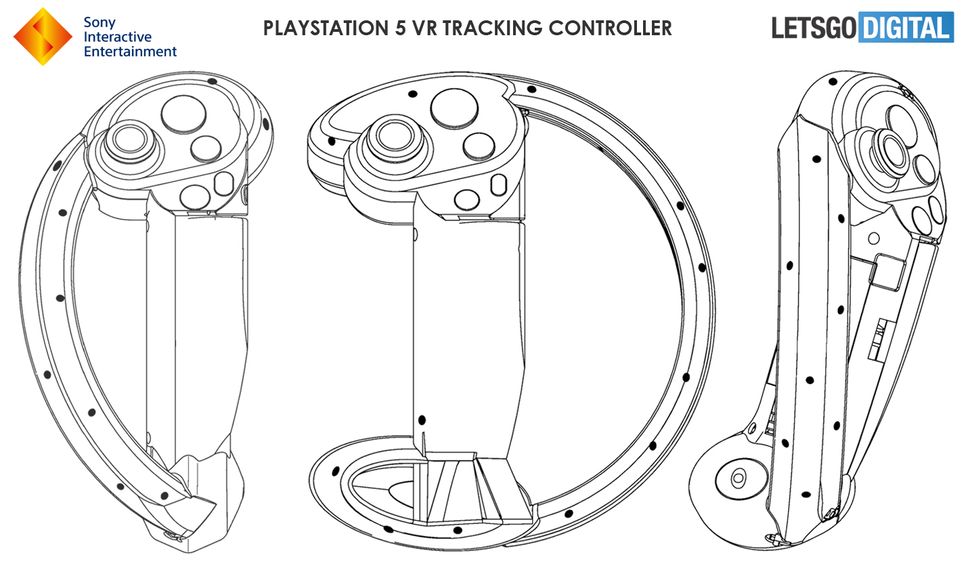 The controllers would require an external camera in order for their movements to be followed, with the suggestion that a camera on the VR headset itself could be picking up light-emitting parts on the curved surface of the controller, or a totally external, separate camera accessory.
Sony has already confirmed that PSVR will be compatible with the PS5 (though the need for a new camera adapter may prevent it being used at launch), and Sony continues to support the current generation virtual reality headset with new games and experiences, such as Hitman 3 and Vader Immortal. With products like the Oculus Quest 2 now on sale, Sony's current headset would be starting to look a little aged next to a brand new console however.
As well as more refined controllers, we'd hope that the PSVR's display would get a resolution boost, with additional processing power allowing for higher frame rates to ease issues some suffer from with motion sickness. A fully wireless headset would also bring Sony's offering in line with the likes of Oculus's range, and the HTC Vive Cosmos – though no company has yet managed to master the issue of lag between a wireless headset and an external processing device like a PC or games console, which would be a hurdle Sony would have to clear.
Source: https://www.techradar.com/news/ps5-might-get-new-psvr-motion-controllers-for-next-gen-virtual-reality
Microsoft Documents Confirm Futuristic Surface Plans
It's rare that you see a Microsoft Surface device being promoted without its Surface Pen. It's a key feature that is talked up regularly by the Surface team, and it's one area ripe for innovation. The latest details show work continues to make a more intelligent Pen.
The details come from a patent titled "Stylus for Zero Force Activation" and details a system to improve the Surface Pen's ability know when to switch to inking mode. Mayank Parmar reports:
"…Microsoft says the stylus still uses a vibrating tip to determine when the contact with a surface occurs. The patented Surface Pen also comes with a capsule that is designed to minimize the motion of the shaft and the shaft runs parallel to the length of the stylus.
"The tip has two antennas and one is connected to the shaft using a track made of metal material. There's also a transmitter located in its tip and it can detect the position of the stylus tip, and then quickly switch to inking mode."
Microsoft's Surface vision has always been built around different modes of working. Think of the Surface Pro 2-in-1s with their detachable keyboards that allowed for a tablet experience with and without qwerty input. Think of the Surface Book's outstanding feature of a laptop with a fully detachable screen? Even in the Surface Laptop, which doesn't have a physical transformation you can still move between pen input and trackpad movements. Surface is about multiple modes, and switching between them quickly and easily.
That includes the Surface Pen. It has two modes of use. The first is the more traditional stylus-based approach to computing, replicating the ideas of a mouse or trackpad in operation. The second mode is inking mode, where your artistic flair can take over.
Allowing the Surface Pen to better understand when to switch modes, to decrease the delay in switching modes, and to create a 'magical' experience mixing stylus- and inking-modes, is a natural next step for Microsoft to address.
As always, a published patent does show the direction a company is taking with hardware development, but it does not guarantee that this technology will be seen on consumer devices. But some patents heel more likely to show up than others. This one feels like something we'll be seeing in the near future.
Source: https://www.forbes.com/sites/ewanspence/2020/10/18/microsoft-surface-pen-inking-stylus-patent-surface-pro-surface-book/#5104855019ad
100W wireless charging could be a thing next year
A new leak points to 100W wireless charging by several brands in 2021.
Heat and battery degradation would likely be two key challenges for the tech.
We've seen major strides in fast charging in the last two years, as smartphone manufacturers like Huawei, BBK, and Xiaomi upped the ante for both wired and wireless charging. We've previously seen wired charging top out at ~120W in recent months, but wireless charging solutions aren't far behind, either.
Now, frequent leaker Digital Chat Station has claimed that several manufacturers are targeting 100W wireless charging for phones launching in 2021. Check out the post below.
This would be a major leap over current wireless charging standards. We've seen 40W wireless charging in the likes of the Oppo Ace 2 and Huawei P40 Pro Plus respectively. Oppo has also announced 65W wireless charging technology earlier this year, although we haven't seen it on a commercial device just yet.
Nevertheless, we do wonder about heat and battery degradation with a move to 100W wireless charging. Oppo in particular stated that its 125W wired charging solution degraded the battery to 80% capacity after 800 charging cycles, compared to its 65W wired solution dropping down to 90% capacity after 800 cycles. So hopefully brands address this challenge adequately with 100W wireless charging.
Another concern with this tech is compatibility with other Qi charging devices. Oppo's 65W wireless charging solution defaults to significantly slower 10W or even 5W topups for other Qi-compatible phones.
Source: https://www.androidauthority.com/100w-wireless-charging-1166327/
An iPhone 12 to please everyone — well, except Android fans
Remember when there was just an iPhone, and the only decisions you needed to make were capacity and color?
Well, if you like having lots of options, the iPhone 12 sounds like it's the handset for you, with the latest rumors suggesting lots of choice.
It seems Apple wants to make an iPhone 12 for everyone — well, maybe not Android fans.
So far, we expect the iPhone 12 to be offered in the following configurations:
iPhone 12
iPhone 12 Pro
iPhone 12 Pro Max
iPhone 12 Mini
So, what's going to be the differences between them?
Good question!
All are expected to be powered by the new A14 Bionic chip, and all are expected to feature 5G. However, super-fast mmWave support could be reserved for the Pro models. Another commonality is that none will come with earbuds or a charger, but you will get a snazzy braided USB-C-to-Lightning cable.
The most obvious difference is going to be display size.
iPhone 12: 6.1-inch
iPhone 12 Pro: 6.1-inch
iPhone 12 Pro Max: 6.7-inch
iPhone 12 Mini: 5.4-inch
There are likely to be other differences to differentiate the Pro Max from the rest of the pack. The two biggest features — LiDAR depth sensor and 120Hz high refresh rate panel — are likely to be Pro Max only features.
Another difference that users will care about is battery size. The bigger the handset, the beefier the battery.
Rumors point to following capacities:
iPhone 12: 2,775 mAh
iPhone 12 Pro: 2,775 or 2,815 mAh
iPhone 12 Pro Max: 3,690 mAh
iPhone 12 Mini: 2,230 mAh
Another thing that people care about — because it can turn a cheap iPhone into an expensive one — is storage capacities. These are likely to be as follows:
iPhone 12: 64GB | 128GB | 256GB
iPhone 12 Pro: 128GB | 256GB | 512GB
iPhone 12 Pro Max: 128GB | 256GB | 512GB
iPhone 12 Mini: 64GB | 128GB | 256GB
RAM is another differentiator. The split here is likely to be Pro/non-Pro
iPhone 12: 4GB
iPhone 12 Pro: 6GB
iPhone 12 Pro Max: 6GB
iPhone 12 Mini: 4GB
Finally, starting price.
iPhone 12: $749
iPhone 12 Pro: $999
iPhone 12 Pro Max: $1099
iPhone 12 Mini: $649
Source: https://www.zdnet.com/article/an-iphone-12-to-please-everyone-well-except-android-fans/