Researchers: We can hack an iPhone through the charger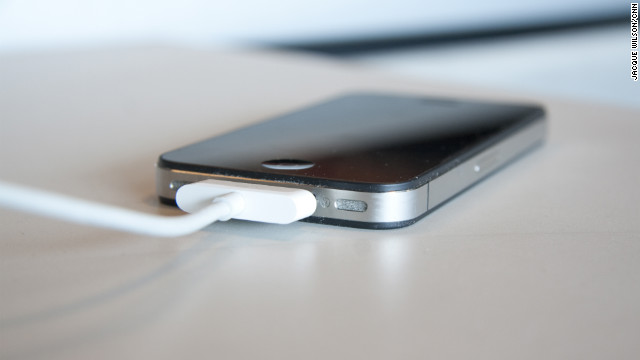 A team of researchers say they've found a way to hack into an iPhone or iPad in less than a minute using a "malicious charger."
(CNN) — Apple devices, from Macs to iPhones, have always been able to boast of advanced safety from viruses, spam and the like. Now, apparently, not even your phone charger is safe.
A team of researchers from Georgia Tech say they've discovered, and can demonstrate, a way to to hack into an iPhone or iPad in less than a minute using a "malicious charger."
The team plans to demonstrate its findings at the Black Hat computer security conference, which begins July 27 in Las Vegas.
In a preview of its presentation, the team acknowledges Apple's "plethora of defense mechanisms in iOS." Historically, Mac users have been able to boast of being largely malware free, in part because spammers, scammers and hackers preferred to target the larger number of Windows computers in the world.
On its mobile iOS operating system, Apple has created a "closed garden" environment in which everything from apps to accessories has to be approved by Apple, as opposed to Google's more wide-open Android system.
But by attacking in a nontraditional way, the team of Billy Lau, Yeongjin Jang and Chengyu Song say, those defenses can be bypassed.
"(W)e investigated the extent to which security threats were considered when performing everyday activities such as charging a device," they wrote. "The results were alarming: despite the plethora of defense mechanisms in iOS, we successfully injected arbitrary software into current-generation Apple devices running the latest operating system (OS) software.
"All users are affected, as our approach requires neither a jailbroken device nor user interaction."
The team says they have built a malicious charger named Mactans, which they plan to demonstrate at Black Hat. Latrodectus mactans is the scientific name for the deadly black widow spider.
The preview doesn't say whether the charger is a modified version of Apple's standard equipment or entirely new.
"While Mactans was built with limited amount of time and a small budget, we also briefly consider what more motivated, well-funded adversaries could accomplish," they wrote. "Finally, we recommend ways in which users can protect themselves and suggest security features Apple could implement to make the attacks we describe substantially more difficult to pull off."
Apple did not immediately respond to a message seeking comment.
SAMSUNG WATCH ACTIVE 2 SPECS IS ONLINE
SAMSUNG WATCH ACTIVE 2 SPECS IS ONLINE, While Samsung is gearing up to launch the Galaxy Note 10 series on August 7,
While Samsung is gearing up to launch the Galaxy Note 10 series on August 7, there are reports about the arrival of a Galaxy Watch Active 2. It's unclear if whether the company will launch the wearable with the new smartphone series, or if its launch will be moved forward. Despite this, more and more leaks are surfacing and revealing details about the Watch Active 2.
A couple of pictures were revealed today by the popular leakster, Evan Blass, from evleaks. According to another report from SamMobile, the Galaxy Watch Active 2 will come in two sizes, 40mm and 44mm. The former has a 1.2-inch screen, while the latter will be equipped with a 1.4-inch display. Both displays will boast AMOLED technology plus Gorilla Glass DX+. Last but not least they'll sport 360×360 pixels of resolution. Join GizChina on Telegram
The smaller model will weigh 31g, while the bigger one scales at 36g. They will arrive in either aluminum or stainless steel case, both are built to comply with MIL-STD 810G durability standards. According to reports, Samsung will equip the newer models with a touch-sensitive bezel. Therefore it will allow users to interact with functions without having to touch on the screen. That's an interesting feature, after all, smartwatches displays are usually too small so it's hard to interact with a touch-sensitive display without covering the content.
The Watch Active 2 will carry Samsung Exynos 9110 SoC underhood. The smartwatch boasts 768 MB of RAM on the Bluetooth-only model and 1.5GB on the LTE-capable variant. Both versions will boast 4GB of Internal Storage. Reportedly, the 40mm unit will have a 247 mAh battery. The 44mm model will fit a larger 340 mAh cell. As previously rumored, ECG and fall detection are both on board. However, the former can take some time to arrive at the shelves.
Last details include Bluetooth 5.0 connectivity and a plethora of colors for the aluminum variants: Silver, Black and Pink Gold, while the stainless steel color will arrive in Silver, Black and Gold. Worth noting that the LTE variant will only be available with a stainless steel finish.
Source: https://www.gizchina.com/2019/07/23/samsung-galaxy-watch-active-2-specs-surface-online/
MacBook Pro 2019 will be a 16-inch LCD laptop
MacBook Pro 2019 will be a 16-inch LCD laptop, New report affirms rumors and points to $3,000 starting price
New report affirms rumors and points to $3,000 starting price
We may have already seen new MacBook Pro models refreshed for 2019, but the true MacBook Pro 2019 is expected to land this October as a 16-inch LCD laptop, according to Taiwan's United Daily News (UDN).
Given that this would be Apple's largest MacBook Pro laptop since 2012's final run of the 17-inch MacBook Pro, the company reportedly plans to slap a gargantuan baseline price tag onto this year's model – which could rise above $3,000 (about £2,450, AU$4,350).
This laptop will likely be pushed heavily toward content creators and developers as a demonstration of Apple's sincerity in serving those audiences. Here's to hoping it will somehow satisfy the cross-section of folks that also like to game on their workhorse machines.
MacBook Pro 2019 backs down from OLED
This report corroborates one published by London-based market analysts IHS Markit, adding the pricing element to the mix. More importantly, this is the second report to state that the 16-inch MacBook Pro 2019 display will not be an OLED product.
Instead, it will be an LCD to the tune of a 3,072 x 1,920 pixel resolution, which would give the display a rather competitive 226 pixels per inch (ppi) rating and a total of 5.9 million pixels. LCD or not, this is going to be a sharp 3K display.
Will that alone be enough to justify such an exorbitant starting price? Hardly. There are surely other features that Apple has cooking for this device.
We know that Apple is planning to allow this MacBook Pro up to 32GB of memory (RAM), which is already possible on the 15-inch MacBook Pro.
And, of course, every report mentions an entirely new design likely focused on smaller screen bezels.
Exactly what kind of processor technology will be inside these laptops is also up in the air. Is Apple's supposed ARM laptop processor to be finished in time for these new laptops? Or, will Apple go all in with AMD considering Intel's faltering pole position in the laptop computing space?
We'll almost certainly see more about these missing MacBook Pro 2019 details as we get closer to October 2019.
Source: https://www.techradar.com/news/macbook-pro-16-inch-2019
Google pays users to help build its FaceID
Google pays users to help build its FaceID, Google's Pixel 4's moderately sized bezel has been rumoured to be hiding
Google's Pixel 4's moderately sized bezel has been rumoured to be hiding a powerful secret — its own take on FaceID. Much like how Pixel Imprint is Google's version of TouchID, Google is expected to add an additional form of biometric authentication to the Pixel 4 and 4 XL with this year.
As per a report from ZDNet, men on the street have been approached by Google employees and asked to capture different angles of their face in exchange for a $5 Amazon or Starbucks Giftcard. The images were taken with a phone in a case which obscured its design likely the Pixel 4 or 4 XL (or a prototype of one or the other.)
The firm is said to be doing this for multiple sites across the US to gather a large number of pictures with which to train its Pixel's authentication system before launch.
Google previously offered facial recognition for its Android devices in the past. This method is likely to be more secure and 3D based than before.
Source: Google is paying users $5 to help build its FaceID competitor