Samsung Galaxy M31 with 6000mAh battery, 64MP camera to debut in India on February 25
What you need to know
Samsung Galaxy M31 will debut in India on February 25.
The budget Android smartphone will feature a 64MP quad-camera setup and a huge 6000mAh battery.
It is rumored to be powered by a 10nm Exynos 9611 chipset.
In January last year, Samsung introduced the Galaxy M series, aiming to take on Chinese rivals in the highly competitive budget segment. Thanks to aggressive pricing and solid hardware specs, the M series lineup helped Samsung increase its smartphone shipments last year, even though it didn't succeed in clawing back market share from rivals such as Xiaomi in India and a few other markets.
The company today confirmed that it will be taking the wraps off its next M series phone at an event in India on February 25. Called the Galaxy M31, the upcoming budget smartphone from Samsung will pack a monstrous 6,000mAh battery. While the battery size isn't an improvement over the Galaxy M30s, the M31 will feature a more impressive quad-camera setup at the back, sporting a 64MP primary sensor.
Source: https://www.androidcentral.com/samsung-galaxy-m31-6000mah-battery-quad-cameras-debut-india-february-25
Oukitel WP6 Unboxing video surfaces featuring tough yet premium design
Oukitel introduced WP6 smartphone a few days ago featuring a mammoth 10000 battery and super 48-megapixel camera. We have got an unboxing video of the device showcasing all the major features and attractions of the smartphone. The device's accessories are fully described to give us a better understanding of what we will get. You can sneak-peak the whole unboxing video of Oukitel WP6.
The official video shower some light on the unknown aspects of the device. Moreover, the Oukitel WP6 features a 6.3-inch display featuring an HD+ resolution and immersive viewing experience. IT comes powered with an Helio P70 octa-core processor coupled with 6GB RAM and 128 GB internal storage.
Oukitel WP6 comes with a powerful and enhanced camera having a 48-megapixel primary sensor. Whereas, the selfie camera that houses in the notch is of 16MP with f/2.0 aperture.
The developers have tweaked the Android Operating System to receive the best outcomes on a rugged smartphone The design or the build is pure premium with a 70% metallic cover.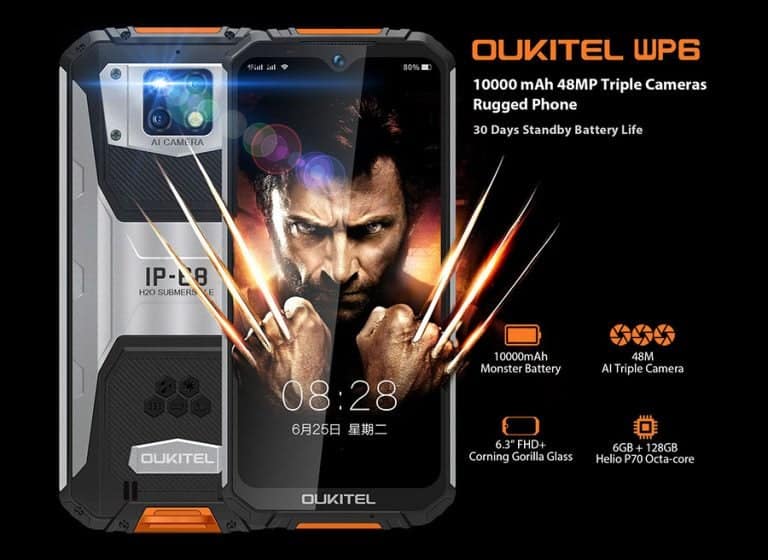 The smartphone comes with a huge 10000 mAh battery that supports 18W fast charging. Moreover, it carries all the necessary certifications for being rugged, waterproof, shatterproof and dustproof.
Oukitel WP6 is available at a discounted price of $199 from AliExpress in black and orange colors. You can know more about the device by heading to the official website here.
Source: https://www.gizmochina.com/2020/03/30/oukitel-wp6-unboxing-video/
Nokia Unveils New Smartphones
The HMD Global has introduced three new Nokia smartphones into the Nigerian market.
The Nokia 8.3 5G was the first 5G Nokia smartphone added to the portfolio and is joined by the brand-new Nokia 5.3 and Nokia 1.3, as well as the latest addition to the Originals family, the Nokia 5310. Sticking with firsts, HMD Global also enters a brand-newservice category with HMD Connect global data roaming, its innovative and hassle-free service that keeps customers connected to the things that matter most.
The Chief Executive Officer, HMD Global, Florian Seiche, said: "I am incredibly proud of the innovations we have introduced that will build on our unique commitment to ensuring the Nokia smartphone experience will only get better over time. Today we are kicking off a new chapter for HMD Global as we step into 5G with a truly global, future-proof smartphone. Combined with the launch of HMD Connect, we are creating a truly seamless experience in terms of connectivity."
According to Chief Product Officer, HMD Global, Juho Sarvikas, "We take great pride in working with our partners to deliver unique devices. That's why we are excited to announce a number of firsts with this launch. With the help of the Qualcomm Snapdragon 765G Modular Platform, we have created a truly global 5G Nokia smartphone that's designed with cost, usability and future-proofing in mind. Not only does the Qualcomm 5G solution enable to us condense more than 40 different radio frequency components in a single module, the Nokia 8.3 5G also features the highest number of 5G New Radio bands from 600hmz all the way up to 3.8GHz – meaning it is a truly global and future-proof device."
Sarvikas added: "Together with Google we have managed to introduce an impressively accessible Android (Go edition) device with the Nokia 1.3 – one of the first smartphones to launch with Camera Go and running Android 10 Go edition. The new Nokia 5.3 takes powerful features like the quad camera and Qualcomm Snapdragon 665 Mobile Platform and puts these at the fingertips of an even wider pool of fans."
President, Qualcomm, Cristiano Amon, said: "We are proud to support HMD Global in announcing their new 5G device – one of the first commercially announced devices to be based on the Qualcomm Snapdragon 765G Modular Platform. We developed this platform to help bring 5G experiences to everyone and give time to market advantages to our customers – it is a highly integrated solution based on the world's first-announced mobile platform with integrated 5G, coupled with an advanced Radio Frequency module to create a truly global 5G solution."
Source: https://www.thisdaylive.com/index.php/2020/03/26/nokia-unveils-new-smartphones/
Huge iPhone 12 Pro leak confirmed in iOS 14 code
Apple's iPhone 12 release is still at least 6 months away, but the phone's overhauled design and several key features have already leaked.
Most of the information we have so far about Apple's iPhone 12 and iPhone 12 Pro smartphones comes from a single source, but now one of the key iPhone 12 Pro features he revealed has seemingly been confirmed.
The new feature in question could enable some of the iPhone 12 Pro's most exciting new features, which are believed to involve next-generation augmented reality capabilities.
When it comes to Apple's iPhone 12 release, everything is up in the air right now. The COVID-19 coronavirus pandemic that tore through China is now devastating several parts of Europe, and the outbreak is just beginning to spread across the United States. Things are going to get far worse before they start to get better, and states across the US are finally beginning to force certain businesses to close and ask people to stay home and remain isolated as much as possible. Needless to say, it's already far too late to "flatten the curve" and we're likely weeks or even days away from seeing an explosion in reported cases across the country.
Needless to say, the novel coronavirus's impact on product launches is the least of our worries right now. That said, it's still a huge deal and it will have a serious negative impact on all of the biggest consumer electronics companies. A number of big product launches planned for 2020 will likely be delayed. On top of that, people across the country will experience financial hardships from not being able to go to work, so fewer people will be able to purchase new gadgets even if they're not delayed. Apple's iPhone 12 series is one of the biggest releases that will take place in 2020, though it's still unclear exactly when the next-generation iPhone models will hit store shelves. In the meantime, one of the new marquee features headed to the iPhone 12 Pro and iPhone 12 Pro Max was just confirmed thanks to a big iOS 14 leak.
Whether or not Apple releases its new iPhone 12 lineup on time this coming September, the company will surely announce the new phones on schedule in early September. Some industry watchers expect the iPhone 12 release to be delayed until sometime in either October or November, while others say the phones will still be released in September but supply will be limited. In truth, no one really knows what will happen at this point, not even Apple. It's far too soon to know exactly what impact COVID-19 will have on manufacturing in China over the course of the rest of the year.
While Apple's iPhone 12 release plans might still be a mystery, there isn't much mystery left surrounding the phones themselves. TF International Securities analyst Ming-Chi Kuo has been leaking iPhone 12 details since late last year, and he has the best track record in the business when it comes to revealing Apple's plans ahead of schedule.
According to Kuo's excellent sources, Apple's new iPhone 12 models will feature a big design overhaul that's basically a cross between the old iPhone 5 and Apple's current iPhone 11 lineup. The phone will sport flat metal edges and a more square case, but the front will still feature a notched all-screen design and the back will have Apple's new square camera array. The phones are also expected to include new features like 5G and upgraded OLED screens with a 120Hz refresh rate, but let's focus on the new cameras for the time being because a huge new leak just confirmed one of Kuo's most exciting scoops.
One or more third-party iOS developers recently managed to get their hands on an early version of Apple's upcoming new mobile software, iOS 14. They have been picking through it bit by bit in an effort to uncover new features coming to Apple's iPhone and iPad lineups, and they've found plenty of juicy morsels so far. Most recently, an unexpected second iPhone 9 version was uncovered within the iOS 14 code. And now, another big leak just hit the web.
According to 9to5Mac's unnamed developer source, the first-ever reference to Apple's next-generation iPhone 12 lineup was just discovered within the leaked iOS 14 code. The blog's source found references to an unreleased mobile device lineup referred to by the codename "d5x," which makes perfect sense considering the iPhone 11 lineup is referred to in iOS code as "d4x."
Beyond merely confirming the existence of the upcoming new iPhone 12 series, which isn't much of a revelation at all, the developer also found references in the code to a new time-of-flight (ToF) sensor that will be added to the triple-lens rear camera on the iPhone 12 Pro and iPhone 12 Pro Max. We've known that it was coming ever since Ming-Chi Kuo leaked the info way back in December, but this is the first time the new ToF sensor has been confirmed in actual iOS code.
It's still unclear exactly what Apple plans to do with the new sensor on its high-end iPhone 12 Pro models, but ToF sensors gather depth data so there's a very good chance it will involve augmented reality. A new Apple AR app is reportedly in the works, and the new ToF sensor will likely play a big role. We can also likely expect even better Portrait Mode photos and other similar features on the iPhone 12 Pro and iPhone 12 Pro Max. After all, anything involving 3D depth data will be dramatically improved by the addition of the new ToF sensor.
Source: https://bgr.com/2020/03/17/ps5-release-date-sony-announces-playstation-5-launch-event/